These tropical destinations usually boast a balance of exhilaration and relaxation, adventure and pampering. They provide a much-needed escape from our everyday routines, while rejuvenating our spirits with the simple power of nature.
From our earliest trips as a couple (to Hawaii, Curaçao, and the Dominican Republic) to our memorable visits to Tahiti, the Galapagos Islands, and Isla Holbox, Mexico, Mary and I have always loved exploring tropical islands together.
Though we've been able to visit quite a few of the world's best islands over our last 11 years together, there are still quite a few that remain on our bucket list.
To that end, we enlisted more than 25 top travel bloggers to help us assemble this epic guide to the most beautiful islands in the world. They span the globe from the Caribbean and Africa to Asia and Polynesia, and should give you plenty of ideas for planning your next tropical vacation getaway.
READ MORE: The Ultimate Beach Vacation Packing List
TABLE OF CONTENTS
Bijagos Islands, Guinea Bissau
Lamu Island, Kenya
Madagascar
Mafia Island, Tanzania
Seychelles Islands
Coron, Philippines
Cat Ba Island, Vietnam
Komodo, Indonesia
Langkawi, Malaysia
Maldives
Bonaire, Netherlands
Cuba
Dominica
Grenada
Turks and Caicos
The Canary Islands, Spain
Corsica, France
Hvar, Croatia
Madeira, Portugal
Sardinia, Italy
Crete
Delos Island
Karpathos Island
Leros
Naxos Island
Aitutaki, Cook Islands
Bora Bora, French Polynesia
Easter Island / Rapa Nui, Chile
Savaii & Upolu, Samoa
Yasawa Islands, Fiji
Best African Islands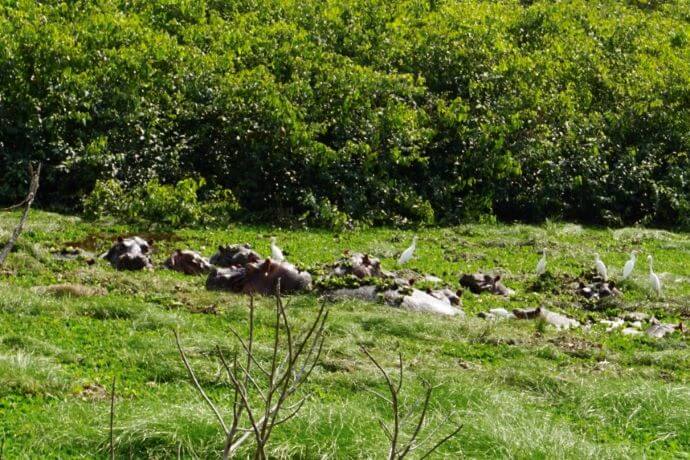 Bijagos Islands (Guinea Bissau)
Located off the coast of Guinea Bissau in West Africa, the Bijagos Islands are an untouched paradise with impressive biodiversity. This is one of those exotic places that most people have never heard of, let alone visited. The island is located 38 miles off the coast of Bissau, the country's capital.
Best Things to Do in the Bijagos Islands
The island of Orango is one of the most biodiverse of the Bijagos Islands. There you can visit the saltwater hippopotamuses by trekking an hour inland from the beach to their fresh water ponds.
The trek winds along a sandy path through tall grasses, and you can see birds and deer along the way. The hippos are protected and sacred to the inhabitants of the island, and each visitor is allowed to spend 20 minutes with them.
There is also a long, beautiful stretch of beach on the island that stretches from the Orango Hotel to the drop-off point for the hippo trek.
Where to Stay in the Bijagos Islands
The Orango Hotel is a true ecotourism project where the hotel perfectly integrates into its surroundings. The hotel is located within Orango National Park, and is a major sponsor of protecting the islands' biodiversity and indigenous cultural traditions. –Nicole LaBarge
READ MORE: The West African Griot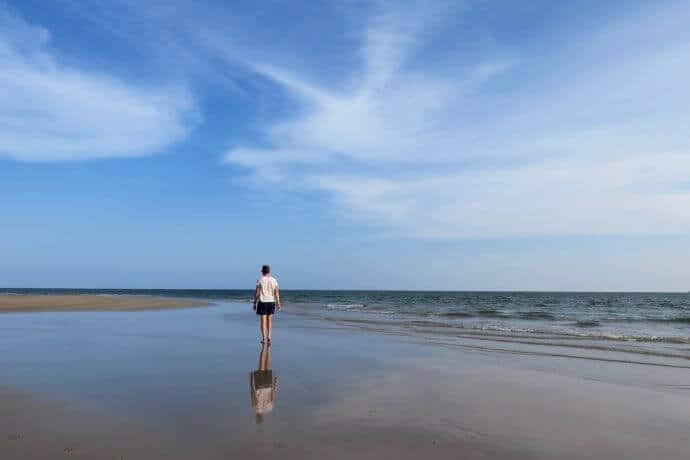 Lamu Island (Kenya)
Most people traveling to Kenya cannot wait to see the country's diverse array of wildlife and stunning national parks and reserves (including Amboseli, Meru and the Maasai Mara).
However, visitors also should not miss out on the little-known (but incredible) Lamu island, which is located just off the coast in northern Kenya.
This part of the country differs significantly from the southern region, offering unspoiled nature as well as a unique culture.
Best Things to Do in Lamu Island
When visiting Lamu Island, you'll have a chance to walk the streets of Lamu Old Town, one of the world's oldest inhabited cities. Recognized as a UNESCO World Heritage Site in 2001, this historic area is truly a journey back in time.
However, you should also make sure to leave the city streets behind and explore the beautiful nature of Lamu during your visit.
I stayed on the southern tip of this beautiful island and went for long walks on Lamu's beaches, climbed sand dunes for incredible sunset views, and went for a snorkeling trip along the coast.
I spent a full week on Lamu Island, which was the perfect amount of time to see and explore the island as well as to relax and unwind from my previous travels.
Where to Stay in Lamu Island
There are a few guesthouses and hotels directly in Lamu Town, but I decided to stay in the lovely and peaceful Kizingo resort. It's located on the southern tip of Lamu Island, and is highly recommended.
Here, you're surrounded by remote beaches and far away from the hustle and bustle of the town. –Patrick Muntzinger of German Backpacker Travel Blog
READ MORE: Animals in Kenya: A Guide to 40 Species of Kenyan Wildlife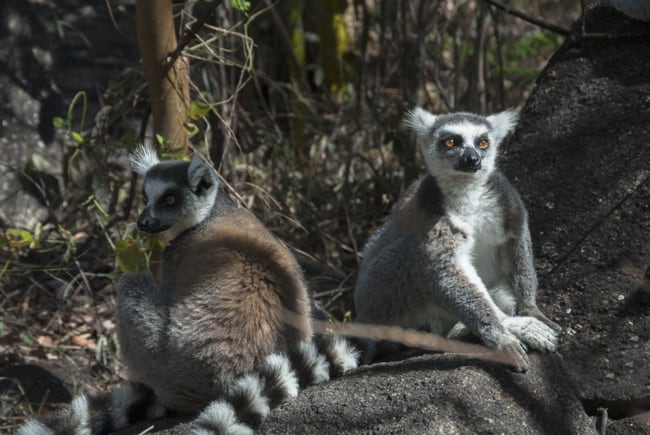 Madagascar
Madagascar is sometimes referred to as "the eighth continent." Ever since it split from the African land mass, the East African island evolved in isolation.
This resulted in an incredible amount of plants and animals that are found nowhere else on the planet, which makes for a truly exotic island vacation.
Those planning to relax can head to Nosy Be Island, a smaller island just off the northern shore, which is home to stunning beaches. Madagascar is the perfect destination for wildlife lovers.
Best Things to Do in Madagascar
Everyone knows about Ring-tailed Lemurs, which were made famous by the 2005 animated film based on the island. But Madagascar animal life offers so much more.
There's the Fossa, the island's largest carnivore (the size of a small cougar); Chameleons in all shapes and sizes; the Leaf-tailed Gecko (one of the weirdest animals we've seen); many endemic birds; and more. Ranomafana and Andasibe/Mantadia National Parks are great destinations to see wildlife.
Landscapes around the island are also incredibly varied. Within a few hundred miles you can find deserts, rainforests, mountains, spiny forests, and heavenly stretches of coastline.
A road trip around the Route 7, which runs down the southern half of the island, is a great way to explore the Madagascar's diverse landscapes
Where to Stay in Madagascar
Luxurious Eden Lodge is an eco lodge in Madagascar set within a private nature reserve surrounded by clear water and white, sandy beaches.
The property is committed to ecotourism: It's completely solar powered, built from natural materials, focuses on protecting coral reefs, and its a portion of its profits support local schools and teacher salaries. –Margherita Ragg of The Crowded Planet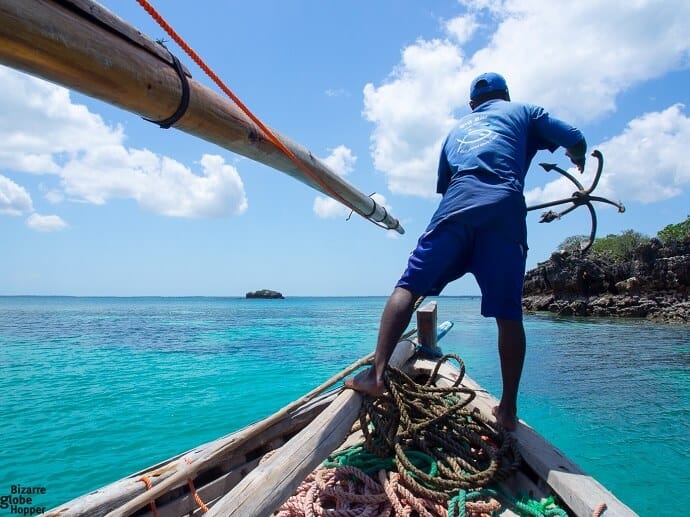 Mafia Island (Tanzania)
Some people claim that Mafia Island Marine Park offers the best snorkeling in all of East Africa. Still, the island– which is about 100 miles southeast of Dar es Salaam– remains well off the tourism track.
The small tropical island is packed with deserted beaches and a few low-rise boutique hotels that cater to divers. But it should be known as a barefoot-style island getaway, where time stands still.
Best Things to Do in Mafia Island
Snorkeling and diving are by far the main draws here. Mafia Island is home to 460 species of fish and 50 hard corals, and whale sharks visit the archipelago annually.
There are 160 species of birds in the area, as well as wildlife rarities such as Dwarf Hippos and Comoros Flying Foxes.
Take a nature walk to explore the verdant green inland and you'll find overgrown ruins which shed light on the past of the Swahili coast.
Where to Stay in Mafia Island
Go barefoot in Butiama Beach, a casual beachfront boutique hotel on the western shore of Mafia Island. Butiama Beach has a prime location for whale shark watching, as the giants usually swim by the shore during their peak season.
Complimentary kayaks can take you to the island's deserted sandbanks and uninhabited inlets, whereas snorkeling and diving trips explore nearby Mafia Island Marine Park. -Niina Lehikoinen 0f Bizarre Globe Hopper
READ MORE: Top 10 Tanzania National Parks & Reserves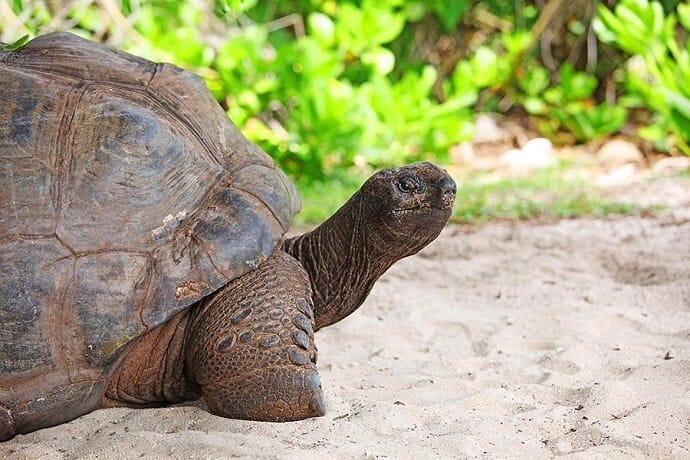 Seychelles Islands
While most people associate the Seychelles with white sand beaches (and as one of the best islands for a honeymoon), this archipelago of more than 100 islands is actually a real nature lover's paradise.
Every island offers something unique, whether it's lush tropical forests, desolate beaches, endemic flora and fauna, or indigenous cultural traditions. Whether you're a sun worshipper or an outdoor adventurer, the Seychelles is perfect for anyone looking for exotic vacation destinations.
Best of all, just a few islands are developed: The majority of the Seychelles is totally uninhabited.
Best Things to Do in Seychelles
Since the islands of the Seychelles are scattered in the Indian Ocean, it's difficult to visit a lot of them in one trip. However, it's fairly easy to build Seychelles holidays around a small cluster of islands in the vicinity of Praslin. For nature lovers, the following islands are the best places to visit in Seychelles:
Praslin, the second largest island, is home to Vallée de Mai Nature Reserve (a UNESCO World Heritage Site). It's a lush rainforest where you can find the world's biggest nut, the coco-de-mer.
La Digue Island is perfect for those who want to experience traditional local life. It also has some incredible scenery, especially at Anse Source D'Argent, a beautiful beach with giant granite boulders.
Curieuse Island is a Marine National Park, and the best place to see giant tortoises, endemic birds, and untouched nature.
Cousin Island is a paradise for bird-watchers, but there are also turtles, tortoises, and lots of other animal species. Snorkeling and Scuba diving are also very popular, with lots of nice spots all over the area. The coral reef here isn't impressive, but there's a large variety of colorful fish and sea turtles.
Where to Stay in Seychelles
Probably the best place to stay in this part of the Seychelles is in a Praslin Island hotel. This island has the best infrastructure, lodging for all budgets, and the possibility to arrange day trips. Check out Le Domaine de La Reserve or the Colibri Hotel.
Best Asian Islands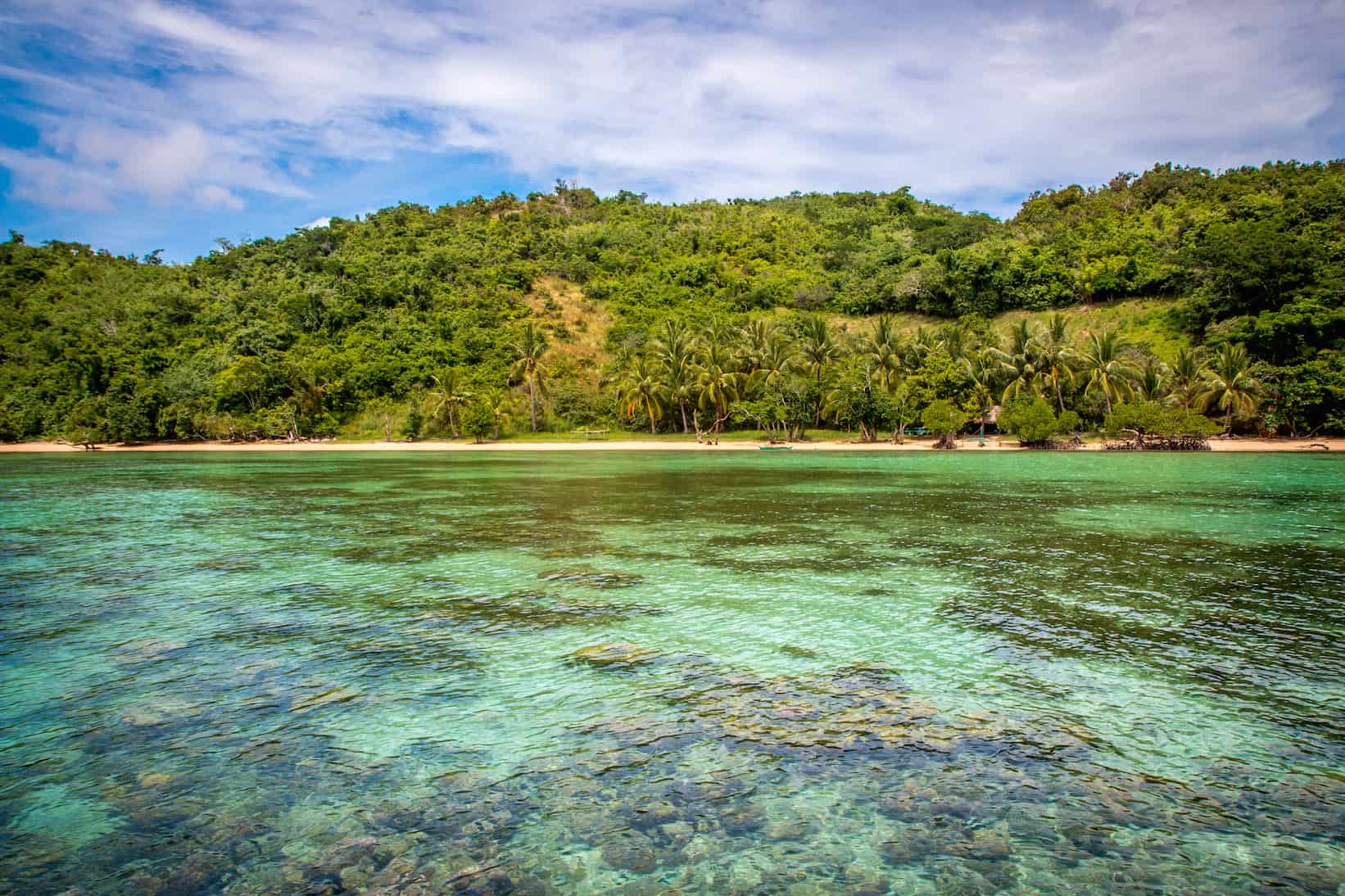 Coron, Palawan (Philippines)
Coron encompasses a town (located on Busuanga Island), an island (nearby Coron Island), and over 50 minor islets in the Philippines' Calamian archipelago. This is arguably the most picturesque part of Palawan, which has been voted Best Island in the Philippines and Best Island in the World several years in a row.
Best Things to Do in Coron
There are tons of awesome things to do in Coron, such as climbing Mount Tapyas, swimming in one of the world's cleanest lakes (Lake Kayangan), snorkeling or Scuba diving impressively pristine coral reef systems, and island-hopping.
But it's also an incredible place to simply soak in the otherworldly beauty of the stunning karst landscapes, impossibly blue waters, and jaw-dropping sunsets.
The beaches here have been consistently ranked among the best in the world, and the traditional Hilot massage will rub away any aches and pains you may have after a long day of outdoor adventure.
Where to Stay in Coron, Palawan
We enjoyed our time at Club Paradise Resort Palawan– a secluded private island resort– so much that we stayed there twice.
They offer three types of rooms: Garden View Rooms, Garden Suites, and rustic Villas on both the east (sunrise) and west (sunset) sides of the island.
The snorkeling from the beach is exceptional (we saw Sea Turtles, Reef Sharks, Pufferfish, and Octopi), and their Glow Spa is both relaxing and shockingly affordable.
READ MORE: Top 15 Things to do in Coron, Palawan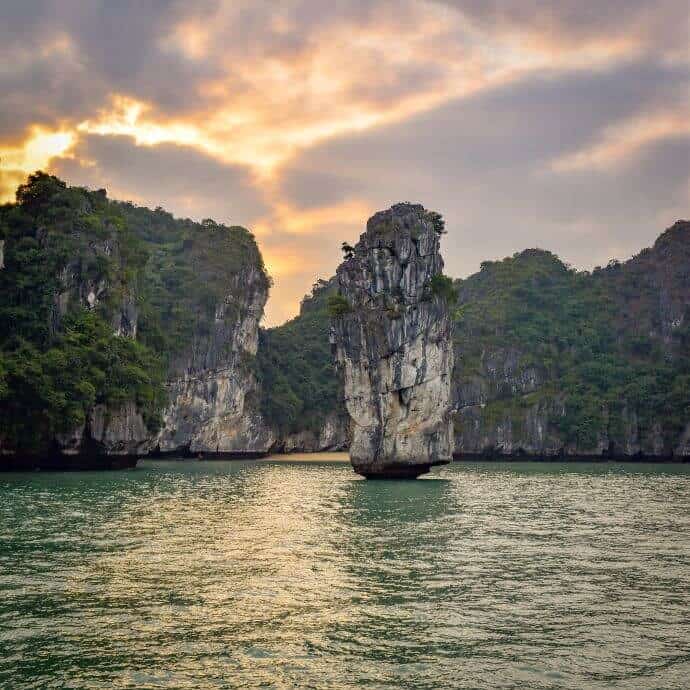 Cat Ba Island (Vietnam)
The beautiful island of Cát Bà, located about three hours east of Hanoi, is perhaps best known as the home of Ha Long Bay.
Although Ha Long's sheen has faded a bit in recent years due to mass tourism, this remains a stunning region where craggy limestone casts rise out of the turquoise sea. It's also home to Ha Long's less crowded (and more affordable!) sister, Lan Ha Bay.
Cát Bà is one of the best islands in Asia. And while its bays are breathtaking, you also won't want to miss its mountainous jungles, world-class white sand beaches, and abundant wildlife.
Best Things to Do in Cat Ba Island
Going on a Lan Ha Bay cruise is a must. Be sure to book one that includes several kayaking stops, so you get a chance to marvel up close at the huge limestone cliffs looming above you.
Once you're back on land, hit up Cat Ba National Park, where you can either choose a day hike through the jungle or a longer trek, like a 17-kilometer hiking trail to the remote fishing village of Viet Hai.
Be sure to keep an eye out for monkeys in the treetops as you're hiking around the park!
Where to Stay in Cat Ba
Cat Ba Sunrise Resort offers unparalleled views of Ha Long Bay and is a conveniently located home base for your adventures around the island.
Plus, with amenities such as its own private beach, pool, and spa, this relaxing resort in Cát Bà gives you a well-deserved break from all that kayaking and adventuring.
Who's to say that nature lovers can't enjoy a bit of luxury as well? –Jessica Schmit of Uprooted Traveler
READ MORE: Saving Asian Animals (10 Best Conservation Programs)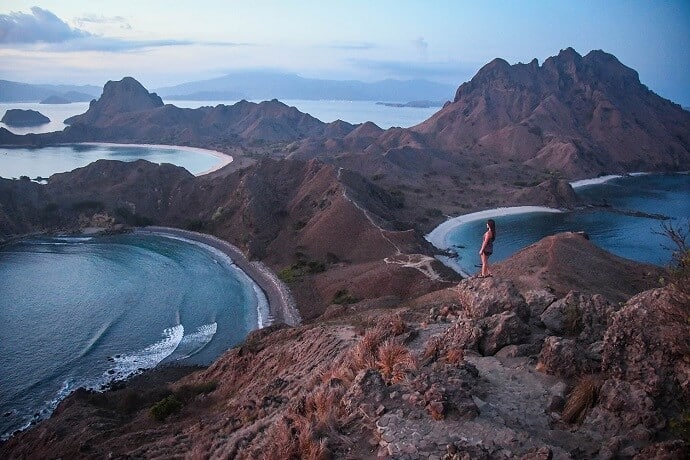 Komodo Island (Indonesia)
The country of Indonesia is made up of more than 14,000 islands, but few are more interesting than the island of Komodo and the National Park located there.
Komodo National Park was designated a UNESCO World Heritage Site in 1986 in an effort to recognize and protect the area's vast amount of biodiversity.
Not only does this region boast the famous (and increasingly rare) Komodo dragons, but it's also one of the best islands in Indonesia if you want to see an incredible amount of marine life.
Best Things to Do in Komodo Island
Visiting one of the Komodo Dragon Conservation Centers is a must-do for anyone in this National Park, as it's the only place in the world you can see these rare creatures in their natural habitat.
For those who are interested in Komodo diving, the very best thing you can do is visit Komodo National Park on a scuba diving liveaboard.
You'll have the opportunity for scuba diving several times each day in the region's more remote sites, and you'll likely spot creatures such as Dolphins, Sharks, Sea Turtles, Manta Rays, and more!
Where to Stay in Labuan Bajo
It's not possible to stay in a Komodo Island accomodation, since it's a protected national park. Instead, most visitors stay on nearby Labuan Bajo Island and visit the park on a day trip.
Plataran Komodo Beach Resort is an excellent option. However, for an even better experience, skip the hotel entirely and stay on a liveaboard boat. This covers your accommodation needs as well as several dives per day.
Tanaka is a good choice for a mid-range budget. But if you're looking for a bit of luxury on the water, Samambaia is sure to deliver. -Katie Diederichs of Two Wandering Soles
READ MORE: Best Things to Do in Indonesia for Nature Lovers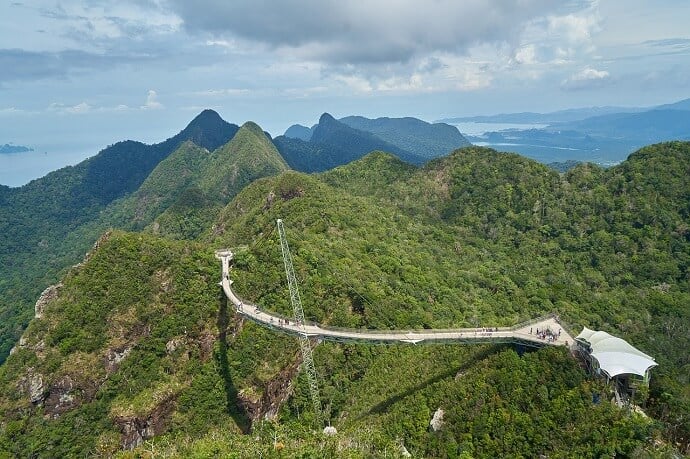 Langkawi Island (Malaysia)
From spotting dusky Leaf Monkeys at breakfast to nighttime walks into the jungle to find the Colugo, those elusive gliding mammals who live in the trees, Langkawi Island is a nature lover's dream.
This UNESCO World Geopark– part of a 99-island archipelago– lies 30 miles off the coast of Malaysia.
It offers a wonderous mix of wildlife, stunning beaches, and awe-inspiring landscapes, making it a great place for families, couples, and intrepid adventurers alike.
Best Things to Do in Langkawi
If you're OK with heights, one of the most breathtaking Langkawi attractions is the Sky Bridge. Take a trip up to the peak of Gunung Mat Chinchang by cable car, and you'll be rewarded with incredible views of the island. You can also walk through the jungle canopy on the Langkawi Sky Bridge.
Having taken in the scenic views, make your way down to the white sands of Pantai Cenang beach and explore the sparkling sea water by renting sea kayaks or snorkeling gear. You can also take a boat out to nearby Payar Island for the best local snorkeling spots.
The Kilim Karst Geoforest Park is teeming with wildlife, and a trip along the river Kilim is the best way to spot birds, lizards, and even swimming Macaques.
One of my favorite evening Langkawi activities is to take a guided walk into the edge of the jungle to look for Colugo. My kids loved spotting them high in the trees, leaping and gliding from one branch to another as dusk fell.
Where to Stay in Langkawi
Having breakfast at the Westin Langkawi Resort and Spa, you might be lucky enough to be joined by a passing family of Dusky Leaf Monkeys. After breakfast, you can enjoy a walk along their private beach overlooking the Andaman Sea, hire a catamaran, wind-surf, or simply let your stresses drain away at their serene tropical spa.
Temple Tree Resort is a wonderful selection of rescued houses from across Malaysia. They also rescue cats, who wander happily around the grounds. -Nichola of Globalmouse Travels
READ MORE: Top 25 Things to do in Malaysia for Nature Lovers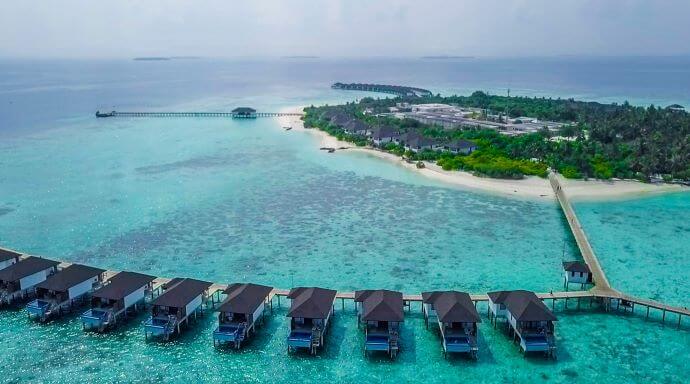 Maldives
Close your eyes and imagine yourself having one of the best island holidays in a tropical paradise. You most likely picture yourself lying on a pristine white sand beach under shady palm trees, looking out across an ocean filled with various shades of blue.
Now multiply that island by 1200, and you have the Republic of Maldives. With over 200 inhabited islands to choose from, you can treat yourself a life of luxury at any number of Maldives all-inclusive resorts, adventure through 22 atolls, and immerse yourself in the islands' rich indigenous culture.
Best Things to Do in Maldives
If you love the water, Maldives is the place for you. You can swim up close with giant Whale Sharks in Maafushi, dive with pods of hundreds of Dolphins in Thulusdhoo, snorkel with Manta Rays in Noonu, or catch some waves at the famous surfer's hotspot of Coke's Beach.
You can also enjoy the local cuisine of a traditional Maldivian breakfast, take jet-skis and a picnic lunch to spend the day on an uninhibited Maldives island, and catch your own dinner by handline fishing in the Indian Ocean.
Where to Stay in Maldives
Robinson Club Noonu is a wonderful Maldives all inclusive that offers dreamy over-water bungalows and private infinity pools. There's also a WellFit gym, sauna and spa, a large pool overlooking the ocean, complimentary snorkeling gear, three restaurants with varied buffets, and three bars for an all-you-can-eat-and-drink experience. -Sara of Our Kind of Crazy
READ MORE: Maldives Becomes The World's Largest Marine Reserve
Best Caribbean Islands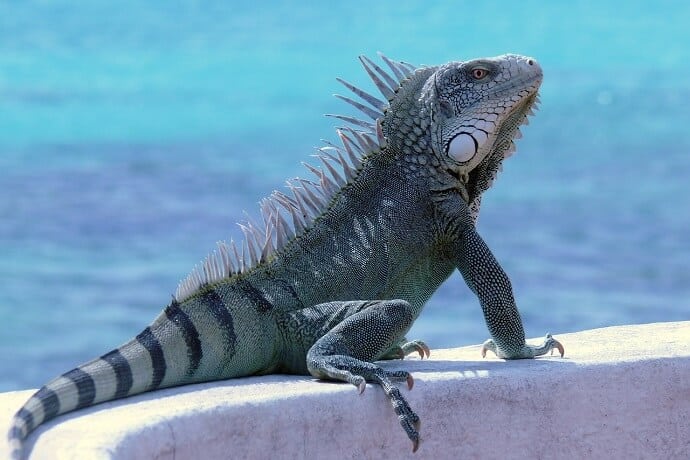 Bonaire

The small Caribbean island of Bonaire is the lesser known of the Netherlands' "ABC Islands," which also include Aruba and Curacao. While the other two islands have seen considerable urban development over the last few decades, Bonaire really hasn't.
Bonaire is best known for its marine conservation, which dates back to the creation of Bonaire National Marine Park in 1979. The island is a Scuba diving paradise, with over 80 dive sites and opportunities to see Loggerhead Turtles, Green Sea Turtles, and even Seahorses.
Bonaire is also a great place for birdwatching. Its mangroves offer safe nesting sites for beautiful birds such as Herons, Ospreys, and Magnificent Frigates. Pink Flamingos can be observed in several locations, including the Pekelmeer Flamingo Sanctuary.
Best Things to Do in Bonaire
The island of Bonaire offers plenty of other outdoor activities for nature lovers. Visitors can hike in Washington Slagbaai National Park to see Iguanas in their natural environment, or kayak through the Lac Bay mangroves looking for Herons, reef fish, and the endangered Queen Conch.
It's fun (and relatively easy) to bike the small, flat roads around the island. You can walk through Rincón, Bonaire's old town, which was established by the Spanish in the 16th-century.
Learn about the island's Dutch colonial past, which saw the expansion of salt harvesting and slavery, with the Slave Huts a reminder of that somber period.
And make sure to sample some Bonaire cuisine– a mix of fresh fish, Dutch influence, Creole spices, and Spanish flavors. Local delicacies include barracuda ravioli, wahoo sushi, and iguana meatballs.
Where to Stay in Bonaire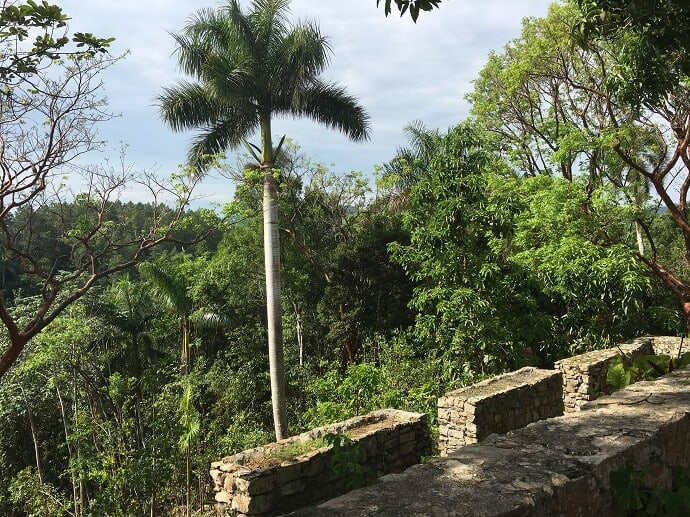 Cuba
Cuba is arguably one of the best tropical islands to visit for nature lovers. [Editor's note: Sadly, one of the world's most buzzworthy island holiday destinations just became MUCH harder for U.S. residents to visit due to the current administration's archaic policies.]
The largest island in the Caribbean, Cuba is home to a whopping 263 protected areas and six UNESCO biospheres. These include Buenavista, Cienega Zapata, Cuchillas del Toa, Baconao Peninsula de Guanacabibes, and Sierra del Rosario.
Amd with almost 4000 miles of sandy coastline, Cubas's coral reefs are pristine and virtually untouched (one upside of decades of travel bans by the U.S. government).
Best Things to Do in Cuba
There are many things to do in all these biospheres, and it seems each one has a specialty.
Sierra del Rosario Biosphere is next to the town of Las Terrazas, which is a self-sufficient, farm-to-table town at the forefront of ecotourism. Every restaurant in town serves only what they grow. Las Terrazas also has an artist's colony as well as the longest zipline in Cuba, stretching over 6 crystalline lakes.
All of the biospheres have swimming holes and nature hikes led by expert local guides.
Where to Stay in Cuba
The Hotel Moka, which has trees growing in the middle of the lobby, is a fine place to stay in Las Terrazas while you explore abandoned coffee plantations and visit the Soroa Orchid Garden. The hotel sits on a mountainside, overlooking the lush forest below. –Talek Nantes of Travels with Talek
READ MORE: The Best Hotels in Isla Holbox, Mexico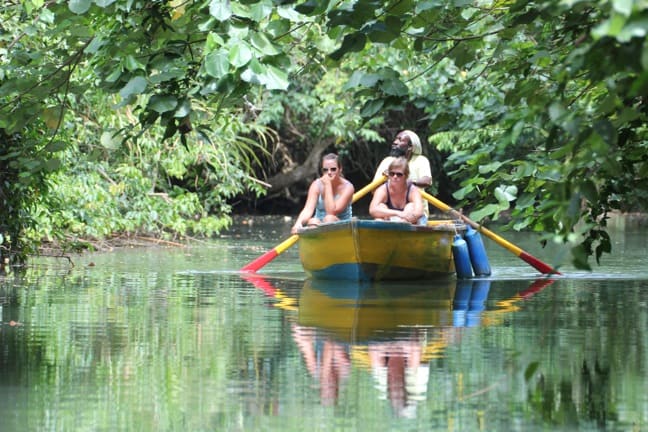 Dominica Island
Though often confused with the Dominican Republic, Dominica easily ranks among the best Caribbean islands due to its under-the-radar tourism profile and emphasis on ecotourism and conservation.
Known as the "Nature Island," Dominica is said to be the only Caribbean island Christopher Columbus would still recognize if he landed there today.
And though Dominica has been hammered by devastating tropical storms in recent years, this tiny island (population 71,000) in the Lesser Antilles is as unspoiled as any destination we've ever visited. Even in 2019, a full two-thirds of its 290 square miles remains completely undeveloped.
Best Things to Do in Dominica
Morne Trois Pitons National Park is a UNESCO World Heritage Site and contains a brief section of the 114-mile Waitukabuli National Trail. It's also home to the stunning waterfalls at the aptly-named Emerald Pool, which we had all to ourselves during our visit.
The island's location (and relative lack of tourism) makes it a great place to see nesting Sea Turtles, which are protected by the Dominica Sea Turtle Conservation organization.
You also won't want to miss a whale-watching tour with Kubuli Watersports, run by Andrew Armour (who is locally known as "the Whale Whisperer").
Other awesome things to do in Dominica include the volcano-fed hot springs of Screw's Sulphur Spa, snorkeling/diving at the volcano-heated Champagne Reef, a boat tour down the Indian River, and getting to know the island's indigneous cultural traditions at the Kalinago Barauna Aute.
Where to Stay in Dominica
One of the best Caribbean resorts we've ever visited, Rosalie Bay Resort, was permanently closed in 2018 after taking a major hit from Hurricane Maria.
But we also enjoyed the stunning scenic vistas and private beaches of Secret Bay and the recently renovated Fort Young Hotel, which was built into a historic fort conveniently located in downtown Roseau. –Bret Love & Mary Gabbett
READ MORE: Visiting Dominica's Kalinago Territory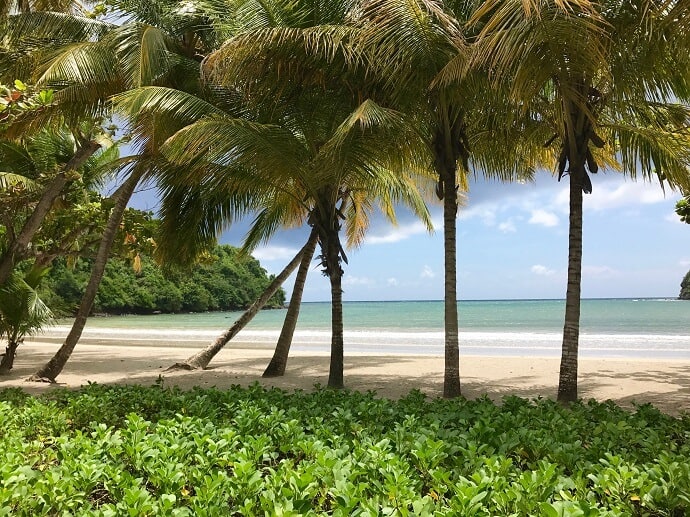 Grenada
With its aquamarine waters, diverse wildlife, and lush mountainous interior, Grenada and its sister islands (Carriacou and Petite Martinique) are home to an incredible range of natural attractions.
Although this three-island nation is still under-the-radar for mainstream tourists, it's ideal for independent travellers who want to immerse themselves in a naturally beautiful setting, but also crave exciting things to do.
Take a nature hike in Grenada's Grand Etang National Park and you can expect to see Tree Boas, Green Iguanas and Lizards as well as Opossum, Armadillo, Mona Monkeys, and some of more than 177 species of birds.
Post-hike, you'll feel as though you've landed in paradise when you cool off by plunging beneath natural waterfalls.
Best Things to Do in Grenada
While there's plenty to do in the island's interior for outdoor adventurers, the best way to experience Grenada's natural attractions is to explore its coast.
You'll find 40 beautiful Grenada beaches with white sand, 30 dive sites, and several coral reefs. The government continues to expand the island's marine protected areas: Its fourth, the Grande Anse Marine Protected Area, stretches south from the Port Louis Marina. It encompasses the pristine white sands of Grand Anse Beach, which is widely considered one of the world's top beaches.
A must-do in St. George's, the island's capital city, is to take a snorkelling excursion on a wooden sailing sloop to the Grenada Underwater Sculpture Park. This is the world's first underwater museum (featuring sculptures by Jason deCaires Taylor), and an innovative ecological project helping to raise awareness about the fragility of the world's environment.
Where to Stay in Grenada
You don't need to rough it in order to immerse yourself in nature in Grenada. Many of the island's luxury hotels are small, sustainable, and full of character. Their restaurants serve cuisine that showcases locally-sourced ingredients such as organic chocolate, fresh seafood, and fragrant spices.
The best small Grenada hotels include the Calabash Luxury Boutique Hotel, a Relais & Chateaux property set on peaceful Lance Aux Epines Beach, as well as the all-inclusive Spice Island Beach Resort. This low-rise collection of elegant guest suites is set on Grand Anse Beach, just steps away from some of the Caribbean's most swimmable waters.
Also located on Grand Anse Beach is the newest addition to Genada's luxury hotel scene, Silversands Grenada, featuring 43 posh guests suites and villas. -Michele Peterson of A Taste for Travel
READ MORE: Caribbean & Latin American Art: History & Travel Guide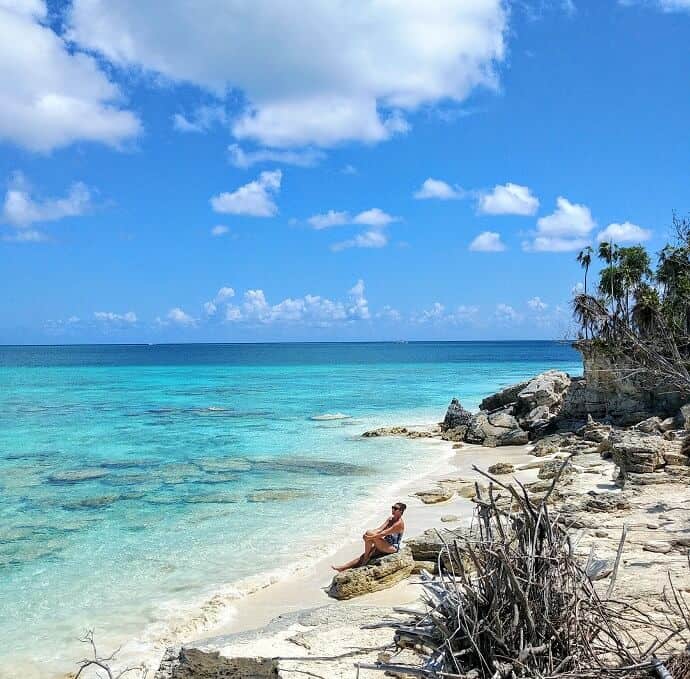 Turks and Caicos
The islands of Turks and Caicos have some of the most beautiful beaches in the Caribbean. The crystal clear blue waters make it an incredible destination for snorkeling or scuba diving.
One of the best beaches in Turks and Caicos is Grace Bay Beach. The barrier reef is about a mile out and protects Grace Bay from the ocean swells of the Atlantic.
Best Things to Do in Turks and Caicos
There are many wonderful activities to enjoy on what I consider among the most beautiful Caribbean islands. Both islands are primarily known for diving and snorkeling, as the island sits on an underwater plateau that rises more than 11,000 feet above the ocean floor.
The edges of the shelf are lined by miles of relatively unspoiled barrier reef. There are many wall diving sites and sheltered in-shore reefs. If snorkeling or diving is not your thing, lounging on the island's beautiful beaches are just as good.
Where to Stay in Turks and Caicos
If there's a downside to Turks and Caicos, it's that the islands are relatively expensive. If you don't mind cooking (though groceries are pricey as well), then renting an Airbnb may be a great option.
If you're travelling with kids then try Blue Haven, an all-inclusive option that offers large suites with kitchens. -Diana of Diana's Healthy Living
READ MORE: Caribbean Music Styles (An Intro to Caribbean Island Culture)
Best European Islands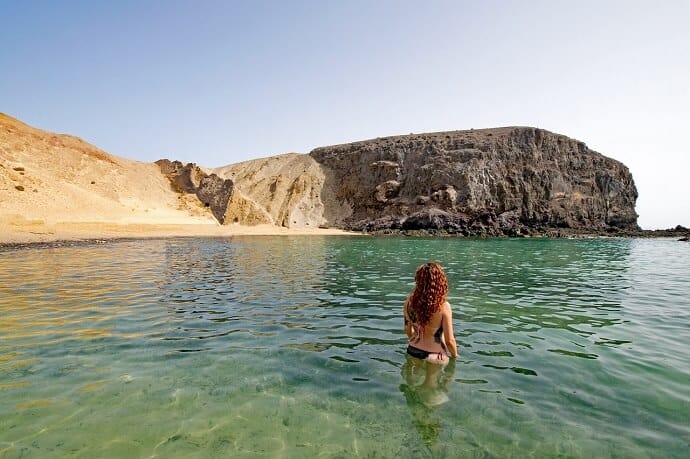 The Canary Islands, Spain
The Canary Islands archipelago is a fantastic European holiday destination that goes well beyond the typical tropical island concept.
The seven main Spanish islands, as well as the numerous smaller ones, offer an incredible variety of beaches, charming little villages, and cities (including Las Palmas and Santa Cruz) thriving with life.
Nature lovers will also enjoy the island's lush vegetation, picturesque hiking trails, and striking desert landscape.
Best Things to Do in the Canary Islands
Your opinion of the best Canary Islands to visit will likely depend on the kind of holiday destination you're looking for.
Tranquil Canary Islands beaches, such as Papagayo in Lanzarote, offer perfect places to relax. Lanzarote's steady strong winds are a guarantee of excellent waves, making this the best place to surf in the Canary Islands.
Hiking Tenerife, the home of Mount Teide (the tallest volcano in Europe and a UNESCO World Heritage Site), is fantastic and attracts the majority of active tourists.
Beautiful villages can be found all across the archipelago. And for that remote desert feeling, Gran Canaria's Maspalomas Dunes is the place to go.
Where to Stay in Gran Canaria
Lopesan Baobab Resort is a fantastic Gran Canaria resort located just 600 meters from Maspalomas Beach. Its main attraction is the incredible views it offers overlooking the Atlantic Ocean. –Claudia Tavani of My Adventures Across The World
READ MORE: 10 Ec0-Friendly European Islands (World Travel Bucket List)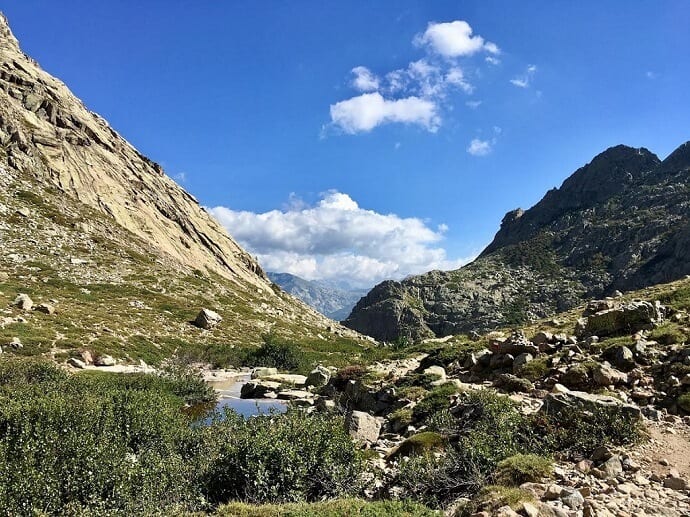 Corsica (France)
Located just north of Sardinia, the French island of Corsica is utterly unique in its culture, food, music, and language.
This makes it an exciting destination for those looking to expand their off-the-beaten-path Mediterranean islands bucket list.
This stunning island has beaches that rival the best in the world, as well as impressive mountains to explore. Plus, having little light pollution makes the stargazing here out of this world!
Best Things to Do in Corsica
The island of Corsica is known in the hiking community as home to Europe's toughest trek, the GR20. The trail traverses the island's rugged mountains, and passes through farm stays and along clear blue streams.
The white-sand of Palombaggia in the south and the rocky Plage du Lotu in the north both make for incredibly relaxing beach vacations. Adventure-seekers can amp up their visit with all manner of water sports, such as paddle boarding, boating, Scuba, and more.
For wine lovers, Corsica's northern wine region is a must-visit, especially when you pair the vintages with beautifully made Corsican cheeses.
Where to Stay in Corsica
Bastia is the perfect place to base yourself in Corsica, as it is the main hub for many excursions to other parts of the island.
Hotel Des Gouverneurs is in the Old Town of Bastia, situated adjacent to the citadel and numerous narrow, cobblestone streets leading to delicious local food/wine destinations.
The view out to the Mediterranean is an added bonus. –Christa Rolls of Expedition Wildlife
READ MORE: The Best Hiking Shoes for Travelers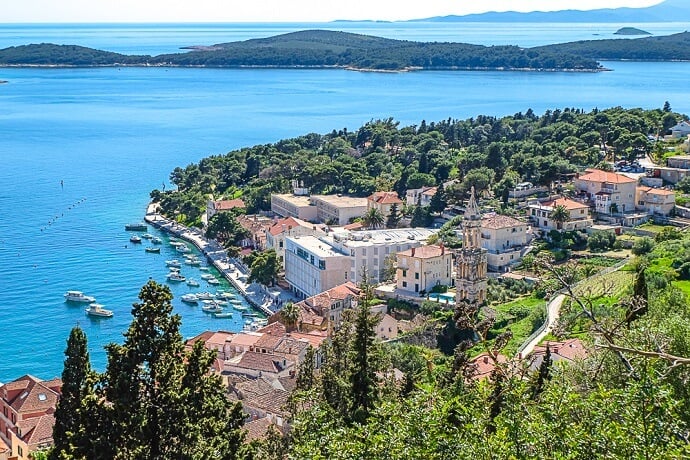 Hvar (Croatia)
Hvar is one of the best Croatian islands, mainly due to its cultural and historic significance.
The island is home to the Stari Grad Plains, an ancient agricultural area that has remained largely untouched from its original layout in the 4th century B.C. Now it is protected as a UNESCO World Heritage Site.
Aside from history, the island also offers that quintessential Croatian coastline, stretching through the Adriatic Sea but maintaining numerous connections to the country's mainland.
Best Things to Do in Hvar Island
The island has a healthy mix of things to do to suit all interests.
In the city of Hvar, you can hike high atop the rocky cliffs to check out the Spanish Fortress or head into town to grab a sweet treat. In Stari Grad, you can visit Tvrdalj Castle, the Renaissance-era summer home of a famous poet.
Outside the small towns, the island is dotted with lavender fields and vendors selling natural lavender-based products. There is also a tradition of wine-making on Hvar, and there are many seaside coves and beaches where you can escape to enjoy the sunshine.
Where to Stay in Hvar Island
If you're looking to stay close to the ferry port in Stari Grad, check out B&B Villa Apolon. For a more secluded, but eco-conscious Hvar accommodation, Villa Perka is an authentic option you may want to check out! –Eric and Lisa from Penguin and Pia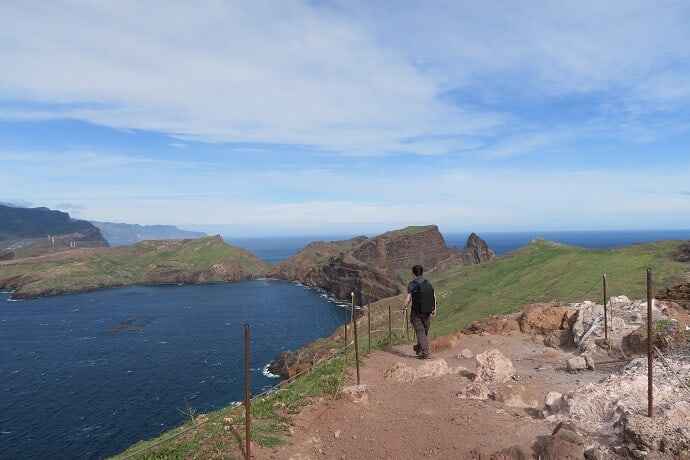 Madeira Islands (Portugal)
Like most of the polaces on this list, the four islands of the Portuguese archipelago of Madeira have beautiful coastlines.
But they also offer interesting fauna and flora, amazing volcanic formations, delicious cuisine, and glorious mountain peaks, which ranks them among our top islands to visit.
There are a wide variety of activities nature lovers can enjoy on these beautiful islands, which are located off the northwest coast of Africa. And the temperature is pleasant all year round, thanks to the subtropical climate.
Best Things to Do in Madeira
Hiking in Madeira is easily the most popular activity. The levadas were historically used as Madeira's irrigation channels, taking water from the northwest to the more fertile southeast.
But nowadays they're also used as hiking trails, and offer a great way to explore the island. An absolute must for trekking enthusiasts is the Pico Areeiro to Pico Ruivo trail, which connects the highest peaks on the island.
You can also go swimming at Calheta Beach, or catch a boat from the pier to see Whales and Dolphins. If you're feeling adventurous, try paragliding to get a bird's-eye view of the island!
Where to Stay in Madeira
Four Views Baía has a great location in Funchal that's close to many restaurants, cafes, and markets. It's a great base to explore Madeira island, and a lovely place to relax after a long exhausting day. The hotel also has a spa and pool, which has a gorgeous view. –Krix Eniko of Travel Hacker Girl<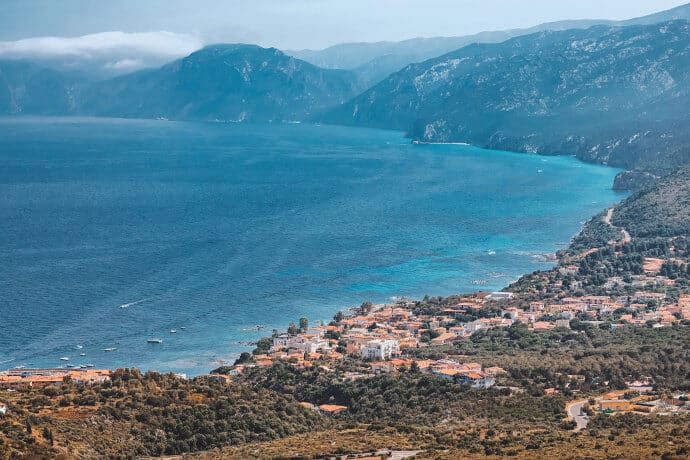 Sardinia (Italy)
Located just south of Corsica, Sardinia's wild and rugged mountains hide a myriad of underground grottos, which give an insight into the island's rich history.
Around the perimeter, pristine beaches (including 5 wheelchair-accessible beaches) hug the coastline, interrupted by rocky promontories that are pockmarked with sea caves.
It's arguably the best Italian island to explore, and offers a lot to the curious visitor.
Best Things to Do in Sardinia
Head to the hills if you want to experience hiking Sardinia, with some of the best trails in the European islands and incredible views to match.
Keep an eye out for the mystical looking nuraghi (mysterious beehive-shaped ruins of ancient fortresses that are unique to Sardinia) that punctuate the landscape. You can also discover stunning stalagmites and stalactites in many amazing caves lurking beneath the island's surface.
Be sure to also schedule some time to unwind at the beach. But while you do, keep an eye on the sky and you may spot the tell-tale silhouette of a Flamingo in flight!
Where to Stay in Sardinia
At nature's doorstep you'll find the authentic and welcoming Hotel Nascar. This unique Sardinia accommodation is a former granary that has been reincarnated as a charming place to stay. It's the perfect launch pad for trekking the Selvaggio Blu. Awarded the European Eco-Label, it's a hotel that goes the extra mile to protect the environment. –Nadine Maffre of Le Long Weekend
READ MORE: A Local's Guide to Le Marche, Italy
Best Greek Islands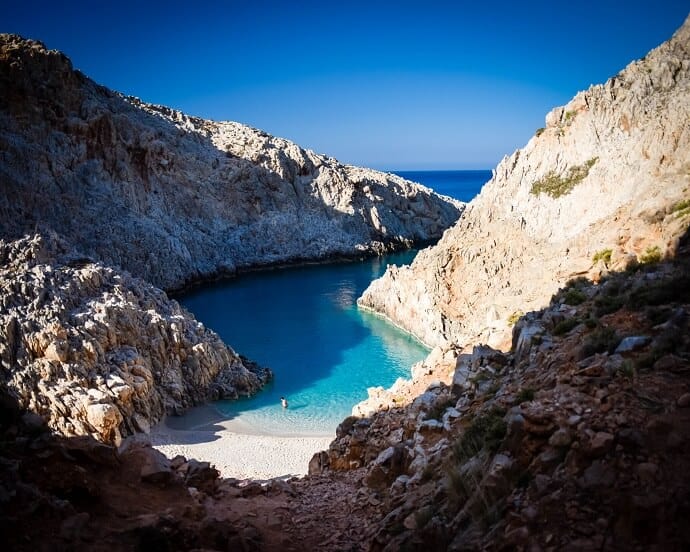 Crete
Crete, the largest island in Greece, is also its southernmost. So you can enjoy tropical island weather here longer than the most popular Greek islands to the north, such as Santorini and Mykonos.
Between the stunning cliff beach of Seitan Limania, the pink beach of Elafonisi, and the paradise retreat of Balos Lagoon, Crete is one of the best islands in Greece for those seeking beautiful beaches.
Beyond that, you'll find the towns of Heraklion, Chania, and Rethymnon to be full of charming historic spots left over from Crete's Venetian, Ottoman, and even Egyptian past.
Best Things to Do in Crete
For the daring, take the drive out to Seitan Limania beach and make your way down the cliffs to the water's edge. You can laze around in the sand or climb up the cliffs to jump into the water below.
Outdoor enthusiasts should make time to hike Samara Gorge, while history buffs should explore the island's numerous amazing archaeological sites.
Where to Stay in Crete
The Rimondi Boutique Hotel makes a great base from which you can enjoy all the things there are to do in Rethymnon, including touring the Venetian harbor, eating at Raki ba Raki, and strolling along the coast under the Fortezza at sunset. Enjoy their Turkish baths while staying in the heart of the charming Venetian city. -Stephanie Craig of Sofia Adventures
READ MORE: The Best Places to Visit in Greece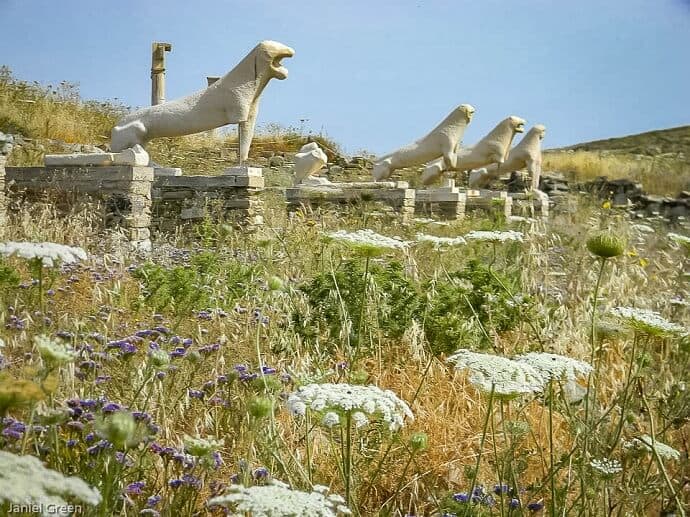 Delos Island
Delos Island is a UNESCO World Heritage Site known as a pirate island and Apollo's birthplace. Greek heroes of old were trained here, hoping to absorb Apollo's skills and blessing before battle.
Though it may not top most travelers' bucket list of Greek islands to visit, Delos offers plenty of attractions for those with an interest in history and ancient Greek culture.
Best Things to Do on Delos Island
I would suggest taking a guided tour to see this picturesque Greek island. Hike among the wildflowers, and walk past the famous Delos Lions towards Apollo's Temple. Visit the Dolphin House, where a Rosetta Stone mosaic design still holds the artist's signature from the 2nd century.
Walk among the many houses, which contain some of the best-preserved mosaic masterpieces from the 1st and 2nd Century BC. Many of these are considered even more well-preserved than those found in Pompeii.
Visit the Archeological Museum of Delos, which contains nine rooms full of artifacts found on the island from prehistoric times to the 15th century.
Where to Stay in Mykonos (to get to Delos)
While you cannot stay on the island of Delos itself, it is possible to stay on Mykonos and then take a ferry over to Delos. Of course Mykonos is also considered among the most beautiful Greek Islands, and is worthy of a visit on its own merits.
I recommend staying in Nissaki Boutique Hotel because of its close proximity to Psarou Beach, natural wood accents, and cascading pools.
You can also stay in the luxurious Mykonos Dove Beachfront Hotel, with sits olar powered umbrellas and private pools adorned with lush greenery. –Janiel from Culture Trekking
READ MORE: 13 Best Small Ship Cruises (World Travel Bucket List)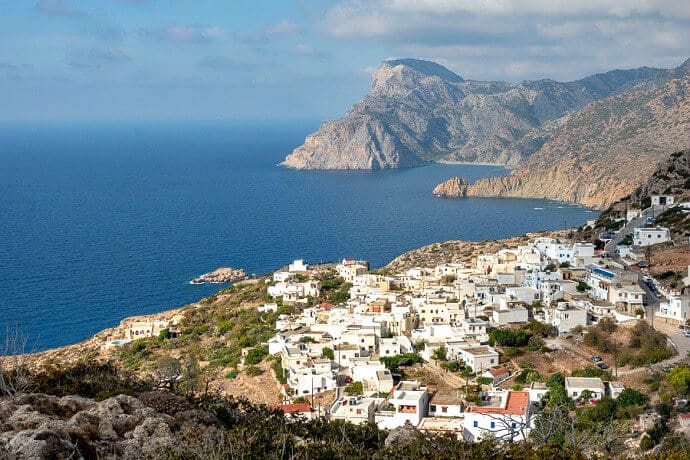 Karpathos Island
On Karpathos Island, which is located at the southeast corner of the Aegean Sea between Crete and Rhodes, people measure distances by walking time.
This long, thin, 116-square-mile island is criss-crossed by some 30 signed trails. They pass through forests, rocky mountains, agricultural land, shoreline, and ancient and modern villages. Once you've explored it, it's no wonder some travelers consider Karpathos the prettiest Greek island.
Karpathos and its neighboring sister, Saria Island (which are separated by a 150-meter channel), combine unique natural environments with a fascinating cultural setting.
Once inhabited by Greeks, Romans, and pirates, today the islands attract migratory birds, the endangered Monk Seal, and a rich botanical array. The Natura 2000 nature reserve and national marine reserve demonstrate the island's commitment to protecting its outstanding biodiversity.
Best Things to Do in Karpathos
Besides the hiking, Karpathos is known as a windsurfing mecca, with bays to suit every ability level. The island boasts more than 100 beaches, most in leeward coves with cliffs framing the clear water.
Snorkeling and caving are popular here. Scuba divers enjoy good visibility, underwater volcanic rock fields, and a few sunken ships. Back on land, activities include mountain biking and cliff climbing.
Hiking is often combined with birdwatching (over 200 species have been identified on the island) or a botanical and culinary walk (featuring dozens of endemic plants).
Don't miss the northern village of Olympos for a taste of Karpathos' distinctive food and culture. It produces some of the world's best honey and the aromatic Greek oregano used generously in its dishes.
Where to Stay in Karpathos
Most Karpathos hotels are in the main port town of Pigadia (Karpathos City) or along the southern coast. Central to everything is the Alimounda Mare Hotel, which offers a complete array of upscale resort services.
For a more intimate, remote experience, try Villa Iliahtida in Tristomo. Contact EcoTourism Karpathos for your help with planning your eco-friendly trip. –Kristin Henning of Travel Past 50
READ MORE: Ancestors & Expectations at the Acropolis of Athens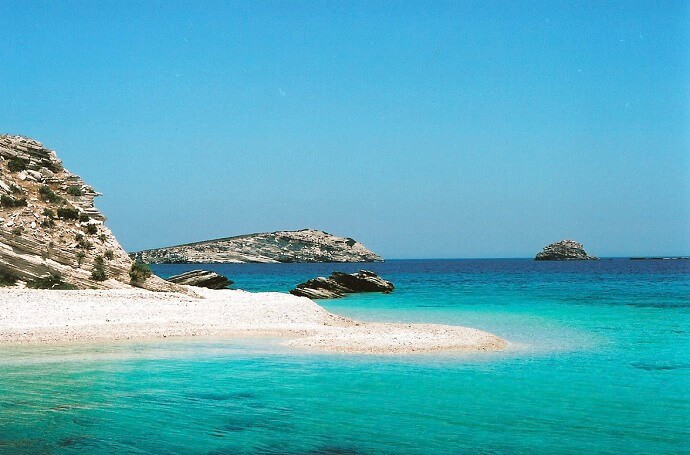 Leros
Leros is a perfectly
picturesque
island that's perfect for nature and history lovers alike. Located in the Aegean Sea near Turkey, it feels like a tranquil Greek village surrounded by stunning scenery. Luckily, Leros is well off the tourist map, so this quiet island remains relatively unspoiled by development.
Best Things to Do in Leros
A hike or motorbike ride to the Castle of Panagia is one of my favorite things to do in Leros. This medieval castle dates back to the 11th century. The on-site museum and church are worth visiting, and the 360-degree views from the castle are breathtaking, particularly at sunset.
You'll find some of the best swimming on Leros at Agia Kioura Beach. A boat cruise to one of the smaller islands nearby, such as Little Leros, is perfect for snorkeling excursions. The Leros coastline is also littered with WWII shipwrecks, which makes for exciting Scuba diving adventures.
To learn about the importance of Leros during WWII, you'll want to visit the island's War Museum. It's based inside a bunker originally built during the Italian occupation of Leros.
Where to Stay in Leros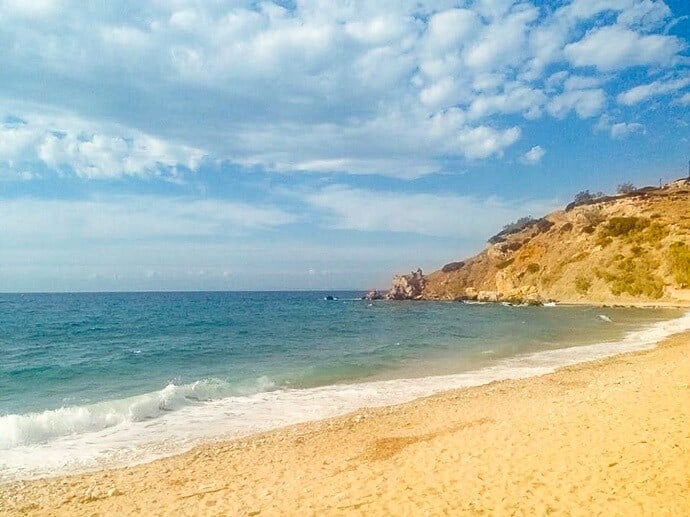 Naxos Island
Naxos is a beautiful Greek island that offers the perfect combination of food and nature, tourist infrastructure and local authenticity.
The view from the island's main dock says it all. To the left is an ancient ruin, straight ahead you can see the mountain ranges, and to the right is a great selection of restaurants.
Of course, the iconic white houses and wine-dark sea the Cycladic Islands are famous for complete the dramatic scene.
Best Things to Do in Naxos Greece
As Naxos is one of the largest islands in the archipelago, the best way to explore it is by renting a car. Head into the mountains and hike to find the Kouroi, which are ancient half-finished statues.
Scattered throughout these mountains are beautiful Greek churches and breathtaking views. There are enough traditional tavernas and olive presses to excite any food lover. Just be sure to visit a local shop to taste the world-famous Naxian cheeses.
Once you've had your fill of culture, you can relax on one of the amazing Naxos beaches, where it is usually possible to find yourself almost completely alone!
Where to Stay in Naxos
Thalassa Naxos provides an amazing beachside base for exploration. This tranquil Naxos accommodation (with cooking facilities and fridge) is nestled in a quiet natural area with long white sandy beaches, cedar forests, and sand dunes.
If you're more of a pool lover, then the family-friendly Naxos Palace Hotel will suit you perfectly. It is conveniently located within easy reach of the town and provides complimentary transport from the hotel every 30 minutes. –Samantha of Carry On or Bust
Best Polynesian Islands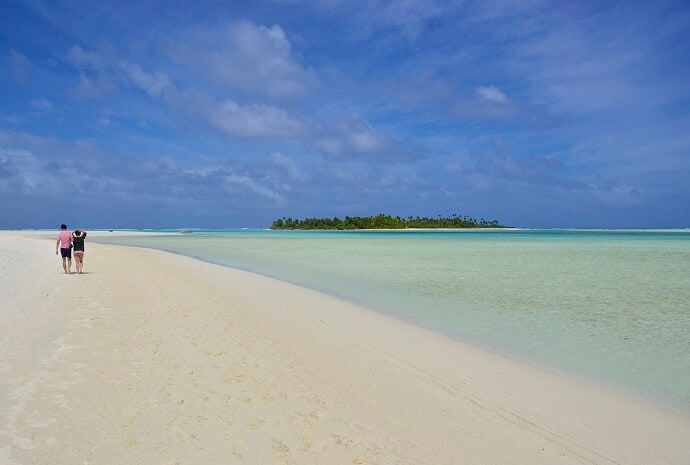 Aitutaki (Cook Islands)
Aitutaki is more than just another jaw-dropping Polynesian island. It's actually an archipelago of 15 of the most beautiful islands circling a postcard-perfect turquoise lagoon.
This is the perfect place for a holiday in Polynesia, with all the charm you'd expect from the South Pacific and surprisingly few of the tourists. In short, this is the place to indulge your castaway fantasies.
Best Things to Do in Aitutaki
Taking an Aitutaki lagoon tour is an absolute must. Several companies run small group tours, taking 8 to 12 people on a boat to a few of the nearby islets and the best snorkeling spots. Most include the chance to see giant Trevallies and Wrasses, Giant Clams, blue Starfish and bright purple coral.
For a more intimate, personal experience, rent a kayak or charter a water taxi and see where the mood takes you. You can even ask to be dropped off with a picnic lunch and have a deserted islet all to yourself for the day!
Back on land, don't miss an "island night" cultural celebration. These luau-like feasts of food and music are the best way to see Polynesian dancing and try traditional Cook Islands cuisine.
Where to Stay in Aitutaki
Our favorite Aitutaki accommodation was Etu Moana, a locally-owned boutique hotel with eight gorgeous villas. There's no all-inclusive option here, and no poolside waiter service. Just an honesty bar, a quiet stretch of beach, and several friendly cats. -Lisa Bott-Hansson of Rebellious Tourist
READ MORE: 21 Tahiti Photos to Fuel Your Exotic Island Fantasies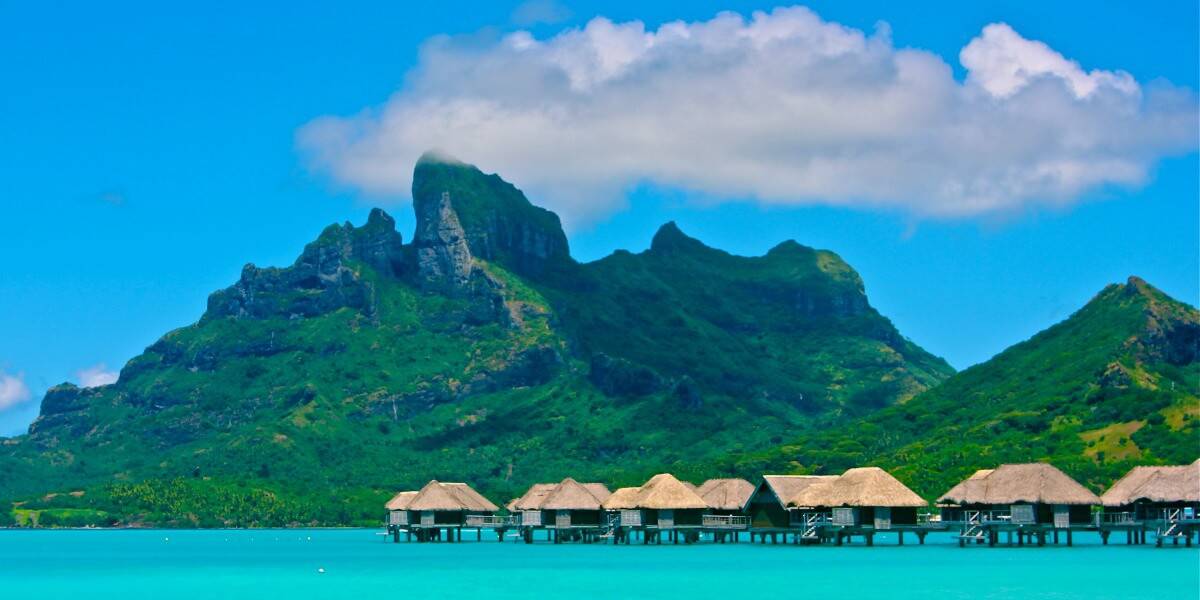 Bora Bora (Tahiti)
Bora Bora (whose original name in the Tahitian language means "first-born") is a luxury traveler's dream, and the epitome of exotic island indulgence. It's no wonder Bora Bora is widely considered one of the best islands in the world for a honeymoon.
With two mountains in the center of the island and a picture-perfect lagoon and barrier reef surrounding it, it's the quintessential Tahiti destination for rest, relaxation, and romance.
"Getting away from it all" is defined by a stay in one of Bora Bora's famed thatched-roof bungalows, whose glass floors allow views of an underwater world filled with fish, Manta Rays, and Reef Sharks.
Best Things to Do in Bora Bora
Pearl Diving in Bora Bora had been on our bucket list ever since we saw it as a challenge on The Amazing Race. The Bora Bora Pearl Company offers a chance to do it in a picturesque setting, and you learn a lot about pearl-farming in the process. You even get to keep the pearl you harvest!
Swimming with Sharks is another awesome activity, and we found ourselves surrounded by Black-tipped Reef Sharks, Stingrays, and all sorts of tropical fish. Unfortunately many local tour operators still chum the waters, which isn't exactly what you'd call a responsible travel practice.
But our favorite thing to do in Bora Bora was snorkeling the Ruahatu Lagoon Sanctuary at the Four Seasons Resort. Built from the ground up by marine biologist Oliver Martin, this tranquil lagoon was filled with fish, octopi, a coral farm, and intriguing underwater sculptures.
Where to Stay in Bora Bora
The Four Seasons Resort Bora Bora is everything you want from a Tahiti vacation. It's got luxury over-water bungalows, stunning scenic vistas, gorgeous beaches, a sumptuous spa, and exquisite seafood.
In terms of the best holiday destinations for couples, it's hard to beat. If you've got the budget, splurge for a private beachside dinner, complete with lobster and tiki torches! –Bret Love & Mary Gabbett
READ MORE: Harmful Traditions & Cultural Practices Tourists Shouldn't Support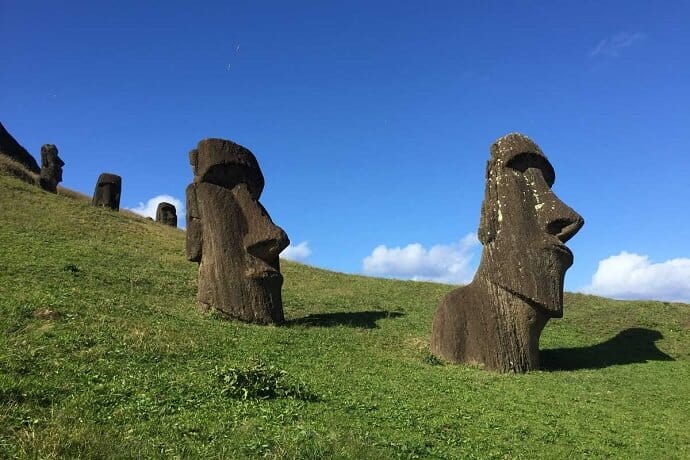 Easter Island (a.k.a. Rapa Nui)
Easter Island, which is known locally as Rapa Nui, is a mysterious and mythical place. Protected as a UNESCO World Heritage Site, this tiny island is littered with some 400 massive stone head statues (a.k.a. Moai).
Though widely considered one of the world's top islands to visit, Easter Island is very remote. There are only two ways to get there: a 4-hour flight from Tahiti or a nearly 6-hour flight from Santiago de Chile.
Best Things to Do in Easter Island
The obvious thing to do here is to either independently do the sightseeing of the Easter Island highlights, or join a guided tour group to take you to different places on the island.
Everything is magical here, but don't miss out on visiting the Moai "birthplace" at Rano Raraku quarry. You can also explore the Ahu Tahai and Ahu Tongariki platforms, the dormant Rano Kau volcano, and Anakena Beach, which is the only white sand beach on the island.
One of our favorite Easter Island activities is scuba diving. Ask to dive in the Hanga Roa Harbor if you want to see the eerie underwater moai! During the right season, you may even get to hear and spot the Whale migration in the clear waters.
Where to Stay on Easter Island
I highly suggest the 5-star Easter Island hotel, Hangaroa Eco Village & Spa. Simply a beautiful and relaxing eco-resort, it's definitely one of the best places to stay on the island.
While the hotel is within walking distance from the town center of Hanga Roa, they also provide a professional concierge service. So you can hire a car, arrange a guided tour, or simply get some R&R in its beautiful swimming pool. -Halef and Michael of The Round The World Guys
READ MORE: Rapa Nui National Park: Easter Island Facts & Photos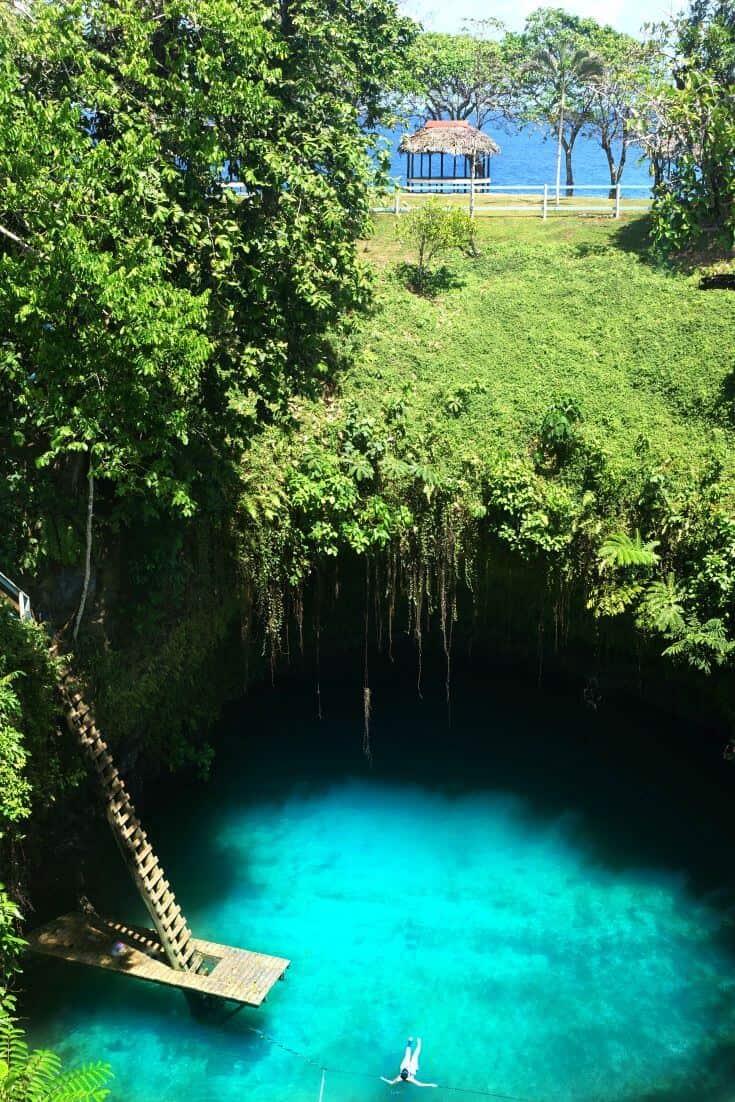 Savaii & Upolu (Samoa)
Western Samoa is an absolute gem in the Pacific, where volcanic activity has created incredible topography across two islands. Savaii and Upolu islands are arguably among the most beautiful islands in the world. They're littered with waterfalls, rainforest, beaches, cliffs, and swimming holes. On top of that, Samoa has one of the warmest cultures I've ever experienced in my years of traveling around the world.
Best Things to Do in Samoa
Your time in Samoa is best spent outside, exploring the two islands. On Upolu, the must-see is To-Sua Ocean Trench, a 30-meter deep swimming hole with shockingly clear turquoise water.
On Savai'i, the water is more dramatic, crashing up through Alofaaga Blowholes along a shoreline that changes between beach and cliffs.
You can snorkel at Palolo Deep Marine Reserve, swim with Sea Turtles in many locations, and even visit the home of famous Scottish author (and honorary Samoan citizen)
Robert Louis Stevenson
.
The Samoa Village in Apiais worth your time and gives a great sense of Samoan culture and history.
Where to Stay in Samoa
Western Samoa accommodations include an array of beautiful resorts, but all visitors should spend at least one night in a fale. These simple thatched huts are a Samoan tradition: The panels of the hut will be kept open throughout the day, and dropped down at night.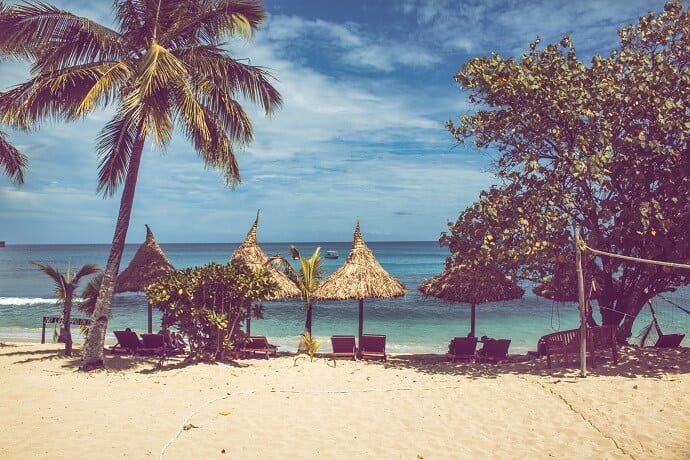 Yasawa Islands (Fiji)
As a country, Fiji is world renowned for its many beautiful islands. But the Yasawa Islands stand out as some of the best thanks to their natural beauty and the fact that they're so easy to get to from Fiji's main international airport in Nadi.
Visitors can choose one of the island resorts to relax at for the duration of their trip, or make use of the Yasawa Flyer and island-hop their way through this exotic archipelago.
Whether you're looking for relaxing tropical places to visit or an adventurous vacation with a bit more of an adrenaline rush, the Yasawa Islands have you covered.
Best Things To Do in the Yasawa Islands
The Yasawa Islands are known as an island-hopping destination that is especially popular among water sports enthusiasts.
So the best thing to do there is to snorkel or dive the nearby reef systems, which are teeming with marine life. If you're lucky, you'll spot some massive Manta Rays, or maybe get to scuba dive with Bull Sharks.
Many Yasawa resorts also offer kayaks and paddleboards for rent or loan. At the end of a busy day, you'll want to spend some time relaxing on one of the white sand beaches and takomh in a stunning sunset.
Where to Stay in Yasawa
The Yasawa Islands resort I stayed at was Octopus Resorts (on Waya Island), which was fabulous in terms of service, location, and amenities.
Another highly recommended place to stay is Mantaray Island Resort, which is located on a nearby Nanuya Balavu Island. -Hannah Logan of EatSleepBreathTravel.com
READ MORE: Hawaiian Mythology (Intro to Hawaiian Gods, Goddess and Legends
If you enjoyed reading 20 Best Exotic Islands To Visit For Your World Travel Bucket List, you might also like:

The 20 Best Things to Do in Jamaica (For Nature & History Lovers)

The 20 Best Things to Do in Barbados (For Nature & History Lovers)

Top 20 Things to Do in Cancun (For Nature Lovers)

St Kitts Travel Tips (A St. Kitts Travel Guide)

The Best Coffee in the World: A Gourmet's Guide

[UPDATED: 4/19/2019] In our eyes, the world's best exotic islands offer an opportunity to get away from it all while immersing yourself in a rich, heady mixture of nature, wildlife, history, and culture.