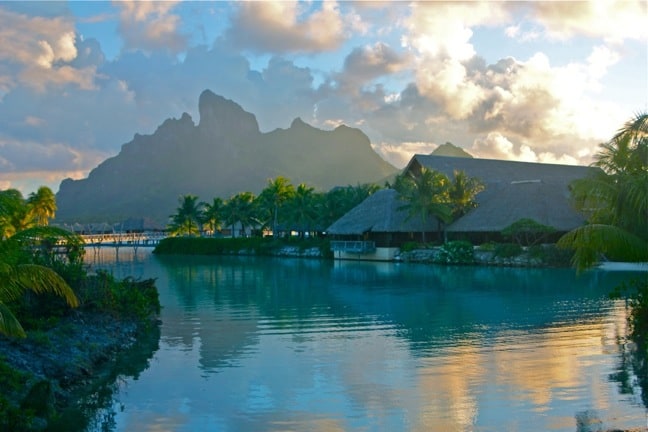 Snorkeling Bora Bora
The Ruahatu Lagoon Sanctuary
The beach sands are white and pristine, having been raked smooth in the early hours when guests are still sleeping. The water is a crystalline blue endemic to Tahiti, and as still as mirrored glass. Ten yards from shore, coral nubbins of varying shapes and sizes are grafted to stone, like seedlings in some sort of underwater greenhouse.
As we strap on our masks and head out into the warm waters for our first experience in snorkeling Bora Bora, we're instantly surrounded by all manner of marine life, from Parrotfish and Picasso Trumpetfish to playful Pufferfish. Making our way through what can only be described as a lushly landscaped coral garden, we see hundreds of different species, as well as numerous underwater sculptures colored by algae. There's not another soul in sight.
For the next hour, we have this idyllic underwater Eden all to ourselves. This is the Ruahata (God of the Ocean) Lagoon Sanctuary at the Four Seasons Resort Bora Bora.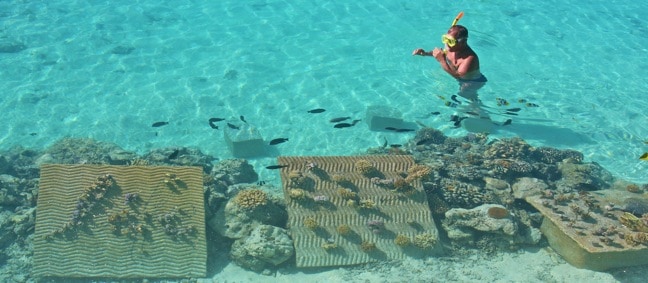 Back in 2008, when this immaculately designed resort was completed, there was only land where the marine sanctuary is now. There was no coral in the waters between the main island of Bora Bora and the motu (or small island) upon which the Four Seasons was built, because there were no rocks upon which coral could grow. There were no fish for snorkelers to see, other than the occasional Pufferfish or Eagle Ray passing beneath the bungalows for which French Polynesia is known.
So the Four Seasons brought in marine biologist Oliver Martin of Pacific Eco-World Initiative– a native of the Antibes whom the resort's staff came to refer to as "The Fish Whisperer."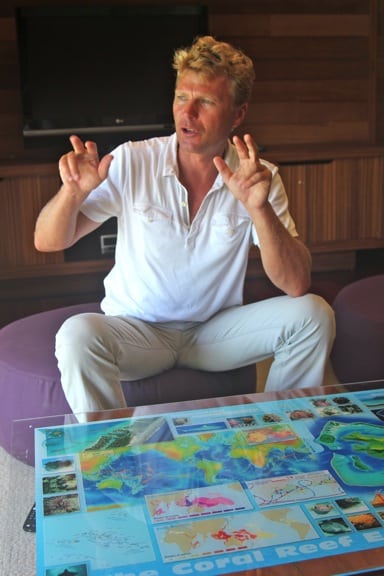 Martin, who comes across like a handsome heir to Jacques Cousteau's marine conservation legacy, has spent the last four years of his life tending to his coral garden daily. And, on a 75-minute private tour of the lagoon sanctuary (which is available to anyone who donates to their Adopt-A-Coral program, while group tours are free for all guests), he introduces visitors to its myriad wonders with an infectious sense of pride and passion.
"The idea was to give back by doing something for the environment that people could enjoy," Martin says, when asked why it was important for the resort to create the Ruahatu Lagoon Sanctuary. "But the truth is that there is a much easier way we could have done it."
Martin explains that, after digging out the lagoon, the Four Seasons laid down a few ground rules. He had to grow all new coral himself, starting nubbins on rebarb before transplanting them onto rock-like artificial reefs. And he was forbidden from bringing in fish, whether by hand or by chumming the waters with food. In short, every single fish you'll find in Ruahatu is there simply because they enjoy the safety the sanctuary provides.
It's hilarious to see a line of fish outside the protective barrier that keeps big predators from entering, waiting for the tide to rise high enough that they can swim through the narrow gap at the top of the gate. It felt a little like being inside some hip aquatic nightclub– the "Octopuses Garden" The Beatles sang about– with hopefuls standing outside the velvet rope.
As we follow Martin back into the recesses of the lagoon, it's easy to see the love he has for his little slice of Polynesian paradise. He shows us close-up views of the tiny coral nubbins as if they'd been borne from his womb. Fish crowd around him expectantly, like fans backstage at a rock concert, knowing he'll eventually pick up a large rock and allow them to feed on the algae that grow beneath it. He even takes time to dive down and brush sand off sea anemones, whose tendrils seem to wave a watery thank-you.
The day before our tour, while exploring the lagoon on our own, Mary and I made a friend in an adorable Yellow Pufferfish, who seemed intent on chasing off any other fish who came into his territory. Attracted by the tiny mirror on the front of our GoPro extender pole, he followed us around for nearly 20 minutes, sending us both into a fit of delighted giggles.
But Oliver did us one better: Plucking a tiny Sea Urchin from the back of a rock, he cracked it open to reveal the juicy, fleshy meat inside. A friendly Spotted Pufferfish fed right from his hand, allowing us to get some incredible close-up video footage.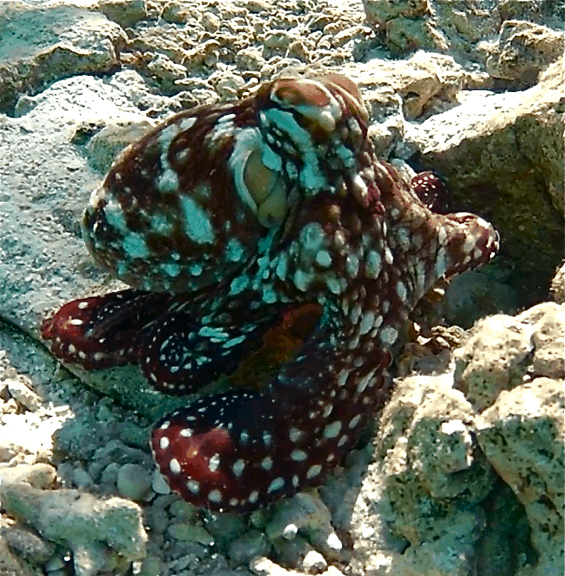 One of the coolest things we saw during our time with Martin was an Octopus, which we never would've spotted without him. The creature was hidden amongst some grey-beige rocks, camouflaged to blend in with his surroundings. As we hovered nearby, the octopus remained tucked in his little hidey-hole. But as Mary and Oliver began to chat, I asked them to step back a few steps in one direction, then I did the same in the other direction.
After waiting to make sure I wasn't going to attack him, the octopus made a run for it, spreading his tentacles out as he swam for the next patch of shelter. I quickly swam parallel to him, extending the GoPro pole out to its full 6 feet in length in order to capture the action on video. As I watched, he suddenly changed colors from a yellowish beige to a burgundy red before slipping into the next crevice, where, once again, he was perfectly camouflaged. It was easily one of the most amazing animal adaptations I've ever seen, and I was ecstatic to capture it on film.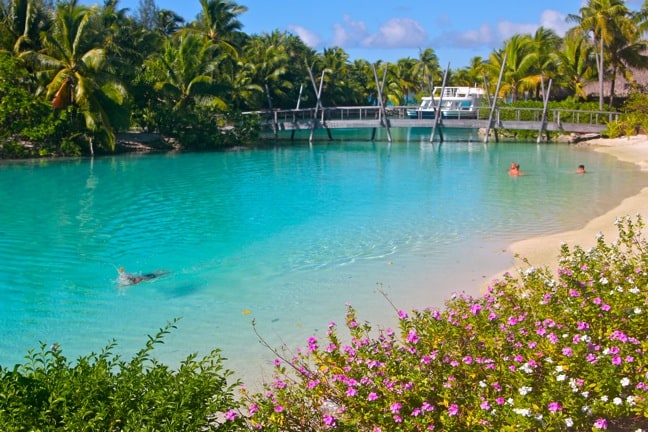 As reefs throughout the world suffer from the increased pressures of climate change, the degradation of water quality, and human impact, it's an incredible experience to explore such a lovingly-tended aquatic ecosystem. And, through their educational programs for visitors and local Tahitian children alike (which include an opportunity to help graft coral), Martin and the Four Seasons are hoping to encourage the next generation of marine conservationists.
"We hope our guests who appreciate the beautiful environment here will devote some of their time and energy to helping us preserve this pristine ecosystem," says Martin as we bid farewell. "This is something that the future generations should be able to enjoy." –Bret Love; photos by Bret Love & Mary Gabbett
If you enjoyed our story on Snorkeling Bora Bora and the Ruahatu Lagoon Sanctuary, you might also like:
TAHITI: Moorea's Tiki Village Theater
INTERVIEW: Jean-Michel Cousteau On His Father's Legacy & Future of Marine Conservation
INTERVIEW: Marine Conservationist/Artist Guy Harvey