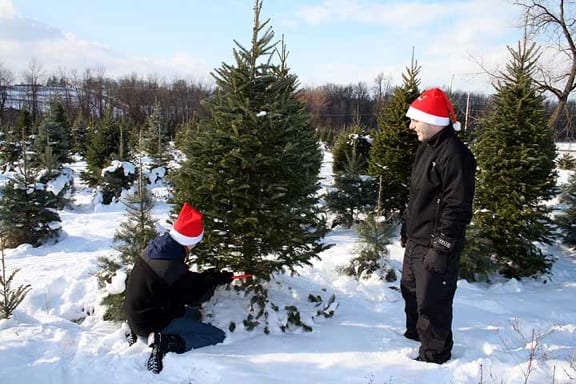 Real Vs Fake Tree
Putting up and decorating the Christmas tree is one of our family's favorite holiday traditions, and we're looking forward to picking out a beautiful North Carolina-grown Fir next weekend. But our eager anticipation was mixed with concern: Is getting a real vs fake tree better for the environment? 
The answer surprised us: If you want to have an eco-friendly, green Christmas: Keep It Real!
People turn to fake plastic trees for a number of reasons, including cost, convenience and concerns over the environmental impact of cutting down a new tree each year. But experts insist that artificial trees do more damage to the environment: They're manufactured with metal and PVC (a non-biodegradable, petroleum-derived plastic); are non-recyclable and non-biodegradable; and around 85% are imported from China, which increases their overall carbon footprint.
Real Christmas trees (of which 33 million are sold in the U.S. each year), on the other hand, are a renewable resource with a 93% "treecycling" rate; absorb approximately a ton of CO2 PER TREE over the course of their lifetime (wow!); produce enough oxygen per acre for 18 people a day; and are sustainable, with 1-3 seedlings planted for each tree harvested. Not to mention the fact that the industry employs over 100,000 people in the U.S. alone.
Of course, if you're truly dedicated to going green (and your local climate will allow it), the most eco-friendly option is a living, potted tree, which can be brought indoors for around 10 days, then planted outside. With Christmas trees, it truly is better to keep it real!  –Bret Love
If you liked Real Vs Fake Tree, then you may also like:
GLOBAL CULTURE: History Of Santa Around The World!
GO GREEN TIP #81: Top 5 Tips For A Green Christmas
GO GREEN TIP #48: Recycle Christmas Items
GO GREEN TIP #42: Homemade Christmas Gifts

GO GREEN TIP #46: Be A Green Santa
5 Best Christmas Light Displays In Georgia
GEORGIA: Top 20 Atlanta Christmas Events
Christmas Traditions Around The World
GLOBAL CUISINE: Lebkuchen Recipe (Germany)