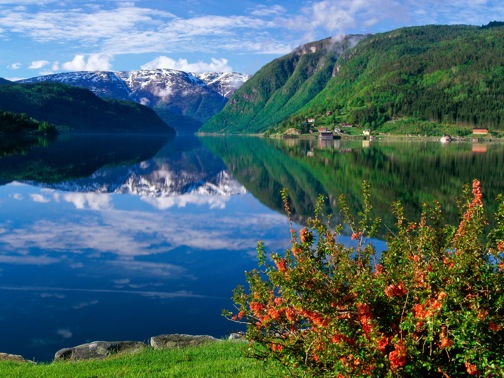 Top 5 Norway Eco Attractions
• HARDANGERFJORD– No Norwegian destination list would be complete without mention of the country's iconic fjords. Though it is a world-famous tourist destination, Norway has received honors from National Geographic's Center for Sustainable Destinations due to its conservation efforts and rural land preservation. The Hardanger fjord, just south of the large international town of Bergen, is the third-largest in the world and second-largest in Norway. There are many ways to explore its more than 100 miles, including guided tours and kayaking. A boat ride through the fjord will take you along a landscape speckled with colorful houses, through snow-capped mountains and past glaciers and waterfalls. Springtime along the fjord also boasts beautiful blooming fruit trees. Other nearby cultural experiences include the Hardanger Folk Museum, which features local culture; the Hardangervidda Nature Center, which focuses on human-environment interaction, and the Hardanger Fartøyvernsenter, a traditional boat museum. Be sure to try some local fish while you're there too—Bergen is one of the top fishing regions in the world.
• JOTUNHEIMEN MOUNTAINS– Jotunheimen, meaning "The Home of the Giants," is a breathtaking span of mountains lying in the heart of Norway. Take in the cold mountain air of one of the world's greenest countries while hiking alongside abundant wildlife and dramatic landscapes. With over 2,000 miles of marked trails, rich cultural attractions and majestic scenery, the area is popular among hikers and climbers. Plan to visit the Norwegian Mountain Museum, which offers a unique perspective exploring the interaction between humans and mountains. Another attraction worth visiting is Haukdalen, a picturesque traditional smallholding in Lom with beautiful gardens and art exhibits. Also in Lom is the open-air museum Bygdamuseum, which allows visitors to experience the life of traditional Norsemen. A short distance away is a beautiful twelfth century stave church still in use today, and is open to visitors. Other attractions include herb gardens, waterfalls, glacier walks, boating and cultural museums. Make it a multi-day trip and bring a tent, as camping is allowed almost everywhere in Jotunheimen.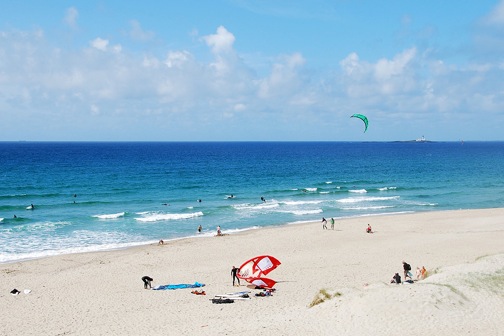 • JÆREN BEACHES– Beaches are probably not the first thing that comes to mind when you think of Norway, Stavanger's Jæren beaches are a perfect eco-friendly destination. The entire seven-mile span of scenic beaches is a conservation area devoted to wildlife and native plant conservation. Explore the coastal culture via biking, walking, or horseback riding along the beach and view the nature reserves featuring local flora and fauna. The beach also offers many outdoor activities, including surfing, canoeing and kite-flying. Don't forget a sweater, as it can get very windy!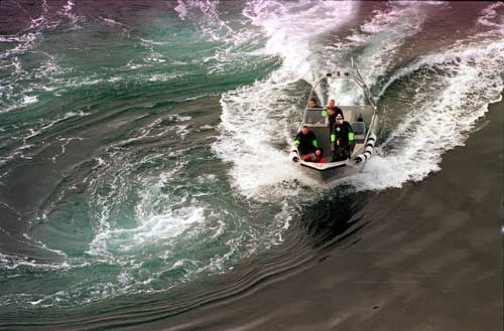 • SALTSTRAUMEN- Saltstraumen, located just outside Bodø in northern Norway, is the most powerful maelstrom in the world. With tidal current speeds that can reach 25 miles per hour, the troubled waters are a great place to fish. Every six hours, over 14,000 cubic feet of water rush through the narrow waterway, producing remarkable whirlpools that can reach over 30 feet in diameter. Bundle up and view the incredible force of nature either from the piney shore or by boat. Guided boat trips and deep-sea fishing voyages are available, as well as boat and equipment rentals. The surrounding wilderness is also a perfect hiking location, with beautiful arctic scenery and wilderness, and the recent discovery of the archaeological remains of a 10,000-year-old hunter settlement.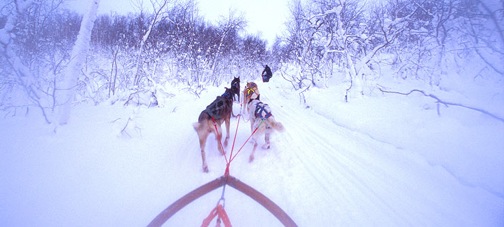 • DOG SLEDDING IN FINNMARK– For a truly unique Arctic experience, Norway offers dog sledding excursions. At the Northern tip of Norway near the Russian border lies the home of 50 eager Alaskan Huskies. Kirkenes, considered the portal to the east, is a small mining town of around 3,000 inhabitants. According to host David Spinx, "the dogs never seem to wanna stop running." While he prepares the sleds for the trip, visitors get to know the friendly, excited dogs. For dinner, sledders are fed hot meals made from local ingredients and eat around a bonfire with the company of the dogs and locals. Overnight trips provide visitors with an even more authentic experience (which also means hard work). You'll get to feed the dogs, help prepare them for sledding, set up camp and tend to the fire. Guests lodge in traditional Sámi (the indigenous people of the arctic) huts, experience lots of storytelling and eat delicious local food. –Holly Young
If you enjoyed reading Top 5 Norway Eco Attractions, you might also like: