Exploring the London Wetland Centre
(The following is a guest post from Oakland-based environmental educator Paul Belz, who develops/teaches natural history classes for children, families and teachers. Check out Paul's blog for more of his work, and email Bret Love at info@GreenGlobalTravel.com for guest posting info.)
Busy, bustling South London is an astonishing place to find a rich wetland habitat. But that's precisely what you'll see at the London Wetland Centre, which is a great place for anyone who visits London with kids.
complete with blue-footed ducks, grey herons, moor hens, swans, swifts, sand martins and much more.
Sir Peter Scott, who founded Britain's Wildfowl and Wetlands Trust in 1947, dreamed of an urban wetland that would be accessible to Londoners and travelers alike.
The only child of Antarctic explorer Robert Scott and sculptor Kathleen Scott, Sir Peter wrote over 30 books, traveled the world, and was a champion skater and glider pilot.
He was one of the co-founders of the World Wide Fund for Nature, which now better known in North American as World Wildlife Fund (WWF).
Sir Peter was also celebrated as a wildlife painter, especially of birds.
He helped develop the IUCN Red List, an ongoing list of endangered species worldwide, and created the scientific name Necittaras rhombobteryx ("the monster of Ness with the diamond shaped fin") so the Loch Ness Monster could be included in that collection.
The Daily Telegraph later pointed out that this name was an anagram for "Monster hoax by Sir Peter S."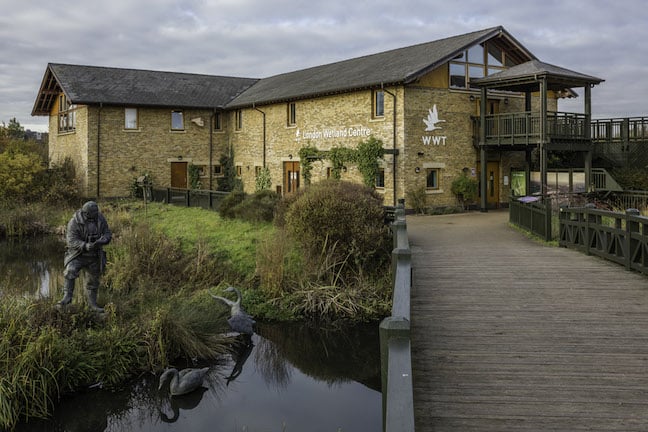 History of the London Wetlands Centre
Scott's London Wetland Centre is a 53-hectare series of constructed pools, marshes, lakes, reed beds, and wet fen marshes. A series of sluice gates connect these water bodies and controls the flow of water between the preserve and the Thames River.
The Wildfowl and Wetlands Trust discovered an old reservoir in London's Barnes district in 1989, shortly before Sir Peter's death.
Negotiations with other agencies led to an agreement to use this site, and workers began to drain the reservoir in 1995. Clay at the reservoir's bottom held water to greet arriving birds.
Workers used concrete blocks to mimic reefs for nesting fish. They crushed and recycled others to line paths and provide a base for grasslands.
By 1997, volunteers were planting 300,000 aquatic plants, 250,000 shrubs and flowers such as southern marsh orchid.
Sir David Attenborough, who collaborated with Sir Peter, stated at the centre's 2000 opening that it was the ideal example of how humans and nature "could live together in the 21st century."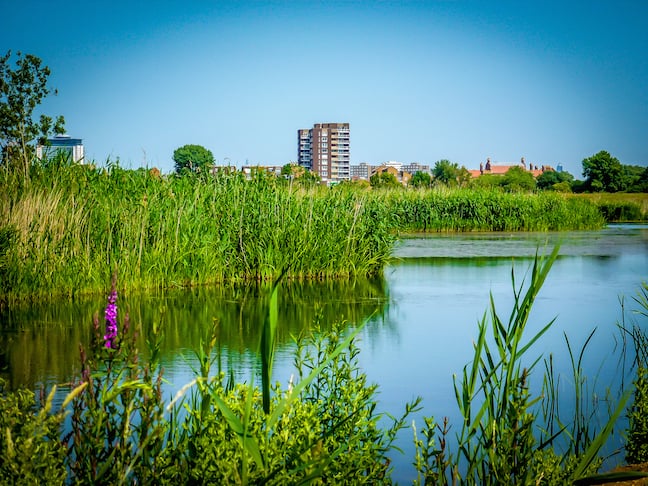 The Importance of Wetlands
The Visitors Center offered a range of exhibits about wetland ecology.
My favorite was a computer- based presentation that used projectors to shine images of insect larvae, aquatic worms and other small creatures scurrying across the floor.
A pane of glass mimicked water's skin. "Look out, fish!" my partner Kate said as she pointed out a model of a heron's head poking its beak through the glass.
The wetlands' soil absorbs excess rain, prevents floods and filters impurities from water so that humans and other animals can drink it. They're rich in biodiversity– around 100,000 animals depend on them for habitat– but, sadly, they are vanishing ecosystems.
England has lost 90% of its wetlands over the past 400 years, while 50% of the world's wetlands have vanished during the past century.
The London Wetland Centre's staff believes that people who experience these unique places and their creatures will ultimately help to preserve them.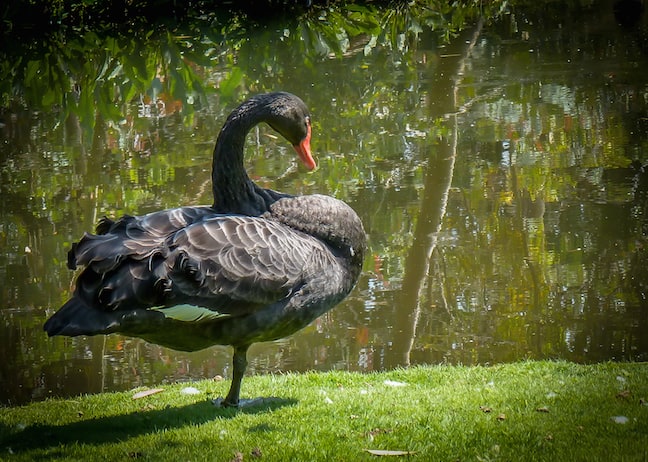 Exploring the London Wetland Centre
A walking trail from the visitors center took us to a series of marshes created to represent wetlands from many parts of the world.
"After all our travels, we finally made it to Hawaii!" I laughed as we watched Hawaiian Geese (also known as the nene goose) waddle through their London home.
With striped brown faces and black bodies, these birds were once common on all the Hawaiian islands, but they're now considered the world's sixth most endangered waterfowl species.
Predation by introduced pigs, mongooses, rats and dogs shrunk their populations. Loss of the native plants they eat and collisions with cars contributed to their being limited to Kauai and Maui.
The London Wetland Center's captive breeding program raises goslings in safety and releases them in Hawaii when they become adults. This initiative has helped save the Nene Goose from extinction.
Spoon-billed sandpipers' populations have shrunk to fewer than 100 breeding pairs. These unique shore birds use their scoop-shaped beaks to gather and shovel invertebrates from coastal regions.
They breed on Eastern Russia's harsh coast and migrate 8,000 miles to Bangladesh and Myanmar. Illegal hunting kills many young birds before they can leave Russia, while others are caught in nets as they approach their southern range.
Conservationists work with local populations, encouraging them to respect these small travelers.
WWT scientists also work with Russian scientists to gather each breeding pair's first eggs each season, and then raise the young from these eggs.
Their disappearance encourages breeding pairs to lay a second brood. This policy has been successful; one breeding pair recently produced six healthy youngsters, which is six times the average survival rate. WWT maintains a captive breeding program for these birds at the Slimbridge Wetland Centre in Gloucestershire.
Conservation Through Education
Sir Peter Scott initially reached the public through his popular TV show Look, which ran from 1955–1988 and was the BBC's first-ever natural history show. The Centre continues his emphasis on conservation through education.
Carolyn Robertson, the WWT's Learning Advisor at the time of our visit, described the organization's efforts to educate students.
"We work with a wide range of schools," she said. "Some come from very urban environments, others from more rural settings.
As a result, their awareness of wetlands varies greatly. Some visitors have little or no awareness and limited opinion.
Others have started to explore wetlands as a habitat and generally feel positive towards them, which is largely influenced by the animals that live in wetlands, particularly otters!"
Asian Short-Clawed Otters are the smallest of the world's 13 otter species. Natives of India, the Philippines and China, they burrow near rivers and feed on a range of aquatic animals.
They're not currently listed as endangered, but pollution, hunting and habitat loss are having an impact on their populations.
These social mammals live in family groups, are active in the daytime and easier to observe than England's native otters. So we joined adults and children on a dock and watched these adorable aquatic weasels as they feasted on fish.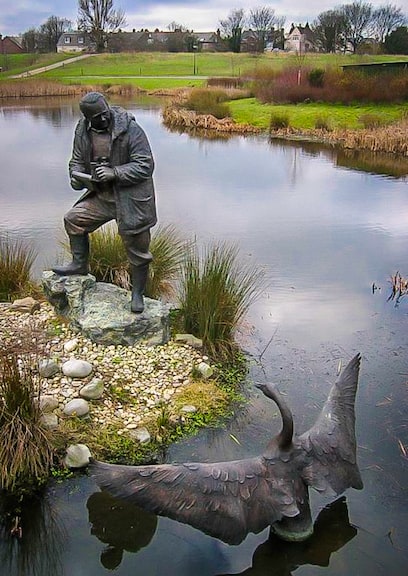 "We've been delivering [educational programming] since WWT was founded in the 1940s," Robertson said. "Since then over 2.2 million people have visited us for a learning session (on average around 50,000 school children each year).
Our most popular session by far is pond dipping, as this really brings to life science topics including adaptations, life cycles and ecosystems, which teachers find difficult to bring to life in a classroom setting."
The Centre's preschool classes include a challenge where children discover the process of building a nest by making their own.
They use their audio equipment to consider the sounds of a wetland, and try to decide which animal produced each call. School-aged students work with dip nets and underwater cameras to discover marsh invertebrates.
Another class for older kids encourages them to dress like birds to mimic their body structure, feeding strategies and adaptations to the wetland.
"We're in the process of modernizing," Robertson continued, "trying to move away from traditional learning experiences. We want to act more as facilitators and allow learners to discover for themselves the value of wetlands and why they're important through activities that enhance their sensory experiences, hopefully leading to emotional connections."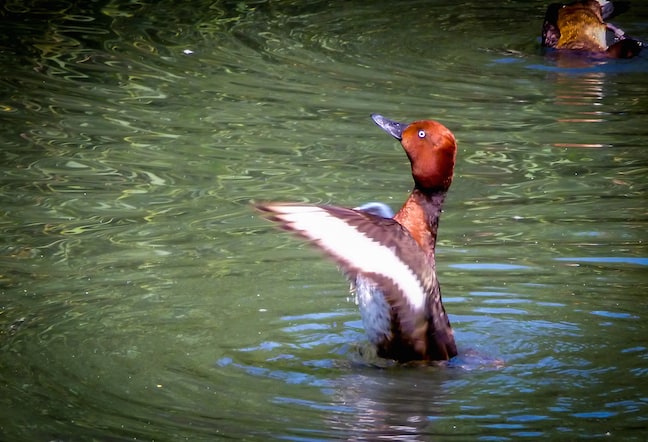 As we wandered through reconstructed British wetlands, we listened for splashes that would announce the presence of Water Voles.
These large swimming rodents have furry tails, unlike rats, mice and muskrats. Piles of chewed grass and other plants often showed the location of their river burrows.
We were sorry not to see Britain's most rapidly declining mammal species (due to habitat loss and the introduction of predatory American minks), but appreciated the Centre's efforts to preserve a population.
"Look at that moth! It's wearing a mask!" Kate said, pointing at a streaked, cream-colored insect. It's called a Mother Shipton Moth because many observers think it resembles the 13th century sorceress' face.
Blue-tailed Dragonflies and Hairy Dragonflies dodged swifts and swallows, while white-veined Butterflies drifted past. Half of the animals that rely on wetlands are invertebrates, and the Centre is proud of its many residents.
"Those Moorhens are insane!" Kate said, as two males swam towards each other. Each grabbed his rival by his long, lobed toes and tried to push him under the water. The victor would be able to nest in this area, while the loser would have to find another site.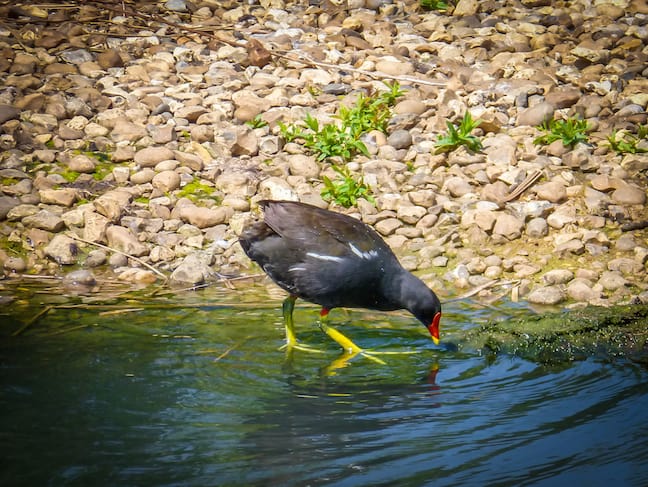 "I've seen coots do that in the United States, and these birds are close relatives," I replied. A European Coot, with an ivory beak that extended from high on its forehead, quietly swam by.
Shovelers– long-beaked ducks who never nested at the Centre before the summer of 2013– swam past with their ducklings, joined by gadwalls and their young. None of these birds seemed overly concerned with the Moorhen fight.
We soon found ourselves at the Centre's Sand Martin bank. These small relatives of swifts and swallows burrow into mud banks near rivers and wetlands.
They spend summers in Europe, northern Asia and North America, and then fly to Africa, southern Asia and South America for the winter.
While generally not considered endangered, loss of habitat has impacted some populations. The Centre maintains a wall where they can nest before migrating to Africa in September.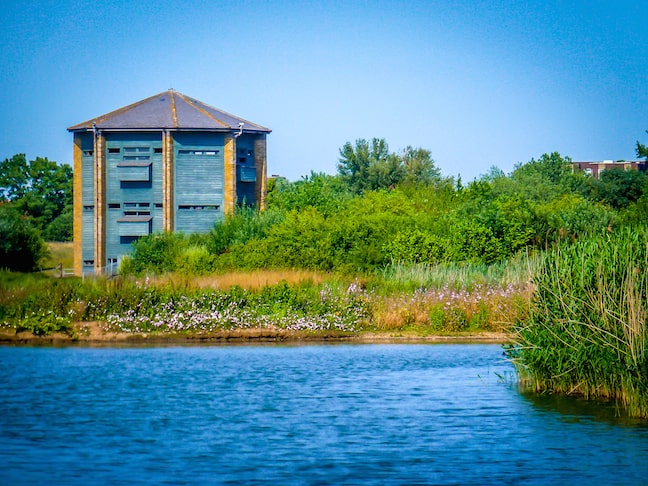 A Bird's-Eye View at The Peacock Tower
Our last stop was the Peacock Tower, the Centre's two-story birdwatching blind.
The windows faced all directions, over the wetland and towards the brick buildings beyond.
Gray Herons on long, spindly legs wandered in and out of the shore plants as they stretched their necks to search for fish and frogs. They also walked onto the land, searching for rodents among shrubs and wildflowers.
Lapwings zipped over the building like speedy biplanes and wobbled before landing in the water. These plovers with long crests on their heads are also called "Pee-wits" because of their calls.
They protect their young in chilly weather by wrapping them in their feathers. They often hold their wings at strange angles, mimicking an injury as they lead predators away from their nests.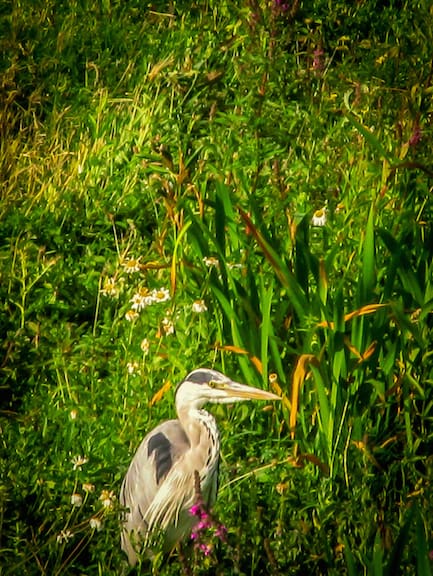 As we made our way out, Carolyn Robertson said, "We're still finding our feet with this learner-led approach. But we feel it's important to give visitors more cognitive space and greater opportunity to connect with and understand wetlands in a way that's relevant to them, and building positive opinions about wetlands."
The London Wetland Centre can consider itself a mission accomplished, complementing the Tower, Big Ben and London's other historic sites by showing us how this special city connects with the wild earth.
"We've truly found one of London's treasures," Kate said as we left. –by Paul Belz; photos by Paul Belz and Kathryn Roark unless otherwise noted
If you enjoyed our post on the London Wetland Centre, you might also like:
IRELAND- A Week in the Emerald Isle
SCOTLAND- 48 Hours in Edinburgh
SPAIN- Top 5 Eco Attractions
SPAIN- Volunteering in the Pyrenees