I've been dreaming of taking an Alaska Inside Passage cruise ever since my first visit to the state in 1999. During that trip I took a half-day Kenai Fjords National Park cruise, saw all sorts of glaciers and wildlife, and vowed to myself that I'd return one day to explore more of America's last frontier.
So when my daughter Allie began expressing interest in visiting Alaska, I decided to surprise her with an Alaska trip as a high school graduation present. Since we loved our previous voyage to the Galapagos Islands together, I started reading Alaska cruise reviews and planning our 2-week Alaska vacation.
As luck would have it, around that same time we received an email from AdventureSmith Explorations, a small ship cruise specialist that offers 25 Alaska cruises from numerous different cruise companies.
The fact that AdventureSmith also offered land-based wilderness adventures and several early season Alaska cruise deals got our attention. After a phone call with one of their personalized adventure planners, we had the rough outline for what ultimately became the daddy/daughter trip of a lifetime.
So here's our guide to planning the ultimate cruise of Alaska's Inside Passage. It covers everything from choosing the best time time to go and how to decide between the best cruise lines to the best Alaska cruise excursions and the wondrous array of wildlife you might see along the way.
READ MORE: 20 Best Small Ship Cruises for Your World Travel Bucket List
ALASKA INSIDE PASSAGE CRUISE GUIDE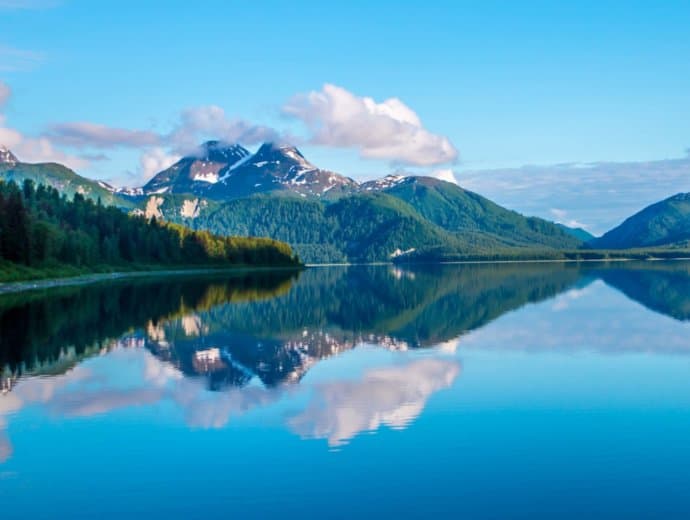 THE BEST TIME TO CRUISE ALASKA
Alaska's increasing popularity as a tourist destination (2 million annual visitors) and location in the Arctic and sub-Arctic makes the timing of your Inside Passage cruise tricky.
The Alaska cruise season begins in May, when daily high temperatures generally range from 53°F to 62°F, and daily lows are in the 40s. It rarely gets above 70º, and it almost never dips close to freezing.
On the downside, winds and bad weather can make it feel frigid on a cruise ship deck. And some animals, particularly Grizzly Bears, may not be visible at this time of year. On the plus side, shoulder season crowds are smaller, and you may find deals on cheap Alaska cruises.
The peak season for cruising Alaska is summertime. Temperatures are warm, with highs in the '70s and low '80s (and rising, thanks to climate change). On the downside, cruise ships tend to be booked to capacity, and Alaskan cruise prices are at their highest.
Another factor to consider when choosing the best time to cruise Alaska is what you want to see while you're there.
In May and early June, there's still snow on the mountains, and cruising Glacier Bay is particularly spectacular. Summertime brings the Salmon run (and the Bears and Wolves that capitalize on it), but also larger crowds on shore excursions. Taking an Alaska cruise in late August or September may give you a chance to see the world-renowned Northern Lights.
But the truth is, whether you choose to visit in late spring, peak season, or just before the autumn snows arrive, you're guaranteed to have your mind blown. For us, the more difficult choice came down to which of the Alaska cruise tours was best suited to our travel style.
READ MORE: Visiting the Alaska Wildlife Conservation Center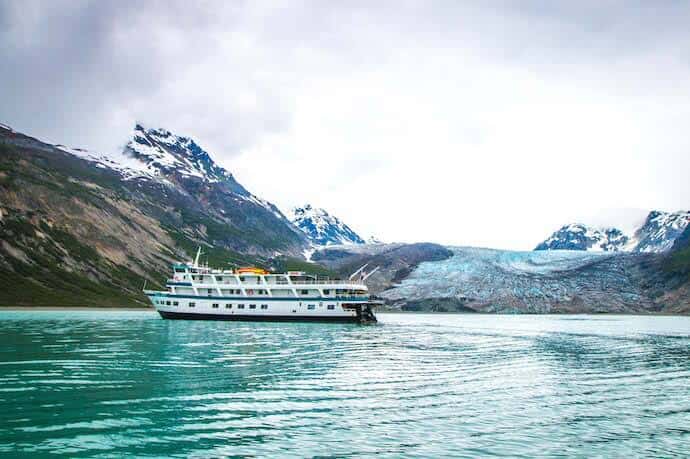 ALASKAN DREAM CRUISES VS. UNCRUISE ALASKA
We've always preferred small ship cruises, and not just because smaller cruises are more eco-friendly. They also offer more personal space, better service, better shore excursions, and more exclusive experiences than mega cruise lines like Celebrity Cruises can.
So our trip through the Inside Passage really boiled down to a choice between two small Alaska cruise companies, Alaskan Dream Cruises and UnCruise Adventures. Each of these companies offered quite a few different Alaska cruise routes to choose from.
UnCruise had a slight advantage going in: We'd met with them at a few travel conferences and had heard great things about the company from numerous blogging friends. We also liked the fact that they had six different 7-day Alaska cruise itineraries to choose from in the Inside Passage alone.
Alaskan Dream Cruises was more of a wild card, as we'd never heard of them. But we liked the fact that the family that owns the parent company, Allen Marine, are all Alaska natives. They were also the very first company ever to offer an Alaska Inside Passage cruise, and had numerous options available.
Once we narrowed it down to these two cruise companies, choosing the best Alaska cruise for us really came down to the itinerary. We didn't want a dedicated Glacier Bay cruise. But we did want to spend a few days in the national park, see lots of wildlife and glaciers, explore as much of the wilderness as possible, and learn more about the indigenous cultures of the area, especially the Tlingit.
In the end, my daughter and I decided that Alaskan Dream Cruises' 8-day Last Frontier Adventure had the best Alaska cruise itinerary for us. It offered an active schedule that included lots of hiking and kayaking, indigenous people as the expedition leader and cultural interpreter, and numerous intriguing shore excursions that were not available on any of the UnCruise Alaska trips.
We also liked that this Alaska cruise itinerary covered more of the Inside Passage territory than any of the other cruise holidays we compared it to. With prices around the same as those offered by UnCruise, and their ships' cabins all offering full windows (some of UnCruise's only had portholes), we ultimately felt that the Last Frontier Adventure was a better fit for us.
READ MORE: Exploring Denali National Park, Alaska
OUR ALASKA CRUISE MAP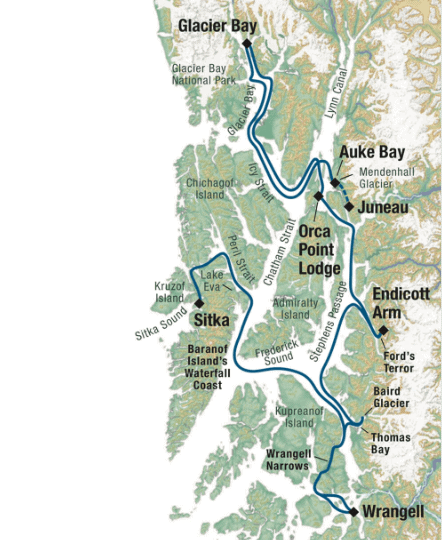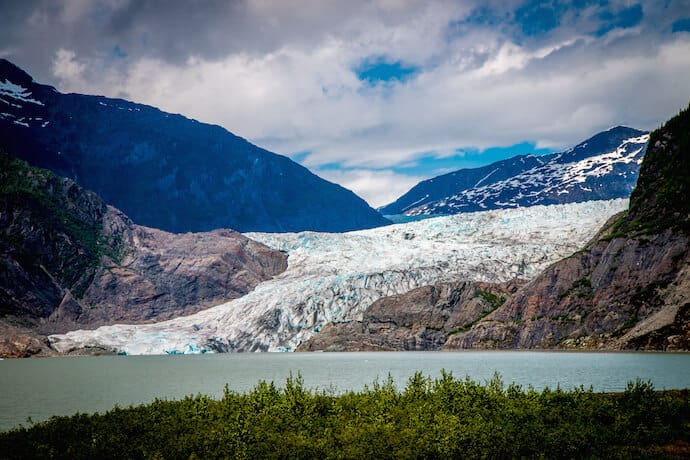 OUR INSIDE PASSAGE CRUISE EXCURSIONS
Every day of our Alaska trip brought engaging morning and afternoon activities that allowed us to get off the ship and get active. One thing we loved about Alaskan Dream Cruises was how quickly they adjusted the itinerary when bad weather interfered. Here are a few of our favorite Alaska cruise excursions:
The Mendenhall Glacier Recreation Area
The Last Frontier Adventure sometimes departs from Sitka, but ours began in Juneau. So our first excursion was a visit to the Mendenhall Glacier Recreation Area, part of the Tongass National Forest.
The glacier was named for Thomas Mendenhall, who led the National Geodetic Survey from 1889 to 1894, but never actually visited the area. Stretching 13.6 miles long, the gorgeous glacier is part of the Juneau Icefield, the fifth largest icefield in North America.
Attractions here include an impressive Visitor Center and hiking on the East Glacier Loop (which leads to an excellent overlook), Nugget Falls Trail (to a waterfall near the glacier), and Photo Point Trail. We loved the Steep Creek Trail, where we saw a family of Black Bears and a Porcupine.
READ MORE: Hiking Grey Glacier in Torres del Paine National Park, Chile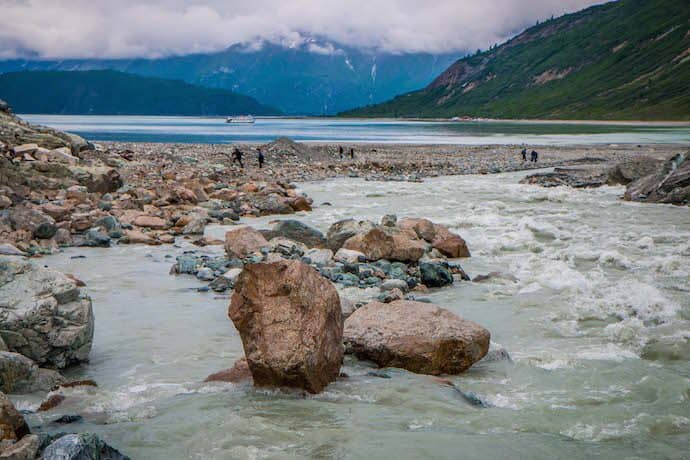 Hiking Reid Glacier
While cruising the Inside Passage, you'll be forgiven if you see so many spectacular glaciers, you start having trouble telling them apart.
But Reid Glacier will forever stick out in our memories because it's the first one my daughter ever got a chance to climb on. (Longtime Green Global Travel fans may recall that Mary and I climbed during a glacier crazy storm in Norway back in 2014.)
Named for geophysicist Harry Reid during the Harriman Alaska Expedition, the 11-mile-long glacier feeds into an inlet about 2 miles south of Glacier Bay. Hiking up to (and, briefly, on) it was awesome, as you could hear the cracking ice and the roar of melting water running into the rushing river.
READ MORE: Climbing Nigardsbreen Glacier (A He Said/She Said Story)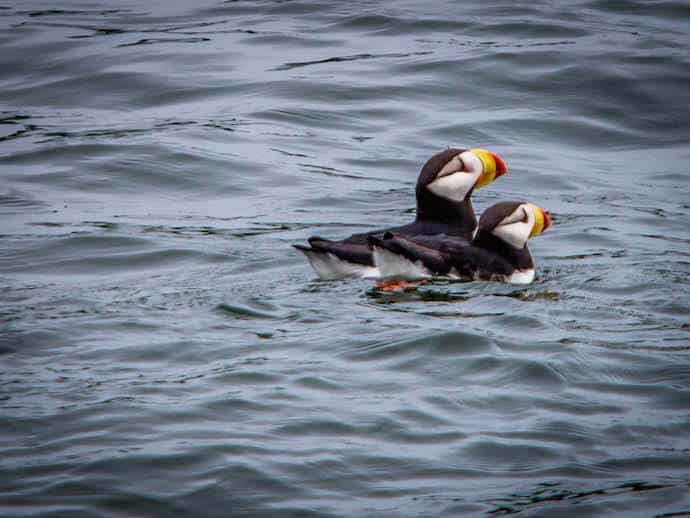 Visiting Glacier Bay National Park
There are so many things to do in Glacier Bay National Park, we were delighted to spend two days exploring the 65-mile fjord. It was especially cool having a park ranger narrating this part of the cruise, as well as a native Huna Tlingit naturalist who told us all about the tribe's history in the area.
We'll have a full story on the national park coming soon. But some of our favorite highlights included seeing tons of wildlife (including Mountain Goats, Steller's Sea Lions, Puffins, and more) and watching the jaw-dropping calving displays at the famous Margerie Glacier (one of eight in the park).
The best part for me, as someone who loves traditional indigenous cultures, was hiking through the forest in Bartlett Cove to a remarkably ornate Tlingit tribal house. The native interpreters there gave us an excellent overview of Tlingit culture, which we'll talk about in more depth in a future post.
READ MORE: Hiking Glacier National Park, Montana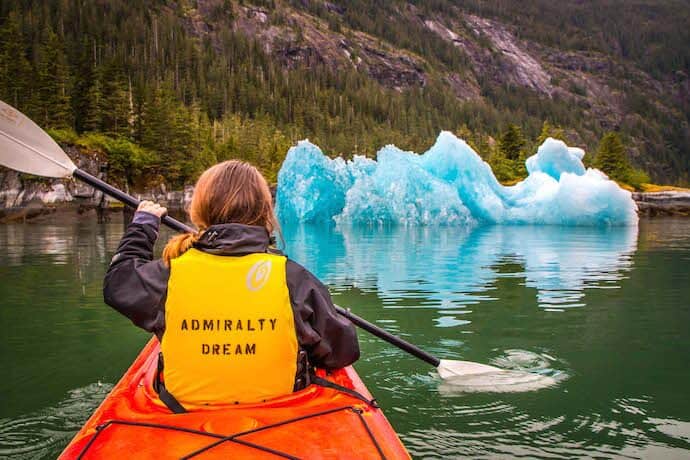 Kayaking the Endicott Arm
It was a grey, gloomy day when we headed south from Glacier Bay to explore the dynamic fjords of the 648,883-acre Tracy Arm-Fords Terror Wilderness.
The Endicott Arm and the Tracy Arm are both over 30 miles long and bordered by sheer mountains dotted with sproce and hemlock forests. About 20% of this rugged wilderness is covered in ice, and the most distinctive characteristic of the Endicott Arm was the massive icebergs floating within.
My daughter was aclearly a little nervous as we paddled our kayaks around and even through the icebergs, which towered at least 20 feet above us. The drizzling rain and fog made for dramatic photos, but the brilliant glacial ice shimmered like blue diamonds all around us.
READ MORE: The Haunting Beauty of Icebergs in Antarctica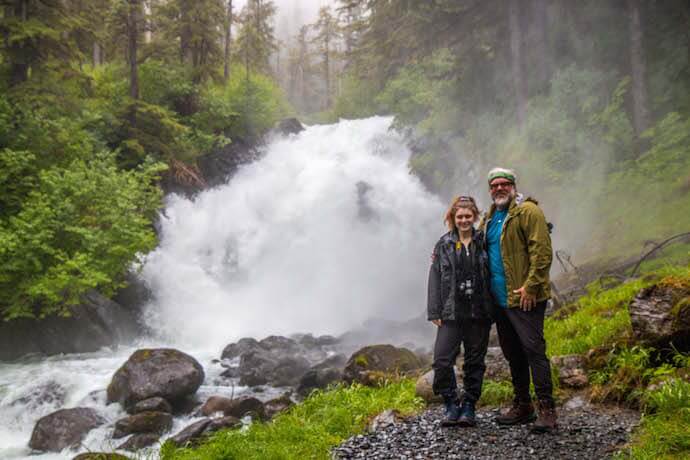 Hiking the Cascade Falls Trail
If you want to know how crazy the weather can get during a cruise of Alaska's Inside Passage, just take a look at the photo above.
What started that day as a light drizzle gradually became a relentless drenching. The fog was so thick, our ship had to crawl at a snail's pace, blasting its horn to ensure any coming ships could hear us (since they definitely couldn't see us).
But that only made hiking the Cascade Falls Trail that much more of an adventure. The roaring waterfalls created a crazy mist that gave the entire trek a haunting feel. And my daughter loved using the rope to climb a steep, slippery section as I stayed back to photograph the surreal scene.
READ MORE: The 10 Best Waterfalls in Iceland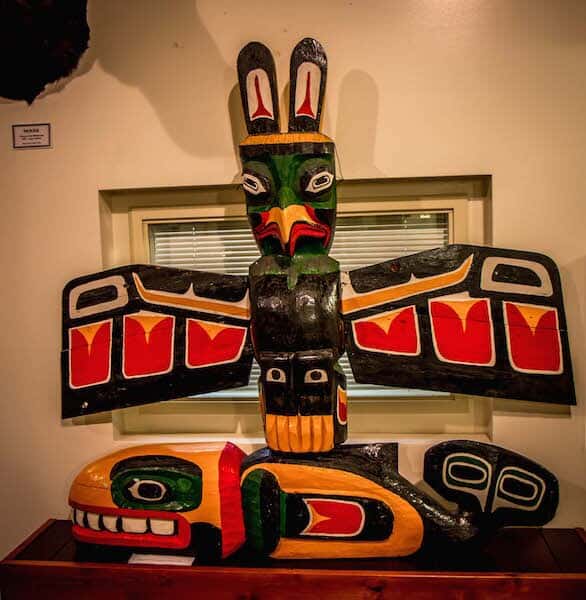 Visiting the Wrangell Museum
While we were in Juneau we were fortunate to get an opportunity to explore the exceptional Sealaska Heritage Institute, which is arguably the finest indigenous art museum I've visited.
Located on Wrangell Island (which has a total population of around 2,500), the Wrangell Museum has a decidedly more small town feel to it. But still it offers Inside Passage cruise passengers a great opportunity to learn more about the colorful history and indigenous culture of southeastern Alaska.
Their unique collection includes four beautiful Tlingit house posts carved in the late 1700s, numerous stunning Tlingit masks, turn-of-the-century spruceroot and cedarbark baskets, and displays on the impact of the gold rush, trapping, and foreign influences (Russian, Chinese, Japanese, etc) on the area.
READ MORE: Museo Maya de Cancun (Cancun Mayan Museum)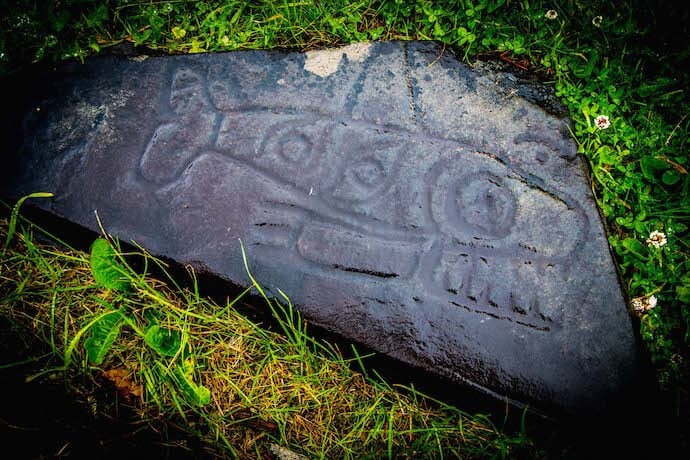 Exploring Petroglyph Beach
To be honest, our visit to Petroglyph Beach State Historic Park was hampered by terrible weather. It was cold and rainy, the rocks at low tide were extremely slippery, and our local tour guide (who was new and not exployed by the cruise companies) didn't seem to know much about the site's history.
Still, the simple knowledge that these 40+ rock etchings (which are only visible during low tide) date back around 8,000 years is fascinating. Especially when you consider that these images of salmon, whales, birds, human faces, and circular patterns represent the oldest native art in southeast Alaska.
Designated a State Historic Park in 2000, this Wrangell attraction has a ramp to provide easy beach accessibility. There are also replicas of some petroglyphs on the deck overlook, on which visitors can make rubbings. But do step lightly on the rocks in order to preserve this unique cultural treasure.
READ MORE: List of US National Parks By State (An Epic Guide)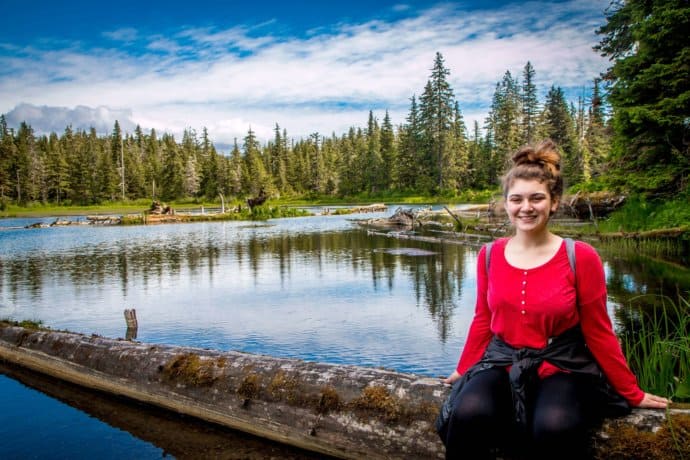 Rainforest Hike to Lake Eva
The last of our cruise excursions before making our way to the port in Sitka was a hike to Lake Eva, which is part of the Tongass National Forest.
Located near the northeast coast of Baranof Island, the Lake Eva trail leads 1.5 miles, from picturesque Hanus Bay to the south end of the lake. There's also an unmaintained section of the trail, which adds an additional 1.4 miles to the trek and takes you to the remote Lake Eva cabin.
The hike takes you through gorgeous maritime forest and pristine rainforest, which has thankfully been protected from deforestation. Along the way you'll find stunning river reflections; wildlife such as birds, Sitka Deer, and Black Bears (during Salmon season); and several great fishing spots.
READ MORE: The 20 Largest Lakes in the World (By Continent)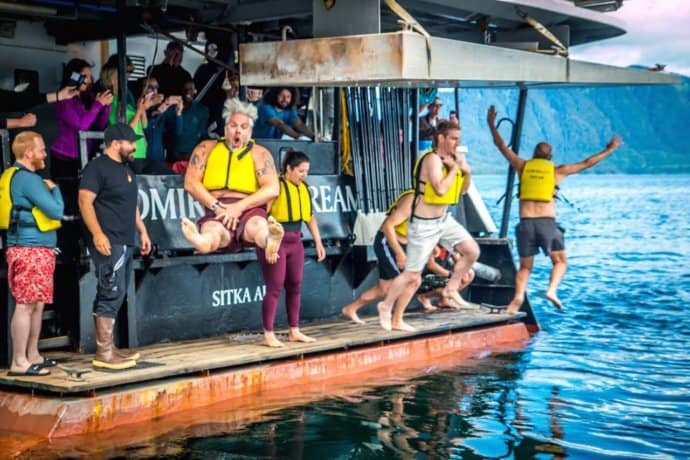 Doing the Polar Plunge
As much as I loved these other Alaska cruise shore excursions, my favorite activity from my two Alaksa trips was the one we did right off the back deck of the Admiralty Dream.
Back in 2012, Mary and I had a chance to take a small ship cruise of Antarctica. One of the most memorable highlights of that experience was me using FOMO (fear of missing out) to convince Mary to do the polar plunge in 27ºF waters. The results, for those who haven't seen our video, were hilarious!
The waters of Alskas's Inside Passage were considerably warmer, so there was no need for ropes to haul us in or doctors waiting with electrical cardioversion paddles in case our hearts stopped. In fact, the weather that day was so unseasonably warm, I decided to do the polar plunge twice!
It was an invigorating way to wind down our 8-day adventure with Alaskan Dream Cruises.
READ MORE: Mary's Hilarious Freakout During the Polar Plunge in Antarctica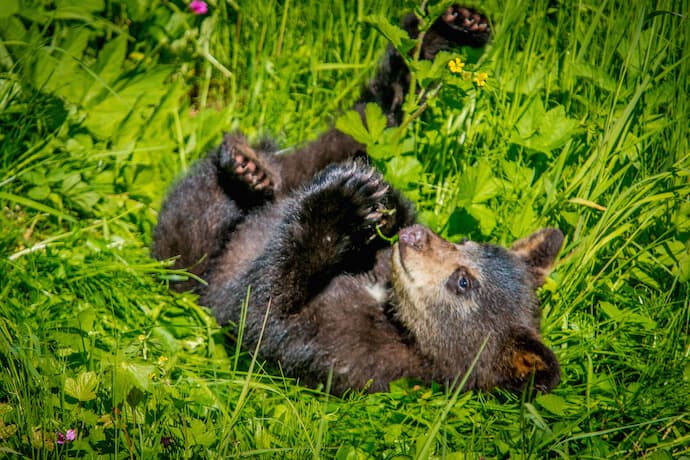 WILDLIFE ON A CRUISE OF THE INSIDE PASSAGE
The wildlife you can see on an Inside Passage cruise can vary widely depending on the time of year, itinerary, weather, and plain old luck. But here is a brief overview of the Alaskan animals we say during our 8 days with Alaskan Dream Cruises:
Birds
No matter which Alaska cruise vacation you choose, you're guaranteed to see plenty of beautiful birds along the way. We saw massive Ravens, Black Oystercatchers, Semi-Palmated Plovers, and several American Bald Eagles in Juneau before we even set foot on the Admiralty Dream.
Once you're at sea, keep your eyes peeled for the penguin-like Common Murre, Pelagic Cormorants (which nest on coastal cliffs), and four different types of Gulls. And you shouldn't have any trouble spotting the popular puffins, including the Horned Puffins and Tufted Puffins.
READ MORE: 25 Species of Birds You Can See During a Galapagos Cruise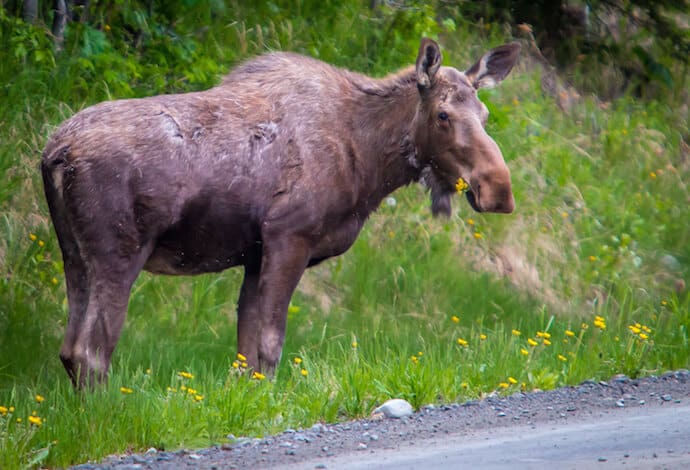 Land Mammals
If you really want to see lots of land animals during your vacation, you may want to consider taking a combination Alaska cruise and land tour, as we did. This will give you a better chance to spot Dall Sheep, Grey Wolves, Moose and Sitka Deer than you're likely to get during your cruise excursions.
However, even Alaska cruises that depart early in the season can offer surprising wildlife sightings.
We were fortunate to spend nearly an hour watching a mama and two baby Black Bears during a hike at Mendenhall Glacier. We also saw a Porcupine there, and Mountain Goats and Red Squirrels in Glacier Bay National Park. Grizzlies are common along the Inside Passage shores in July and August.
READ MORE: 40 Species of Alaskan Animals You Can See on an Alaska Cruise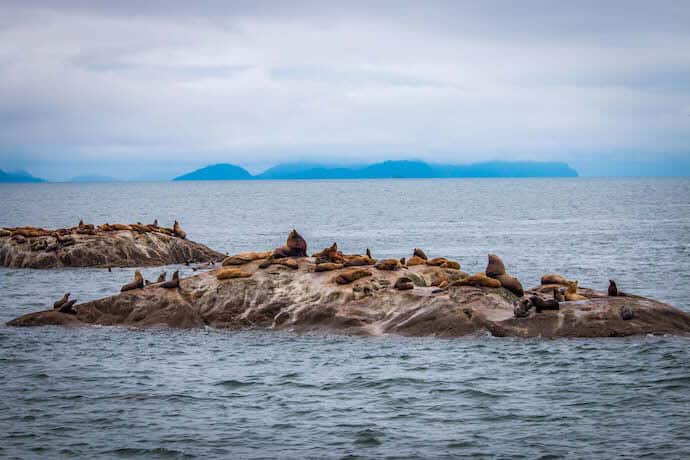 Marine Animals
Marine life has been a highlight of all the Alaska cruises I've ever taken. From Kenai Fjords and Glacier Bay National Park to the many Sounds and Straits of the Inside Passage, watching wildlife in the waters of Alaska has always proven rewarding.
Whales are, of course, are the main attraction. And you'll likely see at least a dozen Humpback Whales and Killer Whales (a.k.a. Orcas) during a 7-day Alaska cruise. We spent several memorable evenings watching whole pods of Orcas swimming along the surface at sunset.
But there are countless other marine animals in Alaska worth watching for. We spotted several pods of Dall's and Harbor Porpoises leaping in the wake of our small cruise ship. We also saw huge colonies of Steller's Sea Lions, adorable pairs of Sea Otters, and tons of Harbor Seals along the way.
Ultimately, these engaging wildlife interactions proved to be among the most memorable aspects of our incredible Alaska adventure. –Bret Love; photos by Bret Love & Allie Love
Our trip to Alaska was partly hosted by AdventureSmith Explorations.
But our opinions remain our own, and we will never compromise our integrity to our readers. To learn more about planning an Alaskan Vacation, contact AdventureSmith Explorations at 877-720-2875 or travel@adventuresmithexplorations.com.