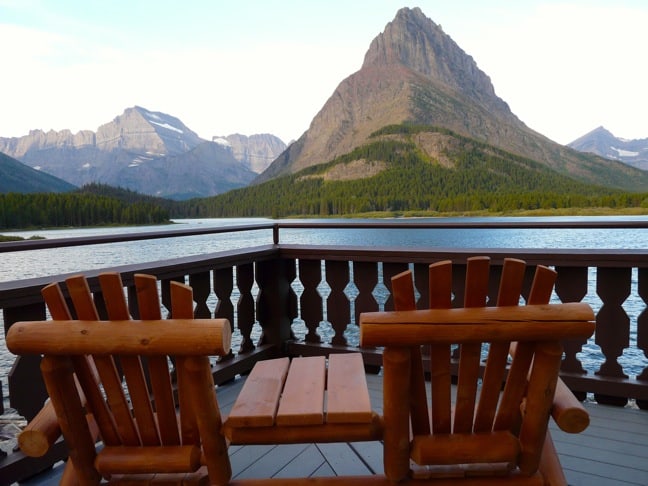 Hiking Glacier National Park
Has the Crown of the Continent Lost Her Jewels?
(The following is a guest post by Donna Hull, author of My Itchy Travel Feet: Breathtaking Adventure Vacation Ideas. She also publishes My Itchy Travel Feet, the go-to site for active baby boomer travel. If you are a blogger interested in contributing a future GGT guest post, please contact Editor-In-Chief Bret Love at GreenGlobalTravel@gmail.com.)
Click. Standing on the back deck overlooking Swiftcurrent Lake, I check an item off my world travel bucket list—a stay at Many Glacier Hotel and hiking Glacier National Park.
The jagged peaks of the Lewis Range stretch to the sky, looking as if they could puncture a cloud if one comes too close. Spotting scopes are at the ready for moose or grizzly bear sightings, but something is missing from the picture. Visitors to the hotel's grand opening in July of 1915 would've seen glaciers decorating these peaks. In September 2012, I can barely distinguish between a few snowfields and the last remains of Salamander Glacier.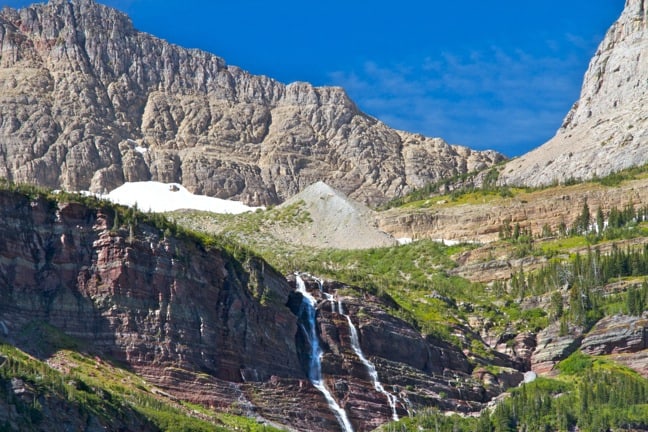 The necklace of glaciers that once decorated the "Crown of the Continent" (as George Bird Grinnell called the Glacier region) have mostly melted away in the current climate of warming temperatures and changing precipitation patterns. According to the Northern Rocky Mountain Science Center, approximately 150 alpine glaciers graced the mountains of Glacier National Park back in 1850. Today, a mere 25 active glaciers remain, and a computer-based climate model predicts that they will all melt away during the next several decades.
So who will want to visit Glacier National Park as the glaciers continue to recede and finally disappear? Anyone interested in exploring one of the most intact ecosystems in the world. I'm here visiting the park on a Road Scholar hiking program, with access to naturalists and experts offering educational insight I wouldn't be able to obtain on my own. Our hikes are filled with exercise, scenic beauty and scientific lectures along the trail.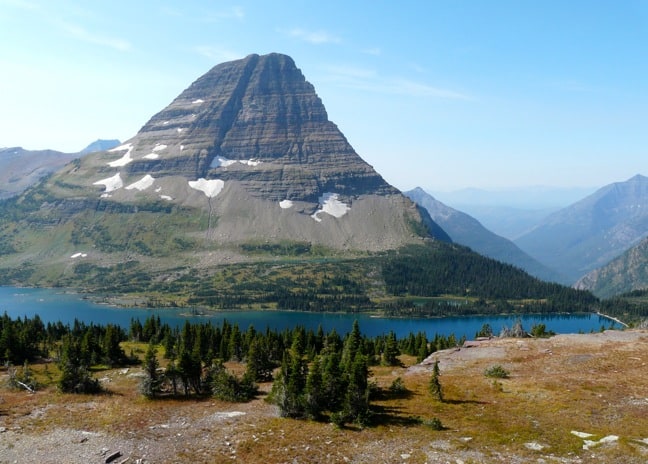 A HAIRY EXPERIMENT WITH GRIZZLIES
Visitors have several choices when it comes to accessing Grinnell Lake. They can take the easy way, with a series of boat rides from Swiftcurrent Lake to Josephine Lake, and then a short hike to Grinnell Lake. Or they can travel the hardy way, as our group does on a 7+ mile round-trip day hike.
Hikers share trail access with horseback riders, so, for the first mile or so, we maneuver the challenges of dodging horse poop. The undergrowth is so thick that we almost miss observing a moose foraging nearby. When we reach Grinnell Lake, the wind is a cold accompaniment to our sack lunch, which comes with a view of Salamander Glacier. Glacial flour (or silt) from Grinnell Glacier (which isn't visible from our viewpoint) gives the lake its distinctive emerald green color.
On the return to Many Glacier Hotel, we cross a land bridge to access the other side of both Josephine and Swiftcurrent Lakes. The trail climbs slightly through the woods, where we see first-hand a unique experiment.
Here, barbed wire has been placed on a tree that exhibits signs of bear rubs. The barbed wire collects hair as the grizzly rubs the tree, for a DNA experiment led by Katherine Kendall, a researcher at the Northern Rocky Mountain Science Center. This non-invasive method allows Kendall to create a baseline index of the size of the grizzly population in Glacier National Park, as well as study genetic variation, relatedness and the structure of the bear population.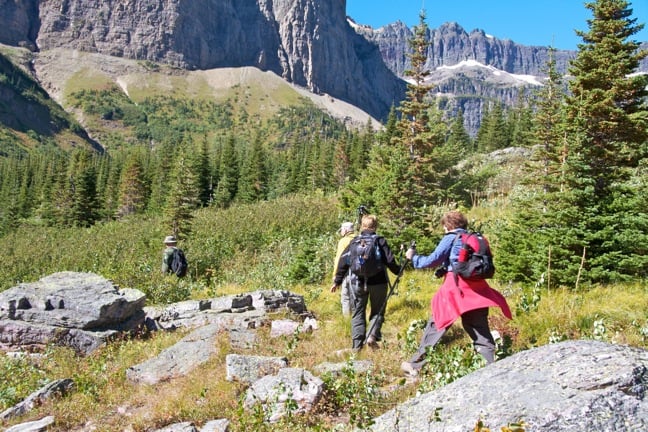 ROCKS FROM A BILLION YEARS AGO
The 8-mile round-trip hike to Bullhead Lake begins near Swiftcurrent Lodge, just down the road from Many Glacier Hotel. It's easy to become enthralled with the alpine beauty of this trail, where granite peaks streaked with waterfalls rise above forested slopes, glacial lakes and alpine meadows. But when Road Scholar guide Stephanie Paidas stops on the side of the trail for a geology lesson, I learn why it pays to look a little closer.
"Go ahead, touch the rock," she says, pointing to an outcropping of vertical rock layers on the edge of the trail. I place my hand on the rough, red rock. "You just touched ancient history. That rock is a billion years old."
Apparently it had been pushed into place by the Lewis Thrust Fault, which occurred approximately 150 million years ago when the collision of tectonic plates caused ancient rocks from the Precambrian era to be thrust up and over much younger rock. Learning about the geographical history of the area only made the landscape seem all the more gorgeous.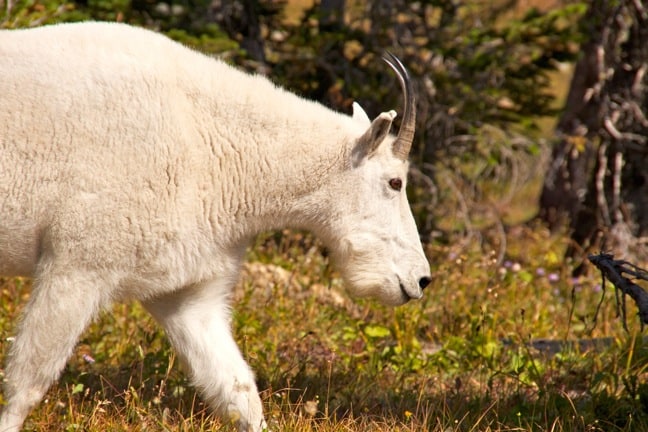 AN OVERHEATED MOUNTAIN GOAT
On the last day of our program, we hike the 3-mile round-trip trail that leads from behind Logan Pass Visitor's Center to Hidden Lake Overlook. The popular hike at the crest of Going to the Sun Road crosses alpine tundra, with views of glaciated peaks at every turn.
When our group perches on rocks near the overlook for a sack lunch, a flash of white movement in the trees catches my attention. A beautiful mountain goat stands in the shade, trembling: Mid-September's mild, sunny weather is causing it to overheat, since he's already wearing his winter coat.
High country inhabitants such as mountain goats are highly susceptible to climate change, which can affect their food sources through plant diseases and invasive species. The park's High Country Citizen Science Project trains citizen scientists to collect data on the goat population. But, until recently, little has been known about the species' lives in Glacier National Park.
I started off our adventure hiking Glacier National Park expecting scenic walks through alpine meadows to glacier-fed lakes, and hoping to perhaps see a grizzly bear or moose. While the glaciers may be melting, the evidence of their mighty force can still be seen. And I gained a newfound appreciation for the scientists who are studying how climate change affects the inhabitants of this majestic landscape.
Has the Crown of the Continent lost her jewels? I guess it all depends on how you look at it. –By Donna L. Hull
If you enjoyed our story on hiking Glacier National Park, you might also like:
YELLOWSTONE NATIONAL PARK: Lower Geyser Basin
ALASKA: Denali National Park
GEORGIA: North Georgia Mountains
10 Uncrowded National Parks For Your World Travel Bucket List