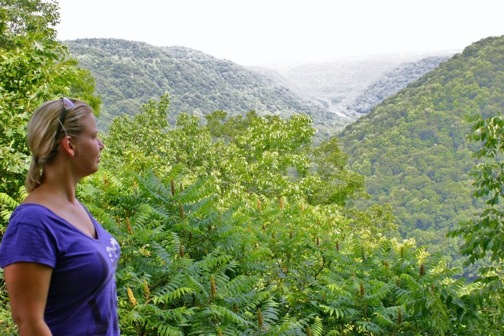 WILD, WONDERFUL WEST VIRGINIA
Outdoor Adventures In The Mountain State
West Virginians often refer to their state as "Almost Heaven" (borrowed from a line in the John Denver song "Take Me Home, Country Roads"), and you don't even have to step foot on their native ground to understand why. Flying into Charleston's Yeager Airport, you'll find yourself amazed by sprawling views of the Mountain State's dynamic terrain, approximately 75% of which is within the Cumberland Plateau and Allegheny Plateau regions. Sparse in population but rich in biodiversity and scenic beauty, West Virginia is a wild and wonderful paradise for nature lovers, offering endless options for outdoor adventure.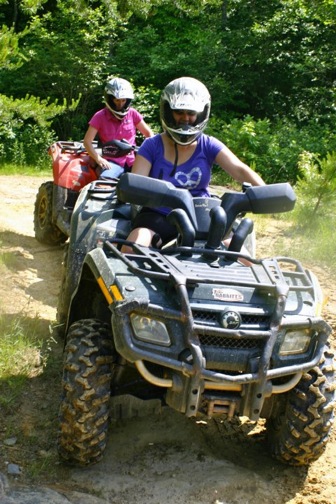 ATV BACKCOUNTRY TOURS
One of the best ways to explore West Virginia's rugged, rustic rural areas, All Terrain Vehicle Tours such as the ones offered by ACE Adventure Resort take you deep into the heart of the New River Gorge backcountry. Featured on the Travel Channel's Extreme Resorts as North America's Largest Adventure Resort, ACE encompasses 1500 acres of pristine wilderness, with nearly 30 miles of trails for you to explore.
After a brief 30-minute safety demonstration and a quick spin to get a feel for the fine points of operating their Can Am 400 Tandem ATVs, you're off into the woods, zooming between thick undergrowth, over hills, and splashing through puddles while viewing spectacular scenery (including an amazing view overlooking the New River). Their guides will explain the history of the area, from the village that perched on the mountaintop in the 1800s to the once-bustling mining town below that took on a Wild West-like reputation.
At the end of the 3-hour trek (two of which are spent riding), you'll be thankful for a cool, refreshing dip in the lake to wash off the mud!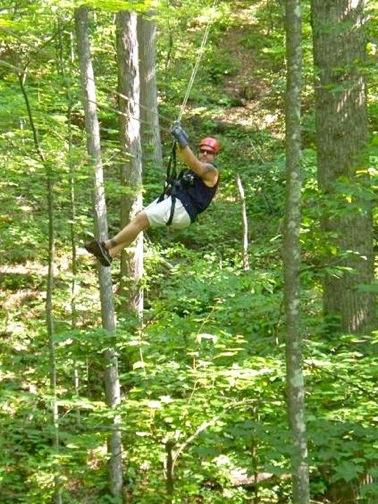 CANOPY TOURS
If you've never experienced the adrenaline rush of a zipline before, the TreeTops New River Gorge Canopy Tour is an invigorating adventure that should not be missed. While ziplines themselves are inherently exhilarating, it's the spectacular scenery that makes this one special.
After strapping into your harnesses and helmet, guides lead guests through orientation and allow them to practice on a "Ground School" zip located just a few feet off the ground. After that you make a short hike up to the relatively tame Ajax Zip, the first in a series of ten zips varying in length from 100 to 730 feet, with speeds approaching up to 30 miles per hour.
The 3.5-hour course (which also includes five sky bridges, three short hikes and a 40-foot rappel down from the final platform) is wisely designed to ease first-timers into it, with the zips increasing in intensity as your gain confidence. By the end, you'll be screaming "Bonzai!" at the top of your lungs as you whirr through lush rhododendron and old-growth Eastern Hemlock and over pastoral Mill Creek (which is also known for excellent trout fishing). Think of it as communing with nature at a heart-pounding pace.
WHITEWATER RAFTING
With its scenic wilderness and wild rivers, West Virginia has emerged as one of America's premiere whitewater rafting destinations. There are more than a dozen major rafting outfitters to choose from, but Class VI- Mountain River is among the most trusted, with over 35 years of experience in guiding guests down both the New River and the Gauley River.
They offer a broad variety of tours to suit varying ages, experience and interest levels, ranging from quick two-hour treks to three-day adventures that include overnight camping. For families with small children ages six and up, the Upper New River offers a laid-back float trip, while Lower New River is rated for ages 12 and up, offering rushing rapids and a steep lower gorge canyon.
For those seeking a more intense rafting challenge, the Lower Gauley River kicks it up a notch with its intense Class IV-V rapids, with a few placid pools in between to catch your breath. You might find yourself holding that breath if you dare to take on the Upper Gauley, which offers a serious series of Class V challenges stacked one on top of the other. It's definitely not for the faint of heart… or the weak of arm.
OTHER OUTDOOR ADVENTURES IN THE AREA
BRIDGE WALK- Opened in 2010, this interpretive tour from Adventures On The Gorge takes you across the 24-inch-wide, 3,030-foot long walkway under the New River Gorge Bridge, providing panoramic views from 850 feet above the breathtaking New River.
FLY & FLOAT FISHING- Where there are great rivers, there's almost always great fishing, and guides such as Mountain State Anglers can take you to the coolest hotspots to fly fish for trout or spin fish for smallmouth bass and Musky, offering instruction and overnight float trips.
ROCK CLIMBING- Think West Virginia's mountain scenery looks impressive? Try the view from the side of one of the upper or lower gorge cliffs at ACE Adventure Resort, which offers guided instruction, ½- and full-day climbing/rappelling tours, and a 2-hour evening rappelling outing.
SPELUNKING- Discovered in 1704 and once known as General Robert E. Lee's underground ammo factory, Organ Cave is the second longest commercial cave on the East Coast, offering guided walking tours for varying experience levels, including an 18-hour overnight trip. –by Bret Love; photos by Bret Love & Mary Gabbett except rafting photo, provided by Class VI- Mountain River
If you enjoyed reading Wild, Wonderful West Virginia, you might also like:
Yellowstone National Park Photo Gallery
10 Unbelievable Mountains For Your World Travel Bucket List
INTERVIEW: Mountain Climber Jordan Romero