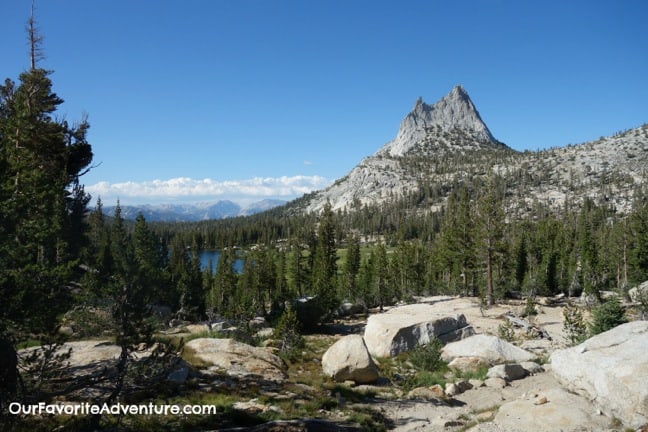 (The following is a guest post from Brock Delinski of Our Favorite Adventure, who is also a gear consultant and coaches people preparing for adventures and long distance hikes. You can sign up for his free newsletter here. If you're a blogger interested in guest posting, please email Editor-In-Chief Bret Love at GreenGlobalTravel@gmail.com.)
Hiking the John Muir Trail is many things to many people, but just about everyone who has done it will agree that it is among the finest hikes in the USA.
For nature lovers, the JMT has it all, from soaring mountain passes to quaint valleys that give you that last-person-on-Earth sort of feeling.
Hiking the JMT is one of those experiences that ultimately lingers with you long after you've hung up your hiking boots.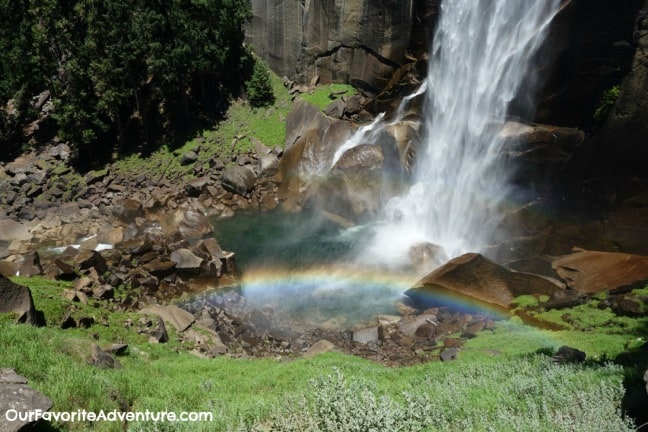 What Exactly is the John Muir Trail?
The JMT is a 211-mile long-distance trail that runs through the heart of California's Sierra Nevada mountains. The trail boasts some of the most spectacular scenery in North America, running the gamut from Yosemite's Valley Floor to Mt. Whitney.
The trail barely touches civilization: There are no roads, no towns, just pure unadulterated nature.
The JMT crosses through Sequoia, Kings Canyon, and Yosemite National Parks, as well as a few other wilderness areas along the way, giving it a distinctly different feeling at various points along the trail. And that's just one of the many things that makes hiking the John Muir Trail so special.
In a relatively short distance, you get to experience the very best that the High Sierras have to offer. Every day on the trail seems even better than the last.
Just when you think you've seen the most amazingly beautiful views from a mountain pass, you end up camping alongside Thousand Island Lakes and drinking in a sunset that touches your very soul.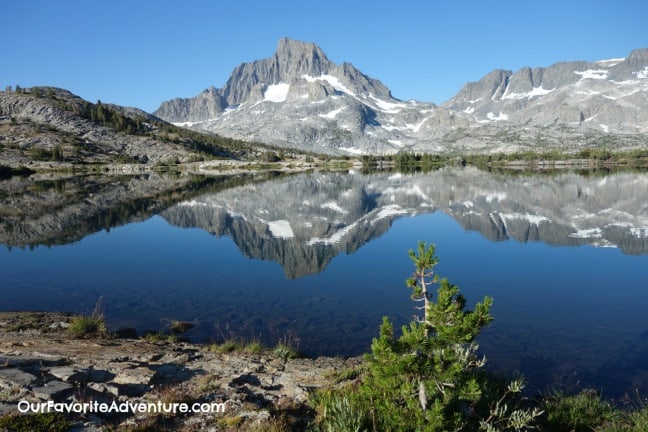 Muir was often called the father of our U.S. National Parks, and with good reason. The Scottish-American naturalist appreciated the intrinsic beauty that these wild places had to offer, and worked hard to protect them.
He knew that they had the power to transform lives and heal people by helping them reconnect with nature. He ultimately petitioned Congress for the National Park bill that was passed in 1890, establishing Yosemite and Sequoia National Parks.
Muir was a founding member of the Sierra Club and was actively involved in the protection and conservation of America's wilderness.
He was especially drawn to the High Sierras and, for much of his life, hiked, studied, sketched, and fought to protect this amazing area.
The idea for the trail began over a hundred years ago. Trail construction began in 1915 and, to some degree, still continues to this day.
Volunteers, conservation workers, and Sierra Club members are always doing maintenance in some form or another to ensure that the JMT and its remain relatively pristine for many generations to come.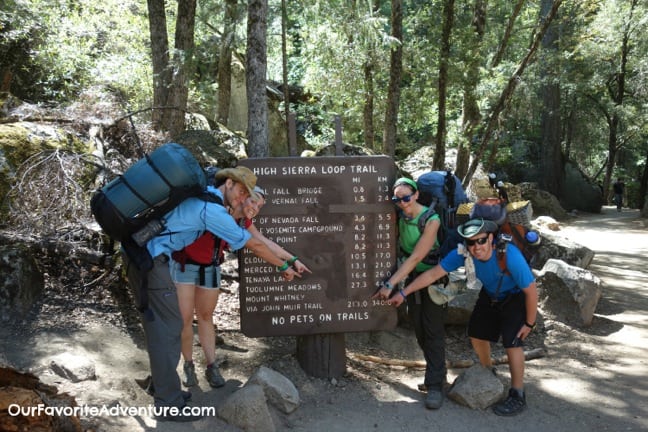 So what's it like hiking the John Muir Trail?
For starters, you don't have to do the entire thru hike in order to experience all the JMT has to offer… but it sure helps!
A thru hike lasts about 3 weeks, and is usually attempted in the late summer (July through September) in order to avoid the deep snowpack often found on the trail earlier in the summer.
The trail briefly touches the fringe of civilization in Tuolumne Meadows, and then again at Devil's Postpile National Monument, but that's pretty much it.
Thru hikers usually resupply at Tuolumne, Red's Meadow, Vermillion Valley Resort, and Muir Trail Ranch. That basically means you won't have too much contact with the hustle and bustle of the outside world along the way.
Sure, there are a few other places here and there where people can jump on and hike a smaller section. But the whole point of hiking the John Muir Trail is to be lost (figuratively speaking) in the wide open spaces of the High Sierra mountains.
A word of caution: If you set off on a thru hike, prepare to be dwarfed– and potentially even a little lonely– by the enormity of the undertaking.
While there will likely be other people hiking the JMT at the same time, you need to be OK with the possibility of camping by yourself (or with your group), without another human around for miles.
For most people who hike the John Muir Trail, that's a big part of the trip's allure. It's an incredible feeling to completely remove yourself from the hassles of daily life and get back to simple things, like soaking your feet in at the creek at lunchtime, or sitting in complete silence atop Glen Pass and peering out for miles over King's Canyon National Park.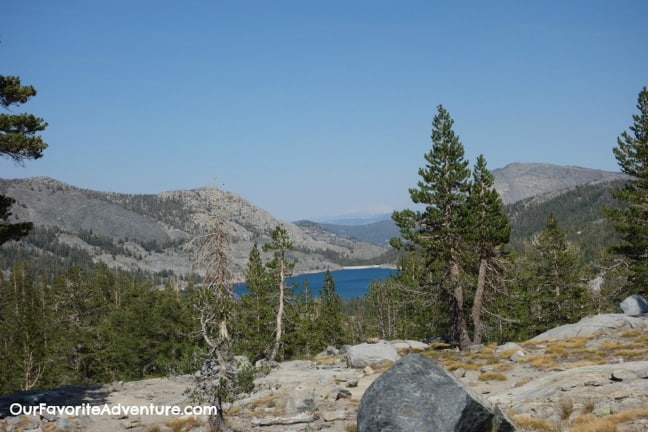 As for the actual hiking…
Most thru JMT hikers train in some form or another before their trip. That's because there is very little, if any, flat sections of the John Muir Trail.
There is one flat section that lasts for about 4 miles. But, other than that, you're either climbing a mountain or going down the other side. It's an alpine hike in every sense of the word.
Once you climb out of Yosemite Valley, the trail routinely soars over 11,000- and 12,000-foot mountain passes and plummets back below 9 or 10. The southern Terminus of the trail is Mt. Whitney, the highest point in the lower 48.
It's hard work to drag you and your trusty pack up and over these passes, yet it is oh so worth it when you reach the top! But if you don't like to climb or don't like high altitudes, then the JMT isn't for you.
The John Muir Trail shares much of its footpath with the Pacific Crest Trial (PCT), so it's well maintained and groomed. Unlike the Appalachian Trail– which meanders up and down, to and fro aimlessly– the JMT has been engineered. The grade is never daunting, and the switchbacks, while tiresome, are most often welcomed.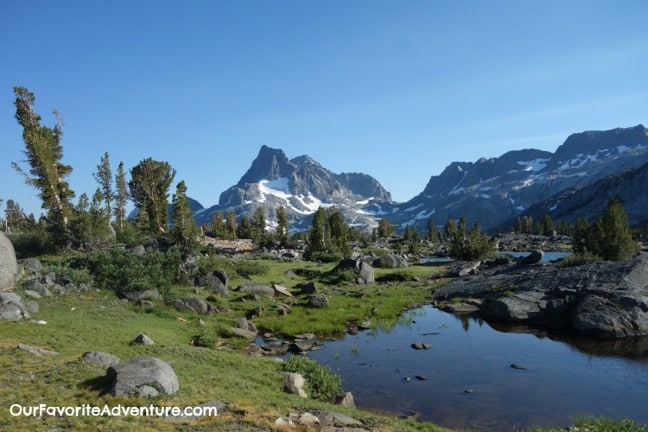 People from all walks of life are drawn to the John Muir Trail.
There are thru hikers from all over the world that come to California in order to experience this amazing hike, with different nationalities and different backgrounds coming together to be lost in nature for a few weeks.
Thru hikers all share a common bond, because everyone is playing in the woods and looking to complete the trail. It's the simplicity of the challenge that brings everyone together.
That said, the JMT hiking crowd has a large population of retirees and recent college grads, with too few people in the middle stages of their life. It's a sad fact these days that people can't seem to find the time (or make the time) to spend three or four weeks tromping around in the wilderness.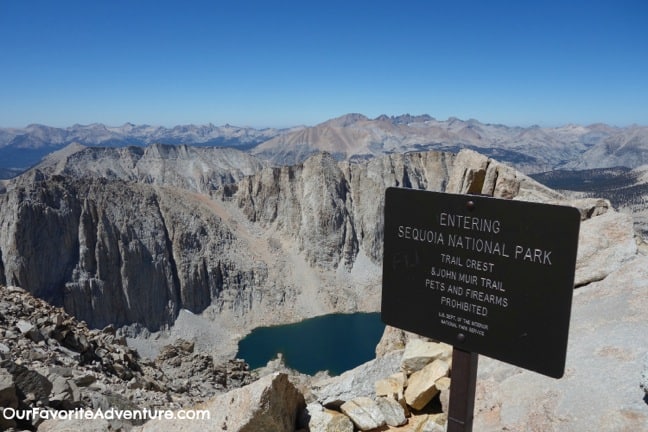 Everyone who hikes the JMT is searching for something…
…even if they don't realize it yet. Whether it was simply time to think and ponder their next step in life, or they were drawn to the mountainous landscape, everyone finds what they are looking for by the time their hike is over.
On my first JMT thru hike I found a greater meaning in life– one that I continue to live on my own terms.
The John Muir Trail is truly America's premiere hike. It traverses world class beauty, and does so with a sense of wonder that is unmatched on any other long distance footpath I've traveled.
If a thru hike has been on your bucket list for some time, but you just haven't gotten around to it yet, The JMT is not merely a game-changer, but a life-changer.
It's a vehicle to help you reconnect with nature and grow as a human being. And what better place to do it than surrounded by towering granite mountains in the area that inspired John Muir himself? –text & photos by Brock Delinski
If you enjoyed our post on Hiking the John Muir Trail, you might also like:
10 Best Uncrowded US National Parks For Your World Travel Bucket List
Pitch Your Park! Rangers Plug Six of the Best US National Parks
INTERVIEW: Appalachian Trail Guru Winton Porter