I don't think I actually knew what "green" meant before I visited the Ecuadorian Amazon.
As we walked towards our jungle camp, the forest around us got thicker and thicker. New shades of green appeared around every bend in the path. The pale green of new leaves. The darker green of fallen leaves, trampled underfoot into a soft, spongy mattress.
The green rainbow of the forest canopy, reaching far above us and hiding the sun from view. It made us feel truly immersed in this wild, primal paradise.
Saying that we were excited was an understatement. Visiting the Amazon was a dream we'd both had since childhood. It was also one we both hoped to experience before it was too late.
Sadly, the Ecuadorian Amazon has been the site of several environmental disasters over the last century, from oil drilling and logging to slash 'n' burn agriculture.
Each caused the destruction and/or pollution of large sections of forest, endangering the survival of the forest's animals, plants and indigenous people.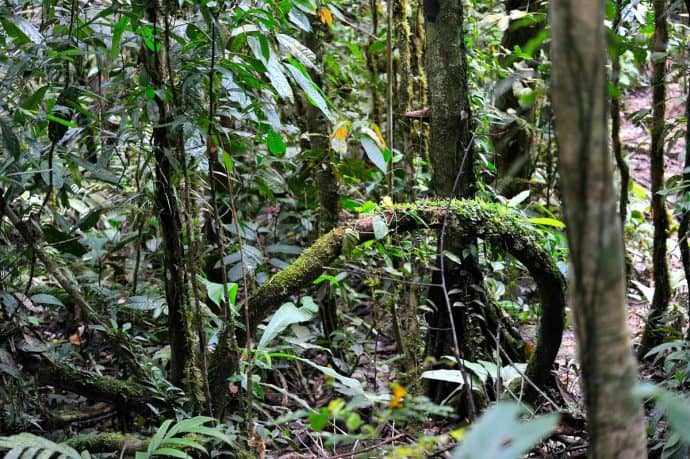 Luckily, ecotourism has also arrived to this remote corner of the planet. Its growth is helping to preserve and protect the Ecuadorian Amazon ecosystem.
At the same time, it provides local communities with an alternative revenue stream. They no longer need to sell their natural resources to exploitative industries, allowing them to preserve their traditions without destroying their ancestral land.
There are dozens of reasons to visit the Ecuadorian Amazon. The main one, of course, is nature. The region has the world's highest concentration of biological diversity.
There are countless nature-related activities available, including multi-day camping expeditions, excellent bird watching, and canopy walks.
Most importantly, supporting responsibly managed tourism helps local communities and makes a difference in preserving the precious Ecuadorian Amazon ecosystem. If this isn't a win-win situation, I don't know what is!
READ MORE: 70 Cool & Weird Animals Around the World (An Epic Guide)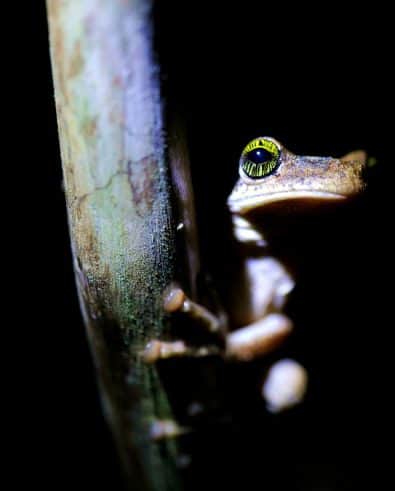 Wildlife in the Ecuadorian Amazon
The Ecuadorian Amazon may not be as large as Brazil, but in terms of in biodiversity it is second to none. Yasunì National Park is said to be home to the highest density of wildlife on the planet, including 150 species of amphibian and 121 of reptiles.
This amounts to a third of all Amazon amphibian and reptile species, even though Yasuni only covers 0.15% of the total Amazon Basin area.
Yasuni National Park contains 382 documented fish species (including three species of Piranha) and more than 300 mammal species (including Monkeys, Pumas, Jaguars and several Bat species, one of which is endemic).
But the most common animals by far are insects. One acre of rainforest can be home to about 70,000 species of insects.
But no matter how skeevy these creepy crawlies may make you feel, it shouldn't deter you from visiting this wonderful corner of the planet. If anything, it's an added reason to visit the Ecuadorian Amazon!
READ MORE: 21 Incredible Animals That Live in the Amazon Rainforest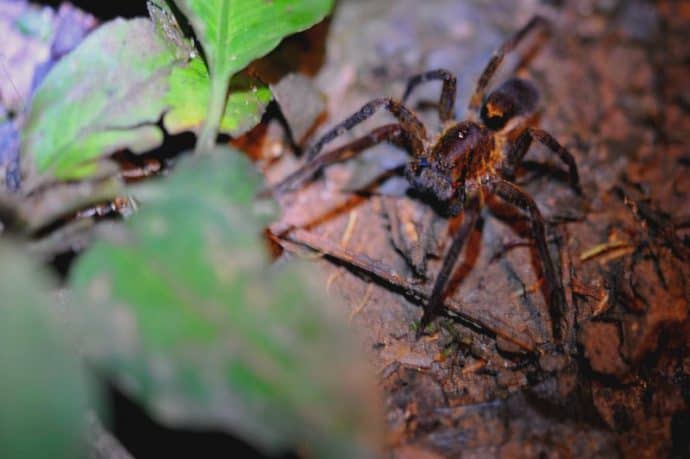 The Ecuadorian Amazon at Night
Nighttime is the best time to go out with the hope of spotting wildlife. That's when animals are at their most active.
Following our guide and the beam of his torch into the dark wilderness, we felt as if we were entering a mysterious world that's called home by thousands of still-unknown species.
Hiking around the rainforest at night was actually the highlight of our visit. We spotted Tarantulas hiding under leaves, Scorpion Spiders slowly crawling up tree trunks and tiny poisonous frogs.
We even saw some Night Monkeys, which reminded us of the Lemurs in Madagascar with their large, hypnotic eyes.
We also went on a canoe trip along the river at night, where we had the chance to spot a Caiman resting on the rocks. We barely had time to snap a picture before it dove straight into the river.
However, what impressed us the most about the Ecuadorian Amazon at night was its remarkable sound. We imagined it would be eerily silent, but it was quite the opposite.
We heard whistles and whirrs, thumps, shrills and cries, moans and birdsong. Some found it creepy, but I thought it was comforting. In the rainforest, nature felt alive.
READ MORE: Sloths, Toucans and Pink Amazon River Dolphin in the Peruvian Amazon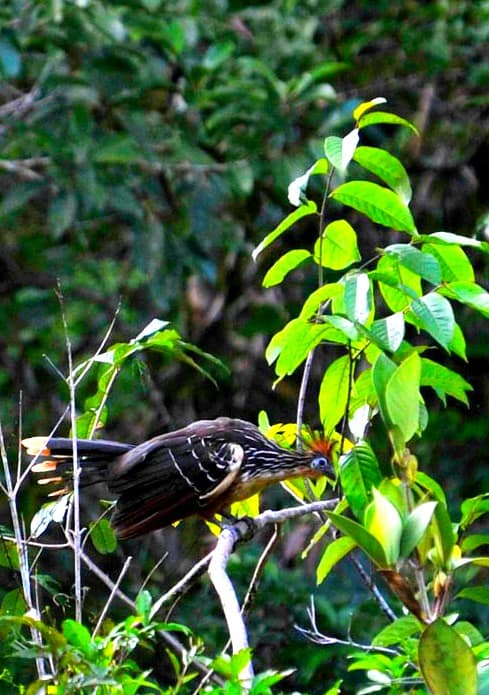 Birdwatching in the Ecuadorian Amazon
Another great reason to visit the Ecuadorian Amazon is the incredible bird watching opportunities you'll find there. There are over 1600 bird species recorded, including iconic species such as Macaws, Toucans and Hummingbirds.
One of the area's more peculiar bird is the Hoatzin, a strange creature resembling a turkey that is only found in the Amazon. The Hoatzin is a mystery to ornithologists. This is a bird with no known living relatives.
For a long time it was believed to descend from prehistoric birds, because of the claws on its wings.
Hoatzin are poor fliers and often hang around oxbow lakes, where they can easily be spotted. Some people call them "Punk-Rock birds" due to their colorful, Mohawk-like crests.
They're also commonly referred to as "Stinkbirds" because of their smell. But, to be honest, I didn't think that was so bad.
READ MORE: 25 Beautiful Birds in the Amazon Rainforest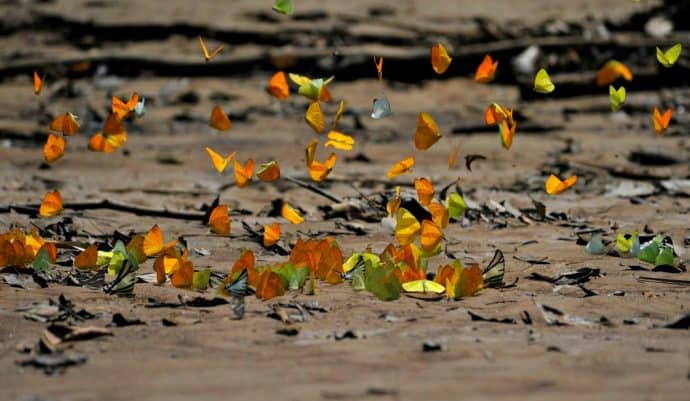 Other Activities in the Ecuadorian Amazon
One of the things that impressed me the most about the area was the rainforest canopy, which was so thick and dense that it felt like a real ceiling.
Sometimes it was hard to tell what time of day it was, or if it was sunny or cloudy. The canopy is home to lots of wildlife: Not just monkeys and birds, but also Puma and Jaguars, whose roars can sometimes be heard.
A canopy walk offers a great way to get close to this wonderful part of the forest and spot animals and plants that cannot be seen from the ground. Many lodges offer them, providing guests with a true bird's-eye view of the forest.
Early in the morning you might even find yourself in the middle of a "monkey procession." We witnessed hundreds of Capuchin monkeys making their way across the forest, jumping from branch to branch.
Another popular activity is a canoe trip through the flooded forest, which is possible during the wet season. Lodges are often only accessible by motorized canoe, but the noise of the engine tends to scare animals away.
A traditional canoe gives you a chance to move in total silence. This improves your chances to spot elusive wildlife like Spectacled Caiman, Giant Anacondas and Capybaras, the world's largest rodent.
READ MORE: Our Encounter With A Rare Amazon Manatee In Peru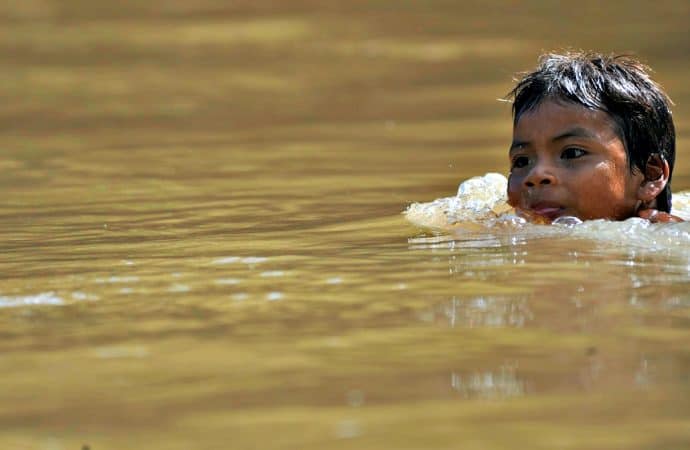 The People of the Rainforest
One of the highlights of our visit to the Ecuadorian Amazon was visiting a local village. There we learned about the culture of local indigenous communities and their struggle in balancing tradition and modernity.
The area around the Rio Napo tributary (where our lodge was located) is home to the Huaorani, a traditional hunter-gatherer tribe.
Traditionally, Huaorani people never wore clothes, and hunted in the forest using a blowpipe and poison darts.
The Huaorani lifestyle has been changing ever since their ancestral land was opened to outside investors and motorized canoes cut connection times to the nearest cities.
They started trading and buying manufactured goods, and many started working at nearby logging plants or oil drills.
READ MORE: Shaman Blessing and Amazon Village Life in Peru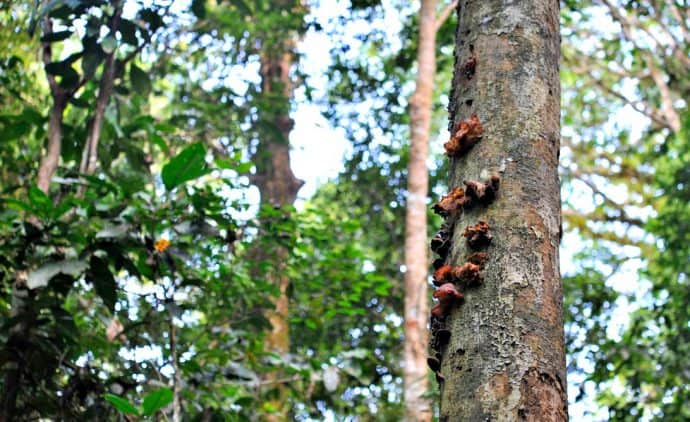 However, the Huaorani still rely heavily on the forest for survival. Their name for forest and world is the same, ömë. The forest is, indeed, their world. Huaorani have been born, lived and died in the forest for centuries.
Even today, they know it deeply, and speak of it as if it were a sentient being. Their myths and legends are all set in the forest, and part of their belief system includes respect of all forms of life. Animals are never killed, except for food.
Due to their intimate knowledge of the forest, local Huaorani are often employed as naturalist guides. During our walks, our guide shared some of his secrets with us.
We learned about medicinal plants, plants used to clean one's teeth, how to get water from the trunk of trees, and even the best leaves to use in lieu of toilet paper.
Nowadays, the traditional lifestyle of the Huaorani is in danger, as is the Ecuadorian Amazon itself. More and more mining and petrol concessions are given out each year. Young people see no future in the forest, and leave their land for the cities of Coca or Quito.
Soon their ancestral knowledge may survive only in ethnographic publications, and in the memory of elderly villagers.
Responsibly managed ecotourism offers their only chance of survival, preventing centuries of knowledge from vanishing under the axe that continues to fell acres of rainforest every day. -Margherita Ragg; photos by Nick Burns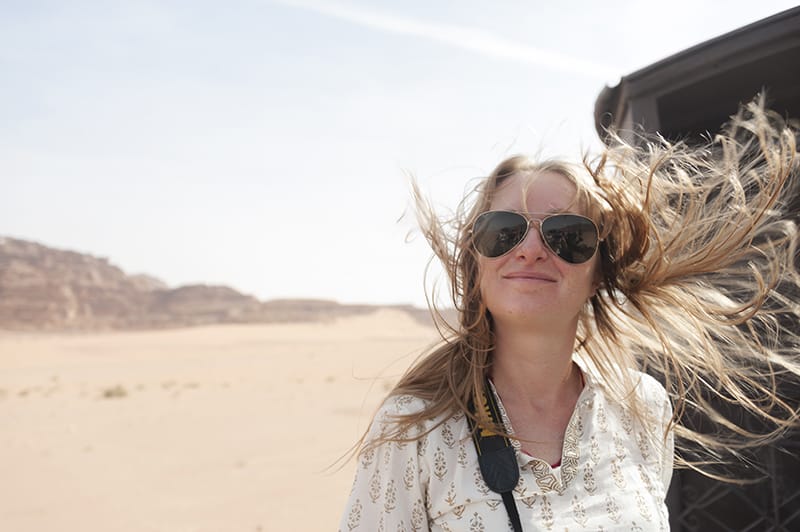 Margherita Ragg is a freelance writer and English teacher from Milan, Italy. She is passionate about wildlife, ecotourism and outdoor activities, and runs nature and adventure travel blog The Crowded Planet with her husband Nick Burns, an Australian travel and wildlife photographer. Margherita has an MA in Travel and Nature Writing from Bath Spa University, and was runner-up to the 2012 Guardian Travel Writer of the Year competition. Her other passions (in no particular order) are rock climbing, skiing, homebrewing and her cat, Tappo. Follow Margherita on Facebook, Twitter, Instagram and Pinterest.
If you enjoyed reading about the Ecuadorian Amazon, you might also like:
PERUVIAN AMAZON: Piranha Fishing
PERUVIAN AMAZON: Birds & Monkeys
PERUVIAN AMAZON: Sloths & Dolphins
PERUVIAN AMAZON: South American Manatee
PERUVIAN AMAZON: Shaman & Ribereños Village
PERUVIAN AMAZON: Into the Jungle