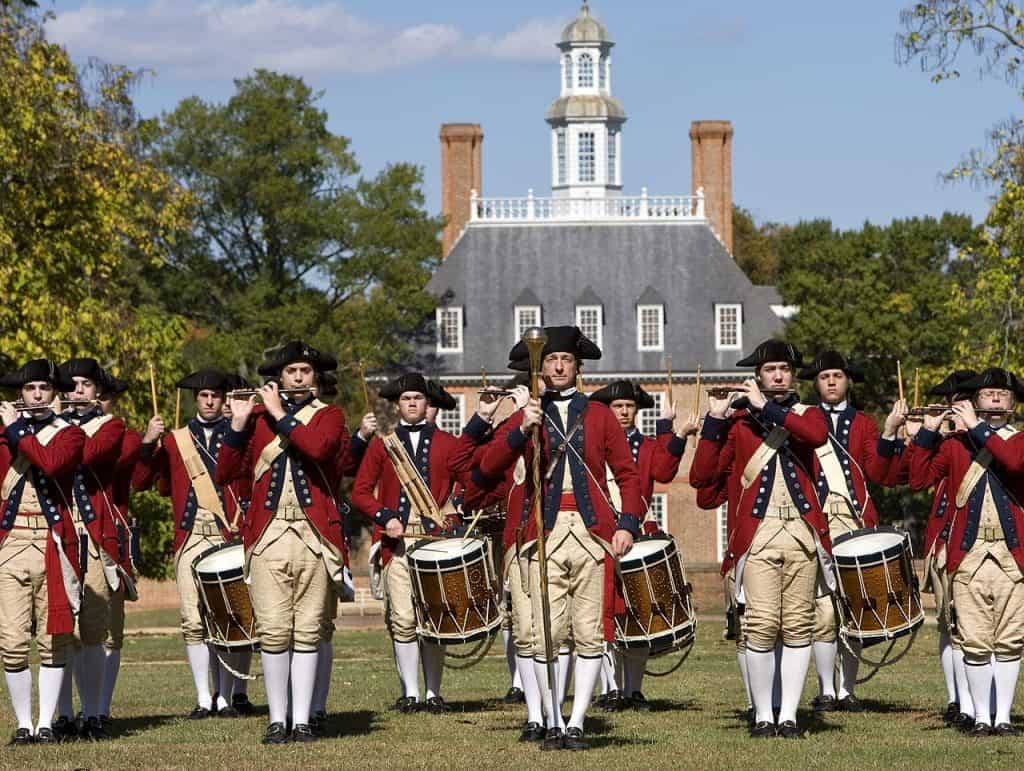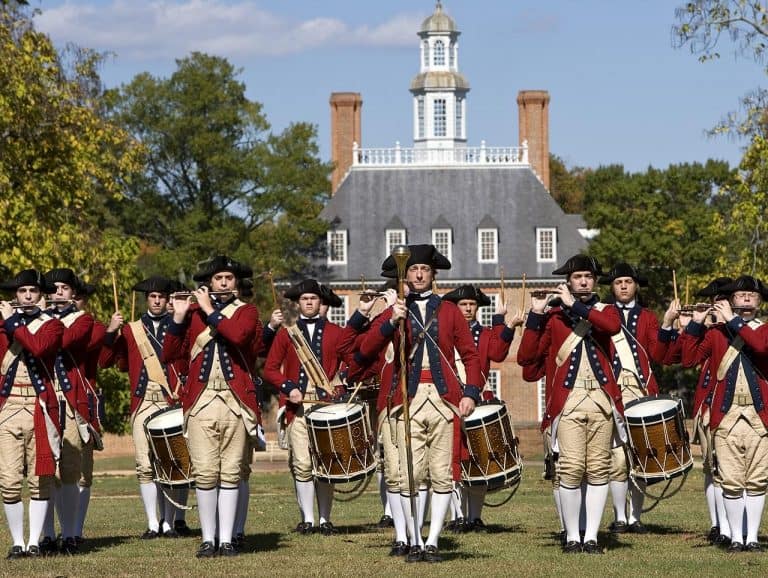 COLONIAL WILLIAMSBURG (Williamsburg, Virginia)
Begun in 1926 by the Reverend Dr. W.A.R. Goodwin and philanthropist John D. Rockefeller Jr., the restoration of this colonial town's historic buildings eventually encompassed more than 85% of the 18th century capital city's original area.
Today Colonial Williamsburg stands as the world's largest living history museum, with 301 acres of restored, reconstructed and historically furnished buildings that recreate Britain's largest, wealthiest and most populous New World outpost.
Hundreds of costumed interpreters bring the minutiae of pre-American Revolution reality to life.
Collectively, they provide an educational overview of everything from the fashioning of firearms and the nature of 18th century crime and punishment, to the cultural traditions of the enslaved and free African-Americans who made up half of Williamsburg's population.
The result is an almost overwhelming historical experience that takes several days to explore. Along the way, it immerses visitors in the political, cultural, and educational center in which the fundamental democratic concepts of the United States were nurtured.
READ MORE: How Oysters are Restoring the Chesapeake Bay, Virginia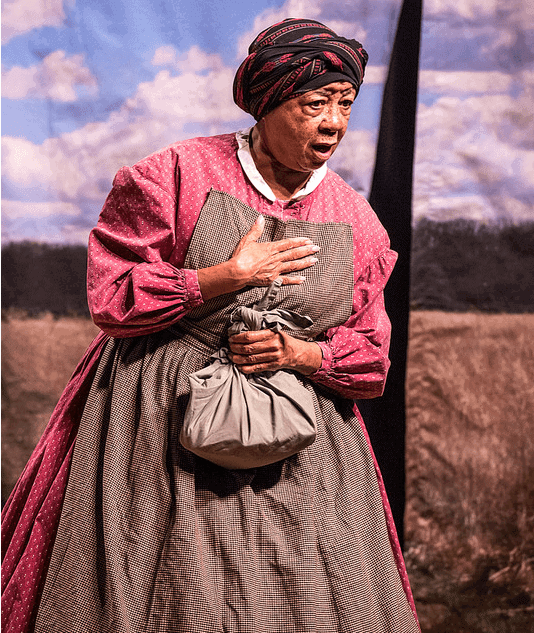 CONNOR PRAIRIE LIVING HISTORY MUSEUM (Fishers, Indiana)
Designed to recreate life on the American prairie during the 19th century, the Connor Prairie Living History Museum boasts five different areas for visitors to explore.
Liberty Corner offers a chance to observe life in a rural community circa 1886, with a schoolhouse, Quaker meetinghouse and Victorian-era farmhouse.
Prairietown goes back another 50 years, recreating an 1830s pioneer village complete with stores, an inn, blacksmith shop and more.
The Lenape Camp offers a glimpse of Native American life in 1816, including wigwams, tomahawk throwing and a trading post where you can chat with a costumed fur trader.
The Conner Homestead is believed to be the first brick home in Central Indiana, with free tours that educate visitors about the home's history and architecture, as well as the family that lived there.
And the Pastport is a hands-on discovery area in which kids of all ages can milk a cow, play historic games, load and unload boats and experience a slice of pioneer life.
READ MORE: List of U.S. National Parks by State (An Epic Guide)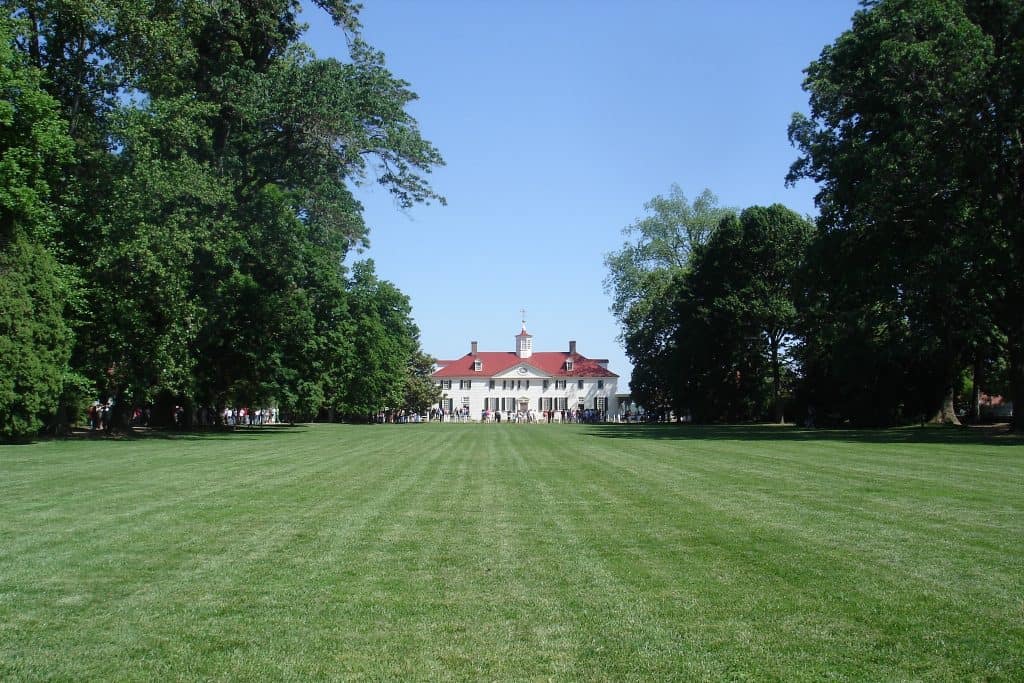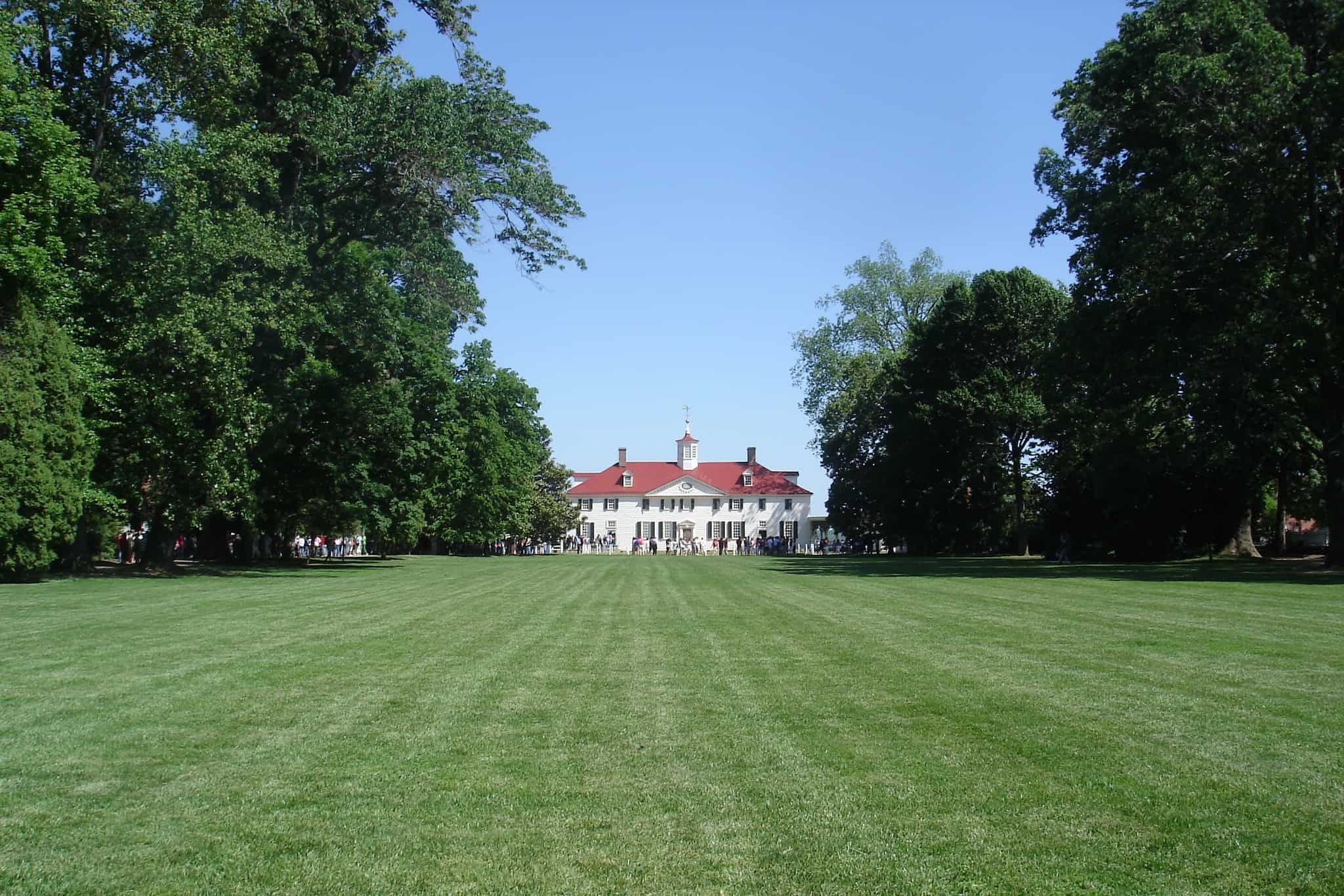 GEORGE WASHINGTON'S MT VERNON ESTATE (Mt Vernon, Virginia)
George Washington's Mount Vernon Estate & Gardens encompasses over 8,000 acres divided into five farms. During the Washington's time, each of them was complete with its own overseers, work force of enslaved Africans, livestock, equipment and buildings.
The 500-acres estate had long since fallen into a state of disrepair when the Mount Vernon Ladies' Association purchased it in 1860. But the mansion was totally restored by the Association, complete with period furniture and fixings.
Designated a National Historic Landmark in 1960, the estate is surrounded by deep woods, rolling meadows, and groves of trees.
The self-contained community includes everything from Washington's mansion and greenhouse slave quarters to the kitchen and stables. All of the buildings are populated by costumed interpreters full of stories about the history of the home of America's first President.
Visitors can also stroll through four gardens, hike the Forest Trail, and explore a four-acre working farm that includes a recreation of our founding father's 16-sided treading barn.
READ MORE: 10 Uncrowded U.S. National Parks (World Travel Bucket List)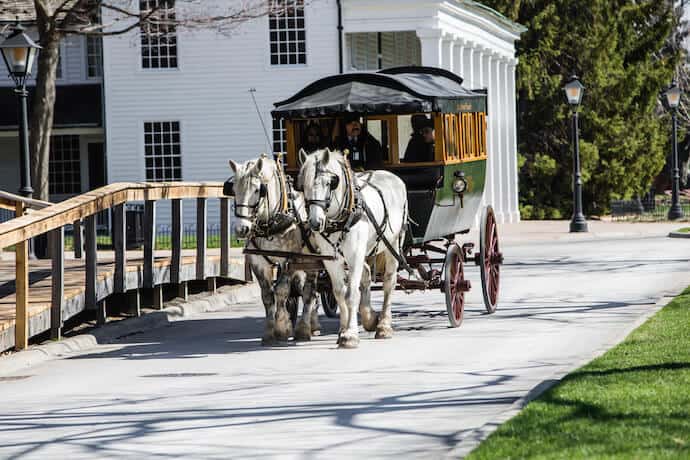 GREENFIELD VILLAGE (Dearborn, Michigan)
When automotive pioneer Henry Ford was forced to move his childhood home due to construction of a new road, he decided to restore it to match his recollections of boyhood.
Soon he decided to save other local buildings, and the result was Greenfield Village, which features seven historic districts that take visitors on a trip through 300 years of American history.
The Henry Ford's Model T district features Ford's home, a replica of his first factory and an opportunity to ride in a restored Model T.
Main Street is the bustling heart, featuring everything from a general store to an old-time carousel. The Edison At Work district allows guests to tour the legendary inventor's Menlo Park complex.
Railroad Junction features a fully operational steam-powered rail line and the only working late 19th century roundhouse in the Midwest. Liberty Craftworks finds a variety of skilled artisans and craftsmen practicing authentic period trades.
Working Farms exposes the soul of 19th century America, with horse-drawn wagons, livestock and fields in various stages of harvest. And the Porches & Parlors district allows visitors to explore homes such as the 1650s Plympton House and the 1930s Mattox House.
READ MORE: The World's Best Road Trips (World Travel Bucket List)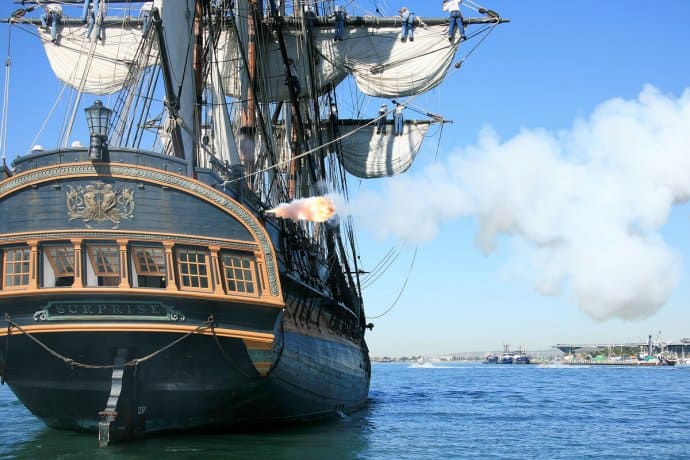 THE MARITIME MUSEUM OF SAN DIEGO (San Diego, California)
Founded in 1948, the Maritime Museum of San Diego grew out of the earlier efforts of a group of local historians and maritime enthusiasts who acquired the Star of India, the world's oldest active sailing ship, in 1927.
The fully-restored Star of India is now part of the museum's world-renowned fleet of historic vessels.
Other ships in the fleet include the 1898 steam ferry Berkeley, the 1904 steam yacht Medea, the state's official tall ship, the Californian, and the H.M.S Surprise (the replica of an 18th century Royal Navy frigate featured in the film, Master and Commander: The Far Side of the World).
Their living history program signs students to go on board the Star of India for a true voyage of discovery. For one adventurous, action-filled day, they're challenged to execute real shipboard activities led by crew members in costume and character.
Ultimately, it's an experience that'd make Captain Jack Sparrow feel right at home!
READ MORE: Can Maritime Forests Survive Climate Change?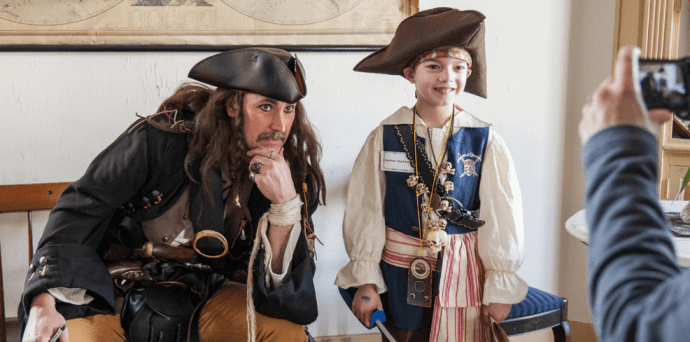 MYSTIC SEAPORT (Mystic, Connecticut)
Founded in 1929, this maritime museum explores the historic relationship between America and the sea. But its primary focus is on the Mystic River's 400-year legacy as a center of shipbuilding.
More than 600 vessels were constructed in the area between 1784 and 1919, the golden age of America's maritime enterprise. Today the living history museum stands as a tribute to rapidly disappearing seafaring traditions.
Mystic Seaport is divided up into four sections. Start in the re-created 19th-Century Village complete with more than 30 shops and storytellers.
Then visit the Waterfront, where you can climb on board historic vessels such as the world's last wooden whaleship, the Charles W. Morgan.
Later you can move on to Preservation Shipyard, where you can watch skilled craftspeople performing the lost art of wooden shipbuilding. The museum also allows visitors to explore a variety of informative exhibits on maritime history.
READ MORE: The 13 Best Small Ship Cruises (World Travel Bucket List)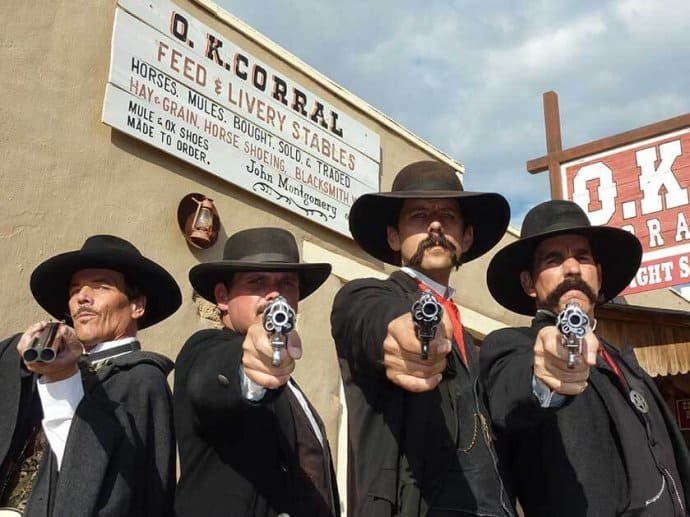 O.K. CORRAL (Tombstone, Arizona)
On October 26, 1881, Wyatt Earp, Doc Holliday, Virgil Earp, and Morgan Earp fought the Clantons and McLaurys in the most famous gunfight in all of American history.
Now, more than 135 years later, visitors can explore the O.K. Corral as it appeared in the 1880s, including life-size replicas of the nine gunfighters involved and a daily re-enactment of the 30-second showdown that left three cowboys dead and two others wounded.
C.S. Fly's photo gallery features historic photos of life in Tombstone in the 1880s, as well as striking portraits of the legendary Apache chief Geronimo.
The 30-minute Historama show (narrated by the late Vincent Price) offers a multimedia walk through the dramatic events in the history of this famous Old West town.
There's also a Tombstone Epitaph newspaper museum, which covers the history of the state of Arizona's oldest newspaper (which is still being published today).
READ MORE: The 25 Biggest Deserts in the World (World Travel Bucket List)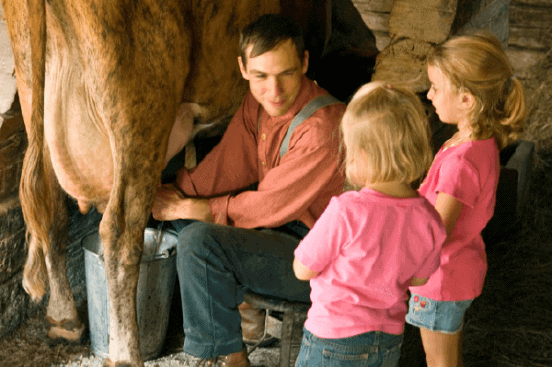 OLD WORLD WISCONSIN (Eagle, Wisconsin)
Opened in 1976, Old World Wisconsin is the largest outdoor museum in the world dedicated to the history of rural life.
To build it, researchers traveled all over the state in search of historic farmhouses, outbuildings, and small-town structures. Then they moved them, piece-by-piece, to the same sort of rolling prairie setting the early pioneers encountered on their westward expansion.
Today, the museum has grown to include more than 60 historic structures, from ethnic Scandinavian farmsteads that include furnished houses and rural outbuildings to a crossroads village with its traditional institutions.
Costumed craftspeople demonstrate blacksmithing, spinning, flax processing, wood-stove cooking, and hundreds of other daily tasks of late 19th- and early 20th-century life.
Daily appearances by (actors portraying) local tax assessor James Parsons, Swedish immigrant Maria Nielson, and Wisconsin gubernatorial candidate Fighting Bob La Follette offer visitors a chance to hear personal stories from the state's history.
READ MORE: What is Permaculture Gardening? (Intro to Design & Principles)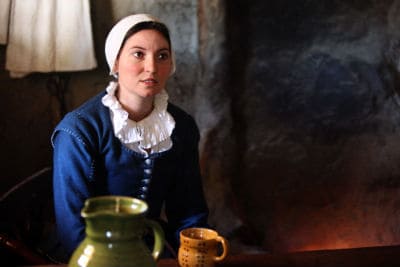 PLIMOTH PLANTATION (Plymouth, Massachusetts)
The story of the Mayflower's landing at Plymouth Rock, the pilgrims' interactions with the Wampanoag tribe, and struggles to survive in the face of widespread disease and famine have all been well documented.
But none of these stories can adequately prepare visitors for Plimoth Plantation, which recreates what Plymouth was like in the early 17th century.
In the 1627 Pilgrim Village, costumed colonists welcome you to a small farming town filled with timber-framed houses, well-tended livestock and fascinating townspeople.
You'll get a completely different perspective at the Wampanoag Homesite. There, descendants of a tribe that has lived in this area over 12,000 years educate visitors about their way of life as well as the arrival of the English from the indigenous peoples' point of view.
Later you can Board the Mayflower II, a detailed reproduction of the original ship, and learn about 17th century maritime travel. You can also explore the Nye Barn, where the Plantation helps conserve rare and heritage breed livestock from around the world.
READ MORE: Fascinating Facts About Thanksgiving History

STONE MOUNTAIN HISTORIC SQUARE (Stone Mountain, Georgia)
Like a picture postcard culled straight out of a scene from Margaret Mitchell's Gone With The Wind, Stone Mountain Park's Antebellum Plantation and Farmyard (now known as Historic Square) offers a sampling of the sights, sounds and smells of the pre-Civil War South.
The self-guided tour encompasses 19 historically restored and decorated buildings and a beautiful formal gardens in which costumed demonstrators ranging from petticoat-clad Southern belles to grubby farmhands pass on stories of the region's timeless traditions.
In the Farmyard, kids can pet and talk to the animals while professionals teach them about animal behavior and their role on plantations of the 19th century.
The Plantation also occasionally hosts historically accurate weapons demonstrations and military drills by the 42nd GA unit in the Plantation Meadow. For natives like me, it's a fascinating look at the history of Georgia. –Bret Love