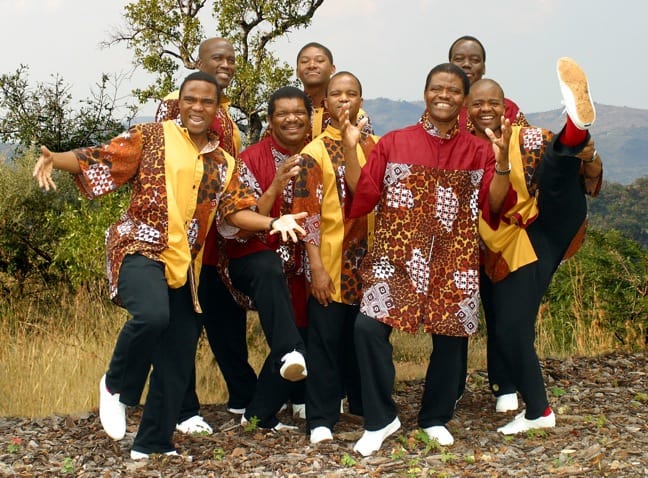 Ladysmith Black Mambazo
Nelson Mandela, Graceland & 50 Years As South Africa's Cultural Ambassadors
Very few musical artists become cultural ambassadors for their homeland to the extent that Ladysmith Black Mambazo has for South Africa.
Originally formed by Joseph Shabalala in 1960, the KwaZulu Natal-based group (which sings in the vocal styles known as isicathamiya and mbube) has been performing in its current incarnation since 1964. But it was their work with Paul Simon on his classic world music album Graceland in 1986 that turned the a capella icons into international stars.
Now, the group is celebrating several historic landmarks. 2012 marks the 50th anniversary of Nelson Mandela's imprisonment, which ultimately led to the end of Apartheid, Mandela's Nobel Peace Prize win and his inauguration as President of South Africa (LBM performed at both ceremonies at Mandela's request).
There will be a new Graceland boxed set (including the original album, bonus tracks, and a director's cut of Under African Skies, a documentary film that premiered at Sundance) coming out this spring as part of a year-long celebration of the album's 25th anniversary. Lastly, the band is celebrating a Grammy nomination for 2011's Songs From A Zulu Farm and the impending release of a new album, Ladysmith Black Mambazo & Friends, featuring collaborations with artists ranging from Simon and Dolly Parton to Josh Groban and Taj Mahal.
We recently spoke with Albert Mazibuko, Shabalala's cousin and a Ladysmith Black Mambazo member since 1969, about the group's past, present and future.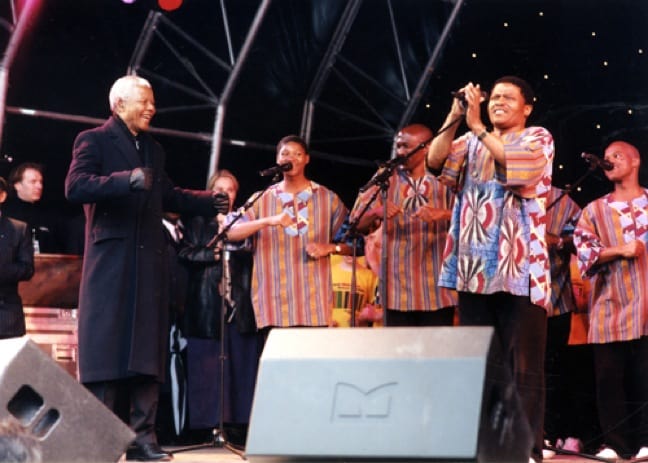 You've been with Ladysmith Black Mambazo for over 40 years now. What is it that keeps you passionate about performing after 4 decades?
Meeting the people every night. It never gets old for us to travel and sing for audiences, and to see them react so positively to our shows. When we meet them, they tell us how special the night was. We seem to touch people in a very spiritual way. They know our country's story, our history, and seem to feel close to us. We love this!
This year marks the 50th anniversary of Nelson Mandela's imprisonment. As a South African, how do you feel about the way your country has changed in that time?
Well, it's been a long struggle. When we gained our freedom in the early 1990s, many people thought everything would change and all would be better. But it's been a slow change. The impact that apartheid had on the black population wasn't, and isn't, something that could go away overnight. Deep scars have affected many generations. The lack of education and care for the people has left millions in deep need of help. But the change is happening. We can see this every day. We know it will be better tomorrow.
Ladysmith Black Mambazo has become South Africa's foremost cultural ambassadors. What makes South African culture so unique?
There certainly is a strong connection between our country and the outside world because of what we went through, and because of Nelson Mandela and what he did. I think working with Paul Simon on the Graceland CD– bringing all that beautiful music to the world– brought a strong connection between our people and the rest of the world.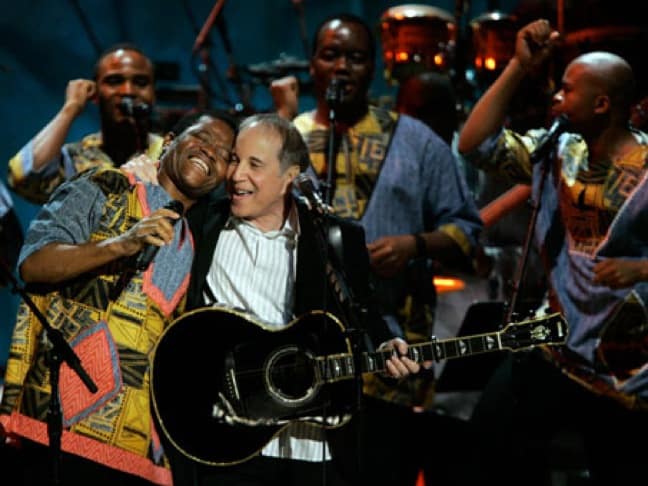 There's a 25th anniversary edition of Graceland set to come out soon. What are your favorite memories from working with Paul Simon?
We always remember our first trip to Abbey Road Studios, where we met with him and began recording. It was a very special time.
How did your career change after the success of Graceland?
We met the world and the world embraced us. It began a 25-year run of touring, recording, Grammy Awards, and so many wonderful moments. It allowed us to represent our country all over the world. We love meeting people and telling them about South Africa. We always tell them to visit, that we need their support. We love to share the beauty of South Africa with people.
One of your most famous performances came at President Mandela's inauguration in 1994, at the end of the apartheid era. Can you talk about your feelings on that special day?
My goodness, that was so special! It was probably the most special day in our lives. Mandela became President of the country after being in prison, after our people had no freedom for so long. Then, we are asked to sing at the event. Amazing! It made us feel human, like this was our world now to make of it what we can. Ladysmith Black Mambazo was given a role­– a mission– to represent this new country. It was, and is, something we take very seriously.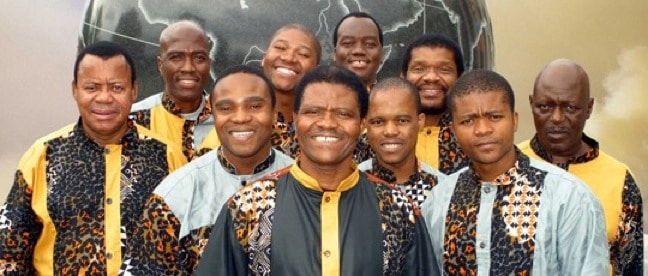 The band has changed members a few times over the past 40 years, with Joseph's sons now forming the core of the group. How has that changed the sound?
Actually, the band has been very stable over the past 20 years. During the 1960s and 1970s there were many changes, but by 1980 we were very stable. Joseph Shabalala, our leader, found the voices he wanted. This became the "Graceland" group, which sang and toured with Paul Simon. In 1991-1993 we lost three members to death and retirement, and Joseph brought in three of his sons. In 1999 another son joined. So, since 1993 it's been very stable. When those changes happened, it gave us a good energy. The sons were ready to bring what they had to the stage. Mambazo will continue on through them and their children. It's a group that could continue on for many years.
You've collaborated with different people over the years, from Dolly Parton to Josh Groban. Why is it important for LBM to work with artists from other countries and musical genres?
We love to share our music and when we join others, especially from different styles and countries, it allows new and interesting sounds to happen. We love trying new things. We think the sound of our voices brings a beautiful flavor to many genres. Of course it's wonderful to reach new audiences. So many people have discovered us through working with these other artists. Josh Groban fans are some of our strongest supporters. It's been a beautiful experience meeting new fans this way.
Your new album features quite a few of those collaborations from over the years. Are there any particular artists that you personally felt a strong connection with?
Yes, there is a new CD that has many songs we have sung with other people since 1986. It brings back so many great memories for us. We'll always have a strong connection to Paul Simon and those songs.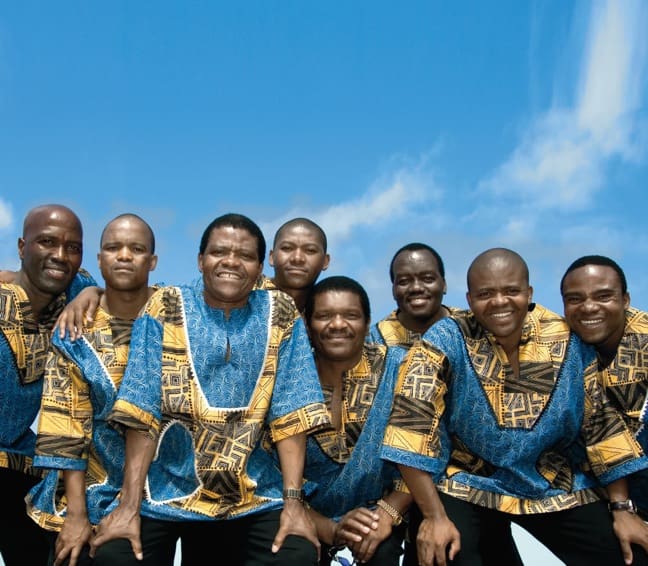 I've read about the LBM Foundation Joseph founded. Can you tell me a little bit about the foundation's mission and its work with South Africa's Zulu children?
We want to give back to the young people in our country, especially from where we lived in Ladysmith, South Africa. It's important to help the young generation become better than the last. We raise money to bring the social activities like singing and dancing so they know who they are and where their history is. We feel it's very important to keep your cultural identity to help make you a better stronger person.
People have been speculating about Joseph's retirement for years. Have you discussed when the time will come to hand the group over to the next generation?
Several years ago someone asked him what will happen when he retires and he said that he will let his sons take over the group. But he loves to be out singing for the people still. We love having him leading us. I really don't think he will retire anytime soon. He has said he will only retire when it's time to leave this world. I believe that.
What is your dream for the group's future?
To continue to create new music for people to enjoy, and to continue to travel the world and spread a message of Peace, Love and Harmony. What could be better than that?! –Bret Love
If you enjoyed reading our Ladysmith Black Mambazo Interview, you might also like:
South Africa- Londolozi Game Reserve Safari
South Africa- Phinda Game Reserve Safari
South Africa- Zulu Memories