Growing up in Atlanta in the '70s, the influence of Martin Luther King, Jr. was virtually inescapable.
Assassinated two months before I was born, Dr. King had gone to Booker T. Washington High School, which was located a few miles away from the neighborhood where I grew up.
The church in which he had preached so passionately, Ebenezer Baptist Church, was right down the street from Georgia State University, where both my father and I went to college.
His teachings were revered in our racially mixed neighborhood, and one of my first public performances focused on African-American history and the impact of the Civil Rights Movement on American society.
Even now, King's presence looms large over Atlanta: I pass by the "I Have A Dream" monument of the King Center For Nonviolent Change practically every time I head into the city.
Needless to say, his teachings have had a huge impact on my life. In honor of the great man's life and work, we thought we'd share a few of what we think are the best Martin Luther King Jr day quotes:
READ MORE: Jimmy Carter on World Peace, Politics, & Saving the Planet
DR KING QUOTES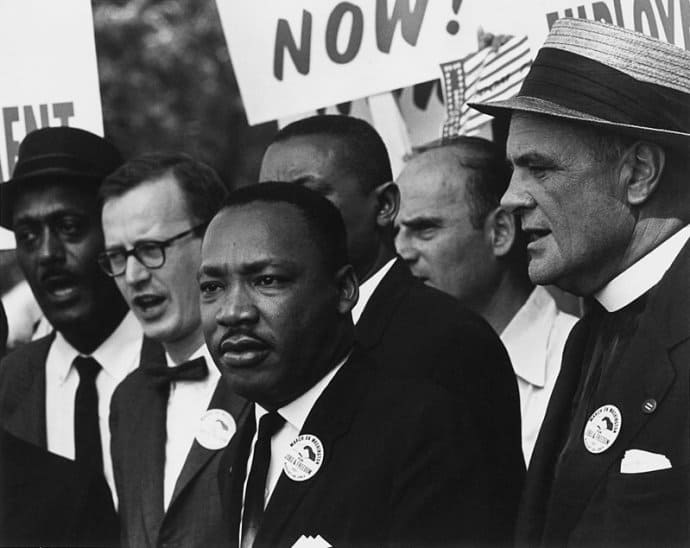 DR MARTIN LUTHER KING EQUALITY QUOTES
1. "Never, never be afraid to do what's right, especially if the well-being of a person or animal is at stake. Society's punishments are small compared to the wounds we inflict on our soul when we look the other way."
2. "All I'm saying is simply this, that all life is interrelated, that somehow we're caught in an inescapable network of mutuality tied in a single garment of destiny. Whatever affects one directly affects all indirectly. For some strange reason, I can never be what I ought to be until you are what you ought to be. You can never be what you ought to be until I am what I ought to be. This is the interrelated structure of reality."
3. "On some positions, Cowardice asks the question, 'Is it safe?' Expediency asks the question, 'Is it politic?' And Vanity comes along and asks the question, 'Is it popular?' But Conscience asks the question 'Is it right?' And there comes a time when one must take a position that is neither safe, nor politic, nor popular, but he must do it because Conscience tells him it is right."
4. "A true revolution of values will soon look uneasily on the glaring contrast of poverty and wealth. With righteous indignation, it will look across the seas and see individual capitalists of the West investing huge sums of money in Asia, Africa and South America, only to take the profits out with no concern for the social betterment of the countries, and say: 'This is not just.'"
5. "Human progress is neither automatic nor inevitable… Every step toward the goal of justice requires sacrifice, suffering, and struggle; the tireless exertions and passionate concern of dedicated individuals."
6. "Change does not roll in on the wheels of inevitability, but comes through continuous struggle. And so we must straighten our backs and work for our freedom. A man can't ride you unless your back is bent."
7. "There is nothing more majestic than the determined courage of individuals willing to suffer and sacrifice for their freedom and dignity."
8. "There comes a time when silence is betrayal."
9. "In the end, we will remember not the words of our enemies, but the silence of our friends."
10. "We must live together as brothers or perish together as fools."
READ MORE: Interview with the Kiva Director on Ending World Poverty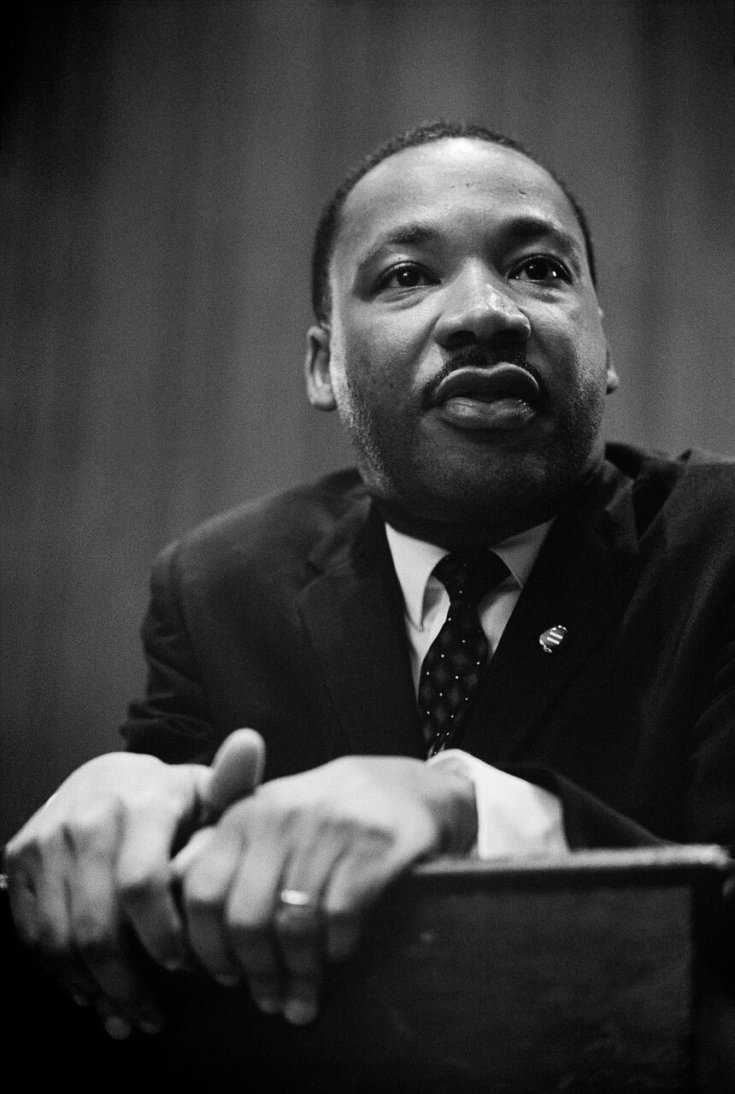 DR MARTIN LUTHER KING QUOTES ON LOVE
11. "Everybody can be great…because anybody can serve. You don't have to have a college degree to serve. You don't have to make your subject and verb agree to serve. You only need a heart full of grace. A soul generated by love."
12. "Darkness cannot drive out darkness: Only light can do that. Hate cannot drive out hate: Only love can do that."
13. "We must develop and maintain the capacity to forgive. He who is devoid of the power to forgive is devoid of the power to love. There is some good in the worst of us and some evil in the best of us. When we discover this, we are less prone to hate our enemies."
14. "I have decided to stick to love … Hate is too great a burden to bear."
15. "Love is the only force capable of transforming an enemy into a friend."
16. "Man must evolve for all human conflict a method which rejects revenge, aggression and retaliation. The foundation of such a method is love."
17. "Another way that you love your enemy is this: When the opportunity presents itself for you to defeat your enemy, that is the time which you must not do it. There will come a time, in many instances, when the person who hates you most, the person who has misused you most, the person who has gossiped about you most, the person who has spread false rumors about you most, there will come a time when you will have an opportunity to defeat that person. It might be in terms of a recommendation for a job; it might be in terms of helping that person to make some move in life. That's the time you must do it. That is the meaning of love."
18. Without love, there is no reason to know anyone, for love will in the end connect us to our neighbors, our children and our hearts.
19. "I am convinced that love is the most durable power in the world. It is not an expression of impractical idealism, but of practical realism. Far from being the pious injunction of a Utopian dreamer, love is an absolute necessity for the survival of our civilization. To return hate for hate does nothing but intensify the existence of evil in the universe. Someone must have sense enough and morality enough to cut off the chain of hate and evil, and this can only be done through love."
20. "You know, a lot of people don't love themselves. And they go through life with deep and haunting emotional conflicts. So the length of life means that you must love yourself. And you know what loving yourself also means? It means that you've got to accept yourself."
READ MORE: How to Volunteer with Responsible Organizations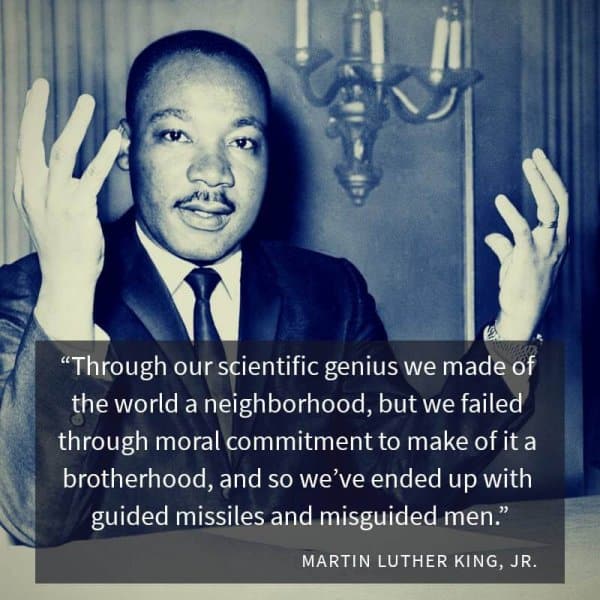 MLK QUOTES ABOUT PEACE
21. "Through our scientific genius we made of the world a neighborhood, but we failed through moral commitment to make of it a brotherhood, and so we've ended up guided missiles and misguided men".
22. ​"I refuse to accept the view that mankind is so tragically bound to the starless midnight of racism and war that the bright daybreak of peace and brotherhood can never become a reality… I believe that unarmed truth and unconditional love will have the final word."
23. "We must come to see that the end we seek is a society at peace with itself, a society that can live with its conscience."
24. "Forgiveness is not an occasional act; it is a constant attitude."
25. "If you can't fly, then run. If you can't run, then walk. If you can't walk, then crawl. But, whatever you do, you have to keep moving forward."
26. "Peace is not merely a distant goal that we seek, but a means by which we arrive at that goal."
27. "Now I say to you in conclusion, life is hard, at times as hard as crucible steel. It has its bleak and difficult moments. Like the ever-flowing waters of the river, life has its moments of drought and its moments of flood. Like the ever-changing cycle of the seasons, life has the soothing warmth of its summers and the piercing chill of its winters. And if one will hold on, he will discover that God walks with him, and that God is able to lift you from the fatigue of despair to the buoyancy of hope, and transform dark and desolate valleys into sunlit paths of inner peace."
28. "The hope of a secure and livable world lies with disciplined nonconformists who are dedicated to justice, peace and brotherhood."
29. "Violence as a way of achieving racial justice is both impractical and immoral. I am not unmindful of the fact that violence often brings about momentary results. Nations have frequently won their independence in battle. But in spite of temporary victories, violence never brings permanent peace."
30. "Violence brings only temporary victories; violence, by creating many more social problems than it solves, never brings permanent peace."
READ MORE: Rwanda History from Colonialism to Genocide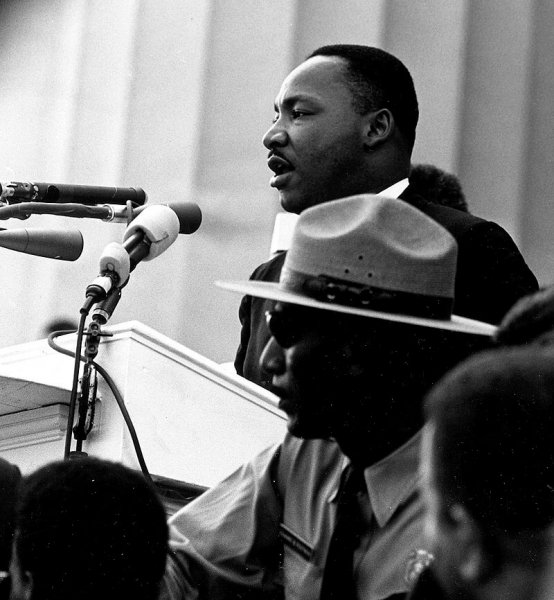 DR MARTIN LUTHER KING QUOTES ON LEADERSHIP
31. "People fail to get along because they fear each other; they fear each other because they don't know each other; they don't know each other because they have not communicated with each other."
32. "We must rapidly begin the shift from a 'thing-oriented' society to a 'person-oriented' society. When machines and computers, profit motives and property rights are considered more important than people, the giant triplets of racism, materialism, and militarism are incapable of being conquered."
33. "The ultimate measure of a man is not where he stands in moments of comfort and convenience, but where he stands at times of challenge and controversy."
34. "Faith is taking the first step even when you can't see the whole staircase."
35. "Our lives begin to end the day we become silent about things that matter."
36. "A genuine leader is not a searcher for consensus but a molder of consensus."
READ MORE: 45 Pieces of Advice I Would Include in a Letter To My Younger Self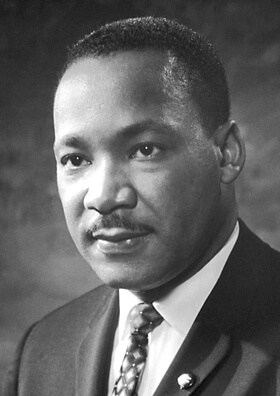 DR KING ON WORK ETHIC & SCIENCE
37. "If a man is called to be a street sweeper, he should sweep streets even as a Michelangelo painted, or Beethoven composed music or Shakespeare wrote poetry. He should sweep streets so well that all the hosts of heaven and earth will pause to say, 'Here lived a great street sweeper who did his job well."
38. "Whatever your life's work is, do it well. A man should do his job so well that the living, the dead, and the unborn could do it no better."
39. "What is more tragic than to see a person who has risen to the disciplined heights of tough-mindedness but has at the same time sunk to the passionless depths of hard-heartedness?"
40. "Science investigates; religion interprets. Science gives man knowledge, which is power; religion gives man wisdom, which is control. Science deals mainly with facts; religion deals mainly with values. The two are not rivals." –Bret Love