When we initially attempted to do a Rick Steves  interview, to no one's surprise, he was on the road. But the 57-year-old Steves wasn't off researching for an updated version to one of his 50+ European travel guides. Instead, he was on a lecturing tour across America (in Little Rock, Arkansas, to be precise).
His PR team suggested we wait a few months– after the tour stopped and new segments of his popular TV show, Rick Steves' Europe, were taped– and try again. We did, and this time the 2011 Society of American Travel Writers award-winner was sitting comfortably at his Edmonds, Washington home, more than willing to open up to us about everything from ecotourism and travel blogging's future to his love of the piano and the best places in the world to score marijuana.
How do you see the ecotourism movement changing the world of travel?
Well, there are people selling green tours and so on, but I think you have a carbon footprint when you fly somewhere, and then you travel around and consume a lot of stuff.
For me, eco-sensitive travel is where you gain empathy for the other 96% of humanity, and then you come home and employ that broader outlook by being a steward of the planet, helping to elect governments that are sensitive to peace and justice and environmental, sustainable and climate change issues and so on. But I don't travel around the world in a way that tries to consume less.
I travel around the world in a way that opens my mind and gives me empathy and inspires me to come home and make this world a better place. America has a HUGE imprint on this planet, and I think it's important for us to realize that we're just 4% of the planet, spending as much on the military as everybody else put together. That is the primary environmental issue for me.
READ MORE: What is Ecotourism? (This History and Principles of Responsible Travel)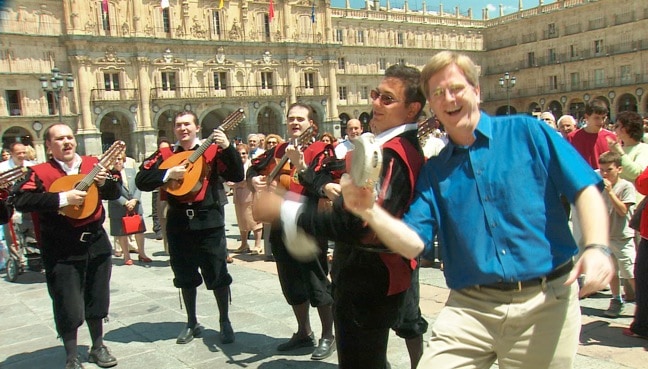 How has the field of travel writing changed since you got involved in it?
Travel writing has morphed with technology. It used to be just print, but now it's print and electronic. If you  just judge by the sales, my guidebooks are the best-selling books in every category. [I have the] best-selling Spain [guide]book and best-selling Germany book.
The best-selling Italy book would be my Rick Steves' Italy. 90% of my sales are still in old-fashioned print, and 10% of my sales are in electronic. We pretty much dominate the electronic sales charts also. Electronic media is exciting, but certain genres of books are staying primarily print. Children's books are 90% print. Travel books are 90% print.
[With] novels, the majority of sales would be electronic. It's fun to have information on your mobile device, but the bottom line is that you just need information. The bottom line is that you need to consider yourself your own tour guide.
You need to equip yourself with good information and expect yourself to travel smart, and then you can enjoy maximum travel thrills for every mile, minute and dollar in Europe.
What is the blogger's role in this evolution? Do you think they have a strong voice?
I don't know. I'm not doing surfing in Hawaii or fancy restaurants in San Diego. I mean, a lot of people are really into social media and blogging for their information. I'm pretty much old school.
This is Europe: It's the wading pool for world exploration. It's the most important market for international travel among Americans. A lot of people are all excited about the Cruise Critic and TripAdvisor sort of sources of information. I think there's too much bogus information in that realm to rely on them blindly.
You can use it to augment your information, but I wouldn't base my trip solely on feedback from people who put it up on those sites. A good portion, I believe, is put there either to promote or attack businesses for their own business interests, and you don't know where that information came from.
Maybe it's just because I make my living selling guidebooks, but I like to know if I can trust that writer, and this guidebook is his or her first-hand experience, designed so I can learn from his or her experience.
It's fun to read blogs and go to those various sites, but I rely on [others' experiences], whether I'm using my own guidebooks or somebody else's guidebooks. I go to a lot of places where I don't write guidebooks, and I use the best guidebook available for that country.
READ MORE: How to Start a Travel Blog & Build a Successful Travel Blogging Business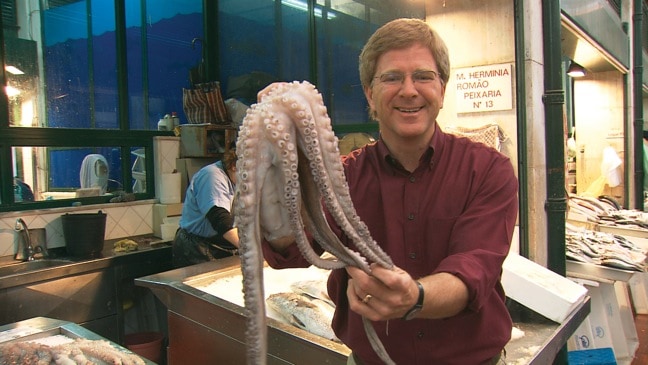 Rick Steves is synonymous with Europe. What are some of your favorite places outside of that continent?
My favorite place in the world is India and the Indian subcontinent, including Sri Lanka and Nepal. I like traveling in Japan. I like traveling in Southeast Asia. Central America is where I go to stoke my political passions, because I think Central America offers a great opportunity to see what is like to be on the receiving end of globalization and live south of the border of the United States. But to me, Europe is the springboard for that kind of world exploration.
Do you have any words of advice for aspiring travel writers?
I would say be a traveler first and a writer second. Choose an area you're going to be specializing in, and then just be passionate about trying to help people's travels there. I measure my profit, not in dollars earned, but in trips impacted. If you have that attitude, love your work and keep at it for a long time, you'll probably make a lot of money, too.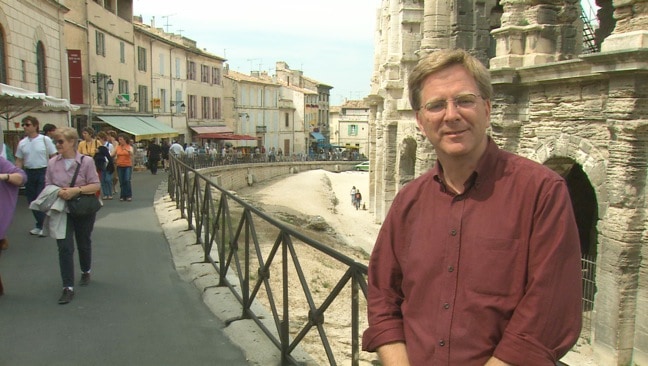 When you say "trips impacted," can you elaborate on that?
If somebody uses my book and goes to Ireland, they're going to make a lot of friends, avoid a lot of crowds, eat a lot of good food, and save a lot of money. That's impacting a trip.
If I can help people realize that, when you go to Amsterdam, you can go into a coffee shop and smoke marijuana and not get arrested. Then you can talk to the guy who runs it [and learn] what it's like to live in a society where they've taken the crime out of marijuana.
Then you come home and realize we arrest 800,000 people a year for smoking marijuana. That is a broadening experience! You don't need to become a pothead, but at least you need to know that in Europe they treat it differently.
In California, I understand they're going to outlaw foie gras next month. But you can go down the Dordogne in France and see seemingly half of England is traveling down there just to eat the fat livers of the force-fed geese, and you realize there're different ways to look at foie gras.
You can go to Spain and go to a bullfight, and then you can go to Catalonia, Barcelona and realize they just outlawed bullfighting and the bull arenas have been turned into shopping malls.
You can go to Finland and hang out with a bunch of naked people in a sauna, and then you can come back to the United States, where you can't show a statue with full-frontal nudity or else your show has to come on after 10:00 on public television.
There are different norms and comfort zones, and it's fun when you travel to experiment a little bit and hang out with people who find different truths to be self-evident.
Is there anything else in the world Rick Steves could be doing besides being a travel guide?
I thought I'd be a piano teacher all my life. I love teaching children to enjoy music and make it on the piano. I suppose I could get tricked into politics, but I think I'm having a better impact as a travel writer.
There's lots I could do, but I'm really thankful I found my niche. I can work 50 12-hour days in a row in Europe and come home feeling younger and more energetic than when I left. Travel is my niche, and I'm really thankful for that work.
It's very gratifying to be able to write a lot of books and make a lot of TV shows and organize a lot of tours and find that, when people use our material, they have great trips and want to come back and travel more with us. –DeMarco Williams
(Green Global Travel receives no pay for product reviews, and won't recommend any product we don't use ourselves. But we do have an Amazon Affiliate Program, and if you buy through the link below, it will help support our site at no additional cost to you. Thanks for your support!)
If you enjoyed reading our Rick Steves Interview, you might also like:
10 Travel Books That Inspired My Love of Adventure
INTERVIEW: Andrew McCarthy on Travel Writing, Fear & the Journey of the Soul
INTERVIEW: Nat Geo's Scott Wallace On Saving the Amazon's Last Uncontacted Tribes
INTERVIEW: Henry Rollins On Occupants and Working With Nat Geo