A veteran of the restaurant world, Anthony Bourdain was largely unknown until the publication of his 1999 New Yorker exposé, Don't Eat Before Reading This.
The article ultimately formed the basis for his breakthrough best-selling book, Kitchen Confidential: Adventures in the Culinary Underbelly.
Bourdain has since emerged as the bad boy rock star of the foodie world, releasing critically acclaimed books and exploring the culinary globe as the host of the Travel Channel show, Anthony Bourdain: No Reservations.
Now Bourdain is taking his show on the road in America in order to regale audiences with stories of his travels. We recently caught up with the New York City native to discuss his rebellious past, blessed present, and goals for the future.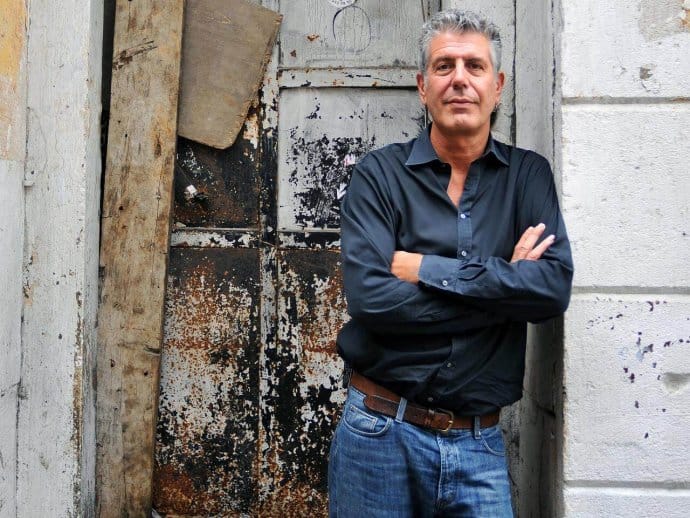 You have an edgy sensibility that separates you from other celebrity chefs. Where does that come from?
My success came very late. I was in my forties, and I'd spent my adult life working in NYC kitchens, so by the time I made it to TV it was too late to change. I'd love to sell out and be a happy, insincere bobblehead– I'd probably make a lot more money– but I can't. (Laughs) I have to look at myself in the mirror every morning.
Was there ever a time when you seriously considered becoming something other than a chef?
No, I was saved by the restaurant business. I was full of rage at the world. I didn't respect myself, or others. If I had a career trajectory, it was towards petty criminality. The restaurant business was the first time I went home feeling proud of myself, and caring about what others thought of me. From the time I fell into it at 17, that was what I wanted to do.
What makes No Reservations different in your eyes from any other travel or food-related show on TV?
It's not one of those hotel channel shows where everything is great and nothing hurts. Because I wrote such an over-testosteroned, occasionally mean memoir, nobody expects me to morph into Rachel Ray. If I hate something, I can say, "This is the worst thing I've ever eaten! I hate this country, I hate this food and I'm having a miserable time!" I hope, given that honesty, that when I do say, "This is the greatest thing that ever happened to me," it has a certain gravitas to it. Honesty is in short supply in TV, and I'm lucky enough to be to be honest.
Are there any travel destinations you've visited that truly stand out?
So many! I'm living a life that most people only dream of. Indonesia, Malaysia, China, Vietnam, Ghana, Brazil, Spain… These are magical places for me, and I've been incredibly fortunate to go there, particularly given how hard the first 30 years of my working life were.
You wear a lot of different hats: You're a world-renowned chef, critically acclaimed author, world-traveling TV host, husband, and father. How do you maintain balance without burning out?
The first rule of running a really good restaurant kitchen is not screwing up, but beyond that I'm just making it up as I go along. I never anticipated any of this and never really had a plan. It's just been a matter of, when opportunities present themselves, making good decisions and working through the bad decisions. It's not about balance, it's about taking it day by day, staying true to yourself, realizing what you're good at and incapable of, and trying not to make stupid moves.
Do you have any specific plans or goals for the future?
I'd like to wear shoes as little as possible. In fact, the same goes for pants. Beyond that, I just want to keep doing what I'm doing. –Bret Love