The Dulce River, or "Sweet" River, is one of the most overlooked places to visit in Guatemala.
Popular Guatemala attractions such as the colonial city of Antigua and the ancient ruins of Tikal get plenty of international press. But the Rio Dulce is one of the lesser explored natural wonders you'll find scattered about this culturally rich and historically maligned country.
In truth, Guatemala is a fantastic destination for budget-conscious backpackers, high-end ecotourism enthusiasts, or just about anyone seeking unique adventures and an interesting change of pace.
The Central American hotspot can put you atop an active volcano, in the depths of the jungle scaling ancient pyramids, or– when visiting Rio Dulce– exploring the country's Caribbean coastline.
Measuring just 27 miles long, the Dulce River is fairly short. It stretches between Guatemala's largest lake, Lago Izabal, and the Caribbean Sea, passing through towns like Fronteras and Livingston along the way.
Though petite, the Rio Dulce is a big-time biological marvel, with a diversity of flora and fauna rivaling any other place outside of the Amazon River. It's also home to several distinct cultures, including multiple indigenous Mayan tribes and the Afro-Caribbean Garifuna people.
READ MORE: 40 Things You Should Know Before Traveling to Guatemala
Rio Dulce, Guatemala Contents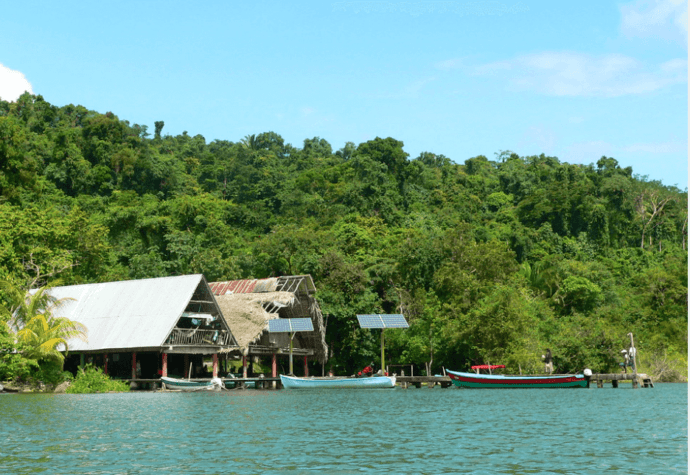 6 Things to Do in Rio Dulce, Guatemala
Of Guatemala's three UNESCO Sites, one is located just down the road from Rio Dulce.
The sweet river is also home to environmentally detrimental banana, rubber, and palm oil plantations. Yet somehow it contains unimaginably rich swaths of wilderness and waterways.
They are Monkeys in the trees, and Manatees in the seas. There's a colonial fort. There are riverside restaurants. In short, there are plenty of things to do in Rio Dulce.
1. Volunteer with Casa Guatemala
Casa Guatemala has been working on behalf of indigenous children from the villages around Rio Dulce for decades now, since 1987.
Casa Guatemala provides health care, education, nutrition, love, and homes for at-risk children with no parents (or families that can't afford to take care of them).
Tours and volunteer opportunities can be arranged at Backpacker's Hostel, a non-profit hotel/ restaurant on the south side of the bridge in Las Fronteras.
Casa Guatemala can only be reached by boat.
READ MORE: The Top 15 Things to Do in Antigua, Guatemala

2. Visit Castillo de San Felipe
At the entrance of Lake Izabal, the narrowest point of the Rio Dulce, you'll find Castillo de San Felipe (Guatemala, not to be confused with the more famous one in Cartagena, Colombia).
This old Spanish fort that was once used to protect the town and lake from pirates.
One of the towers here has remained intact since 1604, but the fort itself has been destroyed on more than one occasion. Several other towers were added in the 17th century. Then, in 1797, more additions were engineered.
In 1999, el Castillo was damaged by an earthquake. The fort is currently on UNESCO's tentative list of World Heritage Sites.
READ MORE: 12 Odd Intangible Cultural Practices UNESCO Protects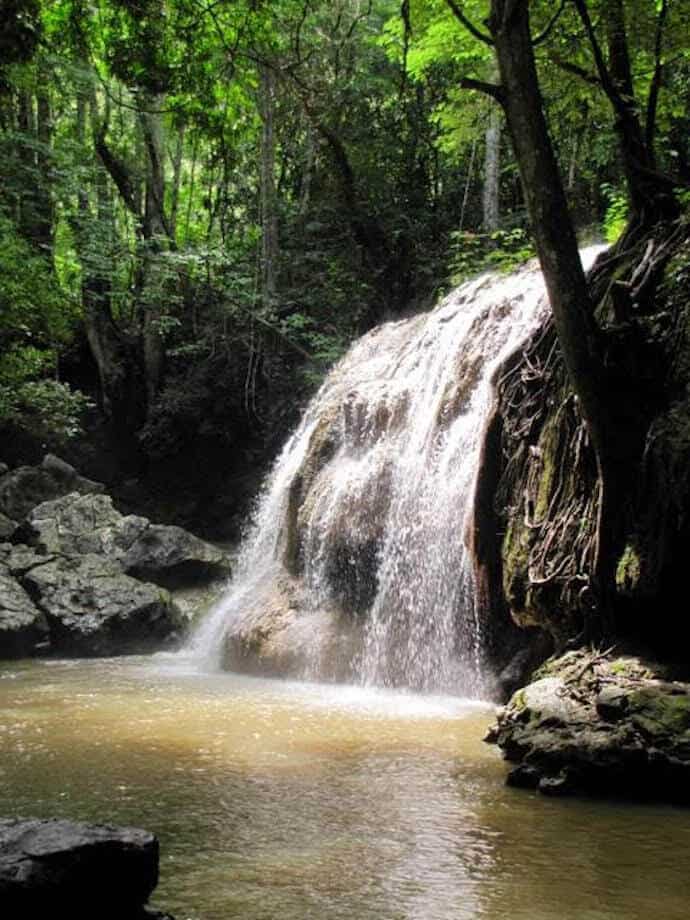 3. Swim at Finca El Paraiso Hot Springs
After a ride that sweeps visitors past huge expanses of banana plantations, Finca El Paraiso has an amazing hot springs waterfall that feeds into a cool mountain stream.
For just a few bucks, visitors are allowed to swim, take mud baths, and relax in the hot springs. It's a simple morning or afternoon trip from town and back, but it's well worth the time.
Getting here is a great adventure, and the blend of rusticity and comfort of semi-organization make the falls itself feel the same.
READ MORE: 20 of the World's Biggest Waterfalls (By Continent)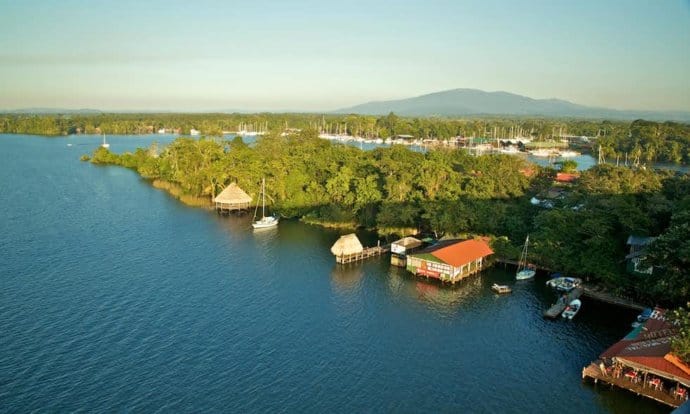 4. Boating on Lago de Izabal
Measuring approximately 30 miles long and 15 miles wide, Lake Izabal is the largest in Guatemala.
Also known as the Golfo Dulce, the lake is about 60 feet at its deepest, and only 3 feet above sea level. Its coastlines are dotted with thatch-roofed restaurants and hotels, as well as Mayan villages.
Lago de Izabal (as it's known by locals) offers plenty of water-based recreation activities, including boating, kayaking, jet skiing, swimming, and fishing.
There's also lots of wildlife here, such as Manatees, Howler Monkeys, and 100+ species of birds.
READ MORE: The 20 Largest Lakes in the World (By Continent)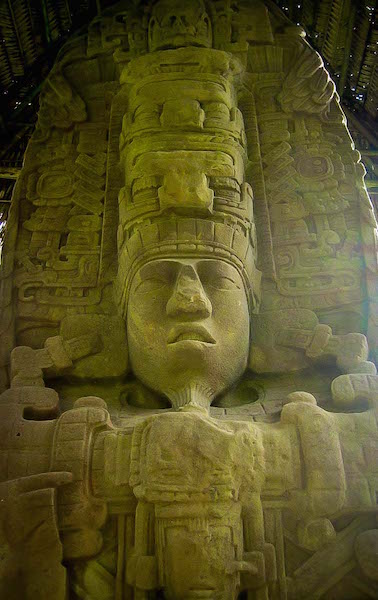 5. Hiking the Mayan Ruins at Quiriguá
The most overlooked of Guatemala's UNESCO sites, Quiriguá is a collection of ancient Mayan ruins in an area believed to have been occupied as early as 400 BC.
While Tikal may be best known for its towering pyramids, Quiriguá is renowned amongst all Mayan sites for its abundance of stelas and statues.
As you can see in the photo above, the intricacy with which these monuments are carved is truly astounding.
With its proximity to the Motagua River, Quiriguá was ideally situated for controlling the trade of jade and cacao from the Guatemalan highlands.
READ MORE: The 16 Best Mayan Ruins to Explore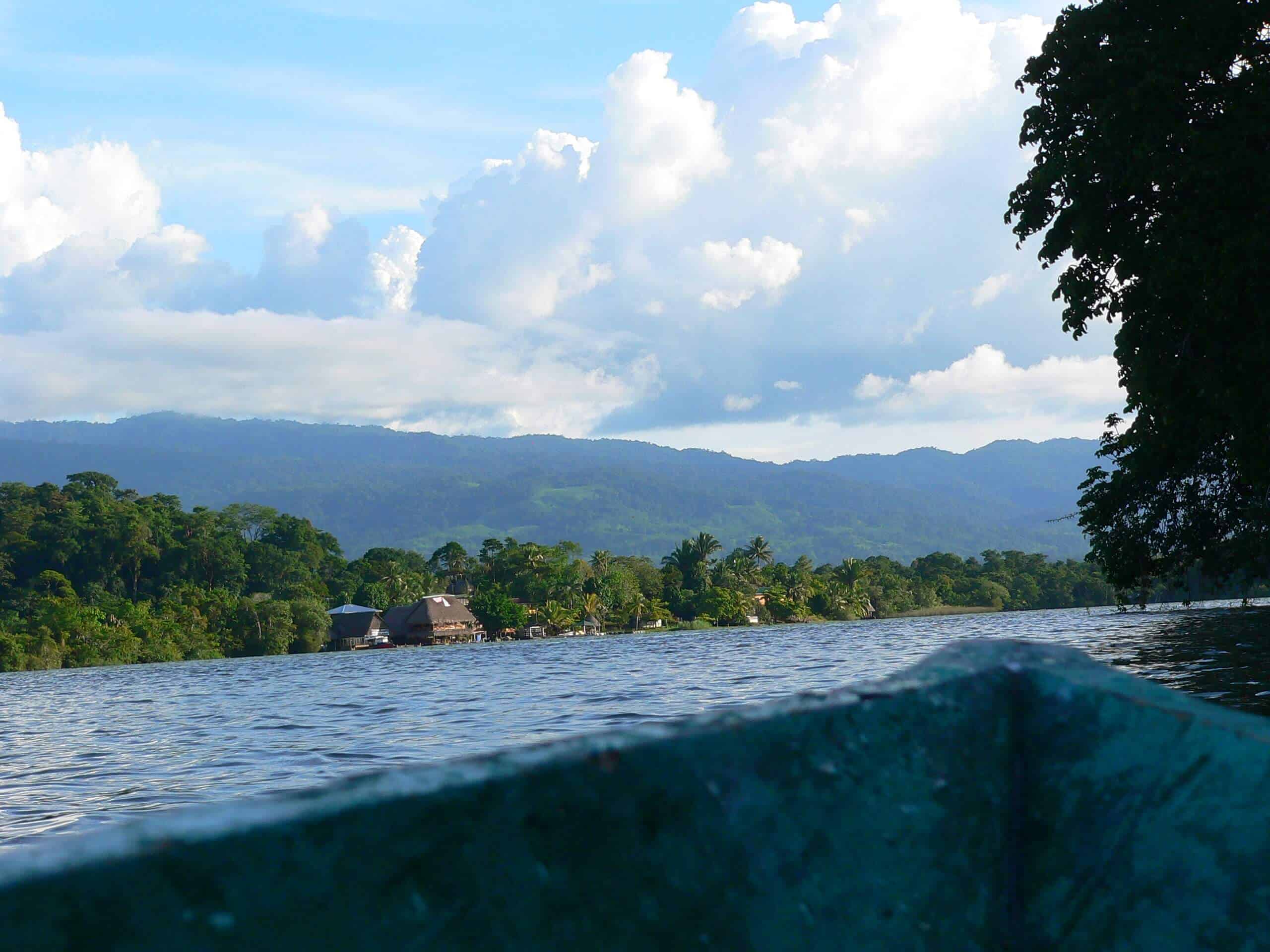 6. Take a Rio Dulce National Park Boat Tour
Much of what's happening in this area requires taking a boat tour. The Rio Dulce National Park boat tour involves swimming, visiting the park (including Castillo de San Felipe), and shopping for artisan goods.
The more impressive boat ride is the lancha (a kind of taxi boat) from Las Fronteras to Livingston, which traverses the entirety of the Rio Dulce proper.
The river cuts through throngs of lush tropical forests as well as deep limestone canyon walls, which are often lined with Pelicans and various other water birds.
READ MORE: The World's Best Small Ship Cruises
Rio Dulce Hotels


Rio Dulce is the name of the river, but it's also what the town of Las Fronteras is commonly referred to (strangely, it's used even more frequently than "Fronteras" is).
So if you ask locals about "hoteles en Rio Dulce," they'll more than likely refer you to a place in Fronteras de Guatemala.
There are plenty of accommodations along the river in this vicinity, and we'll discuss those in the Fronteras section below.
READ MORE: The World's Longest Rivers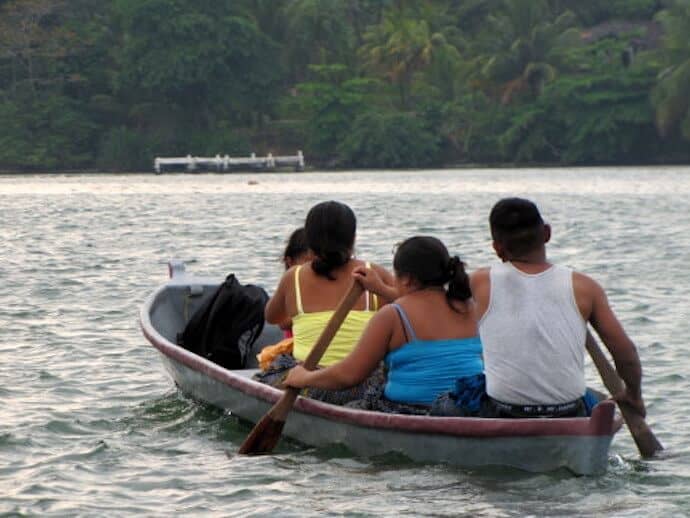 Exploring the Towns Along the Rio Dulce
For the most part, the Rio Dulce is bordered by indigenous villages and the occasional rustic guesthouse.
At the inland end of the river is the town of Fronteras, which is often referred to simply as Rio Dulce. At the Caribbean end is the town of Livingston.
While neither of these towns are showstoppers in and of themselves, they are the jumping off points for lots of things to do along the river.
How to Get to Fronteras, Guatemala
From Antigua, there is no direct bus or shuttle to Fronteras. But there are plenty of shuttle-to-coach combinations.
The best choice in my opinion is Litegua, which offers its own Fronteras bus shuttle (rather than a tour company's) and coordinates the timing appropriately. It's also the cheapest option.
Despite what some tour operators told me, the trip always involves a shuttle and bus from Guatemala City.
From Tikal, there are any number of buses leaving Flores (the main spot for accommodation when visiting Tikal National Park) that will drop passengers off in Rio Dulce/Fronteras. It's the halfway point between Tikal and Guatemala City, so basically all routes go through the tiny town.
READ MORE: The Chicken Bus, Guatemala's Unusual Mode of Transportation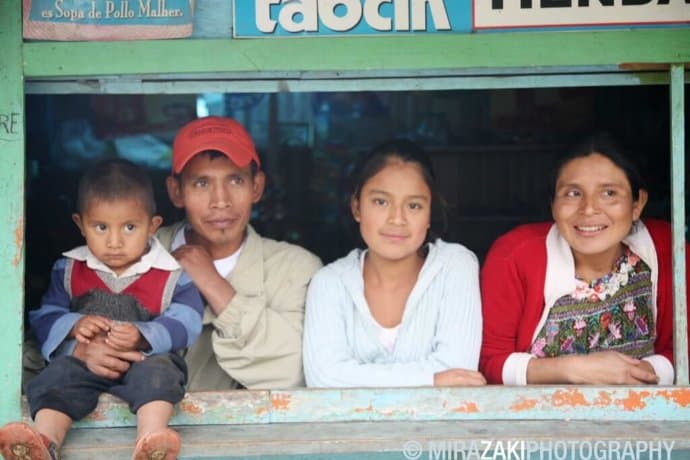 Things to Do in Fronteras
There is plenty to do around Fronteras, much of which we've discussed above. But the town itself more or less consists of just two streets, one of which you'll have seen on the ride in.
The other offers not much more than a few restaurants, with the road eventually disappearing into the jungle and skirting the north side of Lago de Izabal.
That said, there is a quaint little market to visit in town. And there are some nice riverside restaurants, in particular the Sundog Café and Hotel Backpackers.
Food and seating at both places are notably good, though not necessarily traditional. Hotel Backpackers requires either a walk or tuk-tuk ride across the bridge, which provides amazing views of the river and lake.
READ MORE: 50 Fascinating Facts About Guatemalan Culture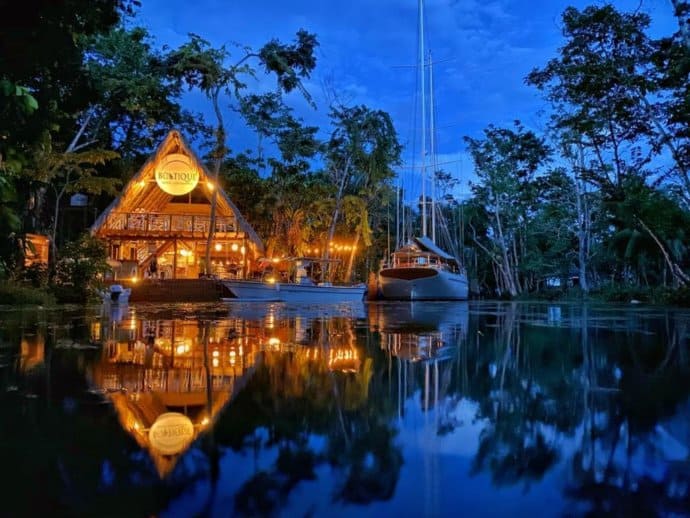 Fronteras Hotels
Most of the worthwhile hotels in Fronteras are actually just outside of the town, along the Rio Dulce tributaries and coastline. But most of them will usually come pick you up in a boat for free from either the Sundog Café or Hotel Backpackers.
This laid-back hotel offers charming over-water bungalows, ranging in size from 4-person mixed dorms to deluxe suites and a holiday home big enough for families. There's also a free shuttle service, full bar, and watersports such as sailing and paddle boarding. All at surprisingly affordable prices!
Located close to Lake Izabal and Castillo de San Felipe, this lovely little eco lodge offers one 8-bed dorm and various double rooms (all with shared bathrooms). The on-site restaurant/bar gets rave reviews, and there's free WiFi, private parking, a private beach, and water sports facilities.
One of the nicer properties in the budget-friendly Rio Dulce/Izabal area, this relaxing retreat is right on the water, surrounded by forest. They have 6-bed hostel-style rooms as well as couples-friendly doubles, all with free wi-fi, shuttle service to Fronteras, and kayaks to explore the surrounding swamps.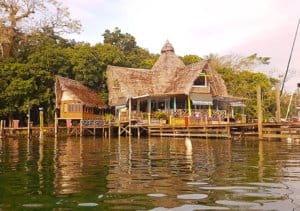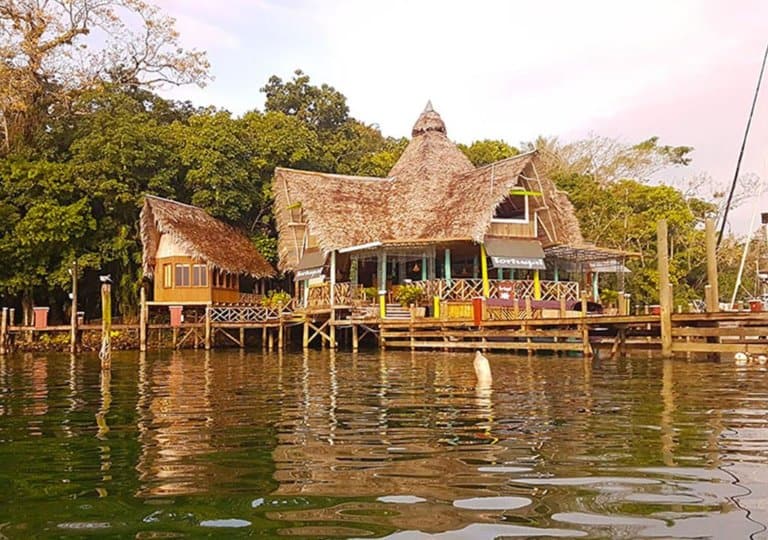 One of Booking.com's top picks in Fronteras, this hotel sits on the Tortugal peninsula, which offers cool breezes and killer Rio Dulce views. Rooms range from charming bungalows and cottages to a 5-bedroom chalet that sleeps nine. Our favorite feature is the floating sun deck on the river with cozy loungers.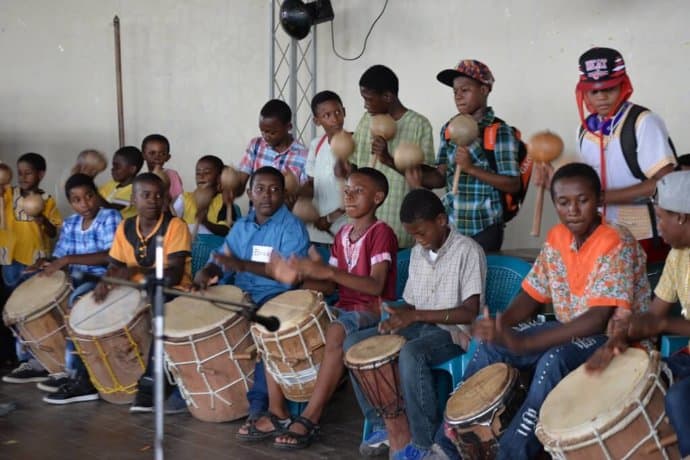 Visiting Livingston, Guatemala
Livingston is on the Caribbean coast of Guatemala, where the Rio Dulce feeds into the sea. It's unique to the rest of the country because English is widely spoken here.
Instead of Mayan, the most prominent culture in the town is Garifuna— which feels a bit like Rastafari due to its Afro-Caribbean origins, but is really its own unique thing.
How to Get to Livingston
To get to Livingston, one has to be going to Livingston, because it isn't actually accessible by road. There are three main routes in:
From Las Fronteras de Guatemala: From the dock under the bridge in Las Fronteras, there are a couple of boats a day that go to Livingston. The trip takes about an hour. Buses to Las Fronteras are regular from either Guatemala City or Flores.
From Puerto Barrios: Puerto Barrios is the main port city on the Caribbean coast of Guatemala. To be blunt, it's not particularly attractive, and is little more than a through station for getting to Livingston or Belize. Buses to Puerto Barrios leave regularly from Guatemala City, or it's possible to get a collective from Las Fronteras. From Puerto Barrios, the boat ride is about 45 minutes.
From Punta Gorda, Belize: For those coming to Guatemala from southern Belize, this is the fastest way to get to Guatemala. The road route goes all the way back up north to Tikal, and takes something like 12 hours. The boat from Punta Gorda (about 45 minutes) stops in Livingston and continues on to Puerto Barrios.
READ MORE: Scuba Diving the Belize Barrier Reef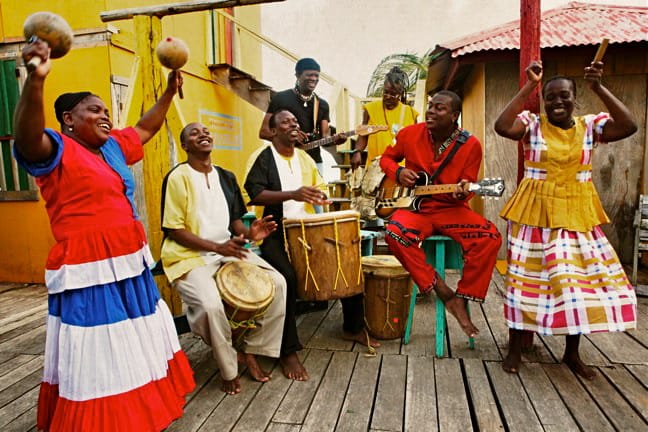 Things to Do in Livingston
The main draw of travel to Livingston, Guatemala is the unique Garifuna culture there.
The Garifuna people live in a few settlements along the Caribbean coasts of Belize, Guatemala, Honduras, and Nicaragua. Some Garifuna still live in the islands of St. Vincent and the Grenadines, where they originated. But poor relations with the Colonial British led most of them to leave.
Garifuna history is rooted in slavery. They are a mixed-race people descended from Africans and indigenous Caribs. In the 1600s, the Caribs successfully resisted working as laborers for French sugar and cacao plantations, which prompted the import of slaves from sub-Saharan Africa.
The Caribs (a.k.a. the Kalinago) and Africans meshed to make the Garifuna. Over the next couple of centuries, the Garifuna and French/British battled until the Garifuna were eventually exiled from St. Vincent. They ultimately settled along the coasts of Spanish colonies in Central America.
Within this unique Caribbean culture, music and dance are very important. The heart of Garifuna music is the drum, which is made from hollowed out hardwood and animal skin.
Starting in the 1970s, string and electric instruments were introduced in pop versions of the music, called Punta Rock. However, in recent years there has been a notable resurgence of traditional Garifuna music, especially in Belize.
The Garifuna have a close relationship with cassava, with the "Garifuna" name being derived from "Karifuna," which translates to cassava-eating people. Garifuna women take the cassava root through a lengthy process to create delicious cassava bread, which is commonly eaten with fish, plantains, and/or gravy. There are plenty of opportunities to try this traditional cuisine in Livingston.
Also of note for the Livingston must-see list is the Seven Alters. Located 3 miles (or a short boat ride) outside of town, the Seven Alters is a series of pools and waterfalls surrounded by jungle.
Though not nearly as grand, they are suggestive of Semuc Champey, another of Guatemala's amazing natural wonders.
READ MORE: The Garifuna Collective Preserves the Rich Garifuna Culture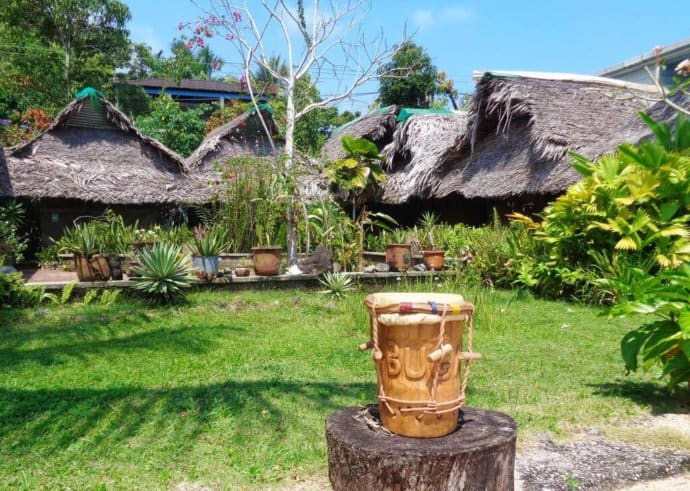 Livingston Hotels
As with Las Fronteras, the best Livingston hotels and lodges aren't actually located in the tiny town, but along the Rio Dulce. Most of these accommodations will come and pick you up in Livingston.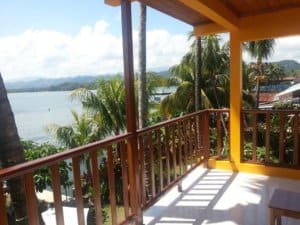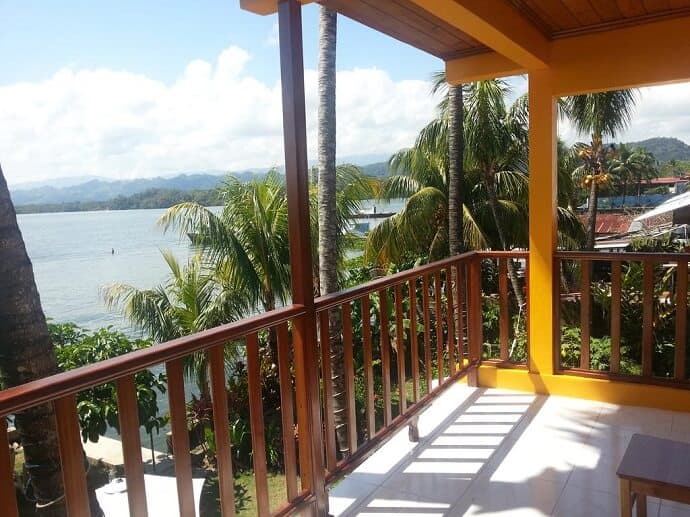 Offering double, triple, and family rooms with balconies, this family-run Livingston hotel offers excellent staff and stunning sunrise views over Lake Izabal from the sun terrace. There's also a restaurant/lounge, garden, free Wifi, full breakfast, and activities such as hiking, cycling, and canoeing available.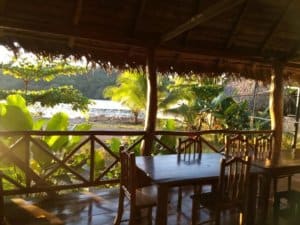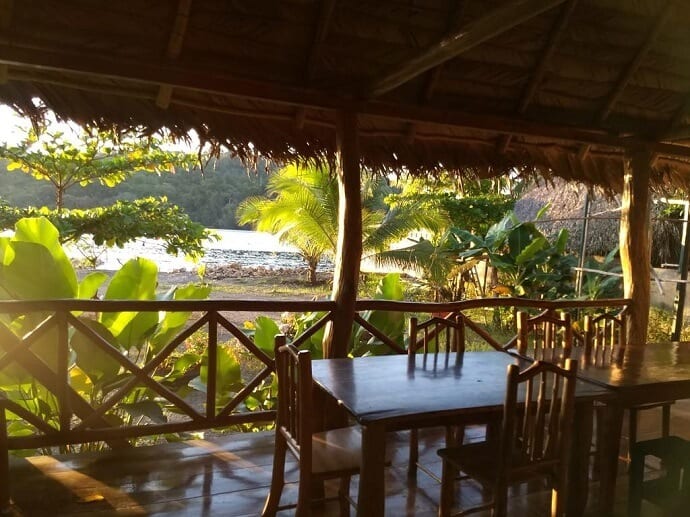 Booking.com's highest-rated hotel in Livingston (9.8), this hidden gem is owned by a Mayan family that goes out of its way to make guests feel welcome. Their charming bungalows are surrounded by the serenity of Rio Dulce's natural beauty, with excellent food and gorgeous views of the river.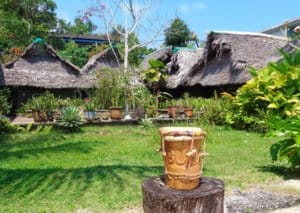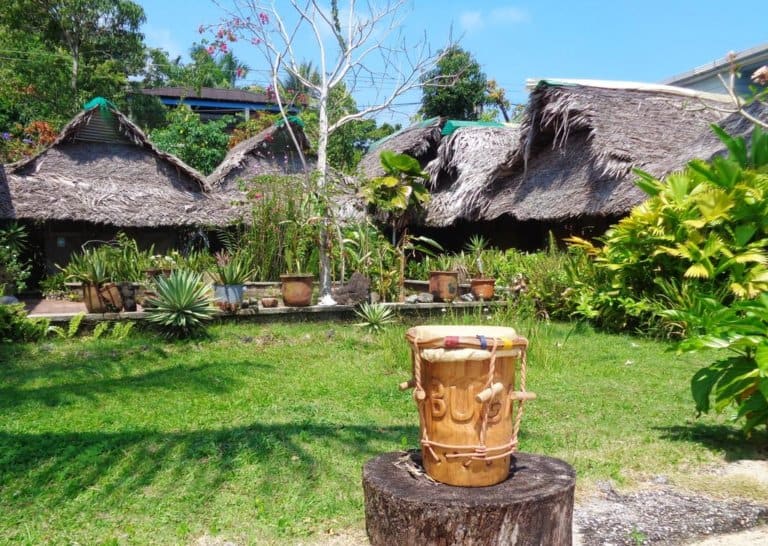 The second-highest-rated hotel in the area on Booking.com (9.1), Casa Escondida is one of the few hotels in the area offering air conditioning and private bathrooms in every twin, double, or deluxe room. The hotel also offers free WiFi, an outdoor swimming pool, and a restaurant on site.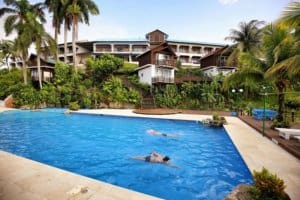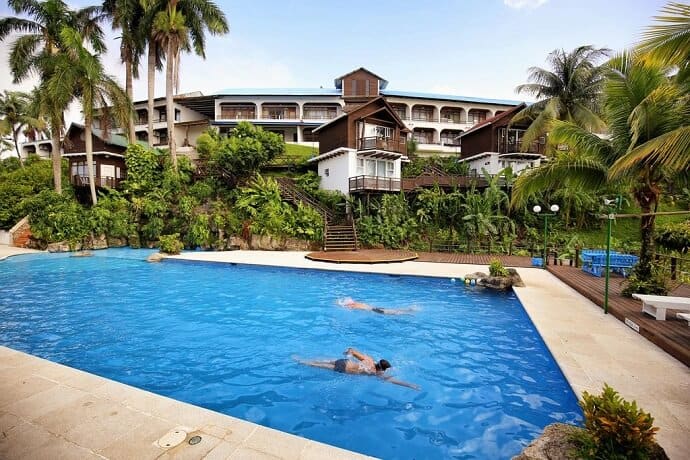 Boasting balconies that offer views of Izabal Lake and the Caribbean Sea, this Livingston hotel makes the most of its excellent location. Its spacious rooms feature Caribbean decor and ceiling fans, and the outdoor swimming pool is refreshing on hot days. There's also a private beach, restaurant and café/bar on site.
Traveling to Rio Dulce, Guatemala?
Check out the following services we use!
DollarFlightClub or Airfarewatchdog to find a cheap plane tickets.
Booking.com or Agoda to find a hotel deals.
Viator for a stellar day tour around Rio Dulce.
Lonely Planet for Travel Guides.
World Nomads for Travel Insurance.
Rental Cars.com for affordable Car Rentals.
TrustedHousesitters we've found great pet sitters to watch our house and love on our two dogs!
Looking for essential Travel Gear? Check out these great options!
The Best Travel Clothes for Women & Men
The Best Travel Shoes
Cool Camping Gear
The Best Backpacks for Travelers
–by Jonathon Engels & Bret Love; lead image by guillenperez via CC BY-ND 2.0