Having thoroughly enjoyed our time exploring Belize, Costa Rica, and Panama, taking a Guatemala vacation was high on our bucket list. So when Juan Rivera of Beast Wildlife Adventures of K'uk Tours invited us to spend 10 days on a customized Guatemala adventure, we leapt at the opportunity.
We've long been fascinated by Guatemala history, from the ancient and modern-day Maya peoples to the mingling of indigenous and colonial influences after the Spanish conquest led by 16th century conquistador Pedro de Alvarado.
Our action-packed itinerary gave us time to explore ancient Mayan settlements such as El Mirador and Tikal (posts on both coming soon). We also visited Guatemala tourist attractions such as Lake Atitlán, the charming small town of Flores, and the National Archaeology Museum in Guatemala City.
But, for our money, the #1 can't-miss tourist attraction in Guatemala is Antigua, a protected UNESCO World Heritage Site. Antigua Guatemala (whose name means "old Guatemala") offers an incredible array of activities for a town with just over 45,000 residents, with colonial architecture, rich indigenous culture, massive volcanoes, colorful wildlife, and more.
Here's a look at our picks for the Top 15 things to do in Antigua, Guatemala, with an emphasis on natural and historical attractions.
READ MORE: 40 Things You Should Know Before Traveling to Guatemala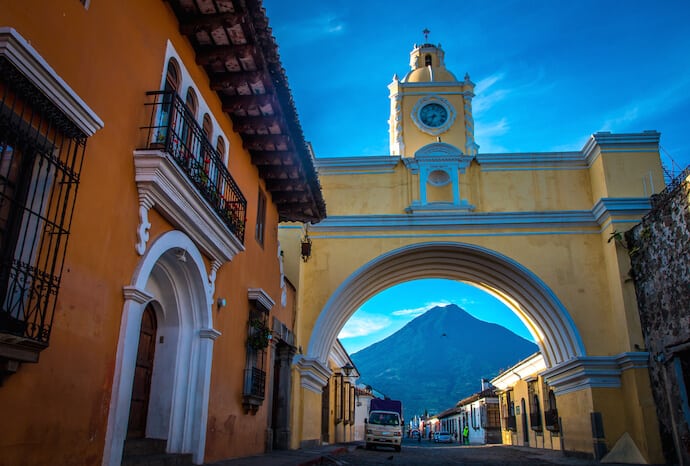 GETTING FROM GUATEMALA CITY TO ANTIGUA
Antigua is located approximately 35 kilometers (21 miles) southwest of Guatemala City, which makes it easy to visit Antigua during your Guatemala vacation.
But if you're coming from La Aurora International Airport, that doesn't necessarily mean you'll get there quickly. Depending on traffic, road conditions, and other unpredictable factors, getting to Antigua could take anywhere from 40 minutes to several hours.
Here's a quick look at the various ways to get from Guatemala City to Antigua:
• Take the Chicken Bus: Although this option is cheap (around $1.25 US) and rich with local flavor, we don't recommend using the public bus. For one, crime can be an issue, as can the language barrier unless you've mastered Spanish.
• Book a Shared Shuttle: This is the best budget-friendly option– usually $10 to $15 per person– and can be reserved in advance. There's even an eco-friendly option, CA Express, which offers spacious seats, a fully stocked bar, and power outlets at each seat.
• Hire an Airport Taxi or Uber: If money's not an issue and you don't want to share your space, it's easy to get a taxi or Uber from the Guatemala airport to Antigua. It can be pricey, though: Taxis have a $35 flat rate, and Uber rides are even more expensive during peak traffic times.
• Rent a Car & Drive Yourself: Having spent 10 days traveling in Guatemala with a private driver, I can't recommend driving yourself. Traffic can be insane, roads are full of potholes, and let's just say local drivers aren't necessarily as rule-conscious as you'd like. Not recommended.
READ MORE: Things to Do in Guatemala for Nature Lovers
TOP 15 THINGS TO DO IN ANTIGUA, GUATEMALA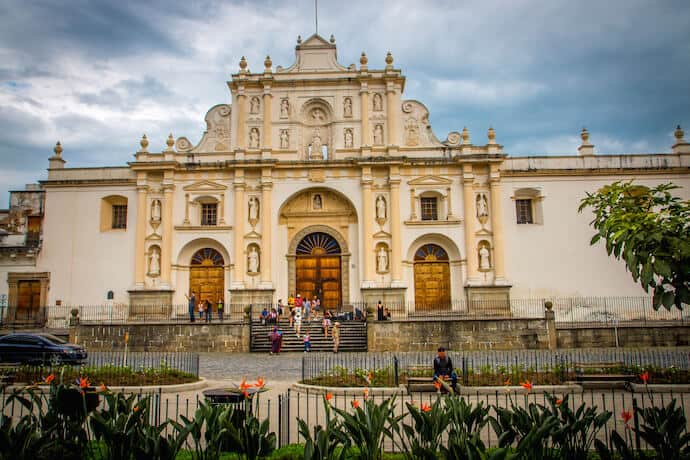 1. Visit the Antigua Guatemala Cathedral
Also known as the Saint Joseph Cathedral (or Catedral de San José in Spanish), the Antigua Guatemala Cathedral is located right on the city's popular Parque Central.
The original church was built on the site sometime around 1541, but suffered through a number of devastating earthquakes and was ultimately demolished in 1669. It was rebuilt over the next decade, and by the mid-1700s it was one of the largest Roman Catholic cathedrals in all of Central America.
The cathedral suffered serious damage again during the famous 1773 Guatemala earthquake, which began on July 29 and lasted through December. Antigua (then known as Santiago de los Caballeros de Guatemala) was at that time the colonial capital of Central America. But the earthquake's destruction was so bad, Spanish authorities decided to move the capital to what is now known as Guatemala City.
Fortunately, the two front towers remained mostly intact and were extensively restored in the early 1800s, and the cathedral was partially rebuilt. Get up close to the gorgeous facade and you'll notice hands missing from some of the statues of saints, which could not be repaired after the earthquake damaged them.
The inside of the church is now an extremely popular wedding venue (there was one about to start when we visited). And the outside looks especially beautiful at night, when the most beautiful of the many churches in Antigua, Guatemala is illuminated.
READ MORE: Inside Urnes Stave Church (The Oldest Church in Norway)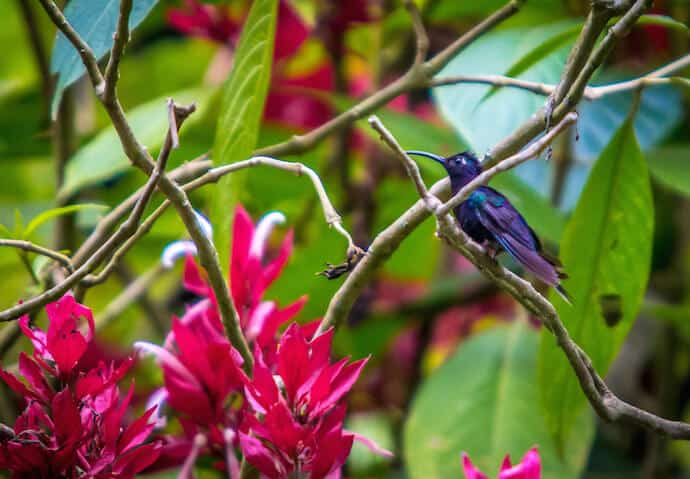 2. Birdwatching at Finca el Pilar
Visiting Finca el Pilar doesn't rank anywhere near the most popular things to do in Antigua, Guatemala on TripAdvisor. That's because this under-the-radar private nature reserve belongs to the family of ecotourism advocate Juan Rivera, the co-owner/product manager for Beast Wildlife Adventures.
Named after the family matriarch, the farm is a haven for nature lovers, with more than 10 kilometers of trails through forests filled with towering cypress, oak, and white pine trees. The biking and hiking trails are accessed via a winding (unpaved) road that leads up to a summit at 8695 feet above sea level, where you'll find a spectacular overview of Antigua and the surrounding area.
The trails are well-maintained, sculpted into the mountain side by Juan and his family, with steps, bridges, and viewing platforms ensuring a safe, slip-free hike. Wildflowers, wild orchids, and bromeliads are almost everywhere you turn, and the dense forest canopy keeps the burning sun at bay.
Along the way we saw beautiful birds such as the Thompson's Warbler, Wilson's Warbler, and Yellowish Flycatcher. There's also a lushly landscaped Hummingbird feeder station, where we saw 8 different species (including the Berylline, Rivoli's, Green-throated Mountain Gem, and Violet Sabrewing).
At the end of the hike you'll find three swimming pools filled with pure mountain water, and BBQ grills and clean bathrooms nearby. There are also cabanas and pavilions at the top of the mountain, and overnight camping available. We advised Juan that this would be the perfect place to build an eco lodge.
There is a guarded gate on the property, and taxis won't be allowed to enter. So if you want to visit Finca el Pilar, reach out to them on social media or email fincaelpilar@live.com for more information.
READ MORE: 15 Beautiful Birds of the Galapagos Islands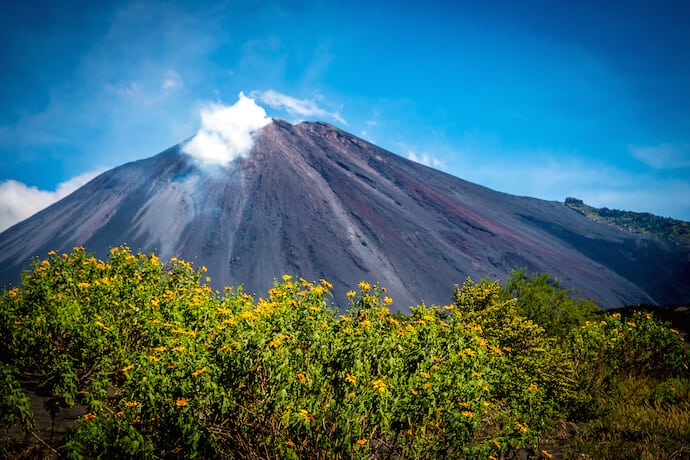 3. Hiking the Pacaya Volcano
Located just over an hour from Antigua, the uber-active Pacaya Volcano has erupted at least 23 times since the Spanish conquered Guatemala's Mayan people in the 16th century. After a 70-year period of dormancy, there was a major eruption in 1961. The volcano has has a steady stream of relatively mild Strombolian eruptions ever since then.
Part of the Central American Volcanic Arc, Pacaya rises an imposing 8,373 feet above sea level, dominating the landscape. The road to reach its base is riddled with spectacular scenery, with rolling hills, verdant pastures, and wildflowers all around. The surrounding area is all protected as Pacaya National Park.
Numerous different tour operators offer a wide range of half-day, full-day, and overnight Pacaya Volcano tours, some of which include visits to a nearby hot springs. But due to our busy schedule, we elected to do the half-day hiking tour and mostly hiked around the base of the mountain.
Some tour companies used to offer hiking towards the volcano's crater, where visitors had a chance to see lava up close. This opportunity ended in 2016, but some companies still allow hikers to roast marshmallows over fumaroles.
Given the fact that a major eruption in 2010 led the government to declare a "state of calamity" in the Pacaya area, we personally wanted to stay as far from the crater as we could. So instead we hiked through black sand from the lava rivers that flowed slowly down its slope during the 2006 eruption.
Smoke bellowed from the summit continuously, with gorgeous yellow flowering bushes (known as "Wild Margaritas") providing a striking color contrast. The view from the mountain's base was nothing short of breathtaking, and proved well worth the hike.
READ MORE: Top 10 Volcanoes in the World (World Travel Bucket List)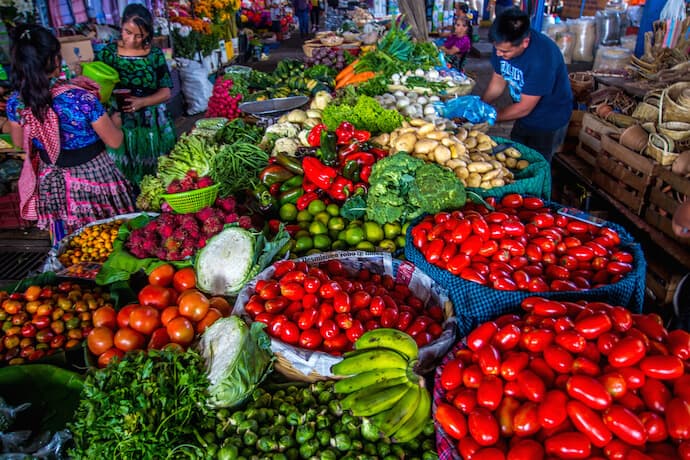 4. Shopping at the Antigua Street Market
Looking for fresh organic vegetables, grilled meats, toys for the kids, or perhaps some traditional Guatemalan clothing? You can find all of this and a whole lot more at the Antigua Street Market, which happens every Monday, Thursday, and Saturday.
At the epicenter of the action is the Mercado de Antigua, which is where locals shop for pretty much everything they need. But the bustling street market outside brings in villagers from surrounding areas, who hawk their wares north and west of the main market building.
It's truly crazy– a colorful cauldron of chaos– from the maze-like interior of the Mercado to the mixture of Mayan art and clothing and modern music blasting along the ancient cobblestone streets.
If you're remotely interested in shopping in Antigua, Guatemala, this is the place to do it. And even if you're not really interested in souvenirs, just grab yourself some delicious street food and find yourself a good spot for people-watching!
READ MORE: 50 Fascinating Facts About Guatemalan Culture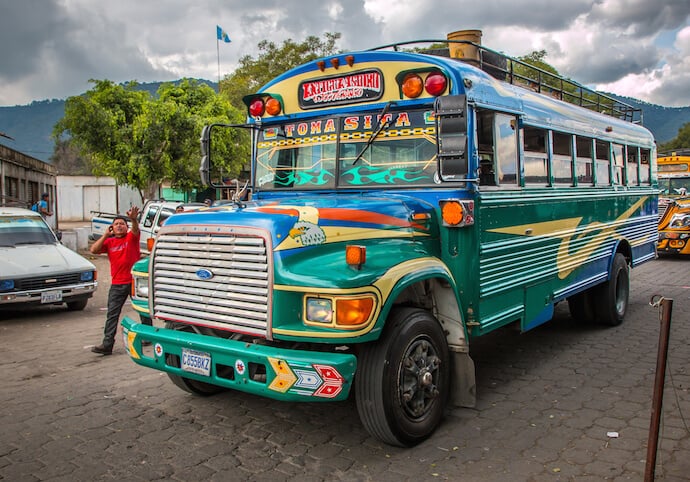 5. Check Out the Chicken Bus Terminal
The Chicken Bus is a memorable, unusual part of the Guatemala travel experience. These brilliant bursts of color are a common sight throughout the country, but it just so happens there's an entire terminal of them right behind the Mercado de Antigua.
Known locally as La Camioneta, these vehicles begin their lives as U.S. school buses, which are typically auctioned off after 10 years or 150,000 miles. Most are purchased for under $2000, then driven back to Guatemala and neighboring countries in Central America.
Once there, they're transformed into something infinitely more interesting. The yellow paint is replaced by wild designs, with crazy colors running from hood and windshield to bumper. There may be artistic murals or names of the owner's girlfriend, and you may find the exit doors plastered with wrestling posters.
The insides of Chicken Buses are typically decked out in festive Christmas lights, tassels, and posters of nude female silhouettes and/or Che Guevara. There's usually a cranked-up sound system installed, often blasting lively Latin music (when they're not playing Spanish-language hair band videos on the TV).
There aren't usually chickens on top of the buses these days, yet they remain one of the most fascinating ways to experience local Guatemalan culture. But if you're not down for the wild, sometimes dangerous ride, the Antigua terminal is a great place check them out as ready for their next route.
READ MORE: The Chicken Bus, Guatemala's Unusual Mode of Transport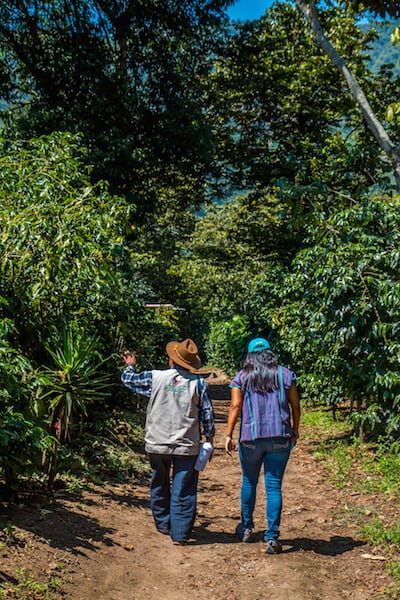 6. Tour a Guatemalan Coffee Farm
As diehard coffee devotees, we've been blessed to tour some amazing coffee farms during our travels, from Hawaii and Tanzania to Costa Rica, Rwanda, and more.
But Antigua's volcanic soil, altitude, and temperate climate makes it a great place for growing our favorite bean, and Guatemalan coffee easily ranks among the world's best.
Finca Filadelfia Coffee Resort offers immersive tours of its plantation, teaching visitors about every step in the process from bean to cup. You'll learn a lot about their 140+ years of coffee-growing tradition, including a behind the scenes look at the cultivation, harvesting, processing, and sorting of the beans.
We learned a lot about how Guatemalan farmers dealt with La Roya ("the rust"), which posed a grave threat to the country's coffee crops just a few years ago. Visitors also get to walk through the nursery, the plantation, the wet milling area, and the drying patio. The tour ends at the finca's cupping lab, where you get a chance to sample the world-renowned R. Dalton Genuine Antigua coffee for yourself.
You can arrange a tour with breakfast or lunch included for an additional charge. Or, if you're a serious connoisseur, splurge for a Professional Coffee Tasting Session, where you'll learn all about identifying characteristics such as acidity, aroma, flavor, fragrance, and aftertaste.
READ MORE: Best Coffee in the World (A Gourmet's Guide to 30 Types of Coffee)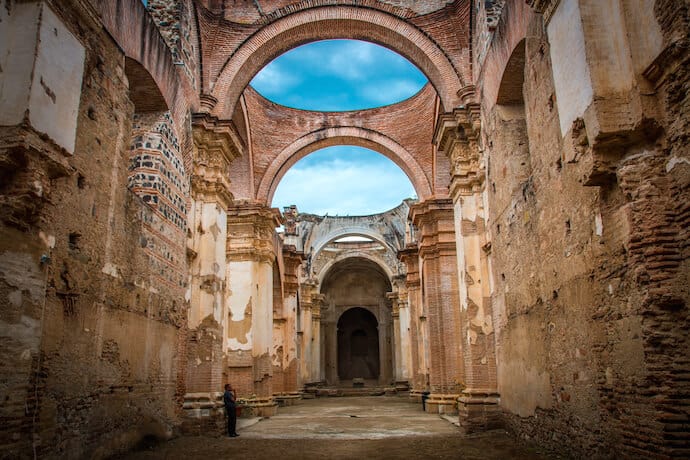 7. Explore the Ruins of San José el Viejo
Located just around the corner from the Antigua Guatemala Cathedral in the Tortuguero District of Antigua, the church of San José el Viejo was built around 1736. The modest chapel was designed to house a statue of Saint Joseph crafted by the famous Guatemalan sculptor Alonso de la Paz.
Unfortunately the original chapel was damaged by an earthquake in 1751, and the construction of a more spacious church took another 10 years due to a lack of funding.
The second iteration of the church was more formidable, with low, heavily buttressed walls and a single nave. But still the building was irreparably damaged by another earthquake in 1773, and for years the ruins were used as a barn for the farm next door (which now houses a Spanish language school).
These days the ruins serve as a striking reminder of the power of the seismic activity of the volcanoes surrounding Antigua, Guatemala. The unusual façade is cracked to reveal the bricks beneath the white topcoat, and the baroque details of the interior are often cracked or missing altogether.
But it remains one of the most popular wedding venues in Antigua, and it's incredible to see it decked out with flowers, candlelight, white linens, and other romantic flourishes.
READ MORE: 10 Ancient Archaeological Sites for Your World Travel Bucket List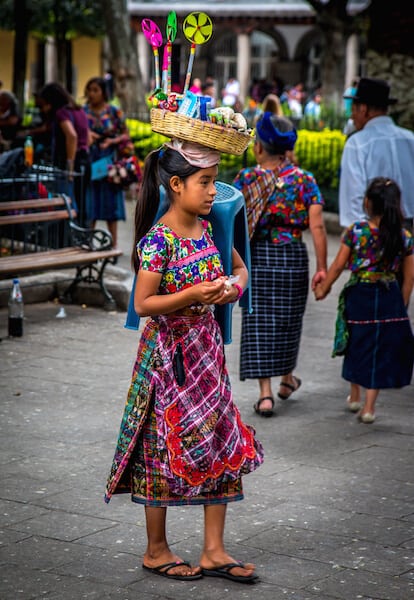 8. Have a Picnic in Antigua's Parque Central
Located at the bustling epicenter of Antigua, Parque Central (Central Park) has been around just as long as the UNESCO-protected city itself.
It was originally known as Plaza Mayor (Main Plaza) and Plaza Real (Royal Plaza), because this is where all official celebrations took place (along with public punishments and executions). It was later referred to as the Plaza de Armas (Armaments Plaza), because the royal regiment known as the "Dragons" held military exercises and parades here.
The plaza was designed to be the the nucleus around which life in Antigua would revolve, with the park at the center of a classic colonial grid-style layout.
Other than the great view of the Antigua Guatemala Cathedral on the east side, the park's most noteworthy attraction is the masterfully crafted Fountain of the Sirens. Designed in 1739 by renowned architect Diego de Porres, the fountain features four sculpted mermaids, with water streaming from their breasts.
This is a great place to escape the midday heat, with plenty of trees providing shade. There are strolling vendors selling food and all sorts of souvenirs, families in traditional Mayan clothing, and lots of quiet nooks that are perfect for a picnic. It's arguably the best spot for people-watching in Antigua!
READ MORE: Complete List of US National Parks By State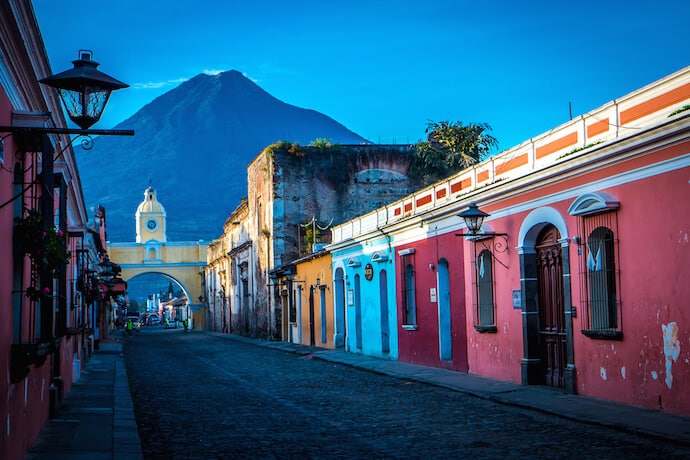 9. Stroll the Empty Streets at Sunrise
If there's any complaint to be made about the ancient city of Antigua, it's that the tiny town (population of around 45,000) is in danger of being overwhelmed by mass tourism. The cobblestone streets can get crowded during the day, even at mid-week in the shoulder season.
Add in the midday heat and it's easy to understand why early morning is a great time to explore the city if you want great photos without throngs of people in them. We woke up at sunrise and headed out from our hotel before 7 AM, just as the light began to dance on top of the colorful downtown shops.
The iconic golden arch, Arco de Santa Catalina, is a great place to start. This colorful landmark dates back to the 1600s, with a clock on top that was built around 200 years later.
Then there's the ruins of Iglesia y Convento de las Capuchinas, a convent and church built in the 1700s, and the Palacio de los Capitanes Generales (which is right by Parque Central).
Morning is also a great time to get spectacular photos of the volcanoes that always loom large in the background of Antigua, which include the 12,336-foot Volcán de Agua, the 12,346-foot Volcán de Fuego, and the 13,045-foot Acatenango.
READ MORE: 10 Simple Responsible Wildlife Photography Tips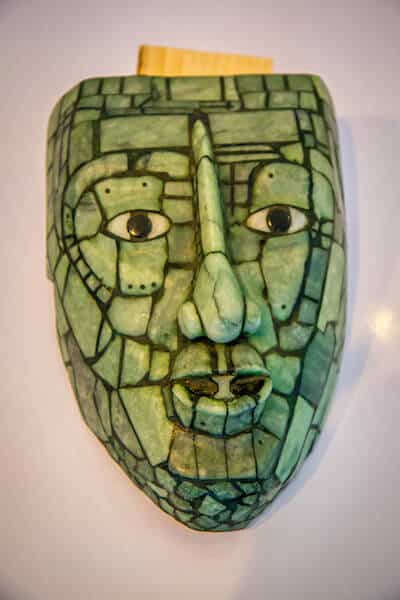 10. Visit Jade Maya
Jade is a generic term used to describe two different types of stones, both of which are best known for their green varieties. Jadeite is a silicate comprised of sodium and aluminum, while nephrite is contains calcium and magnesium. Jadeite is the denser of the two, and comes in a more brilliant range of colors.
Jade has been a prized part of Latin American art history for more than 3000 years. Jade ornaments and tools were used by ancient Aztecs and Olmecs. Mayan kings have been found buried with their favorite jade jewelry from El Salvador and Guatemala to Honduras and Mexico.
Jade Maya was founded in 1974 by archaeologist Mary Lou Ridinger with her husband, Jay. Mary Lou was the first to discover jade quarries in Guatemala that had been lost for hundreds of years, since the time of the Spanish Conquest. As a result, Jade Maya feels as much like a museum as it does a store.
We learned a lot about the history of Jade, not just in Latin America but also in Asia, as well as how to differentiate between the different types. (Let's just say that nephrite doesn't stand up nearly as well to a good hammering!)
There are some incredible jade artifacts and reproductions on display, as well as a slick modern shop offering jade jewelry, carvings, and museum replicas for almost every budget. Our favorites were the Mayan astrology jade necklaces, with signs based on the actual day (including year) you were born.
READ MORE: Museo Maya de Cancun (Cancun's Mayan Museum of Archaeology)
11. Eat at Restaurante Posada de Don Rodrigo
One of our favorite Antigua, Guatemala restaurants, Restaurante Posada de Don Rodrigo is attached to the hotel of the same name. The hotel consists of three restored colonial residences, one of which, (the 300-year-old "Casa de Los Leones") is a Guatemalan National Historic Monument.
Located two blocks north of the Parque Central, the complex boasts an exquisitely landscaped courtyard with colorful flowers and a fountain at its center. Sitting outdoors on the shaded patio, it made a picturesque setting with Volcán de Agua looming large in the background.
If stunning scenic views aren't your thing, lunchtime at the romantic restaurant features lively music from a live Marimba band. Dinners is usually accompanied by a performance of Guatemalan folk dancing (in traditional costume dress) by Baile de los Moros.
But our favorite thing about this taste of old world Antigua was the tipical food. Traditional dishes such as Plato Chapin (barbecue platter), Chiles Rellenos, and Pepian (a spicy chicken stew that should be Guatemala's national dish) were fresh and incredibly delicious.
As were the piping hot tortillas being made by hand right by our table!
READ MORE: 5 Weird Foods the French Consider Delicacies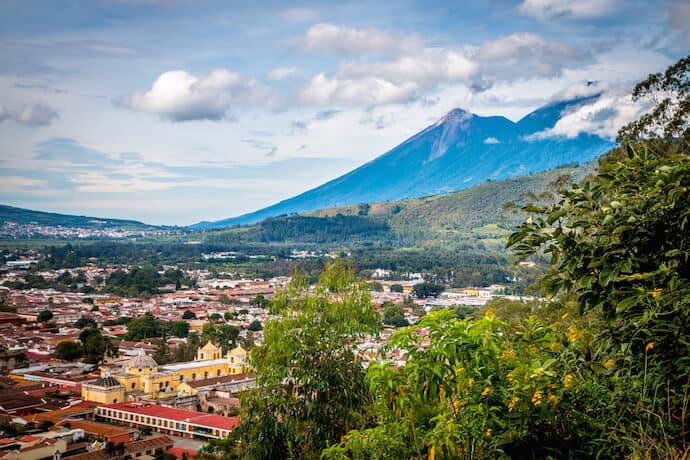 12. See the City From Cerro de la Cruz Lookout
Wherever you go in Antigua, you'll likely notice the Cerro de la Cruz (Cross on the Hill) on the north side of town.
The massive cross was installed in honor of the city's patron saint in 1930, and the hill was where American helicopters landed to deliver emergency supplies after roads from Guatemala City to Antigua were destroyed by the 1976 earthquake.
Several years ago the road to Cerro de la Cruz from Antigua was the site of several muggings, but these days police officers patrol the area from 8AM to 4PM daily. We heard that police will also escort tourists up to the landmark from the Parque Central at certain times, but our tour guide took us up.
Entrance to the site is free, but there is a 5 Quetzal (around 65¢) parking fee. Once you arrive, you'll see numerous vendors selling water, snacks, and souvenirs as you make your way down to the Mirador de la Cruz (Cross' Lookout).
The view from here is positively breathtaking, with the entire colorful city surrounded by the three dramatic volcanoes. The best time of day to visit is the morning, before the crowds arrive and the clouds gather to obscure the mountains' summits.
READ MORE: Ecotourism in Costa Rica (The Ultimate Guide)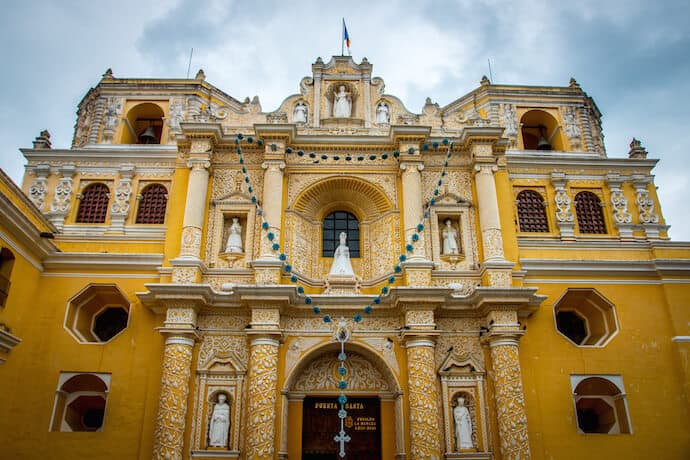 13. Visit Iglesia de la Merced
Semana Santa in Antigua, Guatemala is widely considered to ranks among the world's great cultural festivals. The exquisitely designed Iglesia de la Merced, which is located on the city's north side, is where all of the pageantry begins.
The Mercedarians (a.k.a. Order of the Blessed Virgin Mary of Mercy)– a Catholic order established in Barcelona in 1218– were the first to establish a monastery in the city formerly known as Santiago de Guatemala. The church's remarkable Baroque-style façade features an effigy of order founder San Pedro Nolasco, flanked by two Mercedarians and the order's crest.
The cross in the atrium and the rooms behind the main altar are the oldest parts of the church, dating back to the 17th century. The luxurious sanctuary and cloister were built by Juan de Dios Estrada, who wisely used low height and wide arches and columns to help the building withstand earthquakes. Iglesia de la Merced officially opened to the public in 1767.
The interior of the church is truly a marvel, but unfortunately there are no photographs allowed inside the building. The policy is easy to understand once you're inside and realize that there are typically multiple different services and going on in the various chapels.
Antigua's Holy Week celebration is one of the most popular Guatemala tourist attractions, and it starts right at the church's entrance. Natural rugs known as alfombras blanket the city's sidewalks and streets, with vibrantly dyed sawdust, pine straw, fruit, nuts, and flowers arranged into intricate colorful designs using stencils.
We're hoping to go back during Easter at some point to see the famed Semana Santa processionals (which include 7,000 pound floats topped by statues of Christian icons) for ourselves.
READ MORE: The World's Best Cultural Festivals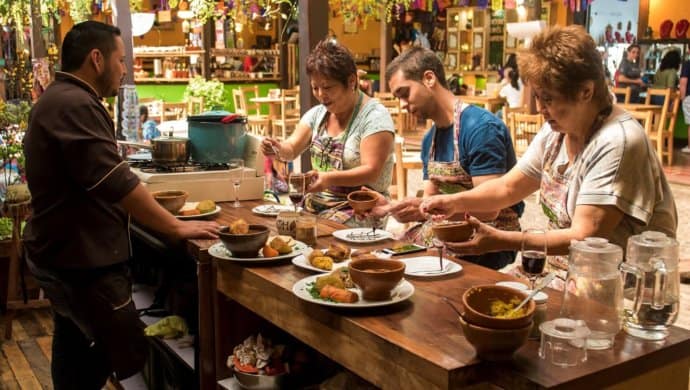 14. Chocolate Indulgence at ChocoMuseo
Though many people associate chocolate with Europe, cacao actually originated along the Amazon around 4000 years ago. By 600 AD, it was sacred to the Mayans, to whom cacao beans were so valuable they were used as currency. They were also the first to use them for culinary purposes.
Today, Guatemala is considered one of the world's major producers of artisanal chocolate (which makes sense, as many experts consider Guatemala the birthplace of chocolate). This chocolate museum in Antigua is a great place to learn about the history of chocolate, as well as getting a hands-on introduction to the production process.
ChocoMuseo offers an array of classes and workshops, as well as free museum tours. The most popular is their Beans-to-Bar Workshop, which is offered three times a day and gives guests a chance to make cocoa tea, European and Mayan hot cocoa, and a box of their own handmade chocolates to take home.
Other offerings include 90-minute and 3-hour cooking classes (with meals included), a 2-hour truffle-making workshop, and a full-day tour that includes visiting a working cacao plantation.
READ MORE: The History of Chocolate (& How Chocolate Is Made)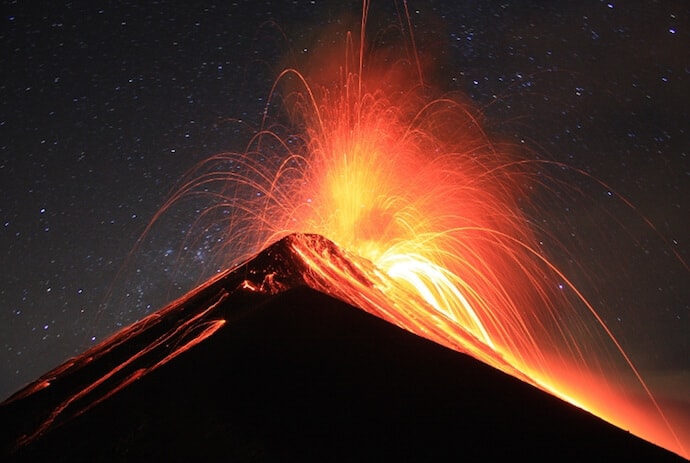 15. Watch Volcan de Fuego Erupt
Antigua has three massive volcanoes that dominate its landscape, with Volcán de Agua to the south of the city and Volcán de Fuego and Acatenango side-by-side to the southwest. Collectively, the later two are known as the La Horqueta complex.
Of these three behemoths, the "Volcano of Fire" (or Chi Q'aq', which means "where the fire is" in Kaqchikel) is by far the most active. Located less than 10 miles from the city, Fuego lives up to its name by emitting small eruptions of gas and ash approximately every 15 to 20 minutes!
According to most records, it's been doing this for hundreds of years, since the time of the Spanish conquest of Guatemala. But occasionally these eruptions (which typically spew andesite and basalt lava) are much bigger, including significant events in June and November of 2018.
The first one resulted in nearly 160 deaths and more than 300 injuries, with countless Antigua residents evacuated and the international airport in Guatemala City closed. The latter eruption led to preventive evacuations of approximately 4,000 people from communities in and around Antigua.
In short, this is not a volcano I would personally be willing to hike, climb, or live anywhere close to. But the summit can be almost breathtakingly beautiful at night, when the fiery glow glimmers against the starry sky.
BEST HOTELS IN ANTIGUA, GUATEMALA

Our favorite hotel in Antigua, Guatemala, this boutique property is a gorgeously restored former convent located four blocks from the Central Park. Rated 9.1 on Booking.com, the hotel's spacious rooms offer an elegant mixture of colonial and modern touches, including plush beds and pillows, fireplaces, retractable skylights, and free Wifi. But some of our favorite features were outside the rooms, including the open-air restaurant, posh courtyard, infinity-style lap pool, and spectacular rooftop views of Antigua's volcanoes. Read Reviews and Check Rates.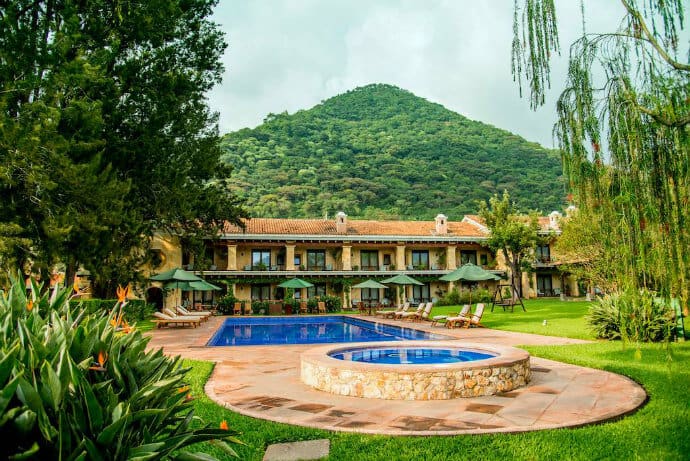 Java lovers flock to this family-run historic plantation, which has been producing exquisite coffee beans since 1864. The resort (which has an 8.9 rating on Booking.com) features coffee tours, a traditional Guatemalan café, a French-influenced gourmet restaurant, swimming pool, hot tub, and gym. The posh colonial-style rooms boast Egyptian cotton sheets, fireplaces, and free Wifi. The only downside is that it's 1.6 miles from the heart of Antigua, but they offer free shuttles five times a day. Read Reviews and Check Rates.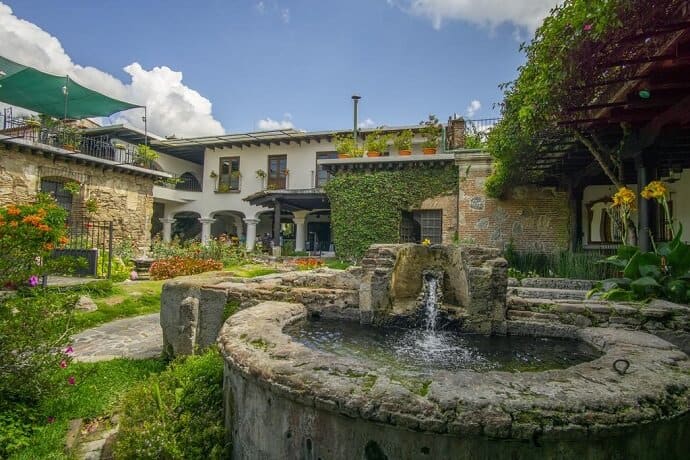 With a 9.0 rating on Booking.com, this charming Antigua hotel is located inside three restored colonial houses, one of which is a National Historic Monument. All of the rooms are decorated in antique colonial style, with antique wooden furniture and original lamps and ceilings (some even have fireplaces). There's no pool, but there is free Wifi and parking, a spa, a lovely landscaped garden patio, and a courtyard with fountains. But our favorite features were the on-site restaurant (one of the best in Antigua) and the proximity to the heart of the city. Read Reviews and Check Rates.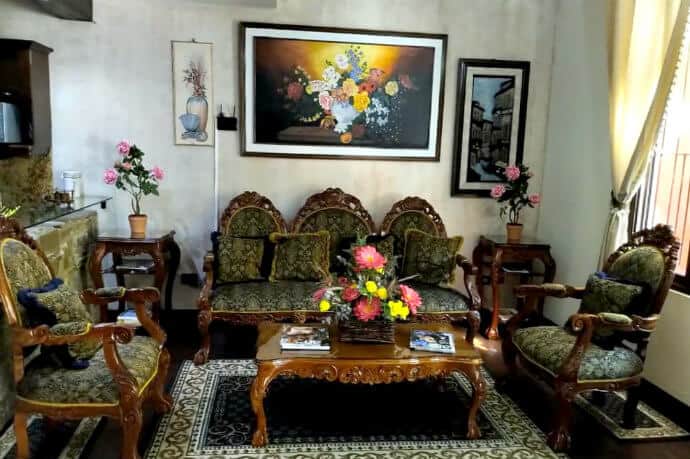 Perfect for families or anyone interested in a longer stay, Villas Santa Ines Emekarsa ranks among the most highly rated hotels in Antigua, Guatemala. They have 8 types of villas (1 to 3 bedrooms) available for up to 6 guests, with standard, superior, and dormitory-style sizes. All room include fully equipped kitchens, coffee makers, flat screen TVs, and free Wifi. There's also a patio, great garden views, and free parking. It's seriously one of the best budget hotels in Antigua! Read Reviews and Check Rates. –Bret Love; photos by Bret Love & Mary Gabbett unless otherwise noted