Located in the southwestern corner of its namesake country, Lake Nicaragua is the largest lake in Central America. It's also home to one of the region's most remarkable islands.
Isla de Ometepe (a.k.a. Ometepe Island) was formed by two towering volcanoes that dominate the landscape. Volcan Maderas– the smaller of the two at 4500-plus feet– is now dormant, but the larger Concepcion Volcano (5250+ feet) has erupted regularly since 1880.
The islands of Ometepe are joined by an isthmus called Istián, which was formed millions of years ago after an eruption.
As of 2010, the island of Ometepe has been declared a protected UNESCO Biosphere Reserve. It's highly regarded for its wetlands and tropical rainforests, which are rich in Spanish cedar and other evergreens.
The fertile forests on the volcanoes' slopes are considered to have the highest conservation value of anything in Nicaragua. The different elevations are inhabited by several intriguing species of plants and animals, including White-headed Capuchins, Yellow-naped Parrots, and guayabón fruit trees.
If natural splendor is on your agenda, Ometepe Island should rank high on your bucket list. Not only is the island a stunning visual anomaly with those volcanoes standing high above the lake, but it's also home to a host of things to do.
An array of cycling and hiking trails, natural swimming holes, kayaking and canoe trips, eco-lodges, and specialized fincas add to the inherent magic of Ometepe. It's safe, secluded, and still very rich with the pristine natural beauty that originally made it such an attractive place for natives to settle (and pirates to plunder).
While the island is open for business year-round, the best time to visit Ometepe depends on your traveler preferences. The low season for tourism is from May to October: Rain can be expected daily, but prices drop, crowds lessen, and the sunshine peaks through regularly.
The shoulder seasons in April and November have lighter rain and more visitors, but there are still good deals to be found. The peak tourist season– December through March– offers perfect weather in Ometepe, but accommodation and transportation become more expensive and book up fast.
Whenever the time is right for you, the island holds a treasure trove of nature, outdoor adventure, and traditional Nicaraguan culture to be explored.
READ MORE: The Largest Lakes in the World (World Travel Bucket List)
HISTORY OF ISLA DE OMETEPE
The name Ometepe derives from Nahuati, an indigenous language spoken by the Aztecs, with ome meaning two and tepetl meaning mountain. The two mountains, or volcanoes, form the largest island in Lake Nicaragua, which was historically known as Cocibolca. The island is nearly 20 miles long and up to six miles wide, and has been inhabited since 2000 BC.
The first suspected inhabitants of the island arrived during the Dinarte phase, from 2000 BC to 500 BC. But the Nahua people from Mexico are the first officially recognized inhabitants of Ometepe, followed by the Niquirano people.
Petroglyphs and idols from these indigenous peoples still remain on the Maderas (dormant) side of the island, with the oldest dating back to the third century BC. The Chorotega, the most powerful tribe from northwest Costa Rica, also settled the island and left basalt carvings.
In the late 1990s, the Ometepe Petroglyph Project discovered over 1700 petroglyphs in 73 different sites in the Maderas area. Spirals and turtles are among the more common motifs, as well as anthropomorphic figures and humans with "bowling ball faces." 
The Ometepe Archaeological Project now claims over 2000 petroglyphs and/or modified boulders over 110 different ancient archaeological sites. In other words, ancient history runs deep on the island of Ometepe, and there is still plenty of it around to view.
The fertility of the volcanic soil and safety of the lake attracted indigenous people, but colonialism brought serious strife. After the Spanish conquered Central America in the 1500s, pirates used the San Juan River to come into Lake Nicaragua, where they kidnapped women, stole food, and started new settlements.
The native population moved further up the slopes of the volcanoes for safety. By the end of the 16th century, conquistadors had settled the island. Today, the population of Isle de Ometepe includes well-intentioned expats and villages of indigenous people who have mixed colonial Catholicism with many local religious traditions.
As a result, the island has more festivals than any other place in Nicaragua. The most important population centers are Moyogalpa, on the western side of Volcan Concepcion, and Altagracia on the eastern side of it. 
READ MORE: The Best Mayan Ruins to Explore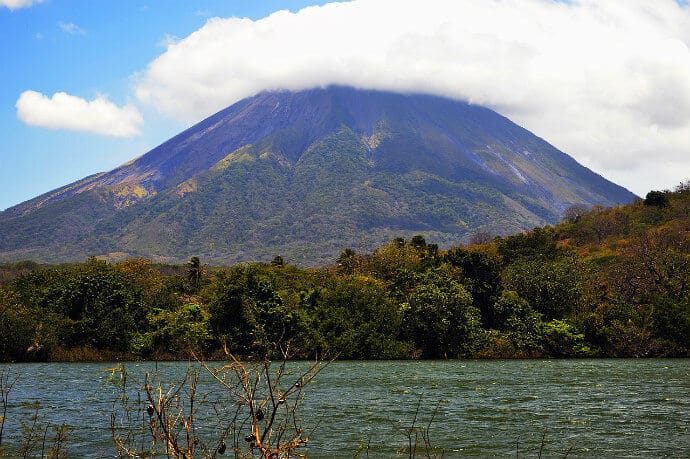 HOW TO GET TO OMETEPE ISLAND

When you're visiting a small island, the logistics of getting there are more difficult than destinations with large airports and road access.
The Ometepe ferry used to be the only way to reach the island, but they've recently begun to offer a few flights a week from Managua.
But unless your time is really short, the boat ride is highly recommended, as the vista of the volcanoes from the lake is spectacular.
Getting From Granada to Ometepe
There used to be a ferry to Ometepe from Granada at the northern side of Lake Nicaragua, and from San Carlos by the mouth of the San Juan River at the south side of the lake. The San Carlos route was a fun way to cross the border into Costa Rica.
However, these ferries were shut down due to low water levels– possibly temporarily, but possibly permanently. So while they could be options in the future, they're not now. When these ferries did run, the trips were only available a couple days a week and with rather awkward timing.
So the more recommended route from Granada to Ometepe is to travel overland to Rivas and catch the Ometepe ferry there.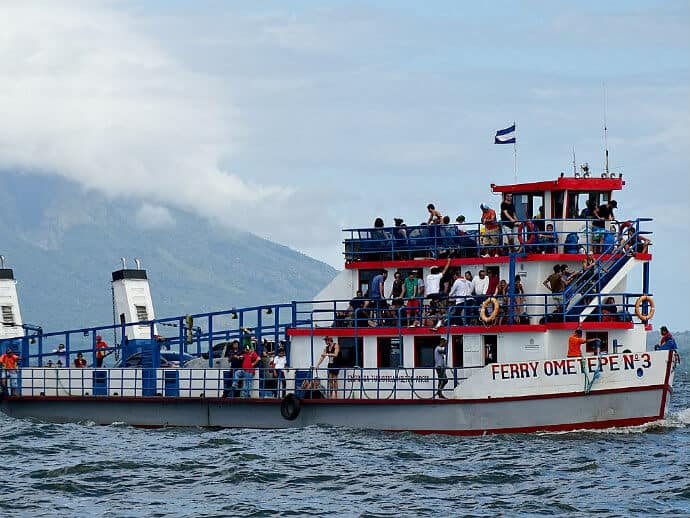 Ometepe Ferry: San Jorge to Moyogalpa
The quickest, most regular, and reliable ferry to Ometepe Island is the one that runs between San Jorge (Rivas) and Moyogalpa, the largest of the island's ferry ports.
Shuttles or buses from Granada will get you to Rivas, which links the Pacific coast beaches, Ometepe, and Granada on northward.
From Rivas, you can take another bus or a taxi to get to San Jorge. San Jorge is the nearby port from which boats leave for the island. Ometepe ferries depart San Jorge hourly or even more frequently, and the return from Moyogalpa is the same.
The ferry ride takes a little over an hour. Once you arrive in Moyogalpa, there are shuttles, taxis, or buses to get visitors to whichever village they want to visit.
Flights to Ometepe
In 2014, a tiny airport was opened in Isle de Ometepe. Now La Costeña Airlines offers flights to the island twice a week, on Thursday and Sunday.
You can board a 12-seater plane that goes from Managua to Ometepe, and on to San Carlos, San Juan del Norte, and back again in the same day.
These flights are fairly inexpensive, pricing in at around $50 USD. But again, you'll miss the stunning scenic views of the volcanoes that come from taking the Ometepe ferry.
READ MORE: Visiting Little Corn Island (A Taste of Nicaraguan Nirvana)
TOP 10 THINGS TO DO IN OMETEPE
The island of Ometepe is a wonderful place for relaxing in Nicaragua. But it also offers plenty of outdoor recreational opportunities, abundant nature, and some cultural highlights. There's lots of wildlife, thousands of petroglyphs, and volcanoes. Here's a look at some of my favorite things to do in the area: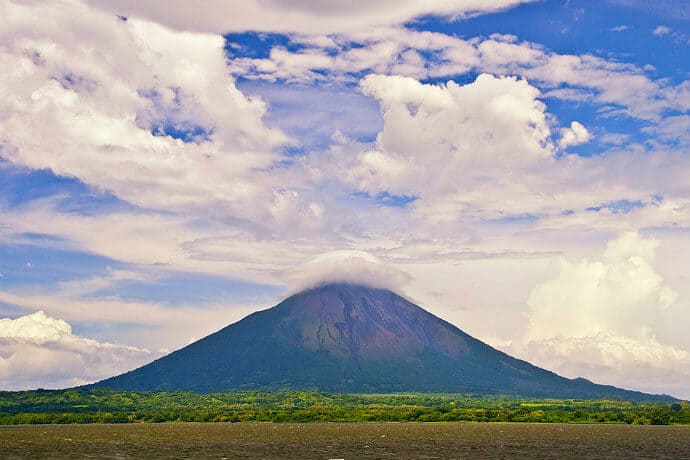 1) Hike Up Concepción Volcano
At over 5,000 feet high, Volcan Concepción is the second largest volcano in all of Nicaragua. Its conical shape makes it picture-perfect, but it's bald at the top bald due to activity.
The last eruption here was back in 1957, but it belched out a huge ash cloud in 2010. What could be more thrilling than hiking up an active volcano?
There is a challenging, 10-mile (roughly 10-hour) hike up Concepción. Having a guide is mandatory, and tours tend to include entrance into the park as well as a pack lunch. The hike goes from almost sea level to the volcano's summit, and most of the trail is completely out in the sunshine.
That said, the elevation makes the upper reaches cold and windy. In other words, doing this requires real fitness, sun protection, and a wind breaker. Only about 25% of all hikers make it to the summit.
READ MORE: The Top 10 Biggest Volcanoes in the World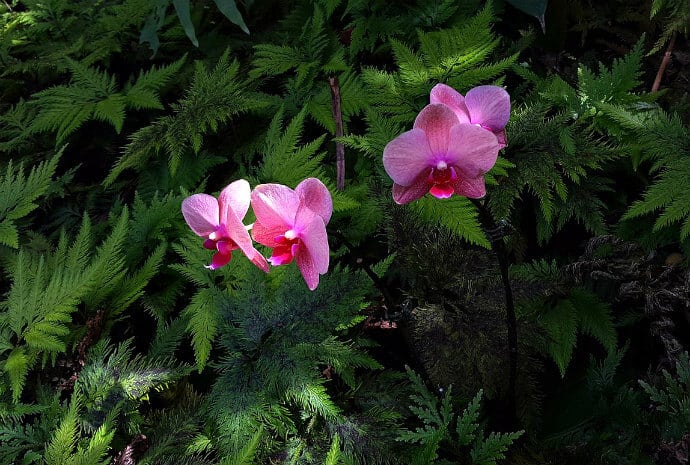 2) Climb Volcano Maderas
The cone of the Maderas Volcano exploded in an eruption several thousand years ago. In its wake, large lava boulders were left along the mountains truncated slopes.
The crater is now a beautiful tropical lagoon in which overheated hikers can swim. The volcano is covered in dense cloud forest, with incredible orchids, ferns, bromeliads, and lichens. Additionally, monkeys and birds call out from the trees.
There are three hiking trails leading up to the summit, from Balgüe, Santa Cruz, and Merida. The trail from Balgüe is the most popular one, and it takes about eight hours round-trip.
Unlike Concepción, Maderas is completely covered in canopy. The trail is notoriously muddy from the humidity, which begs that hikers carry plenty of water and wear quality hiking boots. Hikers should also travel with an experienced guide to make the ascent.
READ MORE: My Stupid Mistake Hiking Corcovado National Park (Costa Rica)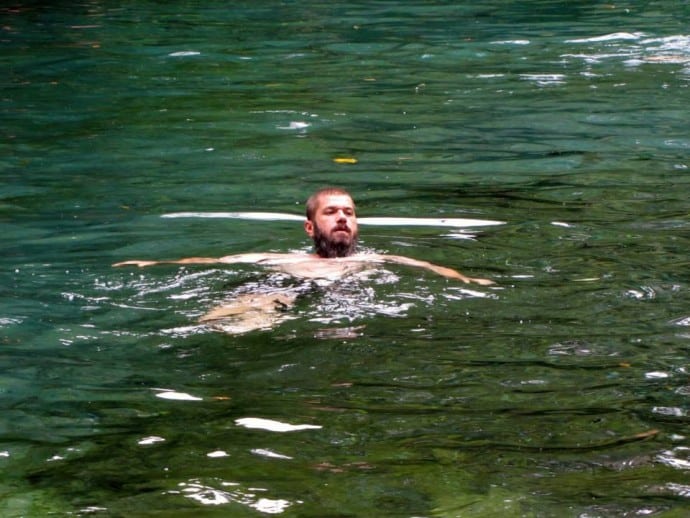 3) Swim in El Ojo de Agua
In terms of natural springs in the middle of the jungle, Ometepe's Ojo de Agua (Eye of Water) is a really nice one. It gets to about six feet deep, and is nearly 100 feet long.
Flowing underground from Volcan Maderas, the water is clear and clean, with an upper pool emptying into the lower one. On one side of the pools, the jungle borders the water, offering up-close chances to see wildlife. A whole troop of monkeys hung around for about 20 minutes during my visit.
Though serene and beautiful, the spot can become overcrowded with swimmers at times. It has a large restaurant, but bringing in your own picnic is permitted as well. There are plenty of deck chairs to rent, and the entrance is only a few dollars.
El Ojo de Agua is located between Altagracia and Playa Santo Domingo, and easily reached easily by bus.
READ MORE: The Chicken Bus: Guatemala's Unusual Transport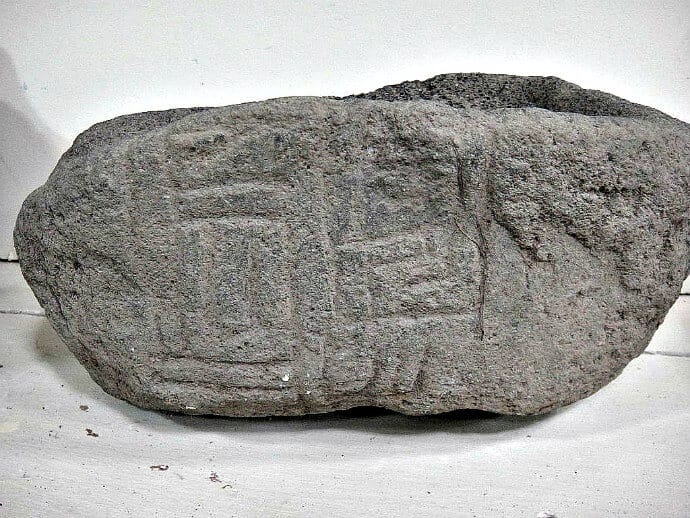 4) Visit The Petroglyphs
There are many options for checking out pre-Colombian petroglyphs on Ometepe Island. These carvings, as well as statues and other artifacts of early indigenous people, can be found all over the island in situ.
There are many private museums in Ometepe as well. El Ceibo Museum, which is located in the Charco Verde area of the island, is one notable example, as is the museum in Altagracia.
With regards to seeing the stones (and carvings) where they lie, the Maderas side of the island is your best bet, and Finca Magdalena and Hotel Finca Porvenir are great spots to start.
On the eastern side of Maderas, Tichana has ancient cave paintings. Additionally, San Silvestre is an important archeological site with four large, unearthed statues. It's really amazing to see where this priceless Latin American art has remained for centuries.
READ MORE: Caribbean & Latin American Art History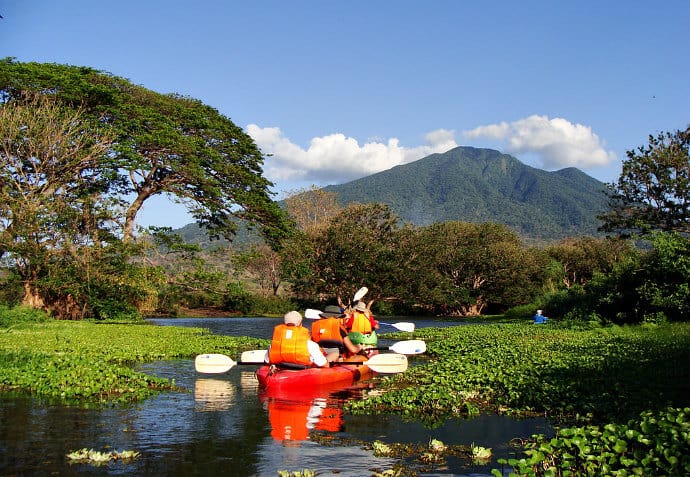 5) Kayak Lake Nicaragua & Istián River
The Rio Istián is Ometepe's most noteworthy canoeing and kayaking experience.
It's more like a wetland than a true river, with the waters moving slowly into the isthmus. This creates an ideal habitat for water birds and other exciting wildlife, such as Caiman (the smaller, less aggressive relatives of crocodiles). Monkeys can also be seen in feeding the large trees that overhang the river.
The paddling tour begins in the village of Merida and takes about four hours, including an hour of kayaking across a portion of Lake Nicaragua.
For those who are less inclined to paddle for fitness, there are motorized options that will pull your kayak across the lake portion of the tour. If you're not into canoeing or kayaking at all, there is a hiking trail from Playa Santo Domingo that visits the upper end of the Rio Istián.
READ MORE: The Top 10 Canoe Trips in the World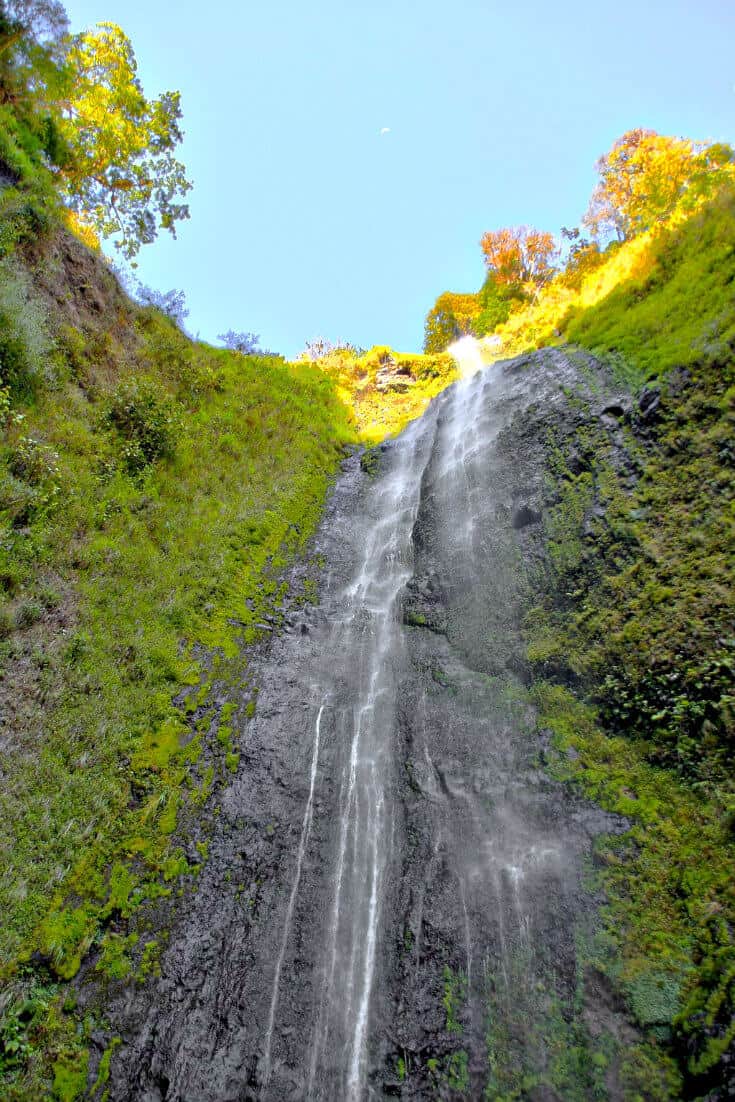 6) Hike to the San Ramon Waterfall
Starting at the biological station in San Ramon, there is a nice hike to a splendid waterfall that drops from the edge of Maderas and plummets down a moss-covered rockface.
The hike in from the station takes about two hours and leads hikers by a hydro-electric plant. The trail leading to the waterfalls passes through jungle laden with birds, monkeys, and butterflies. The flora is thick with bromeliads, moss, and vines. At the bottom of the falls, there is a small pool you can swim in.
While most definitely a worthwhile venture at any time, the falls are most spectacular during Ometepe's rainy season or shortly thereafter. Near the end of the dry season, around March, there is sometimes little more than a thin strip of water running down the cliff.
READ MORE: The 20 Biggest Waterfalls in the World (By Continent)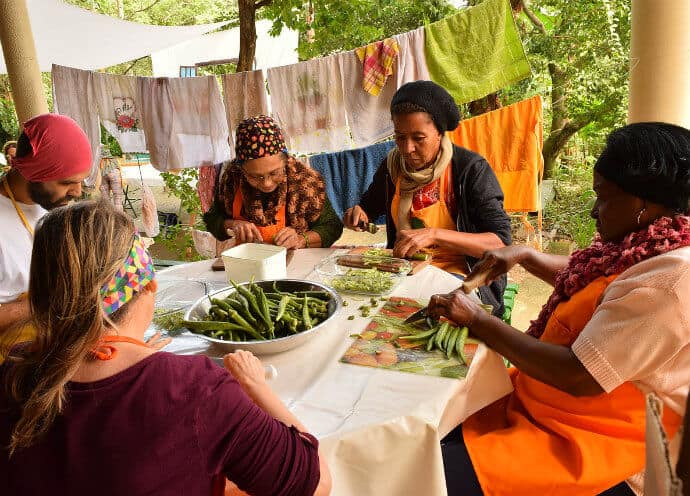 7) Visit Project Bona Fide
Sustainable living is a big part of the vibe that draws visitors to Isla Ometepe.
Many of the island's hostels and hotels have accompanying agricultural projects that supply some of the food they and nearby restaurants serve, including fruits, vegetables, eggs, coffee and meat. Most offer guided walking tours of their farms and gardens.
For a more significant look at sustainability in action, visit the world-renowned permaculture site at Project Bona Fide, which is located near the village of Balgüe.
Visits and tours must be arranged beforehand, but the farm provides a real glimpse at how environmentally-friendly agriculture and living looks in the tropics. Permaculture design courses are frequently offered there as well.
READ MORE: Permaculture Design (12 Steps to a More Productive Garden)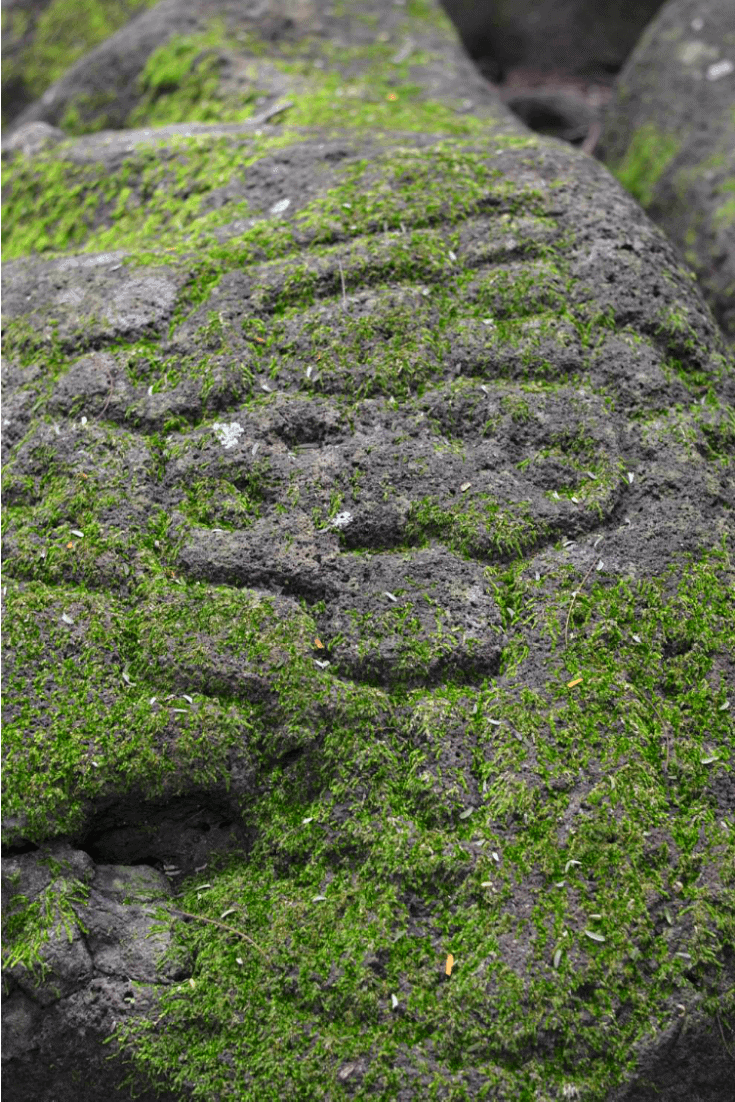 8) Explore Finca Magdalena
Not far from Project Bona Fide is Finca Magdalena. This magical farm spans over 850 acres, nearly half of which is forested, and directed by a collective of two dozen partners and their families.
This agricultural utopia offers lodging, dining, camping, and guided tours. Coffee, honey, bananas, milk, and a mix of vegetables are grown and produced organically on the premises.
Also reached via Balgüe, Finca Magdalena's tours include climbing Volcano Maderas, hiking to a waterfall, exploring the farm, checking out petroglyphs, and visiting the coffee plantation.
Inexpensive, family-friendly rooms are available for rent, and the restaurant (and surrounding garden) is open to walk-in visitors. 
READ MORE: The Best Coffee in the World (A Gourmet's Guide)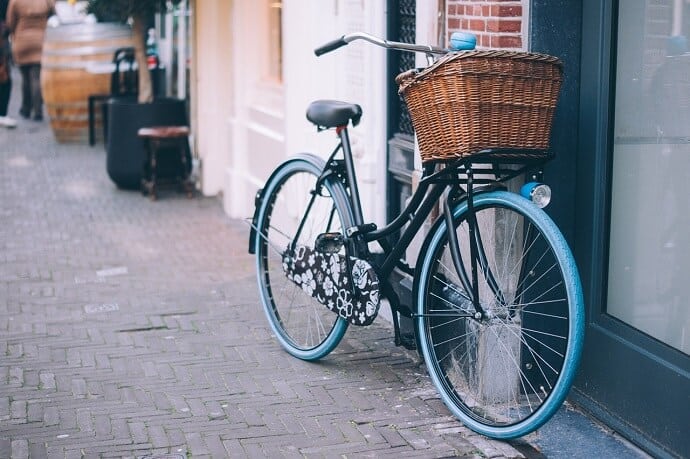 9) Cycle Around Ometepe
The paths around Ometepe Island are low on traffic and high on beauty, which makes them a perfect place for cycling.
The roadways circle the entire island, creating a figure eight around both volcanoes, and lush jungle overhangs much of the route. You can take short trips from village to village, or ride completely around the island if you've got the legs, stamina, and willpower.
Bikes are available for rent in just about every Ometepe village, but do should be aware that the island's hilly terrain can be challenging for infrequent riders. Nevertheless, for every trip up a hill, there is a coast down to give you time to cool off.
Riding a bike provides a completely different experience of the island. The route between Moyogalpa and Altagracia (which is 15 miles one way) is arguably the most popular one for cycling.
READ MORE: Cycling South Koster Island, Sweden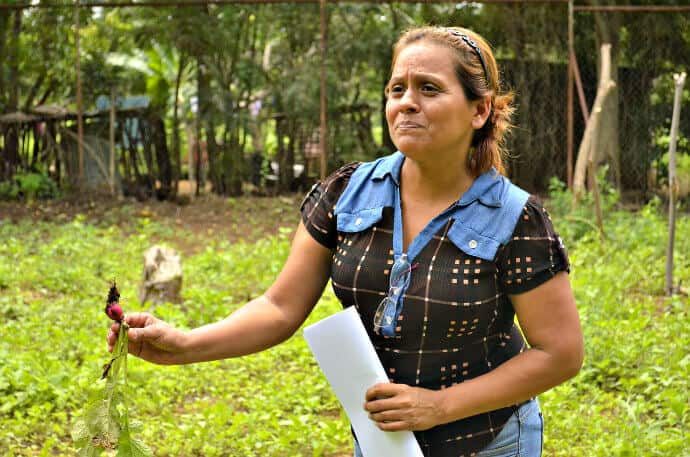 10) Volunteer in Local Communities
Isla Ometepe offers many different opportunities for volunteering.
Probably the most popular for tourists– and backpackers in particular– is to do work-stay volunteering on one of the local farms. This essentially involves putting in a day's work (usually more like half a day) in exchange for lodging and meals, with plenty of spare time for exploring the island.
That said, there are ample opportunities to volunteer within the local communities as well. The Rainforest Alliance-certified Hacienda Merida helps to fund Fundacion Ometepe, a non-profit that constructs schools, brings medical volunteers and medicine to local clinics, and more. 
They offer volunteer opportunities as well as accommodation, camping, a breakfast and dinner buffet, and tours, all with an environmentally and socially conscious motif.
READ MORE: The Role of Community-Based Tourism in Responsible Travel
THE BEST HOTELS IN OMETEPE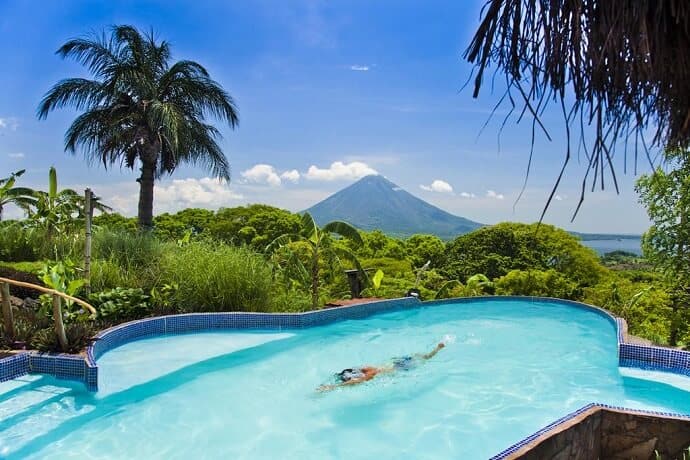 Located just outside of Balgue in the Maderas section of the island, Totoco is one of the more well-established Ometepe hotels.
This beautiful Nicaraguan eco lodge runs off of solar energy and works to produce a good portion of the food served in its restaurant. It also has an infinity pool that overlooks Volcan Concepción.
The eco lodge is also connected to a charitable foundation that helps the local community, as well as a large organic farm, where travelers can do a rustic work-stay visit. Check Rates.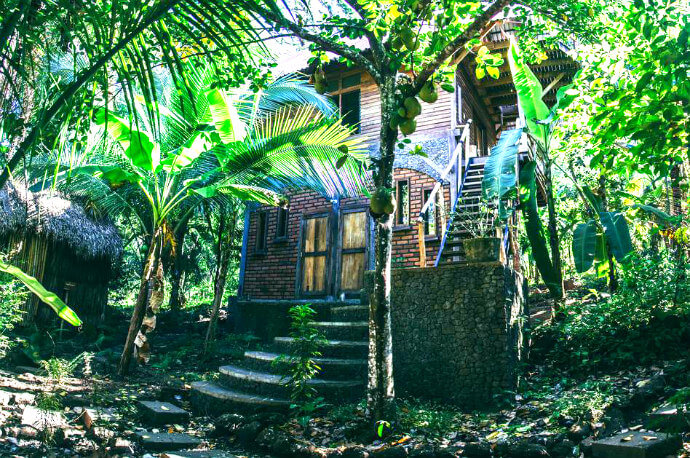 Also located near Balgue, the Selvista Guesthouse Collection offers remarkable rooms designed by a permaculturalist and built with locally sourced materials by local craftsman.
The property upon which the guesthouses are located was formerly a plantain field, but has been converted into a highly-rated, sustainable agritourism business.
This is easily one of the most unique and beautifully constructed Ometepe Island hotels, with interesting techniques and phenomenal scenic views. Check Rates.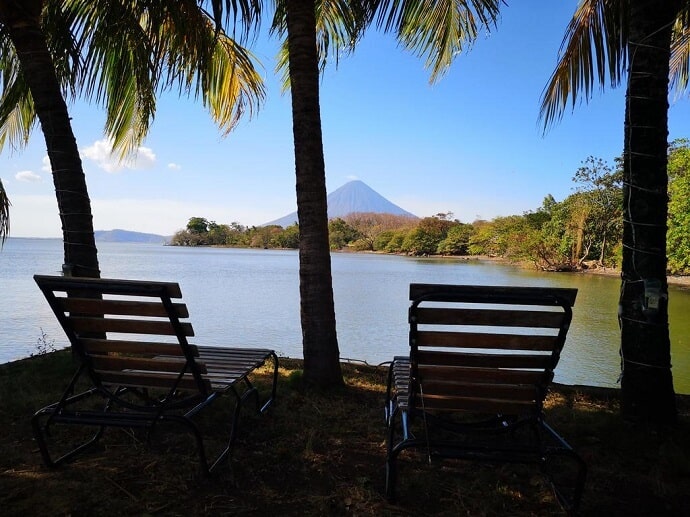 Located on the western side of the island, Hacienda Merida is in the town of Merida. 
This hotels has a lovely restaurant that overlooks Lake Nicaragua, serving a buffet-style breakfast and dinner during high season.
One of the most charming and welcoming of the Ometepe hotels I've visited, Hacienda Merida has a host of comfy rooms as well as camping and hammocks.
This is also a great location for reaching the San Ramon waterfall and taking the kayaking tour of Rio Istián. Check Rates.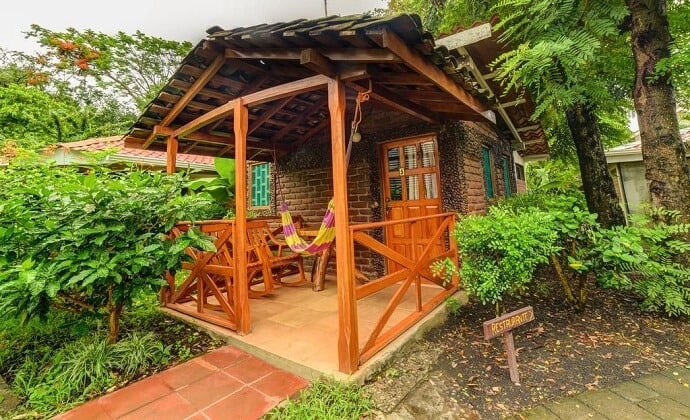 Located right on the beach of Playa Santo Domingo, Hotel Villa Paraiso celebrates being part of the UNESCO Biosphere Reserve.
The resort offers cabins with lake views for families, as well as lots of amenities. It's attached to a mountain farm, Finca "La Montana," which is also a hotel that strives for sustainable food production. 
Their rooms have lovely private patios and hammocks that are perfect for kicking back after a hard day of exploring Isla Ometepe. Check Rates.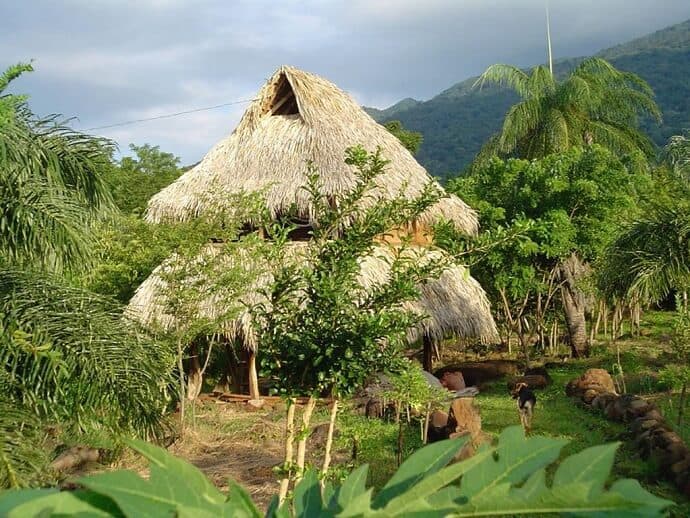 In addition to being a hip permaculture farm, El Zopilote also has a wicked cool shop (selling a variety of produce and handmade goods) run out of a converted bus, an amazing tower for above-the-canopy views, and an on-site pizzeria.
There are lots of glamping-style huts for rent, as well as dorm beds, camping sites, and hammocks for budget travelers.
There are also volunteering opportunities and yoga classes on offer as well. This is a great place for those who are truly hippies at heart. Check Rates.–Jonathon Engels