It wasn't until our second day in Belize, just before we were supposed to leave for a tour of Cockscomb Basin Wildlife Sanctuary, that I finally shed tears over the death of my father.
I was stunned on December 27, when my mother called to tell me the news that he'd passed away during the night after a long, gradual decline in health. I was numb at the memorial service a week later, when I reunited with family members I'd cut off all contact with over two years ago.
I was distracted by our #JustOneRhino fundraiser and deadlines, too busy and exhausted to allow myself time to deal with the roiling cauldron of emotions buried deep inside me.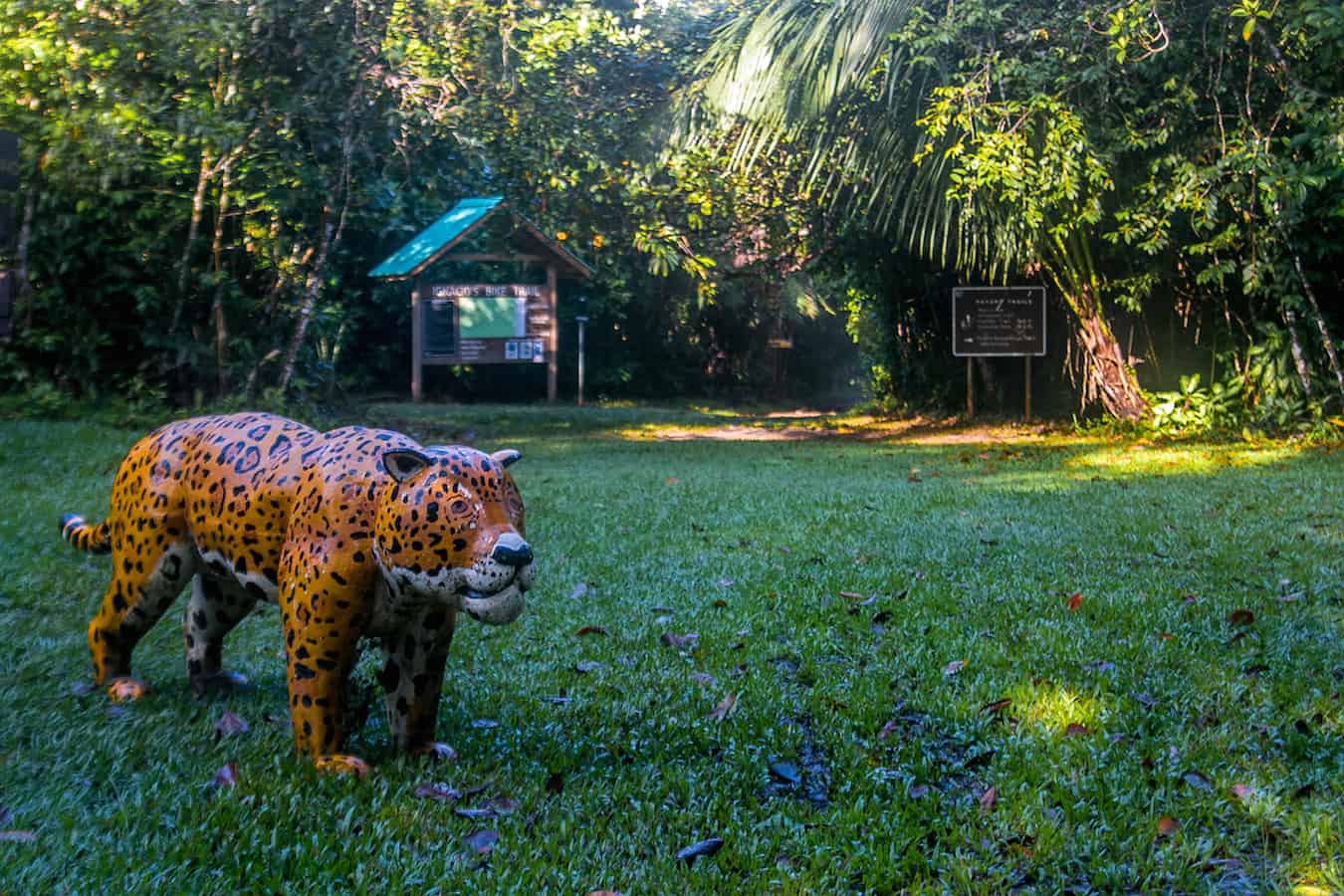 I thought I was OK until the first day of our trip, when we went Scuba diving on the Belize Barrier Reef. First I got knocked into sharp coral by another diver as we were both trying to film footage of a 6-foot reef shark, getting cut on my legs and elbow.
Later, after bobbing in choppy surface waves for 10 minutes while waiting for the boat to pick me up from our second dive, I spewed my breakfast into the sea. Thanks to my diving wounds, I barely slept at all that night, which proved to be the last straw.
The next morning, bleary eyed and facing a grueling all-day hike with a group of strangers, I finally broke down at the breakfast table. The tears flowed in endless streams behind my sunglasses as I watched the resident iguana at Hamanasi Resort posing among the treetops. It was all too much. I couldn't deal with anything, or anyone. I told Mary I wanted to cancel our tour to Cockscomb Basin, despite the fact that I'd been yearning to explore it for nearly 20 years.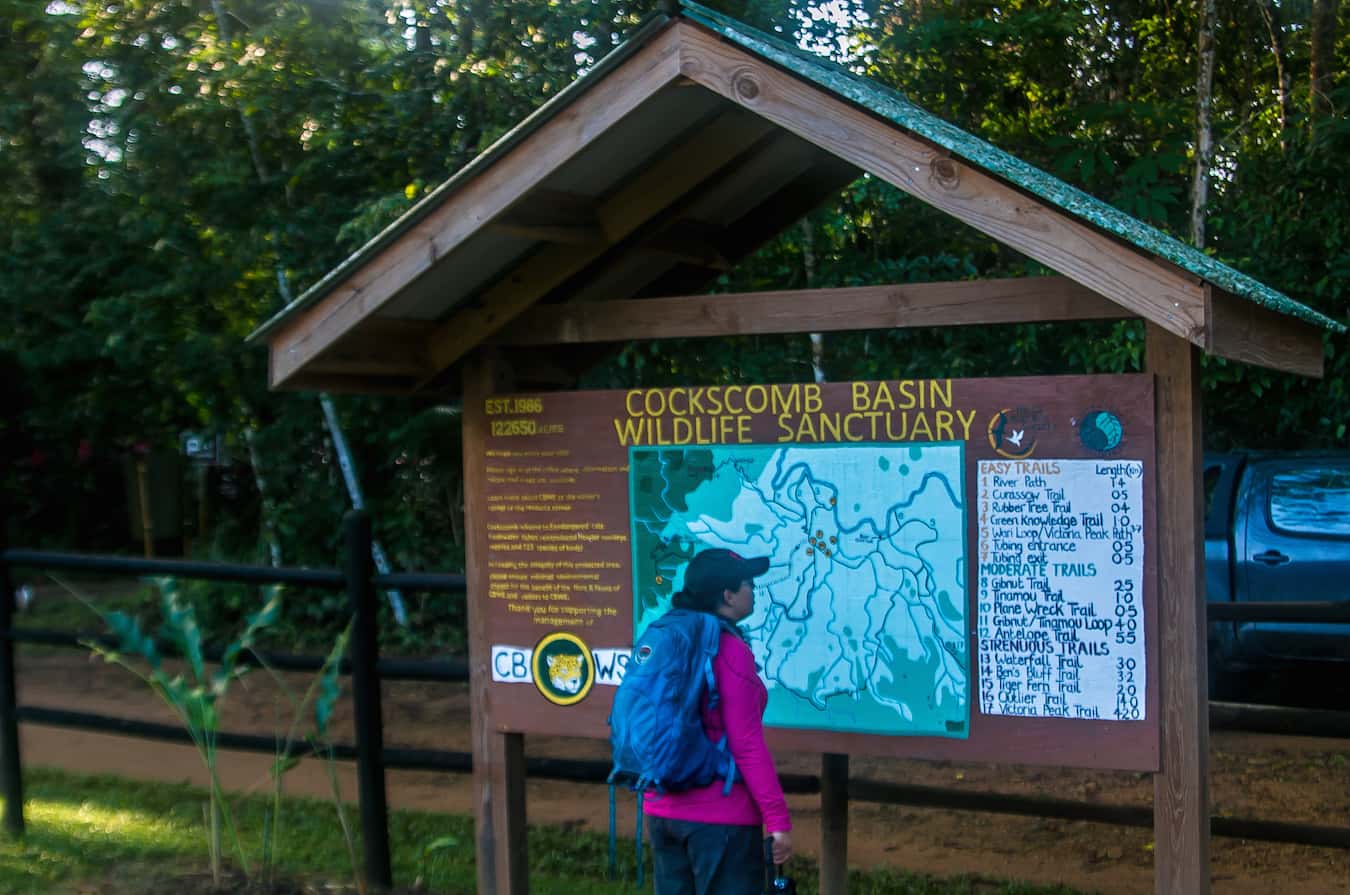 IT'S COMPLICATED…
The relationship between my father and I had been complex right from the very beginning.
At the age of 21 he was drafted by the U.S. Army, and had to go AWOL to be there for my birth. Six hours later he was on a plane to Southeast Asia to support the war effort in Vietnam, and my mother and I moved in with my paternal grandparents. When he came home two years later we were strangers: I thought my grandfather was my dad, and I'm told this 6'4″, 200-pound newcomer frightened me.
My dad and I became close for a few years, but family tragedy (the deaths of my maternal grandmother and my stillborn sister) and unfortunate circumstances (the stress and exhaustion that came from working multiple jobs to raise a family of 5) led to clashes of wills as I reached adolescence.
He didn't understand my interest in singing, dancing and acting, which went against his machismo-centered view of what a man should be. I didn't understand his repressive need for authoritarian control over my life choices, which went against the independent spirit he and my mother had instilled in me from an early age.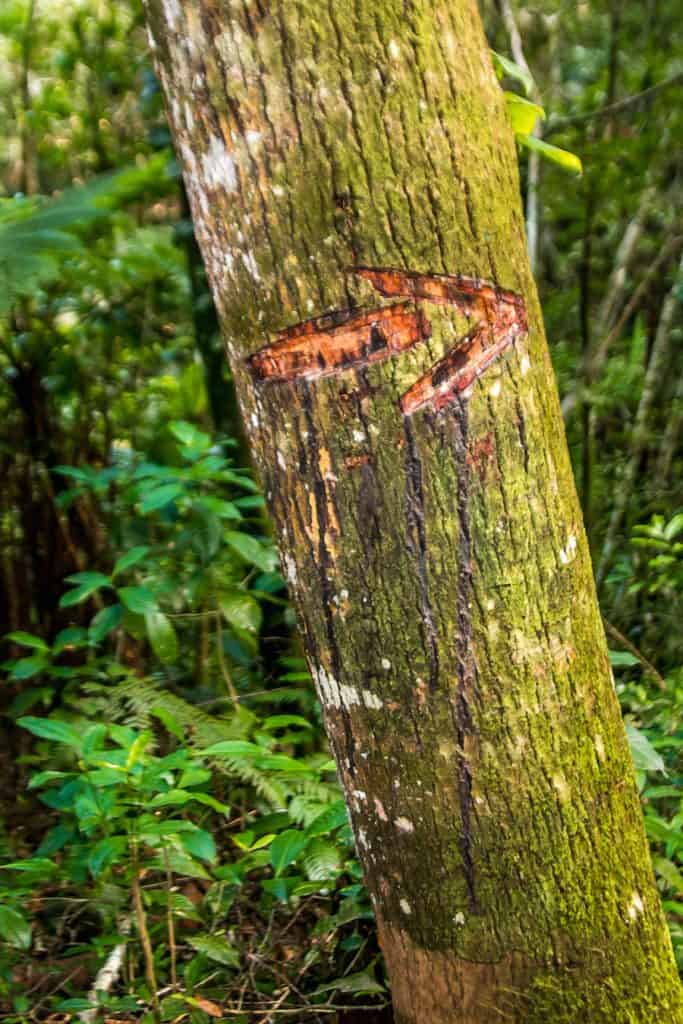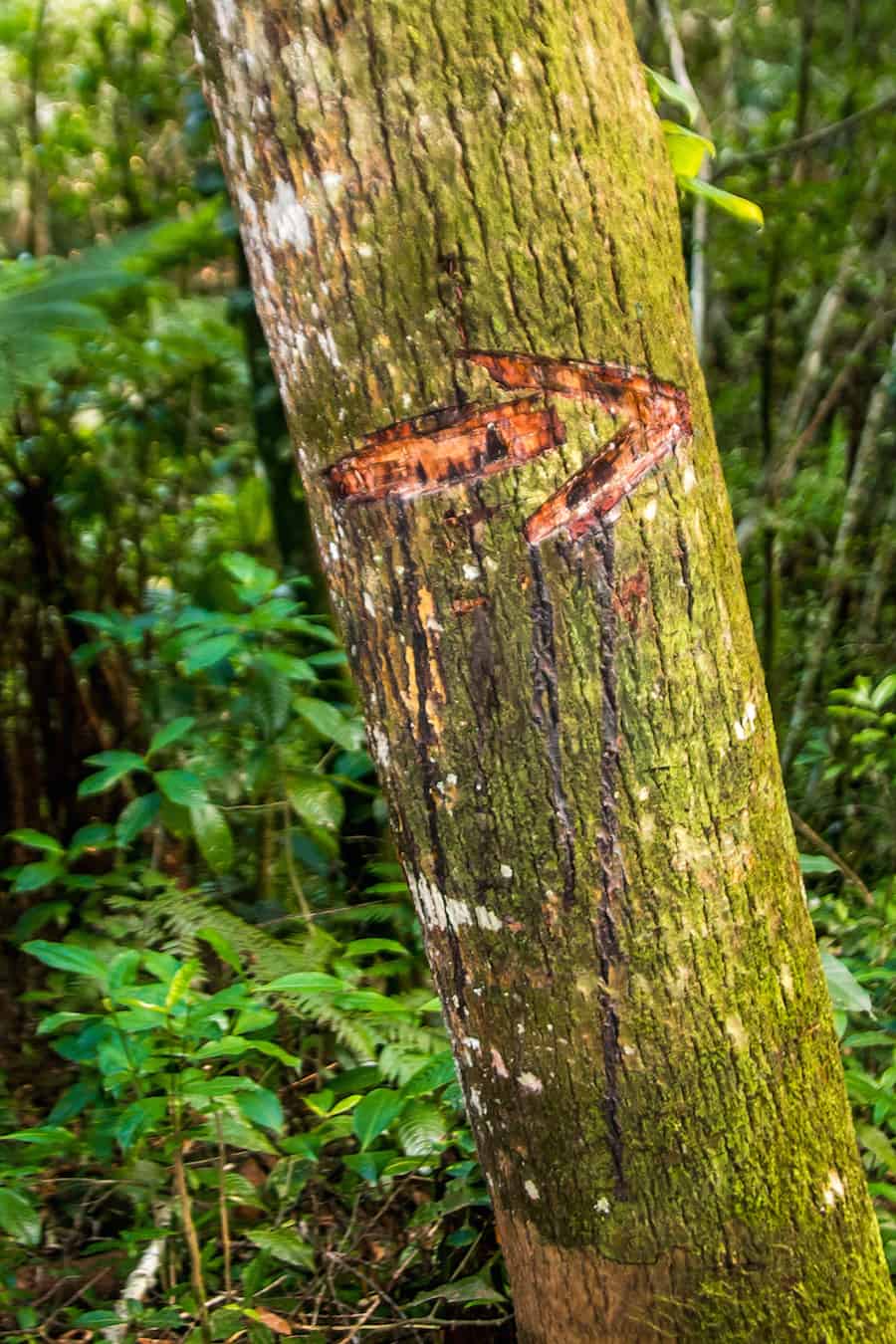 After years of emotional, psychological and physical abuse, things came to a head shortly after I turned 18. My father tried to force me to quit my band over some forgotten household chore, and I refused. I announced that I was moving out on my father's 40th birthday, leaving my mom and much younger siblings in tears. I severed all ties with my immediate family for several years.
My dad and I were eventually able to bond over our mutual love of pop culture after I became a successful entertainment journalist. He collected thousands of albums during my childhood, and I discovered nearly every artist I ended up loving – from Beethoven and the Beatles to James Brown and Miles Davis to Willie Nelson and Johnny Cash– through him.
But our relationship remained strained as his debilitating physical and mental struggles gradually whittled away at the man he had once been. On the positive side, my father was kinder, more patient, more willing to listen to and reflect upon opinions other than his own. On the negative, he would often nod off in mid-conversation, and needed constant care for his many health issues. Due to extenuating circumstances, he and I had not spoken in over two years before his death.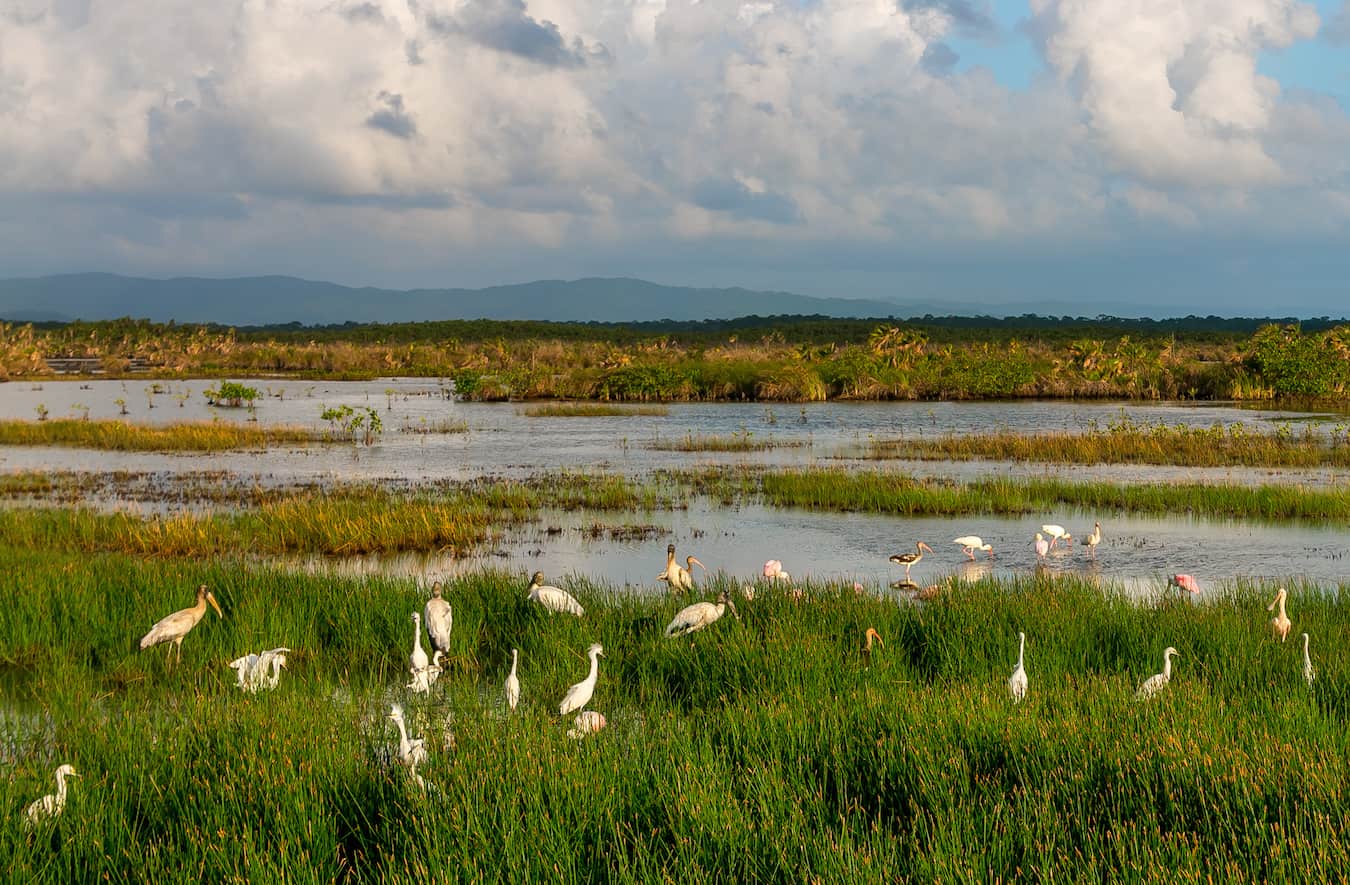 ONE FOOT IN FRONT OF THE OTHER
There were so many memories and conflicting emotions– love, hate, anger, regret, resentment, reconciliation and grief– jumbled together my mind as I sat there at breakfast that morning, I felt like I simply couldn't deal with anything. Less than 48 hours into my dream trip to Belize, all I wanted was to go back to our room and wallow in my sorrows.
I choked back tears as Mary explained what was going on to Adventure Center director Chris Liles and asked to cancel our tour. But Chris didn't give up: "I'm really sorry for your loss. But Cockscomb is amazing, and I'd hate for you to miss it… What if we canceled your spots on the group tour and arranged a private tour for you instead? You could take it slow and easy, go only as far as you want and come back whenever you're ready." How could I refuse?
To quote Robert Louis Stevenson, "the great affair is to move," and something about the simple act of moving improved my mood immediately. As the sun broke through early morning clouds coming in from the coast, our good-natured guide, Lorenzo, drove us past marshland filled with wading birds– Wood Storks, Roseate Spoonbills, Brown Ibis and Snowy Egrets– and cracked jokes about the "free massage" provided by the pothole-filled dirt roads outside Hopkins Village.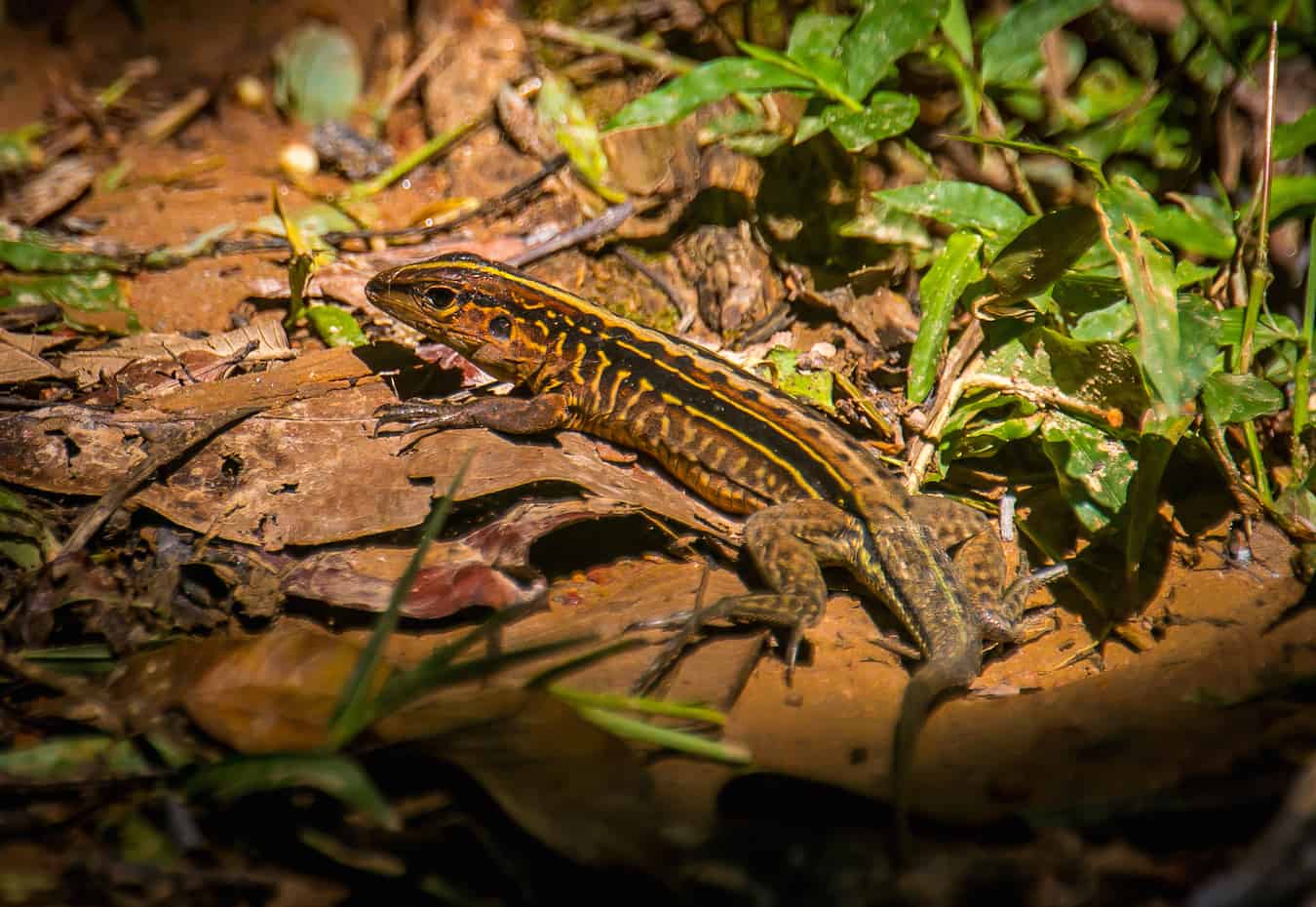 As we made our way to the Stann Creek district of south-central Belize, Lorenzo told us more about the history of Cockscomb Basin, which encompasses 128,000 acres (around 400 square kilometers) on the eastern slopes of the Maya Mountains.
The land was mostly used for logging of cedar and mahogany until 1982, when grad student Alan Rabinowitz (now the CEO of Panthera, the world's leading NGO for big cat conservation) was commissioned to study its jaguar population. His jaguar traps, one of which is on display at the reserve's Welcome Center, failed miserably until he got a blessing from a local shaman.
Eventually Rabinowitz determined that the area contained as many as 600 jaguars– the highest concentration ever recorded. In 1986 the Belize government established Cockscomb as a no-hunting zone, and in the 1990s they expanded the sanctuary to connect it to the Bladen Branch Nature Reserve. Thanks largely to Rabinowitz's efforts, the IUCN declared the Cockscomb Basin Wildlife Sanctuary, "The major achievement in cat conservation for the triennium."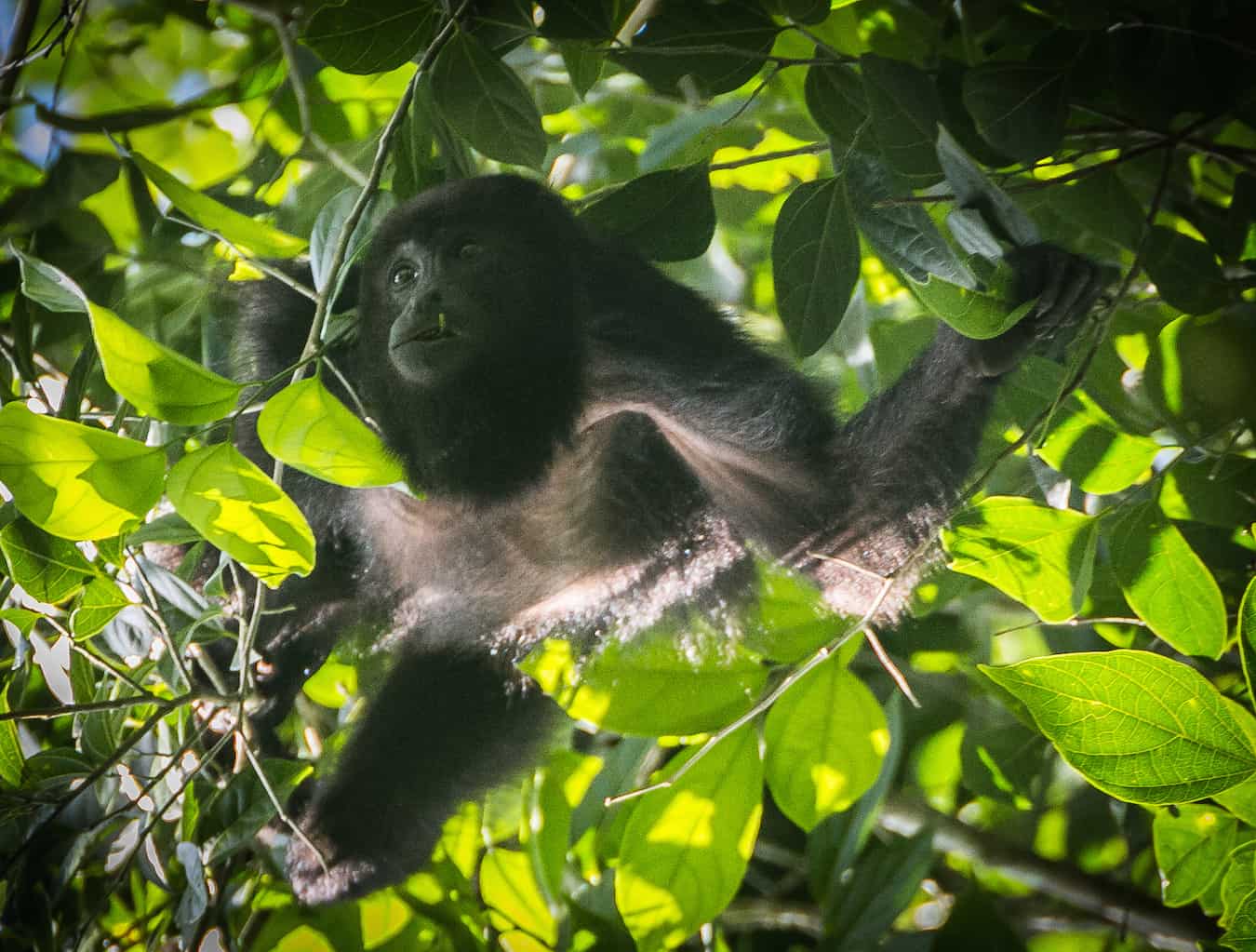 INTO THE WOODS
Walking through the woods always reminds me of the good times I had with my dad in early childhood.
In those tender years, before the baby died, my parents led our Episcopal Church youth group. So I got to go on trips hiking parts of the Appalachian Trail, climbing Blood Mountain and camping in Georgia's Blue Ridge mountains.
Along with summers at my grandparents' cabin on Lake Hartwell, these trips instilled in me a deep love of nature and an understanding of our relationship with it.
As Lorenzo led us through the Cockscomb Basin rainforest, telling us about how his father had been a chiclero who tapped the sap from the Manilkara Chicle tree to make Chiclet chewing gum, these memories came washing over me, filling me with the warmth of nostalgia.
The further down the hiking trail we went, the more nature's beauty began to alter my mood. I spotted a family of black Howler Monkeys feeding on wild figs in the rainforest canopy, looking down at us nonchalantly as they hung from their toes to grab the freshest fruits. Reintroduced in the 1980s after Yellow Fever wiped them out, the Howler population seems to have recovered nicely.
READ MORE: Blue Ridge Mountains Travel Guide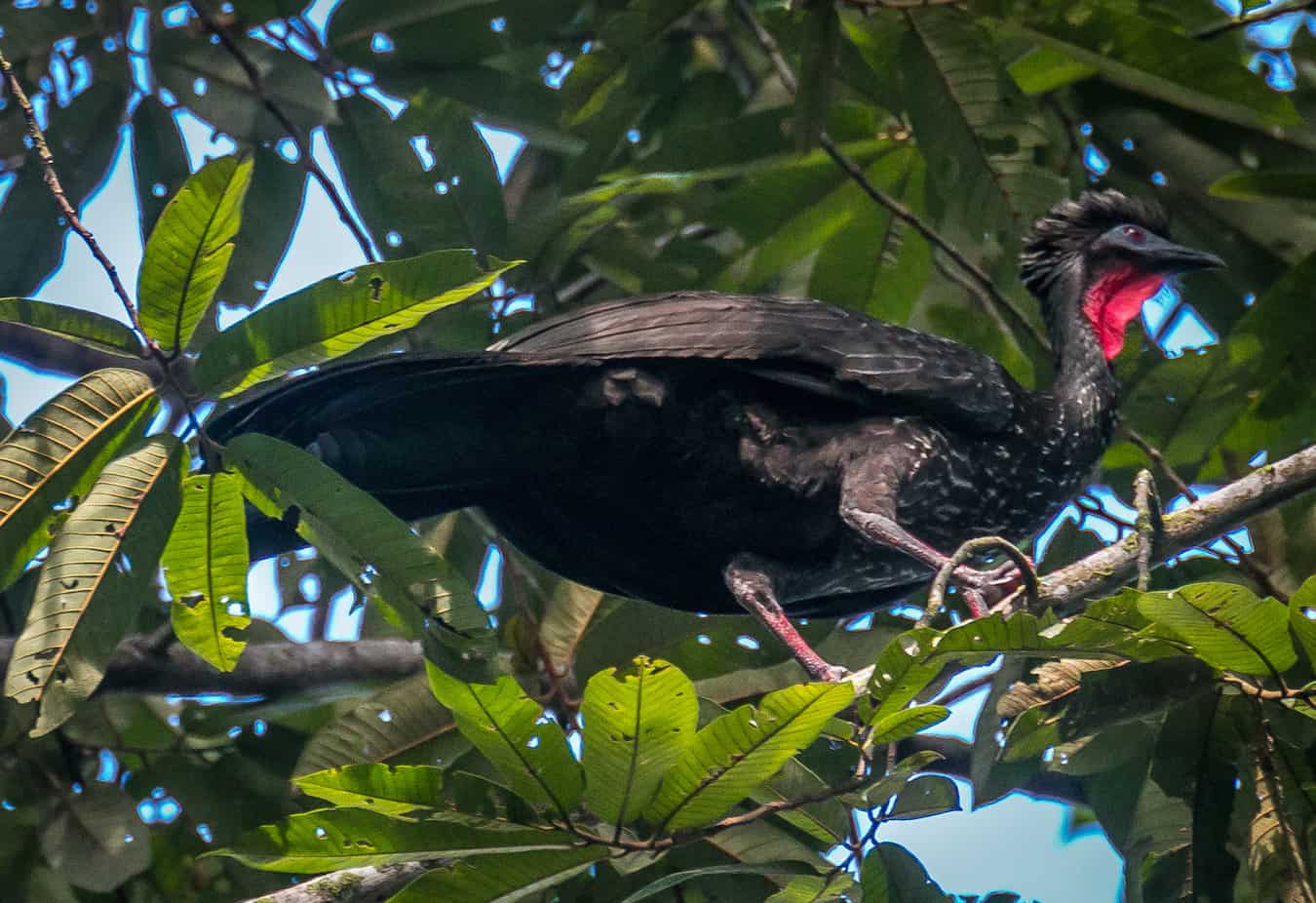 A Crested Guan– an ancient bird from the Cracidae family that looks like a bit like a Turkey– suddenly flew into the tree right below them, its red wattle standing our brilliantly against its white-spotted black feathers. With a noisy call, a presumed mate soon flew in to join him.
The forest was bustling with sounds and activity: A White-Collared Manakin sat in a Cohune Palm, clacking its mating call. Lorenzo used a twig to coax a cute Scarlet-Rump Tarantula (whom he had named Lisa) from her nest in a muddy bank. Turtles and schools of small fish swam in South Stann Creek, whose waters ran milky with silty runoff from the morning rain. A blue-backed male and red-bellied female Slaty-Tailed Trogon eyed us cautiously from neighboring trees.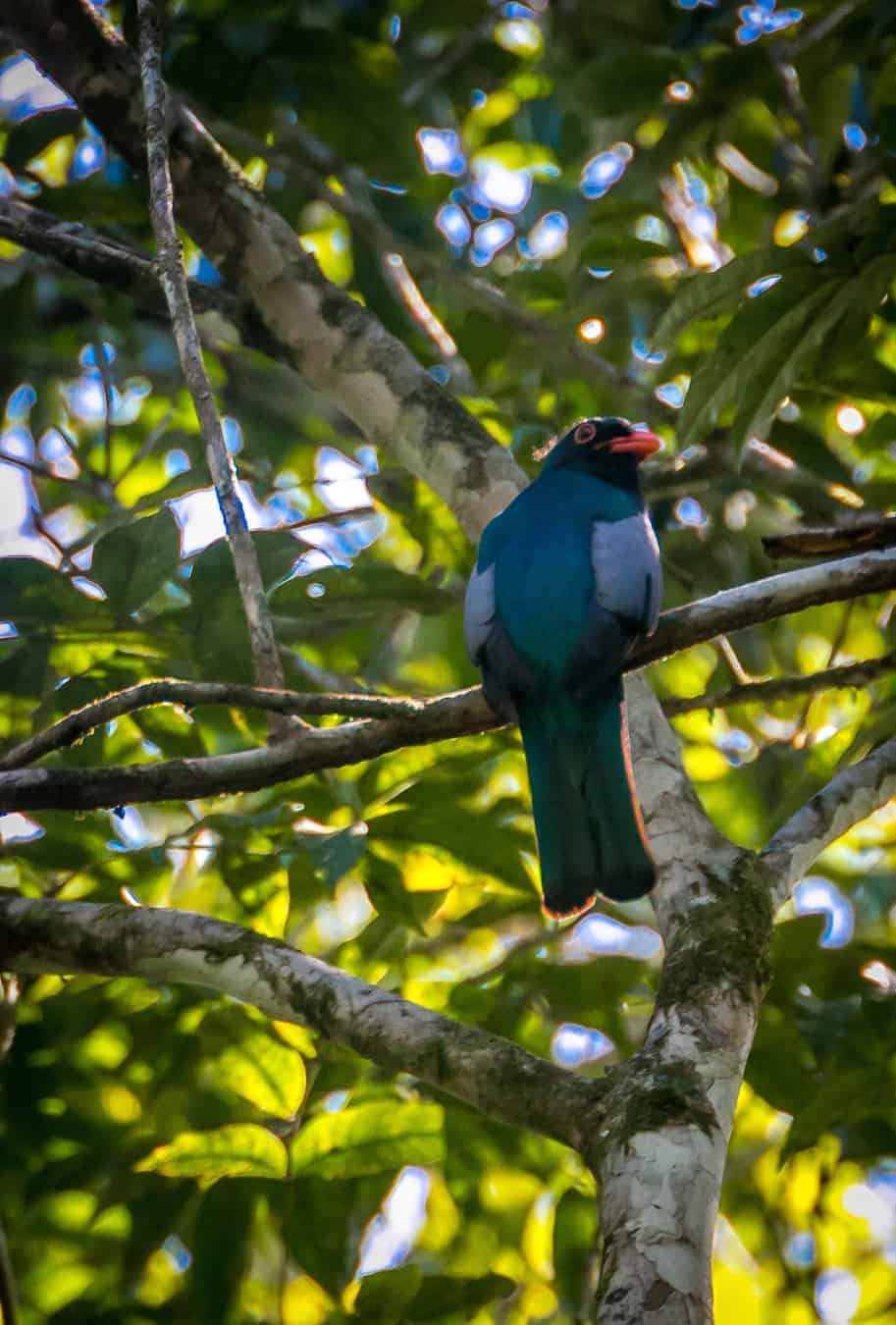 It didn't matter that we didn't see a jaguar, that mystical jungle cat whose powerful presence initially got me interested in visiting Cockscomb nearly 20 years ago. It didn't matter that the heat and humidity made my foggy glasses a constant struggle. It didn't matter that I was tired and confused and grieving for a man I rarely understood.
All that mattered was that we kept putting one foot in front of the other, and that each new step brought with it so much natural beauty that my heart could not help feeling full.
I never had the relationship with my father that I yearned for all those years. I never felt like he truly understood or believed in me, or respected the choices I made for my life. These were things I could never change.
But the reality that I came to terms during that hike in Cockscomb Basin was that I had believed in myself even when nobody else had, and my choices had allowed me to make my lifelong dreams of adventure come true.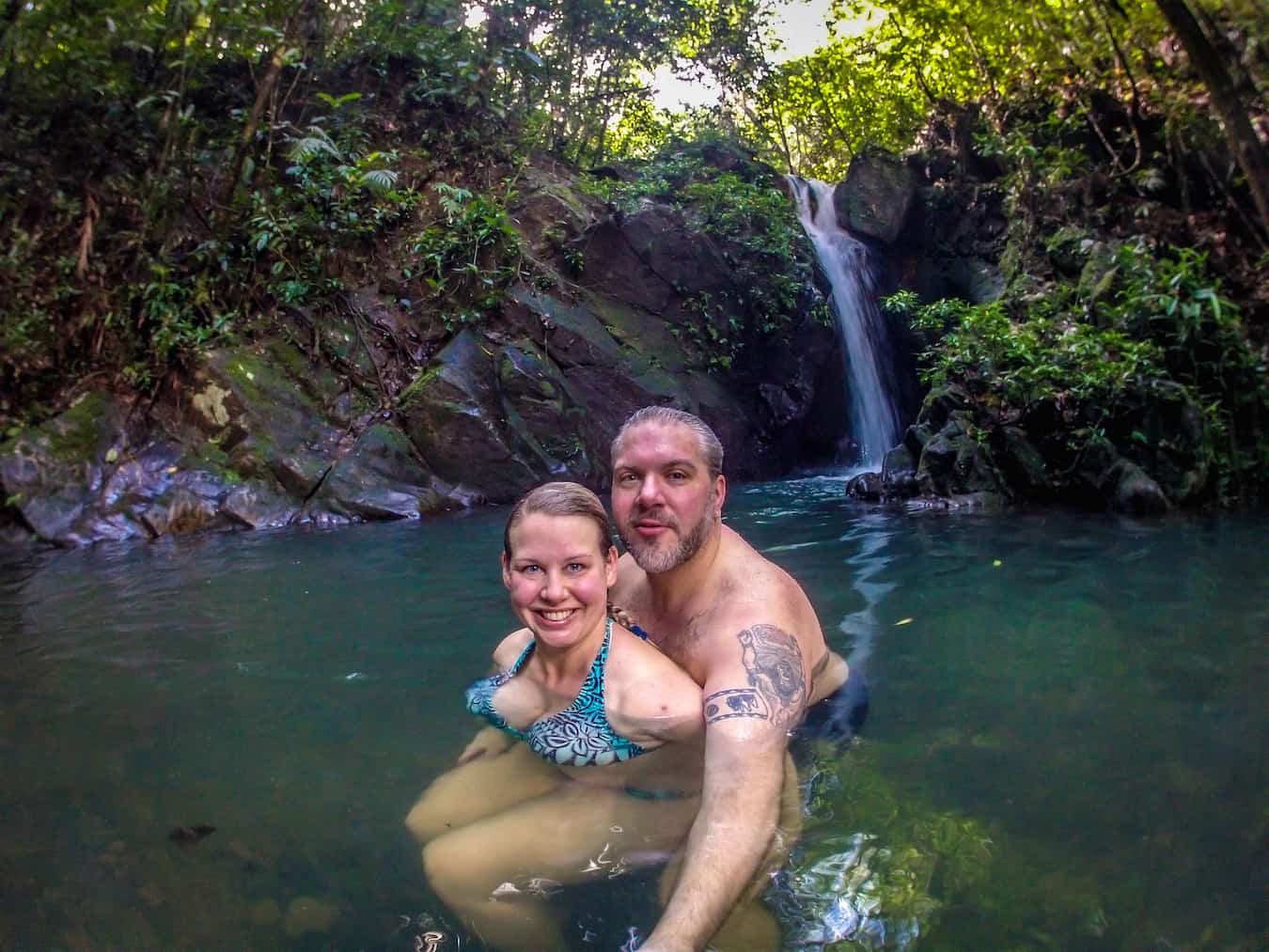 CHASING WATERFALLS
Eventually we made our way down a steep trail to the attraction I'd been waiting for since our first steps into the rainforest: A blue-green pool of water fed by a rushing waterfall, surrounded on all sides by verdant green trees. We had the place all to ourselves at midday, and Lorenzo covered his eyes with his hat and settled in for a cat nap as Mary and I stripped down for a swim.
The water was as remarkably cool as it was clear, and I found myself inhaling and exhaling deeply as my sweat-soaked skin adjusted to the temperature. Mary and I took the obligatory photos and video, then spent time soaking in the shallow water and talking quietly about our day. Eventually I made my way under the waterfall and let its pounding pulse massage away the aches and pains of weeks of stress.
In retrospect, I'm not sure whether it was the breathing, the water, or simply the joy of surrounding myself in nature's immense beauty that did the trick. But somehow I felt as if these hours exploring Cockscomb had healed my aching heart. The pain of losing a parent may never go away, particularly because of our troubled history. But in that place, in that particular moment, I knew that I would be OK.  –Bret Love; photos by Bret Love & Mary Gabbett

Our trip to Belize was sponsored by San Ignacio Resort Hotel & the Belize Tourism Board, but we will never compromise our obligation to our readers. Our opinions remain our own.
If you enjoyed our post on exploring Cockscomb Basin Wildlife Sanctuary, you might also like:
BELIZE: The Ancient Mayan Ruins of Xunantunich
BELIZE: The Green Iguana Conservation Project
PIC OF THE DAY: Hamanasi Adventure & Dive Resort
INTERVIEW: The Garifuna Collective Preserves the Rich Culture of Belize
What is an Eco Lodge? A Guide to "Green" Accommodations
Easy Ecotourism: 10 Simple Steps to More Sustainable Travel
The Benefits of Ecotourism: 20 Travel Bloggers on the Importance of Nature Travel