Starting in 2021, all U.S. citizens traveling to Europe will need to apply for a visa waiver called an ETIAS. This new travel authorization system is primarily designed to improve safety in Europe's Schengen Area.
Previously, the United States was part of a group of countries whose residents could travel to Europe without needing a tourist visa.
But due to the rapid rise in mass tourism and overtourism, as well as previous incidents of violence in the region, Europe has decided to improve their security to identify any possible risks or threats early on.
The ETIAS application will be online, and only takes around 10 minutes to complete. But many European travelers are confused on exactly what the waiver is and the process of applying for it.
Below you'll find all of the facts outlining what you need to know about the new visa waiver, the ETIAS application process and entry requirements, as well as what specific areas of Europe this new EU travel visa waiver covers.
READ MORE: The Top 10 European Islands for Nature Lovers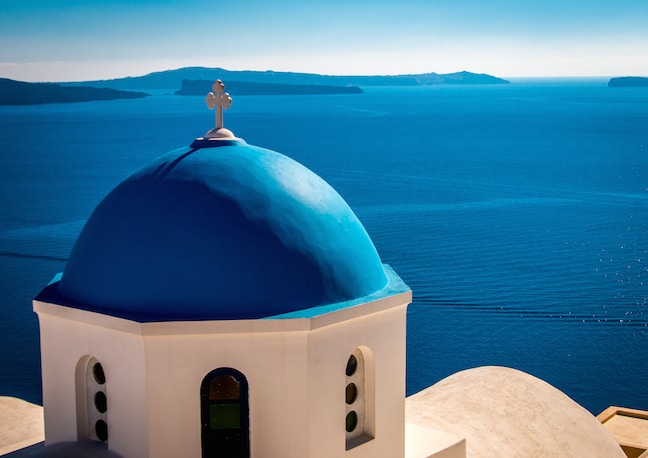 What is ETIAS?
ETIAS stands for the European Travel Information and Authorization System. It is a multiple-entry travel authorization allowing citizens of countries who previously didn't require a visa (including the United States) to travel in the Schengen Area.
The new authorization system was put into place to avoid any issues with illegal immigration and terrorism, as well as to stop potential criminals from entering Schengen countries.
It provides a higher level of security for residents of those countries, as well as reducing wait times at the borders for travelers. The system is comparable to other visa waivers, like the US ESTA and Canadian eTA.
The system was created via legislation by the European Commission in September of 2018. By the end of 2021, the law will be in full effect, requiring all U.S. citizens (including minors) to apply for the ETIAS and be approved before traveling.
Once you're approved, the ETIAS visa waiver is valid for 3 years (or until the passport associated with the account expires). During this time, you can visit any of the European countries in the Schengen zone as many times as you like, but only for up to 90 days within a 180-day period.
The ETIAS waiver allows travel for purposes of European vacation, medical treatment, business, or transit purposes, as long as the trips follow the aforementioned time period guidelines.
READ MORE: The Best Places to Visit in Greece in 40 Photos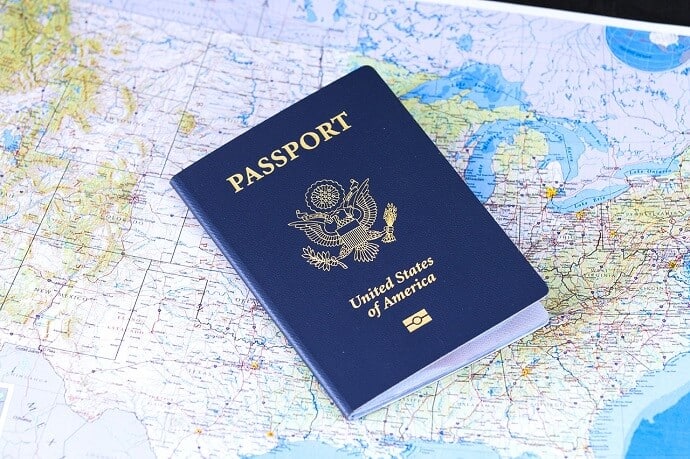 Is ETIAS Different from a Schengen Tourist Visa?
If you wish to stay in Europe for extended periods of time (or for purposes not listed above), you must obtain a Schengen visa. A Schengen visa can be granted as a single-entry, double-entry, or multiple-entry visa. But, unlike the ETIAS, it can only be issued for one specific country.
You're also required to apply for a Schengen visa in person at an embassy or consulate. It has to be entered manually into the passport, unlike the ETIAS, which is approved electronically.
If you're traveling to Europe for tourism purposes and you are a citizen of a country that cannot travel in Europe visa-free, you're required to obtain a short-term Schengen visa with the specification of "tourist."
So consulting with travel specialists regarding what type of visa for a specific country you need might save lots of time and paperwork.
Residents of countries that could previously travel Europe without a visa waiver, like the United States, will just need to apply for an ETIAS as of 2021.
Although the ETIAS via waiver covers tourism, it does not permit travel for work or study. If you're looking to travel for work, you still must apply for a work permit or visa for the individual country that you intend to visit.
If you're looking to travel for school or to study at a university in Europe, you must obtain a study permit or national visa for the specific country you plan on studying in.
READ MORE: Top 15 Things To Do in Tenerife (Canary Islands, Spain)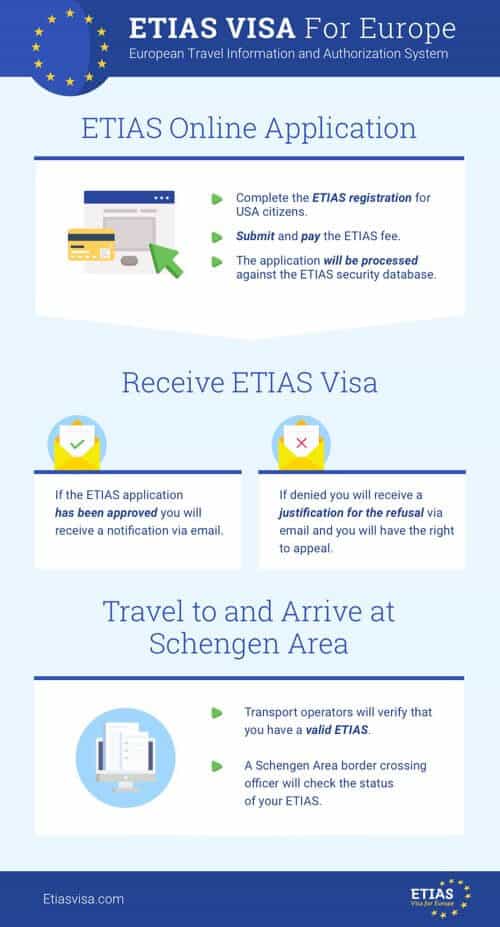 Essential ETIAS Application Info
The ETIAS Application process is fairly simple. It can be completed online, and is estimated to take only 10 minutes to fill out.
It is recommended that travelers apply for the ETIAS at least 72 hours before they plan on boarding a plane in order to give their application enough time to be processed. But most applications will be approved within a matter of minutes.
Both adults and minors are required to fill out the application, but parents or legal guardians are able to submit an application on behalf of a minor.
General Information
The information for minors and adults will be mostly the same, aside from a minor's application asking for the legal guardian's information and relationship to the applicant.
The application is broken down into sections, and is presented in a questionnaire format. General personal information such as your name, gender, address, birth date and place, education history, and occupation will be required first.
You will then be required to put in your passport or travel document type, ID number, and country of issue as well as the expiration date.
You could also be asked to identify the first country you intend to visit and the accommodation where you will spend the night. Although this information is not always known in advance, the requirement is in place for people applying for the first time for a specific trip.
Security Issues
The next section of the ETIAS application will cover security issues and criminal history.
This will include information such as any criminal convictions in the past 10 years, any deportations from a European member country, as well as any trips to war zones and the purpose of those trips.
If any of these questions apply to you, you'll be prompted to answer more questions concerning when, and in what country, these offenses took place.
Health Information
The final section of the application covers all of your health information. It will ask for details concerning existing medical conditions, such as infectious and parasitic diseases, and any other serious illnesses.
Once submitted, you should receive an email confirmation fairly quickly.
But it is worth noting that an approved ETIAS visa waiver does not fully permit you to embark on your EU travel plans. It just allows you to travel to Schengen countries.
Final Steps
The final authorization will be granted by an immigration officer at the Schengen border control.
At that time, you may be asked to prove that you're going to comply with the time period restrictions by giving evidence of return tickets to the U.S. (or onward to another location).
You may also be asked to prove that you are financially stable enough to fund your stay, along with having valid travel health insurance.
The ETIAS can basically be seen as a pre-screening assessment to identify illegal activity early on in the travel process, therefore adding an overall greater sense of security for everyone.
READ MORE:Travel Health Insurance Policies from World Nomads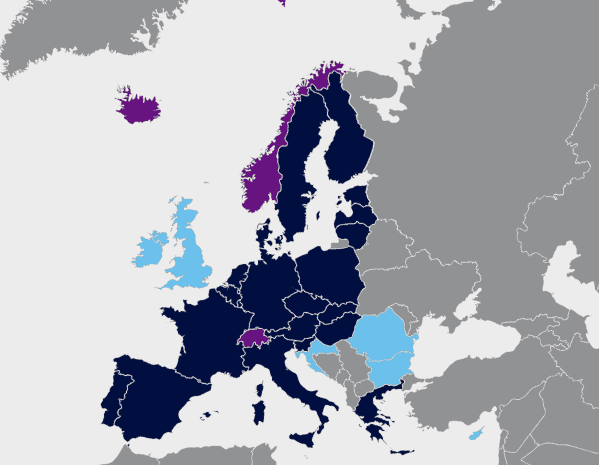 Which Schengen Countries Does ETIAS Cover?
The ETIAS will cover all Schengen countries, as long as the applicant complies with their border restrictions.
These including having a valid reason for the visit, staying within the time allowed, and having valid travel documents.
The Schengen area is composed of the 26 countries listed below, all of which will require American citizens to have a valid ETIAS visa waiver upon arrival in their territory:
Austria
Belgium
Czech Republic
Hungary
Liechtenstein
Luxembourg
Portugal
Slovakia
It's easy to get the Schengen area and the European Union confused, because all but four countries in the Schengen area (Iceland, Liechtenstein, Norway, and Switzerland) are also part of the European Union.
But the European Union is a political and economic union, whereas the Schengen Area is made up of the countries that have signed the Schengen Agreement. They function without internal border controls, allowing people to move freely between the countries.
READ MORE: 8 Things To Do in Portugal for Nature Lovers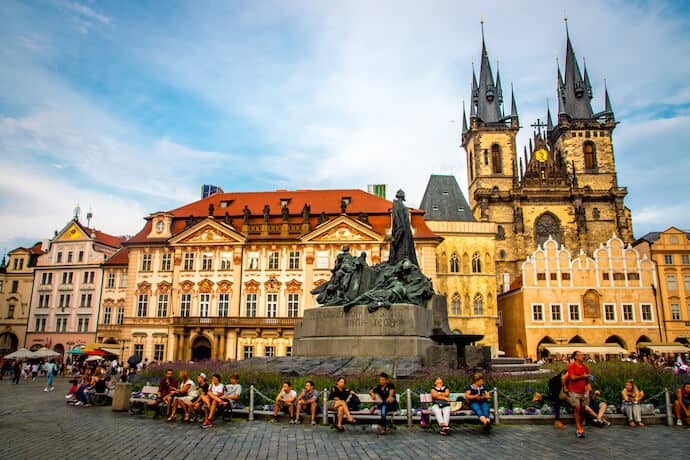 ETIAS Visa Waiver Requirements for US Citizens
The entry requirements to travel with an ETIAS for U.S. Citizens are fairly simple. All that is required is a valid passport, email address, and a credit or debit card with sufficient funds to pay the fee.
The passport being used to apply should be valid for three months beyond the traveler's intended duration of stay in the area.
Those who have dual nationality should make sure to use the same passport to complete the ETIAS application that they will use to travel to their desired country.
The ETIAS and passport will be electronically linked, and confirmation will be sent to whatever email was entered at the beginning of the application process.
To receive your ETIAS waiver, it is required that you pay a small fee of €7 (around $7.72 US) for those ages 18 to 70. But anyone below 18 or above 70 years old will not be required to pay a fee.
READ MORE: Weekend in Prague: The Best Things To Do in Prague in 3 Days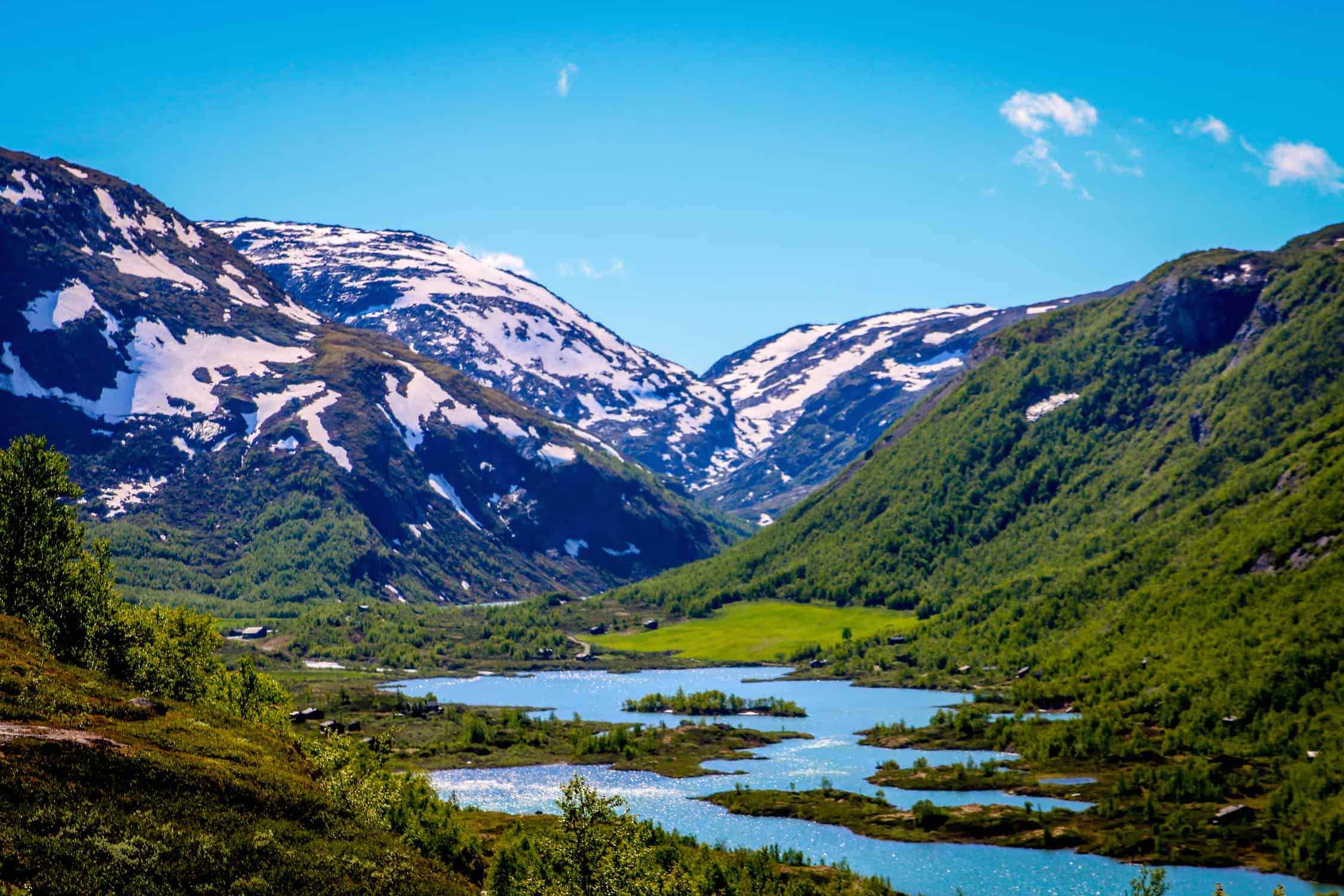 FAQs About ETIAS
1) Do I need to apply for multiple ETIAS via waivers if I'm going to visit more than one country?
No, only one ETIAS is necessary to visit all the countries in the Schengen area. It is a multiple-entry travel authorization, allowing you to visit any countries in the Schengen area as long as you follow the time allowance of 90 days of EU travel within a 180-day period.
2) How quickly will my application be processed, and how will I know it has been approved?
You will be notified by email within 3 days after your application has been submitted regardless of whether your application has been approved, refused, or is undergoing manual processing.
If your application has to be manually processed, this means your data had a hit in one of the EU databases. You may be required to provide additional information or documentation before approval.
3) What happens if my ETIAS application is refused?
If your ETIAS application is refused, you will receive the reasoning for the refusal, including the EU member state that denied you entry. You have the right to appeal a denied ETIAS, and appeals should be submitted to that specific EU member state.
READ MORE: An Epic Fjords of Norway Road Trip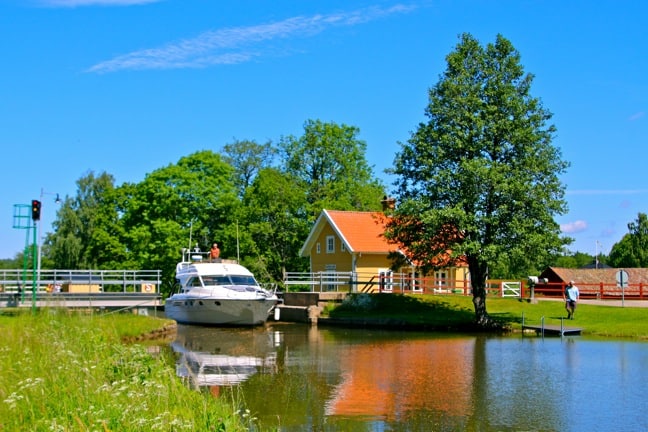 4) Where is my information going, and who has access to it?
Information provided in the application will be evaluated by the ETIAS National Units, which conduct risk assessments of each applicant. The data will be stored in the ETIAS Central Unit.
The applicant's information is then checked against various security databases, including the Visa Information System (VIS), the Entry/Exit System (EES), the Schengen Information System (SIS), Eurodac, Europol, and Interpol.
The data provided will only be stored for the three years that the ETIAS is valid, or five years if an ETIAS is refused.
5) Do I need to get an ETIAS if I already have a Schengen Visa?
No, the ETIAS visa waiver is only necessary for those who can travel to the Schengen area visa-free. You will still be required to present your visa to border authorities when you enter a Schengen country. But when your visa expires, you can apply for an ETIAS if necessary.
6) Can I travel to any European Union country once my ETIAS application is approved?
No, the ETIAS application only covers the 26 countries in the Schengen Area. There are countries in the EU that are not in the Schengen zone, including the UK, Republic of Ireland, Cyprus, Croatia, Bulgaria, and Romania, These countries are not covered by an ETIAS waiver.
7) What if I want to stay in an EU country longer than 90 days?
If you want to stay in a Schengen country longer than 90 days, you're required to apply for a Schengen visa for the specific country you wish to stay in. This must be done in person at an embassy or consulate, and must be approved before traveling. -by Christina Maggitas