It's difficult to understand the importance of a drinking water test kit unless you've lived someplace where it's tough finding safe water to drink.
When I was 15, my parents moved our family from Atlanta to 32 acres of previously undeveloped land in Rockdale County, Georgia. For several months we camped while our house was being built. We boiled creek water to drink, cook, and bathe with. Eventually we dug a well, but the water always had a funny taste and smell.
With water becoming increasingly scarce and pollution on the rise, the challenge of finding potable water seems likely to become greater over time. And for people like us, who travel to developing nations often, having a portable drinking water test kit comes in handy.
So we were intrigued to try out the Complete Water Analysis Testing Kit from TestAssured. We tested it twice, to find out what's in our drinking water at home and in the water at Lake Allatoona, where we spend a lot of our down time. Here's a look at how these tests work, as well as a comparison of our results…
READ MORE: How to Save Water: 15 Simple Tips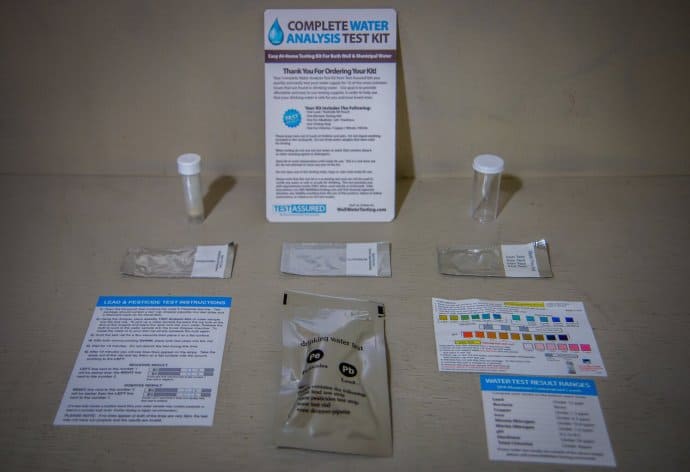 Drinking Water Test Kit Components
Retailing for $29.95, TestAssured's drinking water test kit comes with everything you need to check your drinking water for 10 common issues.
There are tests for checking alkalinity, bacteria, chlorine, copper, hardness, iron, nitrates, nitrites, pH, and pesticides. Problems caused by water containing high levels of these elements range from bad taste and property damage to cancer, gastrointestinal problems, developmental issues, and even death (from certain forms of bacteria).
These tests come in a 4.5 X 7″ package. But you could easily fit them all in your pocket once you remove them from the plastic case. The small components include instructions, 3 test vials, a tiny dropper pipette, and numerous litmus-style test strips.
READ MORE: DIY Rainwater Harvesting Tips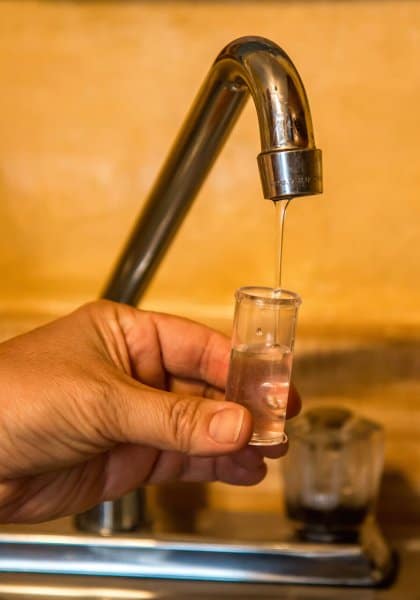 The Water Test Process
TestAssured's drinking water test kit proved remarkably easy to use. The simple step-by-step instructions make it relatively foolproof, and all but one of the tests takes 10 minutes or less to complete. Here's a brief look at the various processes:
BACTERIA: The bacteria test takes the longest, requiring 48 hours to get results. The test vial comes with a powder inside: Just add water, put cap on, shake it up, and put it in a warm area.
LEAD & PESTICIDE: For this test you put two dropper-fuls of water sample into a test vial. Then you put yellow and blue test strips into the water, arrows down, and wait 10 minutes. You can easily knock out the last 3 tests while you're waiting.
READ MORE: Donald Trump's Environmental Policies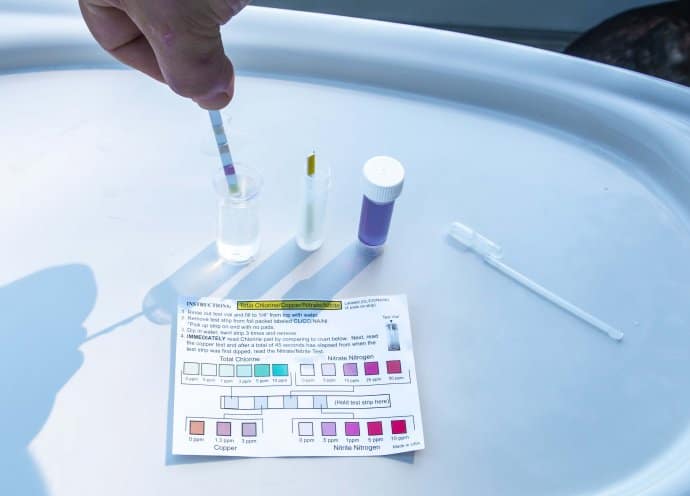 ALKALINITY/pH/HARDNESS: This test strip allows you to test 3 things at once. Simply dip the strip into clean water for one second, remove it, and wait 10 seconds. Then you compare your results to the handy color chart.
CHLORINE/COPPER/NITRATES/NITRITES: This test strip allows you to test 4 things at once. Simply dip the strip into clean water, swirl it around 3 times, and remove it. Check the Chlorine level immediately, then Copper, but wait 45 seconds before comparing your Nitrate/Nitrite results.
IRON: This test should be completed last, as it will add sulfite to your test vial. Once you fill it with clean water, you'll add an Iron reagent tablet and put the cap on. Shake vigorously until tablet dissolves. Then you'll dip the test strip for 2 seconds, shake to remove excess water, and wait 60 seconds before comparing it to the color chart.
READ MORE: GasLand Director Josh Fox on Fracking

Our Drinking Water Test Results
The Bacteria Test took the longest, but its results are the simplest to gauge. Purple water means that no bacteria were found, while Yellow water indicates a problem that requires further testing. Thankfully, both our home and lake water were completely free of Bacteria and Iron.
They also both showed negative results for Lead and Pesticides. Since the Lead/Pesticide readings were based on determining which was the darker of two parallel lines, they were the ones most difficult to read. But it was still relatively easy thanks to the difference in shading.
We did the Chlorine/Copper/Nitrate/Nitrite Test next. The lake water showed virtually none of these elements. Our tap water had around 2ppm of Chlorine (anything under 4ppm is OK); less than 1.3 ppm of Copper; and no Nitrates or Nitrites.
READ MORE: Water.org's Mission to Bring Fresh Water to the World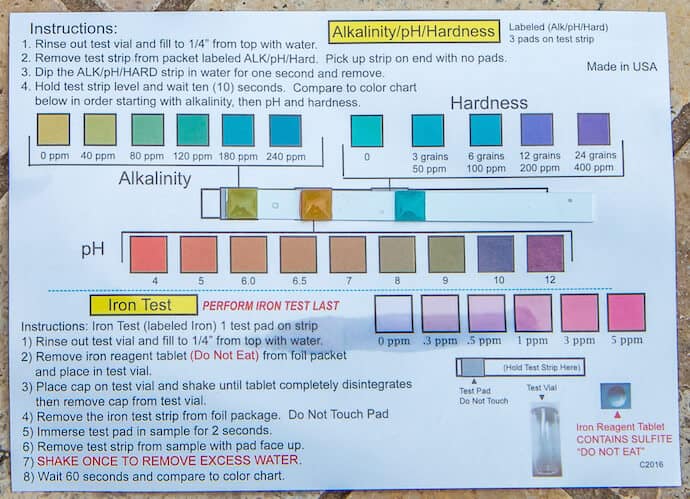 The Alkalinity/pH/Hardness Test was interesting: There's no recommended result range for Alkalinity, which determines the water's ability to resist changes that make it more acidic. Our tap water and the lake water both registered a result of 40ppm.
In terms of pH (or potential of hydrogen), our tap water was around a 7, while the lake water result was inconclusive. Levels between 6.5 and 8.5 are considered safe to drink.
In terms of Hardness, it was a little difficult to tell the difference in shading between 0 and 3 grains/50ppm. But our tap water seemed to land somewhere between the two, while the lake water was 0. Any reading of under 50ppm is considered safe to drink by the EPA.
READ MORE: Help the Standing Rock Sioux #StopDAPL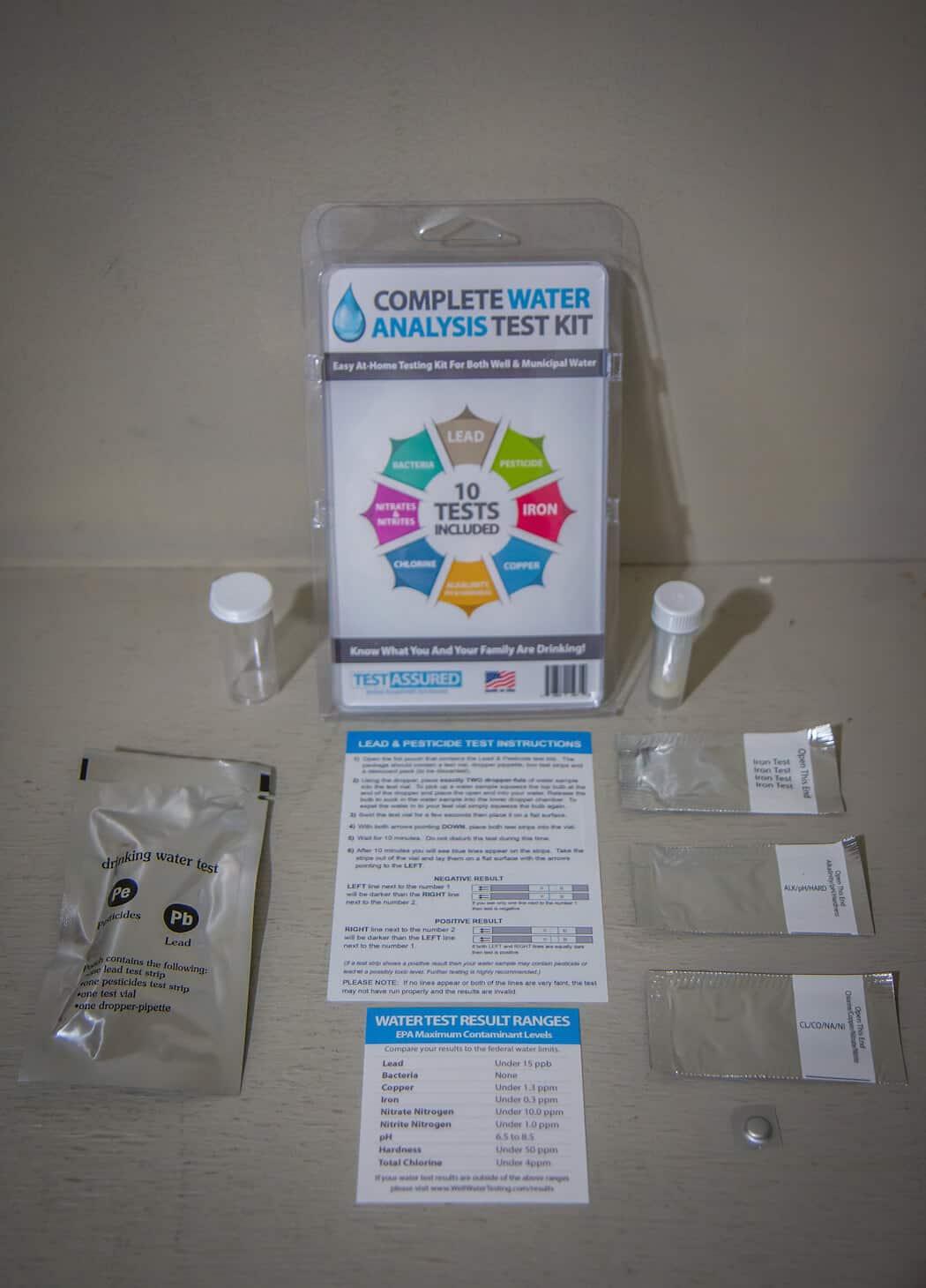 Final Thoughts
Other than waiting 48 hours to test for Bacteria, the entire process of using the TestAssured Drinking Water Test Kit took about 10 minutes. But the information gleaned from that process could literally mean the difference between life and death in certain parts of the world.
The kit's instructions were easy to follow, and the "Water Test Result Ranges" card made the results easy to understand. The only negative issue we encountered was trying to discern the subtle difference between two different shades of the same color.
For most people, having a drinking water test kit on hand might not be an urgent need. But as we've seen from the Flint water crisis, the rise in fracking-polluted groundwater, and countless oil spills poisoning drinking water, you never know when that need might arise. We'll be keeping an extra drinking water test kit around, just in case. –Bret Love; photos by Bret Love & Mary Gabbett
This post was brought to you in part by TestAssured. But our opinions are our own, and we will never compromise the integrity of our relationship with our readers.