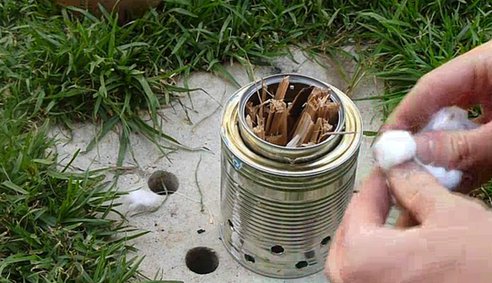 Homemade Camping Equipment (DIY Camping Stove)
For anyone who has ever tried to boil water over a campfire, portable stoves may seem like a convenient luxury employed only by seasoned campers. But did you know that you can make your very own compact stove using only household tools and a couple of tin cans? We recently saw a great video on making your own camping stove from The Outdoor Adventure:
What you'll need:
• 4" and 3" diameter unopened tin cans • 1/8" and 3/8" drill bits • tin snips • file • drill • can opener
Directions:
• Begin by removing the lid of the larger can, making sure to preserve the top rim of the lid. This can be accomplished by using the can opener with gears facing downward to cut along the side.
• Center the smaller can on top of the large lid and use a file to score around it where the can will attach (it will likely fit nicely into the grooves of the lid).
• Punch holes along the scored ring on the lid, and use tin snips to cut out the center circle. This ring will attach to the larger can and house the smaller can, so ensure the cut is smooth and even.
• Remove the lid of the smaller can, and with the 1/8″ bit, drill many holes throughout the bottom to allow for ample airflow.
• Use the same bit to drill a ring of holes at the top of the small can, approximately 3/4″ apart.
• Use the 3/8" bit to drill a ring of holes approximately 1" apart on the bottom of the small can and drill a second ring with half as many holes just above that. Drill matching holes in the larger can.
• Slide the lid ring up the smaller can until it rests just above the ring of small holes at the top. Punch four small holes above the ring from the inside out to hold it in place.
• Crimp the top of the larger can inward to support the smaller can, then place the smaller can with attached ring inside it. You now have a personal wood gasifier stove!
• Fill the small can with slender pieces of wood and bark and ignite from the top. This will be sufficient fuel to boil a pot of water, which will take less than 10 minutes with your new stove.
• A third large can with both ends removed can be used as a pot stand. Simply make cuts halfway down the can and bend the flaps outward. –Holly Young
If you liked Homemade Camping Equipment (DIY Camping Stove), you may also like: