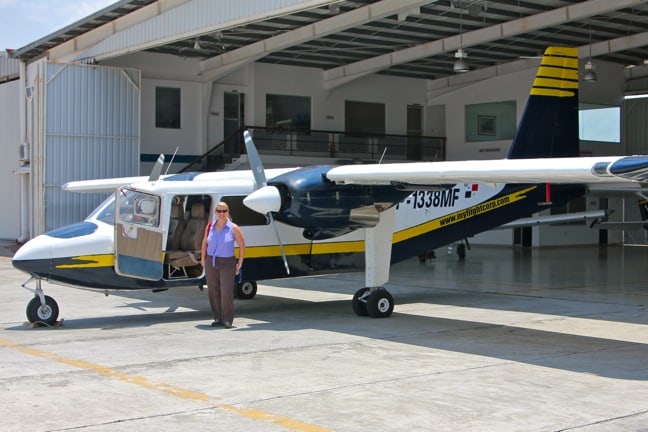 Panama Photos
Glamping, Fishing, Dolphins & Rainbows
I'd been wanting to Visit Panama for years, ever since I was assigned to do a research-based story on its ecotourism offerings for an airline magazine in 2009. Needless to say, I was extremely excited when we received a press trip invite from Islas Secas, an eco-resort located 25 miles off the country's southern coast. To get there, we took a 90-minute chartered flight out of Panama City, which was our first time ever flying in an 8-passenger Cessna. Other than the pilots, we were the only people on the plane, so we felt a bit like celebrities as we got a bird's eye view of the country!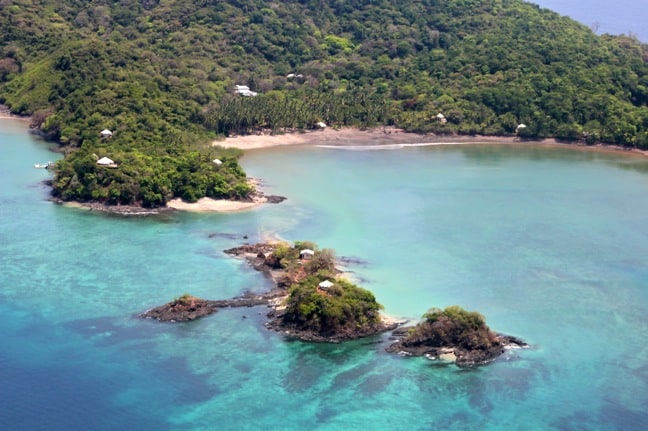 Islas Secas was unlike any other place we'd ever been: A privately-owned archipelago of 16 jungle-clad volcanic islands, the eco-resort offers a mere seven Casitas (which means "little houses," but they're essentially yurts), ensuring they have a maximum of 14 guests on the islands at any given time. They also have a 1:1 guest/staff ratio, ensuring that you never lack for anything during your upscale glamping experience.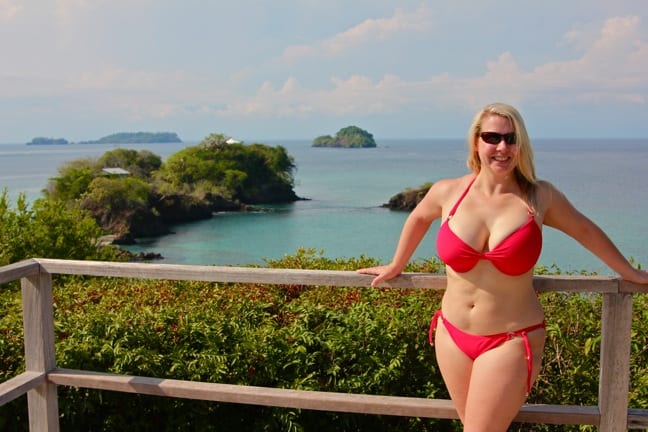 Seeing these glorified tents (ours is on the far left in the aerial photo above), you might be tempted to call this "roughing it," but you'd be wrong. Casita Grande, where we stayed, was their version of a suite– a 30-foot wide Pacific Yurt with king-sized bed, kitchenette, living area, satellite TV, WiFi, a huge balcony and a bohio-style hut with hammocks and a table for dining al fresco. Set high on a hilltop to ensure maximum privacy, it also afforded exceptional views of the surrounding islands and bays.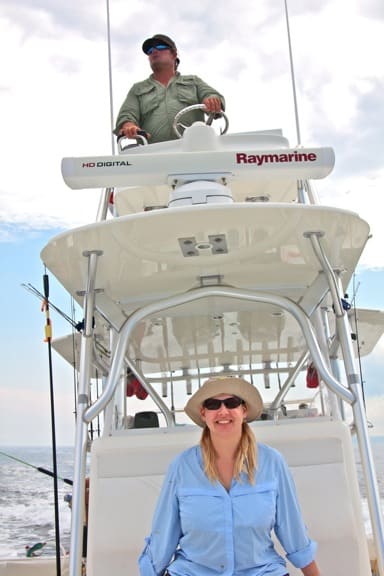 When we visited earlier this year, Islas Secas was going through a transition. The resort has long been popular with fishermen, attracted by legendary angler Carter Andrews' guide services and Islas Secas' proximity to the famously fertile fishing grounds of Hannibal Bank and Isla Montuosa. But they also offer an incredible array of activities that make the resort a perfect destination for eco-travelers, with green initiatives that include solar power, an organic farm, composting, and working with the Smithsonian Tropical Research Institute's Shark-Tagging/Monitoring Project.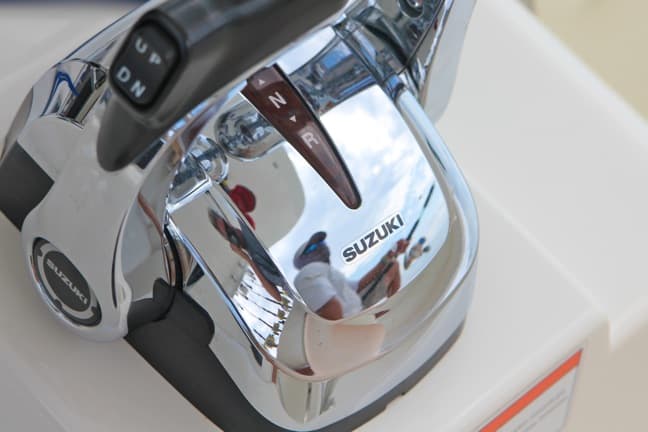 Neither Mary or I had ever been big game fishing before, so our first activity took us out with Captain Andrews and his first mate, Juan, for a day of fishing on the Gulf of Chiriquí. We learned a bit about their sustainable fishing practices, using only troll and pole-and-line techniques and taking a catch-tag-and-release approach with all billfish. And we also learned how to find the fish, scanning the horizon for signs of birds hovering above the water en masse, which often indicated a feeding frenzy by our intended catch of the day, Yellowfin Tuna (a.k.a. Ahi Tuna).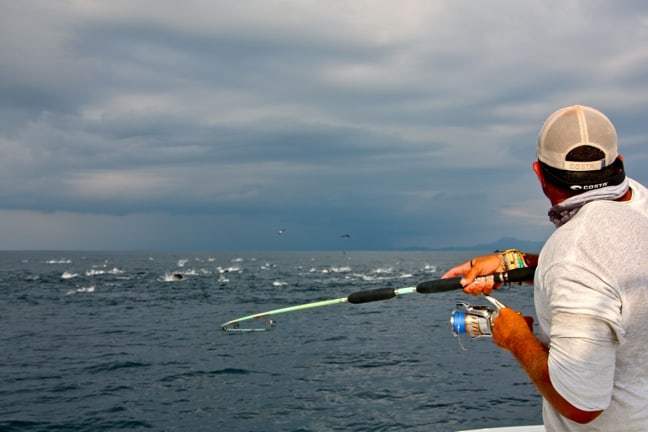 I tend to get bored with fishing fairly easily, but I have to confess that our day on the water was endlessly exciting. Andrews would look for a "boil"– an accurate description for what it looked like every time a huge school of tuna would go insane feeding on prey right at the top of the water– then speed the boat in that direction as Juan frantically cast into the frenzy. MASSIVE tuna would leap several feet out of the water as birds dove into the fray in an effort to scam some scraps. Then, just as quickly as it had started, it was over, and the tuna moved on as Andrews and Juan swore in comical frustration.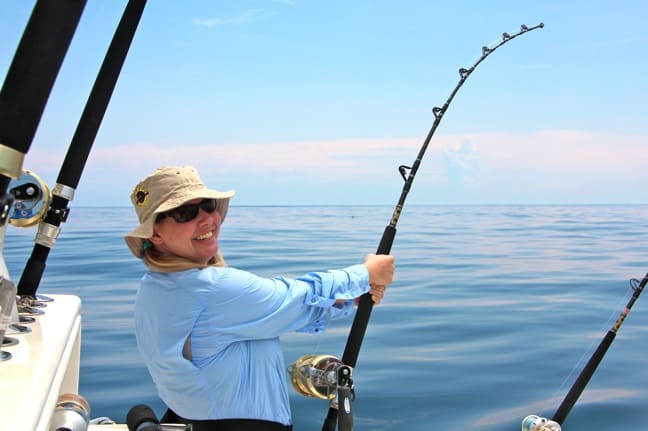 Mary drew first blood, as Juan helped her hook a 30-pound Dorado (a.k.a. Mahi-Mahi). But getting them on the line was the easy part: Reeling them in proved to be a beast. Mary fought like a champ, gradually wearing the powerful fish out until we could see his vivid green and yellow colors less than 10 feet from the boat. Unfortunately, just as Juan was about to scoop him up with the net, the sucker broke free from the line. Sad Mary…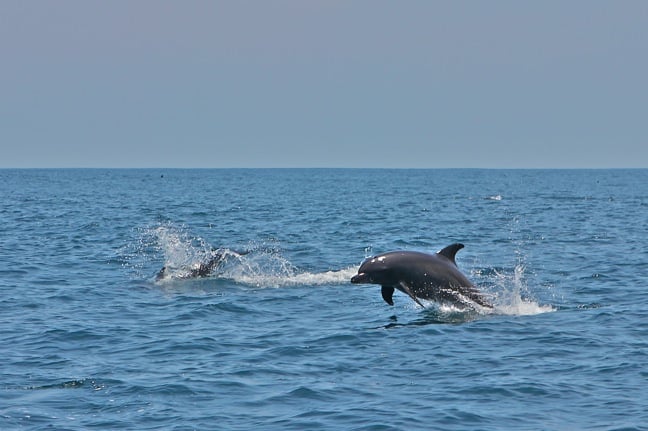 After that, hours passed without so much as a nibble. We'd occasionally see a boil on the horizon, only to watch it dissipate before we could get there. It was hotter than Hades, Andrews and Juan were clearly growing impatient, and even the delicious lunch did nothing to brighten the mood. Then, suddenly, we spotted Dolphins! At first it seemed like a small pod, then two pods, until ultimately we were literally surrounded by them on all sides, with hundreds of them on the surface and Andrews reporting nearly 1,000 showing up on sonar!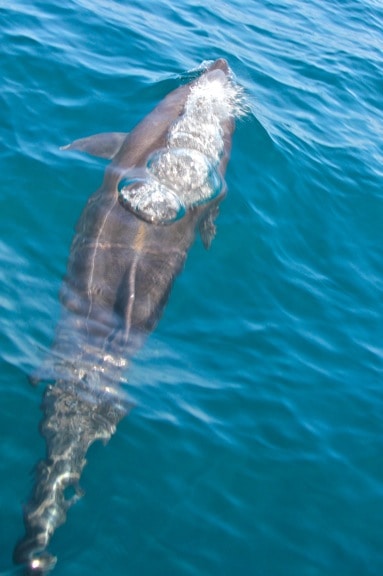 Apparently dolphins and tuna often feed on the same prey, so the massive pod was chasing the same school our tuna were after. There's no way words could possibly convey the feeling of seeing hundreds of dolphins in every direction, swimming, leaping and flipping within a few feet of our boat. We've seen dolphins in the wild dozens, maybe hundreds of times, but never like this. It was so overwhelming that I actually teared up with joy, snapping photos and taking videos that could never in a million years replicate the feeling of experiencing it firsthand.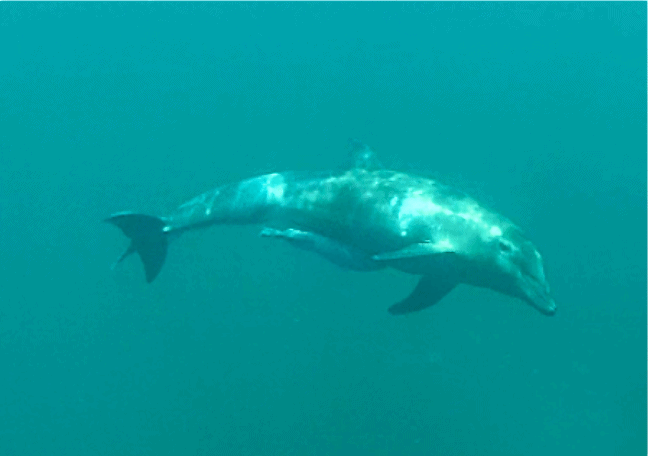 Suddenly I had an idea, and asked Andrews if he'd be willing to make my dream of swimming with wild dolphins come true. The Captain gunned the ship to move ahead of the massive pod as I strapped on my mask and snorkel. I leapt off the bow and swam to the side: The sound of hundreds of dolphins talking to one another underwater was like nothing I'd ever heard. Dozens of them dove down deep as they sensed my presence in the water. But one– just one– swam to within about 10 yards, stopped, swam around me, stopped again, and then swam off. The look of cognitive recognition in its eyes (captured here via GoPro) was an incredible moment I'll never, ever forget!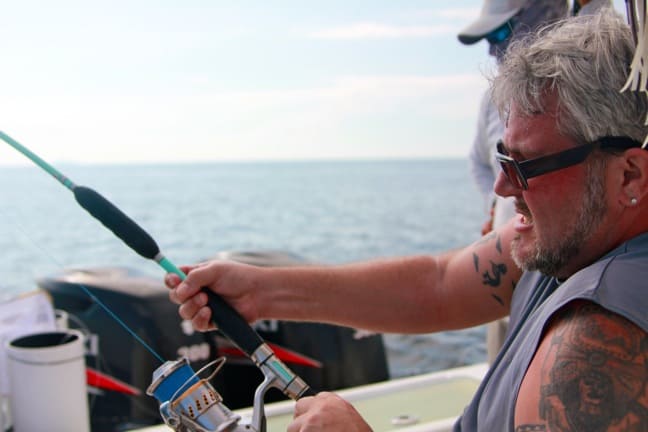 Honestly, after that incredible experience, I couldn't have cared less whether we caught a fish or not. But, as rain clouds started closing in around us, Andrews seemed more determined than ever. Soon, I was getting my first chance to reel in a big one, as Juan helped snag a 50-pound Yellowfin. In case you can't tell from our photos, I'm a big fella– 6'2″ and broad-shouldered, from sturdy Scottish stock. But even I struggled and strained to get that sucker to the boat, dripping sweat and cursing under my breath as he fought me every step of the way. Finally, the battle was won, and Juan used the net to bring the sturdy fella on board.
Fortunately (or unfortunately, depending on whether you asked me now or during the struggle) that wasn't our only catch of the day. A short time later Juan hooked our biggest fish yet– a massive 100-pound tuna!– and quickly handed me the pole. That fish gave me the fight of my life: Every time I'd get him close to the boat, he'd dive down, try to cut underneath us, pulling this way and that, until I felt my back begin to give out and my knees begin to quiver. I was so tired I thought I'd pass out, throw up, or possibly both, but I kept fighting and fighting until I had no fight left. With the fish less than 10 yards away and visible at the surface, I handed the rod to Juan and collapsed in a heap of exhaustion. Minutes later, he was on the boat, and I was given credit for getting him 99% of the way in. I was borderline delirious from the exertion as I posed for this photo.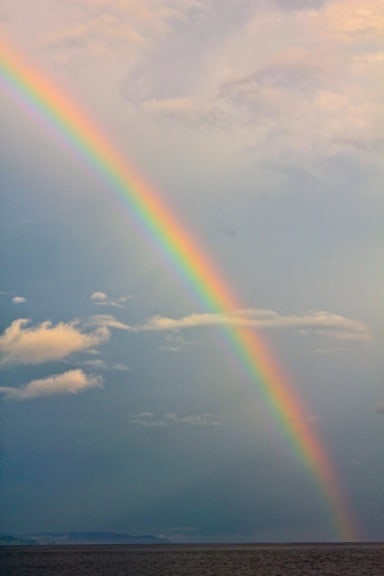 As we made the hour-long ride back to Islas Secas, the skies finally opened up in a drenching tropical deluge, stinging our skin as we were pelted by rain and pummeled by waves. But the storm ended just as quickly as it had began, replaced by a gorgeous rainbow over the Pacific Ocean.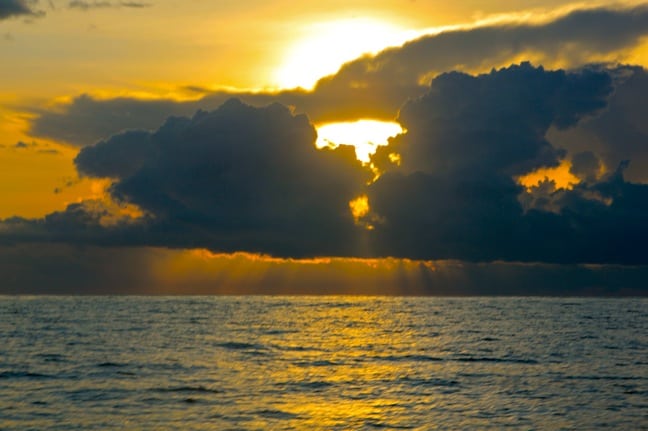 As the skies began to clear, we were treated to a spectacular sunset, and returned to camp to receive a hero's welcome from the fishermen who'd arrived that day. The two fish we caught were served up an hour later as sashimi for everyone on the island, including all the guests and staff, and we were brought a platter of our very own as a reward for our efforts. To say it was an incredible day would be an understatement but, to be honest, it was only the beginning of our perfect Panamanian experience. –by Bret Love; photos by Bret Love & Mary Gabbett
If you enjoyed our Panama Photos, you might also like:
Galapagos Islands- San Cristobal & Genovesa
Peruvian Amazon- Piranha Fishing
Dominica- Emerald Pool/Whale Watching