SPECIES-  Przewalski's Horse  (Equus ferus przewalskii), the Wild Horses of Mongolia
CURRRENT RANGE-  Mongolia
CURRENT THREAT- Habitat Loss, Hunting, Hybridization with domestic horses
CURRENT STATUS-  Endangered
WHERE YOU CAN SEE THEM-  Mongolia's Khustain Nuruu National Park, the Great Gobi B Strictly Protected Area, and Khar Us Nuur National Park
WHAT IS IT?
Przewalski's Horse, a.k.a. Dzungarian Horse or Takhi, is a subspecies of wild horse native to central Asia's steppes, which has recently been reintroduced into Mongolia after being declared extinct in the wild. Considered the world's only remaining truly wild horse, the Przewalski is much stockier than its domesticated cousins, weighing in at an average of 650 pounds. They typically stand at about 52 inches (13 hands) at the shoulders, with short, stubby legs that frequently boast faint stripes. Their colors range from beige to dark brown, often with yellow and white markings on their belly and muzzle. Their tails are quite distinctive, with shorter hair and longer dock than most horses.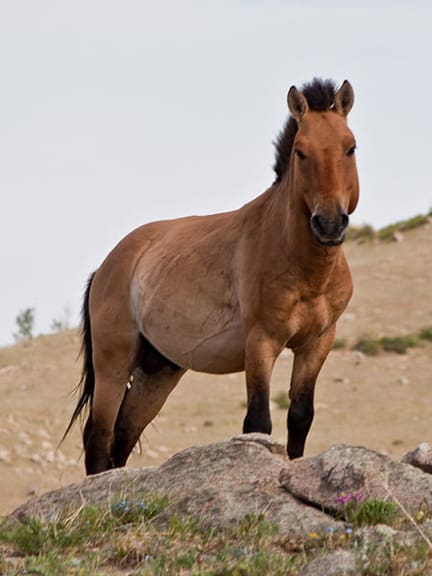 WHY ARE THEY ENDANGERED?
Numerous caused led to the Przewalski's Horse being declared extinct in the wild in Mongolia and China. Harsh winters in the mid-20th century, hunting, military operations in their native regions and other land use issues all worked to their disadvantage and pressured the horses onto an increasingly smaller tract of land. And a rarity of waterholes in their last Mongolian refuge may have proven the straw that broke the horse's back. But in the years since the reintroduction program began, the biggest threats to the species' recovery has been hybridization with domestic horses and competition for resources with domesticated livestock.
WHAT'S BEING DONE TO SAVE THEM?
The next time some well-meaning animal rights activist tells you that zoos are inherently bad, tell them the story of the Przewalski's Horse, a species brought back from the brink of extinction. Designated "extinct in the wild" by the IUCN for over 30 years, the species was saved by the Foundation for the Preservation and Protection of the Przewalski Horse, which launched an exchange program of captive breeding between zoos throughout the world. In 1992, 16 horses were released into the wild in Mongolia, and Khustain Nuruu National Park, the Great Gobi B Strictly Protected Area and Khar Us Nuur National Park are now home to several hundred wild horses. With help from organizations such as the Association Takh and the Smithsonian Institution's National Zoo, there are now over 300 Przewalski's Horses living in the wild in Mongolia and China, and the species' status was changed in 2011 from "Critically Endangered" to "Endangered." It just goes to show that, if we're willing to take action to save a species, it's never too late.  –Bret Love
If you enjoyed reading Przewalski's Horse, the Wild Horses of Mongolia, you might also like:
GLOBAL CULTURE: Tuvan Throat Singing
GLOBAL CULTURE: Huun Huur Tu (Mongolia)
ENDANGERED SPECIES SPOTLIGHT: Dhole
ENDANGERED SPECIES SPOTLIGHT: Saola
ENDANGERED SPECIES SPOTLIGHT: Iberian Lynx