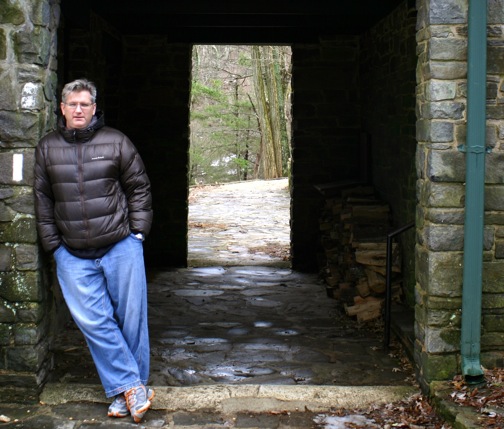 THE ROAD LESS TRAVELED
Why Winton Porter Left the Corporate World to Live His Dream, Helping Hikers Conquer the Appalachian Trail
Winton Porter first fell in love with the Appalachian Trail at the age of eight, when he and his dad would head for the mountains to go camping every weekend. By age nine he'd hiked the entire 76.4-mile section of the AT in Georgia, which stretches from Springer Mountain to the North Carolina border.
Now, at age 44, Porter owns Mountain Crossings, a colorful retail store/hostel/backpacker hangout housed in a historic brick building situated near the southern terminus of America's most iconic hiking trail. And his hilarious book about his first eight years of owning the store, Just Passin' Thru, earned him a Georgia Author Of The Year award in 2010.
Porter helps hundreds of hikers every year prepare to make the 2,179-mile journey from Georgia to Maine, going through their backpacks piece by piece to lighten their load and eliminate anything that's not absolutely essential. We recently to this AT guru about his career in the outdoor industry, his dream to own Mountain Crossings, and how he almost lost it all.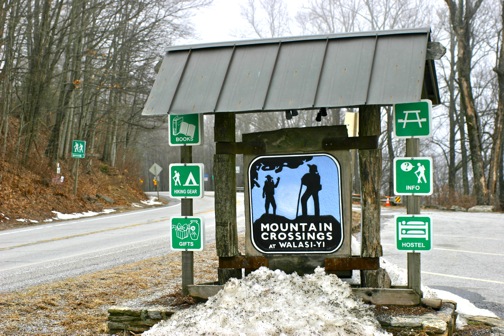 What was it about the outdoor industry that initially appealed to you?
In college, I had a company called B. Bumblefoot & Company: I drove around in my Toyota Tercel and sold hiking sticks out of the back of my car. When I got out of college I worked in banking and medical sales, so I found out early what I didn't want to do. REI opened up in Atlanta back in 1989 and I went to their trailer and said, "I'll do anything– mop floors, clean bathrooms– just to be in the industry." I quit my banker's job and went to work for them. I got promoted very quickly through the ranks at REI. I had my own store in Chicago, and then returned to Atlanta with Galyan's, which is now Dick's Sporting Goods.

When you tendered your resignation you wrote, "My dream begins now." What about Mountain Crossings made owning it a dream come true for you?

In 1993, I wrote 50 goals in a management class I was taking with REI: #26 was to own a shop in the mountains with my Dad. We'd been coming up to this place for a long time, and this shop always felt unique to me. Fast-forward to 2001, the opportunity train starts riding by and I jumped on.
What makes this different from other stores specializing in outdoor gear?

This is the only place on the Appalachian Trail where the trail actually runs through a man-made structure. I have this wonderful audience that comes through by dirt on the trail and also the tourist traffic that comes through the main highway. The store sits at the aorta of what goes on in the outdoor business, and we can stay ahead of the big boxes because we see what's working before they even know about it.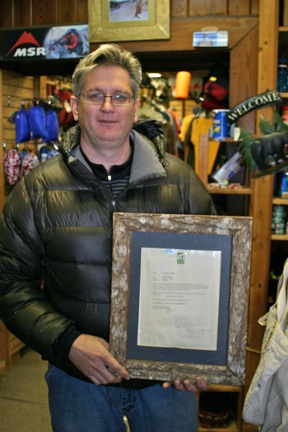 How has the business changed under your leadership?
One of the important things about Mountain Crossings for me was trying to maintain the Mom 'n' Pop shop feel. We take a lot more time to give customers personal attention. This is more of a consulting business for backpackers than it is a traditional store. We're gonna give you what you need and help you understand what you're doing. Maybe you've dreamed of hiking the AT your entire life, but then you get here, 30 miles from the official start, and you're thinking, 'This is crazy! I don't think I can do this!' We get you a hot shower. We have a bunkhouse for $15. We get you to relax and talk to people who've done the trail. We go through 500-600 packs and ship back 9,000 lbs of gear each year. Those are 9,000 lbs of not very good decisions!
What's the most rewarding aspect of helping them get ready to hike the Appalachian Trail?

I get to help people try to fulfill their dreams.
Your story of leaving big business behind to pursue your dream seems to have resonated with a lot of people. Why do you think more people don't take such bold risks?
Because they listen to a lot of people around them that tell them they can't do it. I always tell people to surround yourself with people that tell you that you can. It's about touching a soul, putting them far outside of the damn box, and setting them free. Hopefully, they're going to walk to Maine. I know in the end that their life is going to be changed. They won't finish as the same person they started.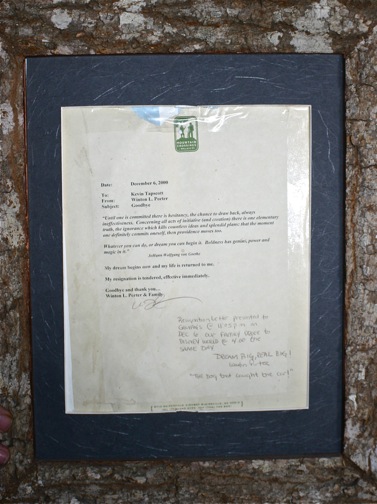 I know 2010 was Mountain Crossings' best year yet. Tell me about the growth you've seen.

Yeah, it was a record year. I think for me it was really about turning my focus back on the business as a whole. Two weeks after I turned the book in, my wife left. It was messed up. Operationally, I'm an idiot, but I'm smart enough to know that I need to surround myself with people who are smarter than me, from an entrepreneur perspective. You don't ever want to be the smartest person in the room. When all that went down, I surrounded myself with my Dad and stepmom, who were great business people and pulled the wagons around this company. They took the books and worked day and night to clean them up. At the same time, I focused back on what I do best, being in here working with people and getting revenue back up. The real energy behind that is that we should end up more profitable. Getting the dream is not so difficult: What I've found more difficult is holding onto it once you have it. I didn't want to lose it. [Current girlfriend] Nancy, who I first met 15 years ago, reappeared in my life. Operationally, she's impeccable, and together we created a much better team focused on making this thing work. Also, writing that book has brought more people out of the woodwork, whether it's people coming up to see the store who read the book or read an article in Inc Magazine or Backpacker Magazine. It turned out well.


What are your plans for the future growth of Mountain Crossing?

One of the things I've worked on from the beginning is branding. I have product designs all over the place that I'd like to put together. For us, it's about putting our collection together and putting our logo on it. As we move forward, we're looking for investors to partner up and use our story to create the brand and the style. The story goes back to 1937, when this place was built. We just need to find people who will help us with the product to launch ourselves. My hope is that my logo becomes worth more than my location. Then I have a product I can sell. –Bret Love
If you enjoyed reading our interview about the Appalachian Trail with Winton Porter, you might also like:
VIDEO: Winton Porter on Mountain Crossings & Legendary Appalachian Trail Hikers
Mountain Crossings Photo Gallery
North Georgia Mountains