On the first of my three Kenai Fjords tours (way back in 1999), I took a half-day sightseeing cruise out of Seward, Alaska.
Although the 4-hour Kenai Fjords cruise was brief, the wildlife watching was still extraordinary. We saw a small pod of Orcas, a pod of Humpback Whales, Harbour Porpoises, several Sea Otters, Atlantic Puffins, and various other seabirds.
But it couldn't compare to what my daughter and I saw when I took her to the Kenai Peninsula last summer, on the 20th anniversary of my first Alaska trip.
This time we spent three days in Kenai Fjords National Park, including two nights at the Kenai Fjords Glacier Lodge. The advantage of this approach was that we got an Alaska glacier cruise on the way to and from the lodge, which is owned by Alaska Wildland Adventures.
Here's a look at our trip with AdventureSmith Explorations, including photos from our time in one of the most beautiful national parks in Alaska and a review of the remote Alaska lodge.
KENAI FJORDS NATIONAL PARK TOURS
Encompassing 669,984 acres, Kenai Fjords National Park was initially protected as a National Monument by President Jimmy Carter in 1978.
It became one of America's National Parks after the Alaska National Interest Lands Conservation Act was passed in 1980.
Home to the massive Harding Icefield, the park is named after the many fjords– valleys submerged below sea level– that were carved by glaciers moving down the mountains.
The ice field has created at least 38 Kenai Fjords glaciers, with Bear Glacier being the largest.
You can explore some parts of the park via airplane, hiking, or car (with Exit Glacier at the end of its only road). But taking a Kenai Fjords National Park cruise out of Seward is both the most popular and, in my opinion, best way to see it.
Our small ship cruise was on a boat big enough to hold about 50 passengers, with a heated/seated interior and room on the fore and aft deck for standing outside.
But when the boat was moving, it was still cool enough in early June that it was more comfortable inside.
READ MORE: The Ultimate Alaska Inside Passage Cruise Guide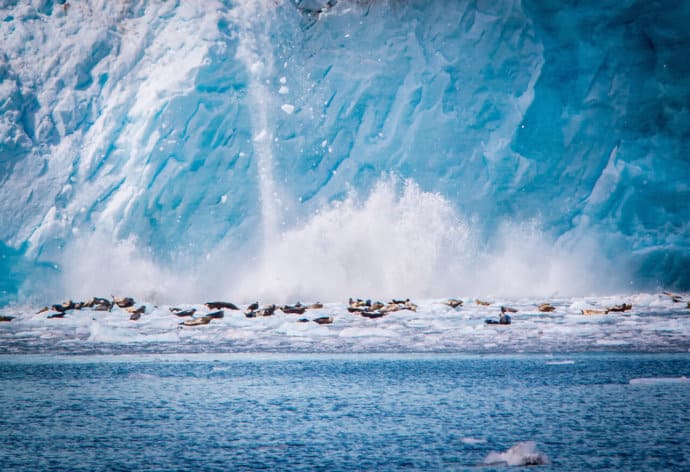 KENAI FJORDS NATIONAL PARK WILDLIFE
We saw lots of Alaskan wildlife before we'd even left Resurrection Bay.
Bald Eagles soared overhead as we waited for our luggage to be loaded. Humpback Whales and a pod of Orcas fed in the chilly waters, and we spotted several pairs of Sea Otters floating side by side.
From Black-legged Kittiwakes and Common Murres to Pelagic Cormorants and various Gulls, Alaskan birds were around almost constantly. But our favorites were the two species of Atlantic Puffins, the Horned Puffin and Tufted Puffin, which we often spotted alongside the boat.
The most impressive sighting of our two Kenai Fjords National Park tours came on the way to Kenai Fjords Glacier Lodge. It was lunchtime, and our captain pulled our boat into a cove where we were surrounding by ice floe, with an exceptional view of the Holgate Glacier.
As we munched our sandwiches and snapped photos of the curious Harbor Seals swimming near the ship, we began to hear the unmistakable creak of ice breaking off the glacier and falling into the water.
Calving ice (which is is what makes icebergs) creates a haunting sound, and Holgate Glacier is known as a fantastic place to see calving in action.
But it wasn't until I focused on the colony of seals sprawled out across an ice floe at the glacier's base that I managed to capture an epic photo of massive chunks of ice making a huge splash behind them.
It was a truly spectacular and overwhelming sight that left us jazzed for our time at the Kenai Fjords lodge.
READ MORE: Visiting the Alaska Wildlife Conservation Center
TIPS FOR YOUR ALASKA GLACIER CRUISE
Even if you're only doing a half-day Kenai Fjords cruise, there are a few things you'll want to keep in mind to ensure a positive experience:
If your tour sticks to the relatively protected waters of Resurrection Bay, you can probably expect a fairly calm cruise. But if the weather is bad and your tour takes you further into Kenai Fjords National Park, seasickness may be a concern.
If motion sickness is a recurring issue for you, take the medicine before your cruise leaves from Seward. Once you start to feel sick, it's too late for the medicine to stop the nausea.
Our AdventureSmith tour included lunch, but not all Kenai cruises do. It's a good idea to bring snacks just in case, as nausea is less likely on a full stomach.
The sun in Alaska can be very intense, so you may also want to bring a daypack or backpack with a broad-rimmed hat, sunglasses, sunscreen, and any camera gear or binoculars you may want to use for spotting wildlife.
The Kenai Peninsula weather can be notoriously unpredictable. Even sunny days can be quite chilly, especially when you're out on the open deck. Dress in layers, ideally with windproof and waterproof pants and jackets. Bringing a warm hat and gloves is always a good idea if you don't like being cold.
READ MORE: The Best Travel Clothes for Women & Men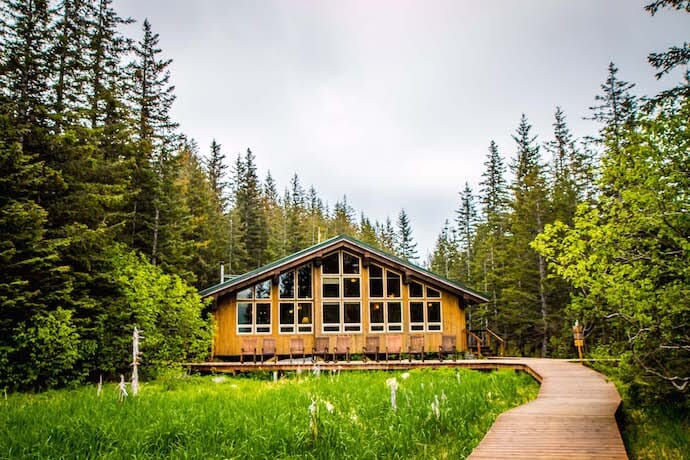 VISITING KENAI FJORDS GLACIER LODGE
Owned by the same company behind the Kenai Backcountry Lodge and Kenai Riverside Lodge, the Kenai Fjords Glacier Lodge is easily my favorite Alaska lodge I've ever visited.
Located in the 1,700-acre Pedersen Lagoon Wildlife Sanctuary, the Kenai lodge was designed to have minimal environmental impact. Owned by the Port Graham Corporation (PGC), an Alaska Native Village Corporation, the pristine sanctuary is part of the ancestral homeland of the Alutiiq people.
With just 16 elegantly appointed log cabins (and elevated boardwalks between them), the number of guests is limited, and all are educated in the "Leave No Trace" ethos of protecting wilderness.
Many of the lodge's innovative approaches to conservation can be traced to Alaska Wildland Adventures President/CEO Kirk Hoessle, a founding member and two-term President of the Alaska Wilderness Recreation & Tourism Association, the state's voice for ecotourism.
The PGC initially approached Hoessleabout building the first Kenai Fjords wilderness lodge in the remote area due to his efforts to conserve wild Alaska, for which he won the 2015 Stan Stephens Stewardship Award. The PGC and AWA co-manage the land, and offer cultural and naturalist programs to visitors.
All of the lodge's cozy cabins feature heat, electricity, and full bath amenities. The porches provide breathtaking views of Pedersen Lagoon, majestic mountains and, in our case, the Pederson glacier.
There's also a full service bar/lounge area, restaurant, gift shop, and tons of rocking chairs perfect for soaking in the spectacular Alaskan scenery.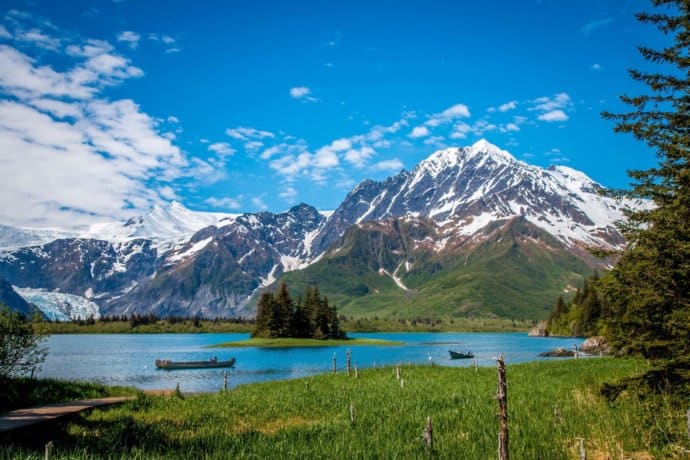 KENAI FJORDS GLACIER LODGE ACTIVITIES
As soon as we got off the boat and started the brief hike up to the lodge, our guide began giving us talks on Bear safety.
Staying on marked trails, never hiking alone, always having flashlights or headlamps at night, and making as much noise as possible were just a few of the tips
The lodge is surrounded by true wilderness, with countless opportunities for outdoor adventure. These are a few of the activities that began as soon as we arrived, which made for a memorable 2-day experience: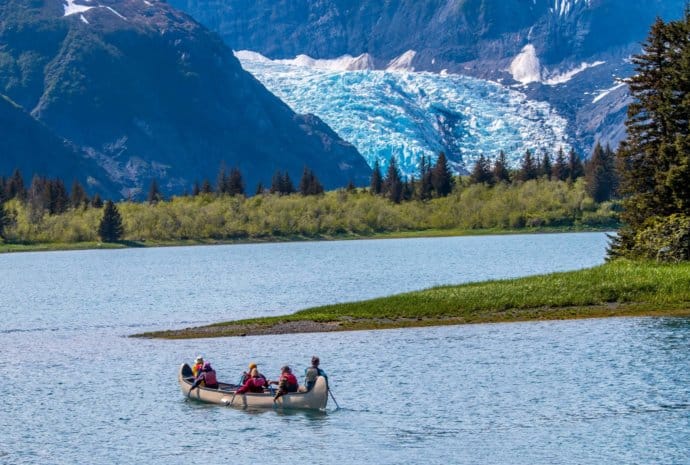 CANOEING/KAYAKING TOURS
Paddlers of all experience levels will find ample opportunities to explore the Pederson Sanctuary, from both the lagoon and the bay side.
Everyone is given an introductory paddling lesson in the Pederson Lagoon, which sits about 100 feet from the lodge's porch.
Guides sit in back of the Voyageur-style canoe to act as rudders, while guests learn how to row and turn in unison, which helps to get everyone on the same page.
The lodge offers several guided paddling tours, including full- and half-day
kayaking
in Aialik Bay. There's also a canoeing/hiking tour to get up-close views of Pederson Glacier, which we'll discuss below.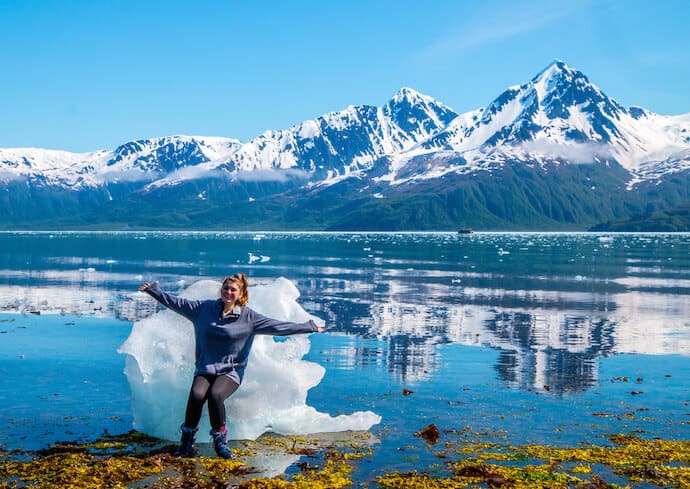 HIKING TOURS
Kenai Fjords Glacier Lodge activities include three guided hiking tours on established trails, as well a several miles of sand and pebble beaches around Pederson Lagoon.
The first tour we took was the combined canoeing/hiking trip to Pederson Glacier. It started with a 30-minute paddle across the lagoon, then we hiked 45 minutes to another lagoon at the base of the glacier. The scenery here was extraordinary, with Arctic Lupine, birds aplenty, and
mountains
all around us.
The second hiking tour took us through the coastal
forests
, past old growth trees and fairly fresh Black Bear tracks, to the shores of Aialik Bay. A walk along the beach's tide pools revealed loads of colorful Sea Stars, numerous shorebirds, and even a few small icebergs that had calved from a nearby glacier.
The only hiking tour that we didn't experience went up the mountain closest to the lodge, following along the ridge to panoramic views at the top. The few hikers who did this challenging hike brought back some incredible photos, including several of the Black Bear whose prints we saw at the base of the hill!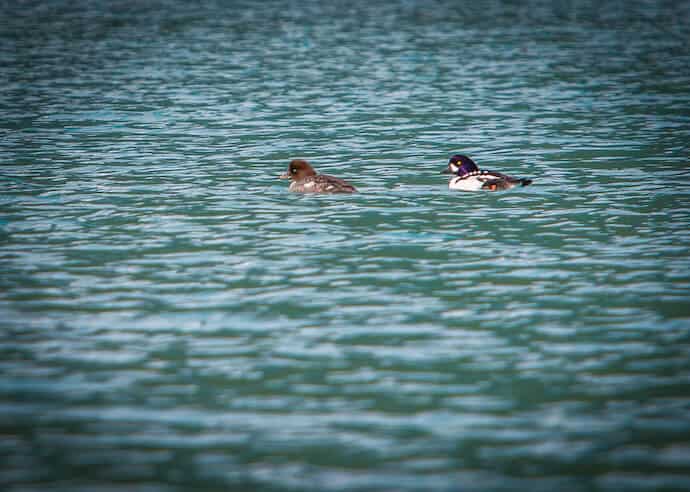 BIRDWATCHING
Although the lodge doesn't offer
birdwatching
tours, we saw fine-feathered friends pretty much everywhere we went in the wetlands of the Pedersen Lagoon Wildlife Sanctuary.
Shorebirds were especially plentiful, from Glaucous-winged Gulls and Semi-palmated Plovers to Oystercatchers in search of a tasty bivalve snack.
The lagoon at the base of Pederson Glacier had several different species of water birds, include the mating pair of Goldeneye Ducks pictured above as well as a couple of Red-throated loons.
And I don't think a single day went by without seeing at least one Bald Eagle soaring overhead.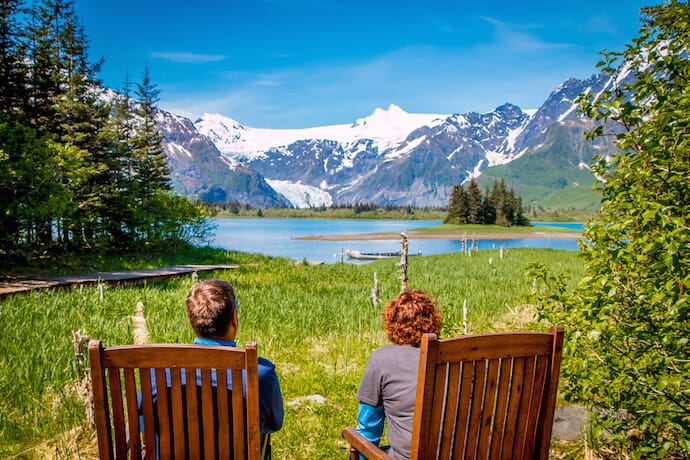 SITTING IN ROCKING CHAIRS
As an adventurer by heart, I'm not usually down for sitting in one place for very long. But the jaw-dropping mountain vistas that surround this excellent Alaska lodge will encourage you to do just that.
Sitting in rocking chairs on the lodge's porch, with a steaming hot cup of coffee in one hand and a camera in the other became one of our favorite pasttimes.
One day we sat watching a Black Bear walk the entire length of the opposite shore of Pederson Lagoon. Another day we watched a Sea Lion or Sea Otter diving down repeatedly in search of food.
Squirrels and birds were all around us, and occasionally fish would leap from the water. At times it was fascinating just watching the clouds roll in or out over the mountains, to see how the light reflecting off Pederson Glacier would change dynamically in a matter of minutes.
In short, the Kenai Fjords Glacier Lodge proved one of the finest National Park lodges we've ever visited, not to mention a perfectly pristine place to get away from it all and be surrounded by nature. –by Bret Love; photos by Bret Love & Allie Love
Our trip to Alaska was partly hosted by AdventureSmith Explorations. But our opinions remain our own, and we will never compromise our integrity to our readers.
To learn more about planning an Alaskan Vacation, contact AdventureSmith Explorations at 877-720-2875 or travel@adventuresmithexplorations.com.