Yesterday we ventured up to Blood Mountain to visit Mountain Crossings, a colorful retail store/hostel/backpacker hangout housed in a historic brick building located just over 30 miles from the southern terminus of the Appalachian Trail.
We were there to interview owner Winton Porter, an Appalachian Trail guru who helps hikers prepare for the arduous 2,179-mile trek stretching from north Georgia to Maine.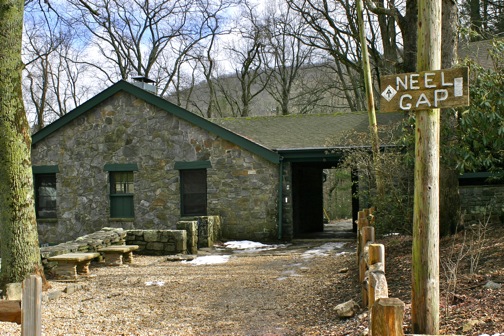 This is the only place where the Appalachian Trail runs through a man-made structure, making Mountain Crossings a popular hangout for experienced hikers and an absolute must-see for Appalachian Trail newbies intimated by the trail's first 30 miles.
Porter and his staff go through 500-600 packs and ship back 9,000 lbs of gear each year. "That's 9,000 lbs of bad decisions," Porter says with a laugh.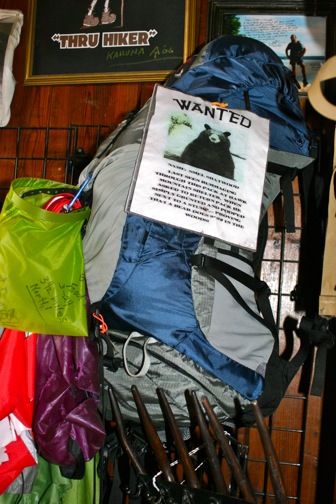 The shop has lots of personality, with photos of people who've hiked the entire trail and old packs from Appalachian Trail legends such as Kahuna lining the walls.
I loved the sign on this one, which reads, "NAME: Smel Shatwood. Last seen rummaging through this pack at Hawk Mountain Shelter.
When asked to return pack he simply grunted and pooped next to a stump… proving that a bear does s*@# in the woods!
"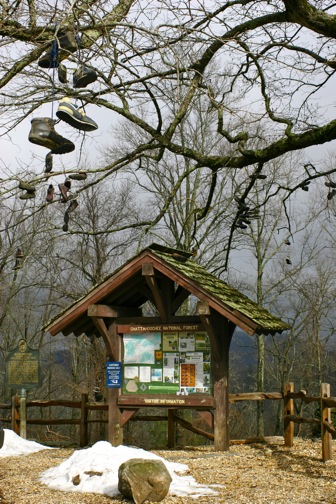 The trees in front of the store are laden with the well-worn boots of Appalachian Trail hikers who were, as the title of Porter's award-winning book says, "Just Passin' Thru."
There were very few people there when we visited, but the store becomes swarmed in March and April as hikers begin to make their way north.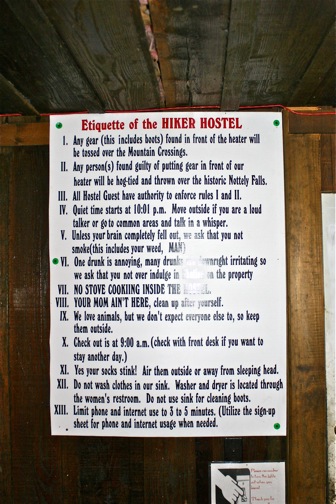 Porter personally gave us the grand tour, including the hostel, which has beds for around 16 hikers.
We got a kick out of these rules, including "One drunk is annoying, many drunks are downright irritating, so we ask that you not over indulge in libation on the property" and "Yes, your socks stink!
Air them outside or away from sleeping head."
We really enjoyed our interview with Porter, for whom buying Mountain Crossings 8 years ago was a longtime goal.
His story is an inspiration for anyone who's ever taken (or wanted to take) a leap of faith in pursuit of a dream. Here, he's holding the resignation letter he turned in to his boss at Galyan's the day he bought the store.
It reads, ""My dream begins now, and my life is returned to me." Look for our full story on Porter's dream next week!
If you like Mountain Crossings on the Appalachian Trail then you may also like:
INTERVIEW: The Appalachian Trail Guru Winton Porter
VIDEO: Winton Porter on Mountain Crossings & Legendary Appalachian Trail Hikers