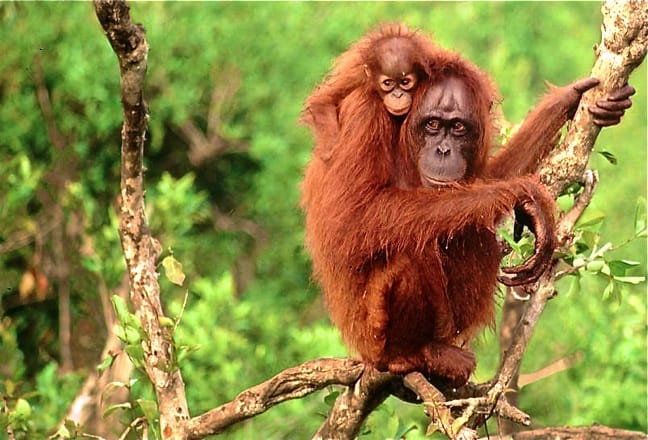 ENDANGERED SPECIES SPOTLIGHT
Bornean & Sumatran Orangutans
SPECIES: Sumatran orangutans (Pongo abelii) & Bornean orangutans (Pongo pygmaeus)
CURRENT RANGE: Sumatra (Indonesia) & Borneo (Malaysia and Indonesia)
CURRENT THREATS: Deforestation, poaching
CONSERVATION STATUS: Critically Endangered (Sumatran) and Endangered (Bornean)
WHERE YOU CAN SEE THEM: All over Malaysia and Indonesia, in the wild or at a rehabilitation center.
What are they?
The word "orangutan" means "man of the forest" in the Malay language… which makes sense when you consider that orangutans share 96.4% of our genes. They have grasping hands at the end of long arms, which allows them to swing through trees from branch to branch. They can grow to be between 1.25 and 1.5 metres tall; females weigh in at 30-50kg, and males at 50-90kg. We can easily identify orangutans by their red hair, but another distinguishing physical feature in males can be specified as "flanged" or "unflanged." The flanged males have prominent cheek pads and a throat sack for long calls, whereas the unflanged orangutans do not have such features. They eat wild fruits such as lychees, mangosteens, and figs, and extract water from holes in trees by slurping it up.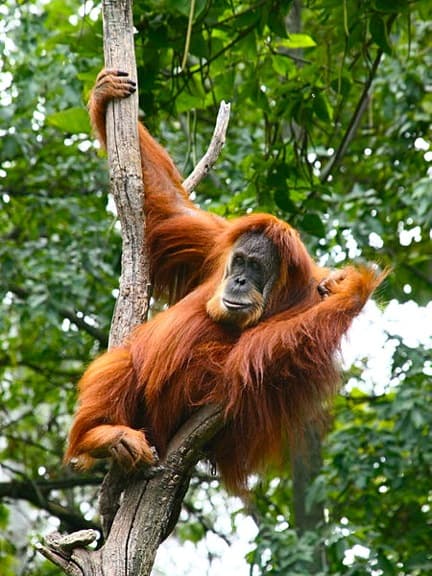 Why are they endangered?
The biggest threat to the orangutans' population is deforestation. Palm oil is an edible oil extracted from trees that's found in many food products, and is starting to be used as a biofuel. The forest in Indonesia is rapidly being cleared to make room for palm oil plantations, thus decreasing the orangutan's habitat. The apes are also a target for poachers, in particular the females with babies, as the young offspring are often kept as pets. They're mostly taken to Taiwan for this purpose, but conservationists say that for every animal that successfully makes it to Taiwan, 3-5 other animals die during transportation. These factors have led to a 50% decrease in orangutan population over the last 60 years. There are thought to be 41,000 Bornean orangutans and 7,500 Sumatran orangutans left in the wild today.
What's being done to save them?
Wildlife charities such as Orangutan Foundation International, Orangutan Conservancy, and the Sumatran Orangutans Conservation Program are working to set up protected areas in which orangutans can live without fear of deforestation. There are numerous rehabilitation centers in Borneo and Sumatra which care for hundreds of apes, and where orphaned orangutans are taught skills they'd usually learn from their mothers, such as searching for food. Many conservation groups focus on educating locals in Indonesia to promote cooperation and help prevent further attacks. These charities are also working to put a stop to the pet trade by encouraging the government to enforce restrictions and by rescuing orangutans from traders. How can you help? Donate to the charities working in the area, and help keep their projects going. Also, decreasing consumption of paper and palm oil products will ensure that you're not using anything that may have contributed to the decrease of vital orangutan habitat. –Emma Jane Higgins
GGT Editor Emma Higgins has been writing/travelling on and off since 2009. Her blog, Gotta Keep Movin', is full of stories and advice from her trips, which include Europe, India, Morocco, South America, USA and Canada. Her focuses are budget travel and volunteering, and she's been involved in sustainable farming in Argentina, animal shelters in Peru, and making goat cheese in British Columbia. Follow her on Facebook, Twitter & Pinterest.
If you enjoyed our story on Bornean & Sumatran Orangutans, you might also like:
INTERVIEW: How Fires in Indonesia & Palm Oil Are Killing Orangutans
GO GREEN TIP #112: How to Avoid Products With Palm Oil
MALAYSIA: Bornean Orangutan Conservation at Sepilok Rehabilitation Centre
ENDANGERED SPECIES SPOTLIGHT: Slow Loris
ENDANGERED SPECIES SPOTLIGHT: Snow Leopard
ENDANGERED SPECIES SPOTLIGHT: Dhole (Indian Wild Dog)
ENDANGERED SPECIES SPOTLIGHT: Sumatran Elephant
ENDANGERED SPECIES SPOTLIGHT: Saola (Asian Unicorn)