A low-sugar variation on the classic Joy Of Cooking recipe for bourbon balls, I've made these delicious (and potent) treats every Christmas for the past 4 or 5 years and they've always been a big hit with family and friends.
Unlike a lot of holiday treats, they require no baking whatsoever and actually get better if you let them age a few days before eating.
We like to mix in Splenda, but if you don't mind extra sweetness you can add a 1/2 cup powdered sugar and nix the fake stuff. Feel free to add more bourbon for a little extra Christmas cheer!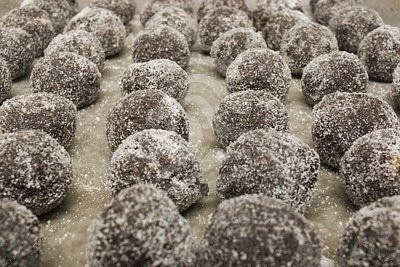 INGREDIENTS: 1 cup powdered sugar • 1/2 cup Stevia • 2 tbs Hershey's Dark Cocoa • 1/4 cup bourbon • 2 tbs light corn syrup • 2 1/2 cups Vanilla Wafers • 1 cup chopped pecans or walnuts
DIRECTIONS: Sift 1/2 cup powdered sugar, 1/2 cup Splenda and cocoa together into medium-sized bowl. • Whisk bourbon and corn syrup together, then stir into cocoa mixture until smooth. • Crush vanilla wafers in a food processor (or just beat them with a rolling pin to get out your pre-Xmas angst). • Mix them with the nuts, the stir into the cocoa mixture. • Put a little powdered sugar on your hands and roll the mix into one-inch balls, resisting the urge to lick your fingers after each one. • Roll each ball in the remaining 1/2 cup powered sugar until evenly coated, and store them in an airtight container at room temp. for up to 3 weeks. • Enjoy the borbon-y holiday goodness!
If you enjoyed Bret's Bourbon Balls Recipe, you might also like:
Christmas Traditions Around the World
GLOBAL CUISINE: Christmas Lebkuchen a.k.a. Gingerbread (Germany)