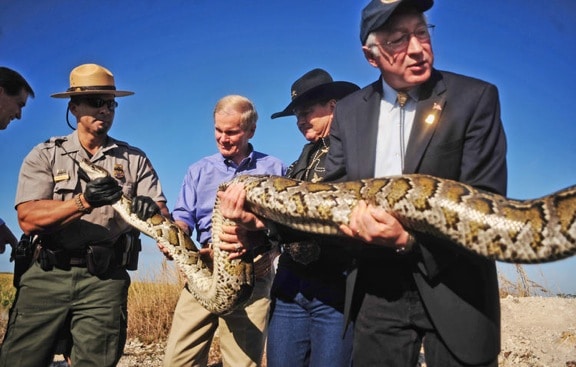 Fighting the Burmese Python In Everglades National Park
The United States recently announced a ban on importing Burmese Pythons and transporting the snakes across state lines. U.S. Interior Secretary Ken Salazar made the announcement at a flood control pumping station near the Florida Everglades with Florida Senator Ben Nelson and Florida Wildlife Commission officials as they held aloft a recently captured 13-foot python. The ban also affects the yellow anaconda and northern and southern African pythons.
The Burmese python is the most prevalent "invasive species" in subtropical Florida. Native to southeast Asia and considered one of the six largest snakes in the world, Burmese pythons are one of many invasive species that start out as seemingly harmless pets. At a young age, pythons can measure less than a foot in length. But within a matter of years, they typically grow to be 12 feet long, and in some cases closer to 20 feet. The enormity of the snakes, and the effort involved in caring for one, has led many pet-owners to let their pythons loose in the wild.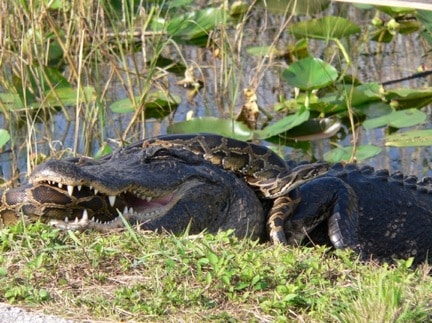 The increasing disposition of the pythons to the Everglades has led to an overabundance of pythons that the fragile ecosystem simply cannot handle. Producing an average of 12 to 36 eggs per female each year in March and April, needless to say the species is thriving. According to the US Natural Park Service, over 1330 Burmese Pythons had been captured by the end of 2009, and the numbers seem to be getting worse each year. Their diet often consists of endangered birds and mammals, but pythons are known to have attacked and eaten alligators, as well as swallowing entire deer.
A February 2008 report published by US Geological Survey scientists concluded that, by the end of the 21st century (based on global warming predictions and climate modeling for the snakes' natural habitat), Burmese Pythons could migrate and flourish in one-third of the continental United States. Although a more recent study using different ecological modeling has attempted to contradict this claim, the Pythons' growing numbers in Florida is worrisome. Hopefully the recent ban is enough to halt the species' rapid territorial expansion and keep the already fragile Everglades ecosystem intact. –Raffi Simel
If you enjoyed reading about the Burmese Python In Everglades National Park, you might also like:
Sanibel Island Eco Activities