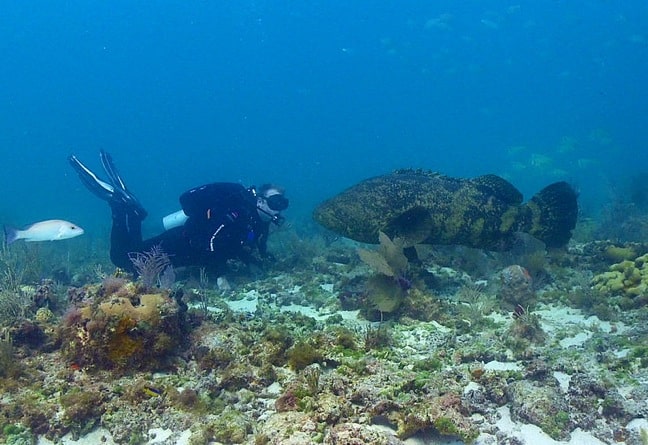 SPECIES– Atlantic Goliath Grouper (Epinephelus itajara)
CURRENT RANGE– From North Carolina to Brazil; Congo to Senegal
CURRENT THREAT– Overfishing; Slow Reproduction
CURRENT STATUS– Critically Endangered
WHERE YOU CAN SEE THEM– Florida Keys, the Caribbean
WHAT IS IT?
When you think of the largest fish in the ocean, images of sharks, marlins and even tuna probably come to mind first. Another one you'd be wise to start considering is the Atlantic goliath grouper, a huge saltwater fish that leisurely swims in reefs and mangroves between North Carolina and Brazil, and also those along the West African coast. The average adult stretches 43-53 inches, but some have been measured at double theatlength. Goliath groupers, which mostly feed on crustaceans and smaller fish, have been known to weigh in at over 700 pounds.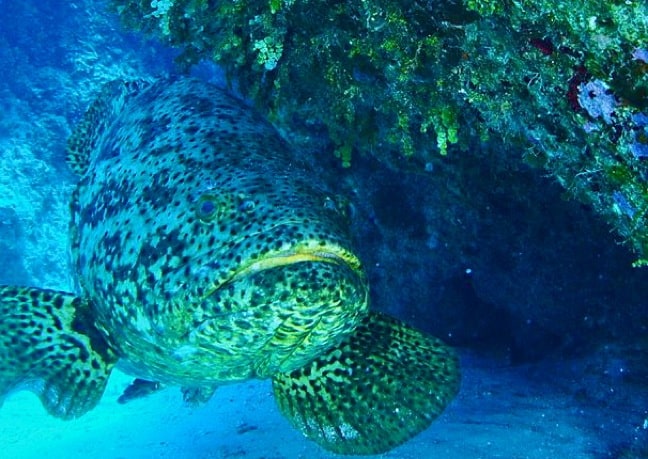 WHY ARE THEY ENDANGERED?
During a recent visit to the Georgia Aquarium, a guide was sharing interesting facts about the "Tropical Diver" exhibit. When a visitor asked about one particularly inactive fish, the guide said, "Oh, that's the goliath grouper." The visitor went on to say how much he enjoyed eating grouper, to which the guide responded, "Don't eat this one. They don't grow fast enough." And he's right. This species is deemed critically endangered by the IUCN because of its reproductive issues (slow growth, late sexual maturity) and overfishing.
WHAT'S BEING DONE TO SAVE THEM?
Because of excessive fishing, the goliath grouper was considered commercially extinct in the US in the 1980s. The outlook was equally deplorable down in the Caribbean. In America, however, a fishing ban was placed on the species in 1990. Thankfully, the population has slowly rebounded over the past 20+ years in Florida. But across the rest of the Atlantic, numbers are down some 80%. Groups like Florida State University's Coleman & Koening Laboratory are promoting mangrove protection and trying to shift the public's perception of the goliath grouper as being nothing more than a big, lazy nuisance. And, of course, dinner… –DeMarco Williams
If you enjoyed our story on the Goliath Grouper, you might also like:
ENDANGERED SPECIES SPOTLIGHT: Dhole
ENDANGERED SPECIES SPOTLIGHT: Iberian Lynx