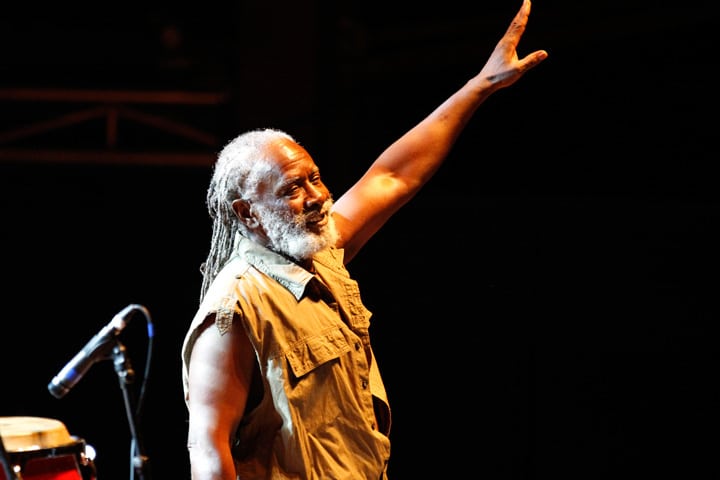 Burning Spear
Jamaican Reggae Dub Legend
Over the past few years we've spent a lot of time in the Caribbean, a region we love for the richness and depth of its culture.  With music the universal language and reggae the most popular genre, our conversations with locals often seem to turn to favorite artists. Casual reggae fans will mention UB40, Bob Marley or perhaps Steel Pulse. But mention Burning Spear– a roots reggae legend with over 40 years of recording and touring under his belt– and it's like you know some secret password that unlocks a doorway to instant cultural coolness.
Although the act initially started out as a group, the centerpiece has always been charismatic singer Winston Rodney, who (like Bob Marley and Afrocentric political activist Marcus Garvey) was born in Saint Ann's Bay, Jamaica.
Legend has it that it was Marley himself who introduced the young Rodney to producer Clement Coxsone Dodd, who ran the massively influential Studio One label, in 1969. It was the band's work with producer Jack Ruby on their spectacular third album, Marcus Garvey, that attracted the attention of Island Records. But Rodney, unhappy with the final mixes of his tracks, split from Ruby and the band, keeping the Burning Spear name for himself.
Over the 25 years since, Burning Spear has released numerous crucial albums in the roots and dub reggae genres (including Garvey's Ghost, Hail H.I.M. and the entire Living Dub series), earning 12 Grammy nominations and two wins along the way. Where other artists have taken up Marley's "One Love" message, Burning Spear's impassioned work continues to address sociopolitical issues head-on while espousing the Rastafarian principles he holds dear. Icons such as Marley and Peter Tosh may have passed on, but the 66-year-old Winston Rodney continues to carry the roots reggae torch proudly.  –Bret Love
If you enjoyed reading about Burning Spear, you might also like:
JAMAICA: Top 5 Ecotourism Attractions
The Legendary Wailers- Interview
Lee "Scratch" Perry- Jamaica's Dub Legend