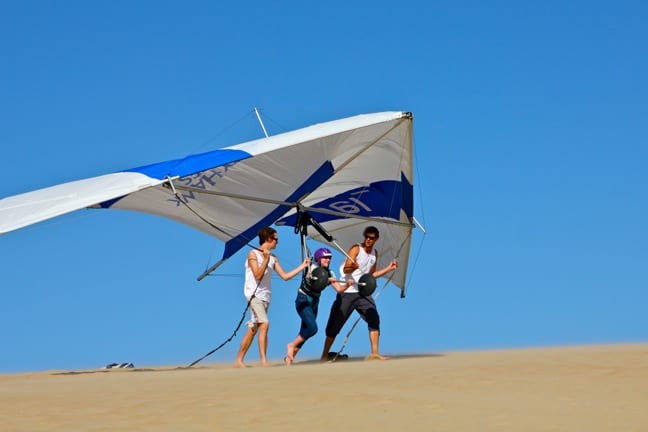 Learning To Fly
Hang Gliding Outer Banks, North Carolina
I'M FLYING! My heart is pounding out a tribal rhythm in my chest as I soar perhaps two thousand feet above the landscape below. I am at once utterly liberated and totally terrified, giggling somewhat maniacally through my adrenaline high as I strike cheesy Superman poses in mid-air.
With the wind whipping through my hair, endorphins rushing through my brain, and the entire world laid out before me, the feeling of freedom is euphoric. I'm suddenly gripped by an inexplicable sense of melancholy as I begin my descent. I don't want it to end. As I wake up to realize it was all just a dream, I am crushed.
When I was a kid, this dream recurred over and over again. It was so vivid that all I have to do is close my eyes to recall every detail of those early flights of imaginative fancy. And yet, in my waking life, I was deathly afraid of heights. So afraid that I once got vertigo and nearly passed out after looking down from the top of 30-foot slide on a playground. But I always had a fascination with flight, even though it scared the crap out of me. And I've always been determined to ensure my daughter, Alex, doesn't grow up as fearful as I was.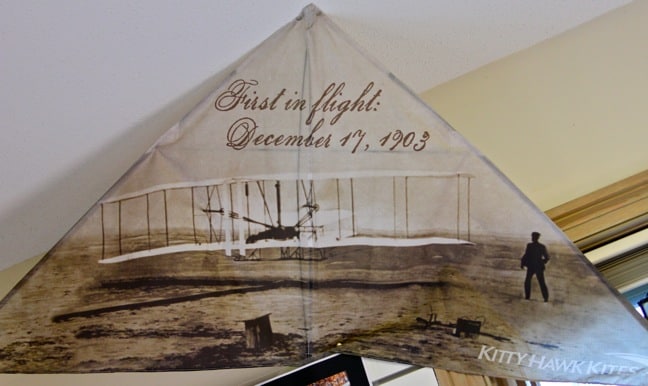 The Outer Banks of North Carolina have been a Mecca for those infatuated with flight for over 110 years. It was here, in 1900, that Wright brothers Orville and Wilbur came to begin their manned gliding experiments of a biplane kite.
They were attracted to Kitty Hawk in part by the area's steady breezes and soft, sandy landing surfaces, not to mention a remote location that ensured privacy from the prying eyes of reporters. And it was here, in Kill Devil Hills, that they made their historic controlled, powered airplane flights on December 17, 1903.
The Wright Brothers National Memorial, dedicated in 1932, stands on that hallowed ground today as a testament to their innovations in aviation.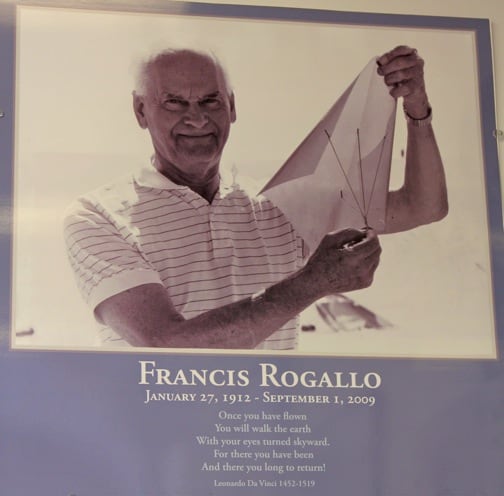 But Orville and Wilbur Wright weren't the only aviation legends who found themselves drawn to the North Carolina coast.
Aeronautical engineer Francis Rogallo invented a self-inflating flexible kite, known as the "flexible wing," in 1948. Releasing his patent to the U.S. government, Rogallo worked with NASA on experiments with what they called a "parawing" at altitudes up to 200,000 feet and as fast as Mach 3, in order to evaluate them as an alternative recovery system for space capsules.
In the '60s and '70s, Rogallo's flexible wing essentially became the basis for all hang gliders, and he eventually moved to the Outer Banks to test out his new kite designs. Now, members of the U.S. Hang Gliding and Paragliding Association are called "Rogallo" members, and tens of thousands of people every year come to the massive sand dunes at Jockey's Ridge State Park in order to learn how to hang glide, just five miles from the site of the Wright brothers' historic flight.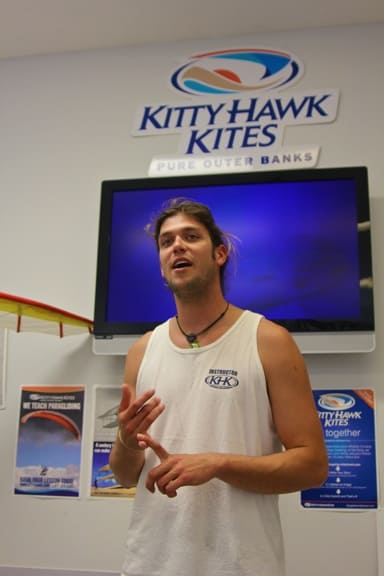 We learned a little bit of this condensed Outer Banks aviation history during our 30-minute "ground school" instruction from Alex at Kitty Hawk Kites, before beginning our hang gliding lessons in earnest.
My heart was pounding in my chest just as it had in those dreams of my childhood… only this time it was out of concern for my 11-year-old daughter.
I could see the trepidation in her eyes as she watched a video on hang gliding safety, which taught how to strap yourself into the glider, use your shifting body weight to control the flight, and proper takeoff/landing techniques. I could hear it in her voice when she asked how high off the ground we'd be, and in her relief when Alex replied that we'd never fly above 15 feet. And I recalled how, less than a year ago, she had a panic attack when we took her to ride one of the world's longest ziplines for her birthday.
It's a funny thing, raising your child to be fearless, especially at that tender age between childhood and adolescence.
The instinct to protect them from harm– to hold them close under your wing lest they fall from the nest– is remarkably strong, rivaled only by the desire to see them spread their wings and learn to fly. You don't want to see them grounded by fear. But you also don't want to see them fall flat on their face.
So, as we strapped on our safety gear and made our way out to the tallest sand dune system in the eastern U.S., I was overcome by a mixture of pride in my 11-year-old's bravery and concern that she might freak out when it came time to take that leap of faith. Hell, even *I* had reservations, as our guides Alex and Mike noted that wind conditions were whipping up above 20 mph (or, in hang glider slang, "blowin' like stink"). They fretted we might not be able to get in all of our five allotted runs, but agreed to give it a try.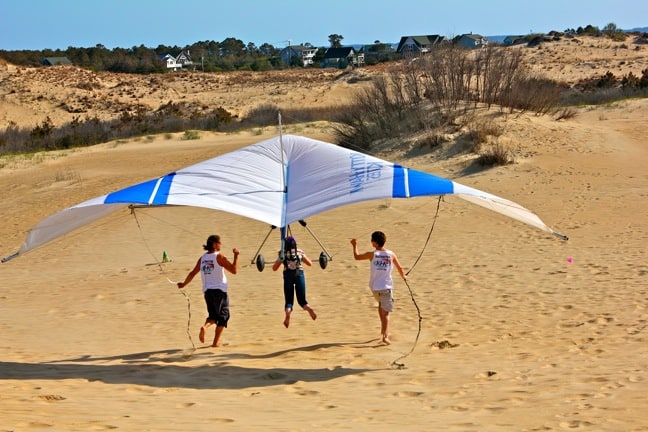 You can imagine my surprise when my daughter volunteered to go first, gamely clipping her safety harness into the glider, laying down in the sand and going through the simple steps in the pre-flight safety check. As you can see in the video above, the gusts of wind were so strong that they lifted her up before she even leapt off the ridge, and I was thankful Alex and Mike had a firm grip on the rope tethers that kept her from becoming a human kite.
My heart practically burst with joy as I saw the broad grin of exultation and wonder on her face as she flew 5, 10, then 15 feet above the ground. And I'm fairly certain I screamed an uncharacteristic "WOOO HOOOO!!!!" as she executed a near-perfect "Flare" (which involves pushing the bar away from your body to stop forward momentum) and came to what is known as a no-step landing.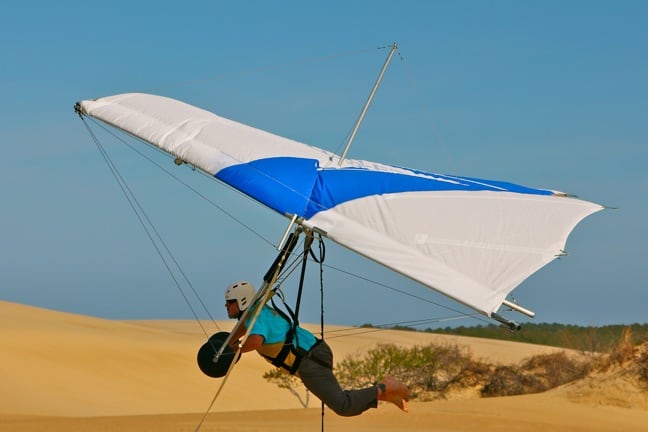 Focusing on my daughter proved to be a great distraction from the fact that I was up next. While I've long since confronted my childhood fear of heights, that heart-pounding sensation is still there every time I face that fear head-on. With age and wisdom, I've come to realize that I can handle falling, brushing myself off, and getting right back up again. It's the prospect of looking like an uncoordinated oaf in the process that concerns me.
For me, the biggest challenge was hunkering my 6'2″ frame under the glider and clipping myself in without knocking my head on one of the crossbars or tripping over one of the myriad wires. The fact that the safety harness rode so far up into my crotch that I sang like Geddy Lee certainly didn't help matters. But, even once I got settled in, ran through the pre-flight test, and got to my feet, that "stink wind" made solid footing difficult at best.
Finally I managed to straighten out the glider, get my hands and elbows in the right position and get a running start that instantly propelled my massive frame into the air like an ungainly ostrich. The feeling was incredibly exhilarating, but– just as in my dreams more than 30 years ago– it was over WAY before I was ready for it to end. And unfortunately, after each of us had a turn, our guides decided the winds were too heavy for further flights.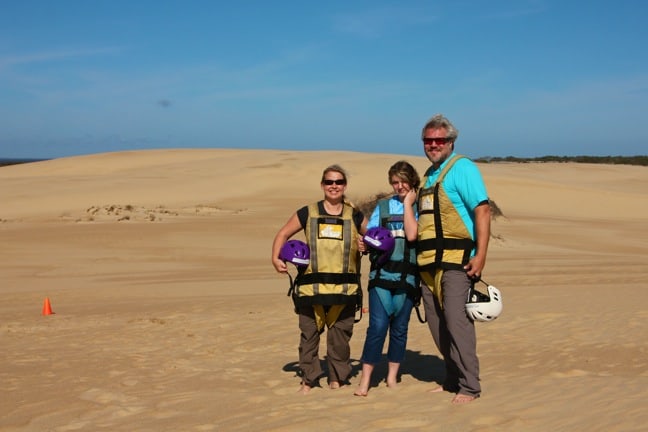 We returned the next morning, and the wind was slightly less turbulent, though the sand still rose like ground fog across the rolling dunes. This time, all our nervousness was gone as we each got five turns to soar down the hill.
I'll be honest: I was a little disappointed that the winds were still blowing too hard for us to fly solo. They were worried that, if they let go of our tethers, an unexpected updraft could have unfortunate consequences (customers have broken limbs before, even in the entry-level hang gliding courses). In the end, we got just enough of a taste of the joys of hang gliding Outer Banks, North Carolina to leave us hungry for more.
But it was still an incredible experience, made all the more exciting by the unpredictability of the gusting winds. It's great to know that my daughter is ready to spread her wings and fly. I'm just not so sure I'm ready for the day when I'm not there to catch her if she falls. –Bret Love; photos by Bret Love & Mary Gabbett
This post was brought to you in part by Enterprise Rent-A-Car, which offers electric and hybrid vehicles at neighborhood and airport rental locations across the country. Visit their website for more information.
If you enjoyed our story on Hang Gliding Outer Banks, you might also like:
NORTH CAROLINA: Going Green in Greensboro
NORTH CAROLINA: Asheville's Green Restaurants Scene
GEORGIA: Top 5 Eco Attractions in North GA
FLORIDA: Sanibel Island's Top Eco Activities
WEST VIRGINIA: Outdoor Adventures