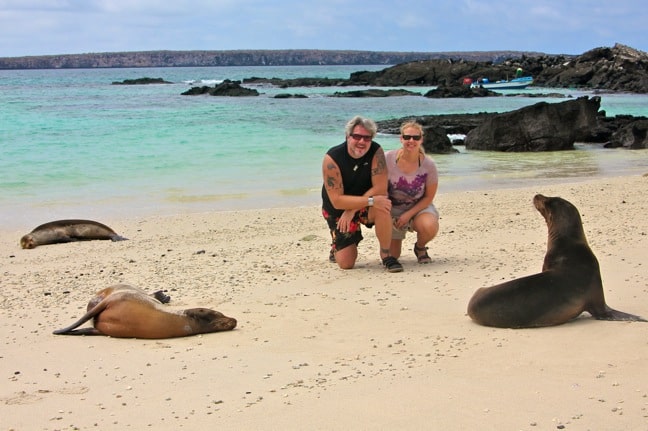 Press Trips
Who Are We?
Green Global Travel
is an ecotourism, nature/wildlife conservation & cultural preservation website focused on encouraging people to travel more adventurously, consciously and sustainably. Owned by Bret Love (a veteran journalist/photographer) and Mary Gabbett (business manager/videographer), the site has been named Best Specialist Travel Blog by TBU and was highlighted among the best travel writing on the web by National Geographic's Intelligent Travel. Other awards we've won include Best Feature from both the Caribbean Tourism Organization and the Magazine Association of the Southeast.
Pertinent Stats
50,000+ monthly page views
30,000+ unique monthly visitors
20,000+ social media subscribers
1,600 newsletter subscribers
Google Page Rank 4
DA 49 / PA 56
Our Other Outlets
In addition to running GGT, Bret is the National Mng Editor for
INsite Magazine
, which has 300,000 readers in 3 U.S. cities. We do a monthly destination-focused ecotourism column for Canada's
Travel + Escape
channel, which has over 1.2 million subscribers. We also freelance for more than 20 other major outlets around the world, including numerous airline and hotel magazines
.
Previous Clients
Adventure Life (Chilean Patagonia & Antarctica) • Aruba Tourism Board • Bermuda Tourism Board • Costa Rica Tourism Board • Curaçao Tourism Board • Dominica Tourism Board • Dominican Republic Tourism Board • Ecoventura (Galapagos Islands) • International Expeditions (Peruvian Amazon) • Islas Secas (Panama) • Jekyll Island Tourism Authority • Natural Habitat Adventures (Churchill) • Off the Beaten Path (Yellowstone) • Outer Banks, North Carolina • Riviera Maya Tourism Board • St. Kitts Tourism Board • Tahiti Tourism • Visit Jordan.
Coverage We Guarantee From Press Trips
• 6-12 posts (stories, photo galleries and videos) on GGT, with extensive promotion via all social media networks. Number of posts depends on length and breadth of adventures we experience. All posts include links to host's website.• At least 1 feature-length story (usually 1500 words) in INsite Magazine, with link to host's website.• 3-4 posts on Travel + Escape's website, with links included whenever possible.
• We continue to pitch stories from our press trips to our myriad freelance outlets for years, as this is how we make our money. We can typically guarantee at least one major magazine placement per trip, depending on the uniqueness of the experiences we have.
Press Trip Case Studies
The Small Print
We do have a few requirements for our press trips. We are partners both personally and professionally, and do not ever travel alone. All travel expenses, including airfare, accommodations, transportation and meals, must be provided by the host or tourism board/airline partners, as we do not have any budget available to us. Lastly, clients are free to use our stories, photos and videos for marketing purposes, but we do require credit and a link back to our website.
If we don't sell stories from our trips to as many magazines as possible, we don't make any money. We tend to sell most of these stories after the trip, but you can see specific case studies from previous trips at Press Trip Case Studies. After our trip to St. Kitts, we placed stories in American Eagle's Latitudes and Destination Marriott. We placed stories from our Riviera Maya trip in American Eagle's Latitudes and Men's Book Atlanta. We placed Galapagos Islands stories in Travel + Escape, United Airlines' Hemispheres and Men's Book Atlanta. We will continue to sell these stories ensuring years of coverage for those destinations.