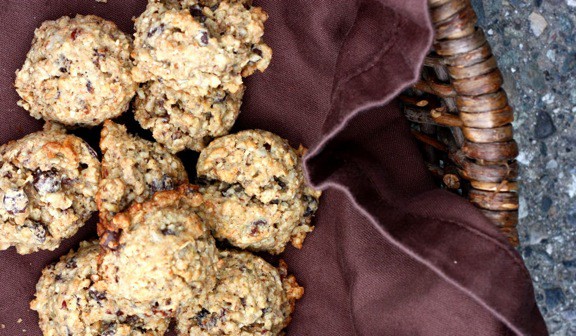 Mary's Oatmeal Fruitcake Christmas Cookies Recipe
It would be impossible to overemphasize how much I love oatmeal raisin cookies. I may rarely eat oatmeal for breakfast, but for some reason when you put it into cookie form I simply can't get enough.
Mary's variation on an old Martha Stewart Christmas cookies recipe is arguably the best oatmeal raisin cookie I've ever had, with a lower sugar content, lots of fiber and extra fruit to emphasize the soft, chewy texture I love.
Around Christmastime, we always add extra fruit– golden raisins, dried cranberries, dried figs– to give it that fruitcake vibe that makes the house smell like the holidays.
With our friends' annual Holiday Cookie Swap party this weekend, we'll be making over 6 dozen tomorrow, so I'm looking forward to helping (i.e. licking the spoon)!
INGREDIENTS: 1 cup flour • ½ cup wheat germ • 1 teaspoon baking soda • 1 teaspoon baking powder • 1 teaspoon cinnamon • 1/8 teaspoon salt • ½ cup safflower or canola oil • ½ cup packed brown sugar • ½ cup honey • 2 eggs • 1 teaspoon vanilla extract • 2 ½ cup old fashion rolled oats (not quick-cooking) • 1 ½ cup of fruit and/or nuts (Makes 2 dozen)
DIRECTIONS: Preheat the oven to 325 degrees. • Whisk to combine flour, wheat germ, baking powder, baking soda, cinnamon and salt in a bowl. • In a separate bowl, whisk together brown sugar, honey, eggs and vanilla. Add to flour mixture and stir to combine. • Mix in oats and your fruit/nuts addition. • Drop 2 tablespoons of dough onto parchment-lined baking sheets, spacing 2 inches apart. • Bake, rotating sheet halfway through, until golden brown, around 8-10 minutes. • Cool a few minutes on the sheet, and then transfer with a spatula to a wire rack to cool completely. • Cookies can be stored in an airtight container at room temperature up to 1 week.
If you enjoyed Mary's Oatmeal Fruitcake Christmas Cookies Recipe, you might also like:
Christmas 2014 Gift Guide for Travelers
GLOBAL CUISINE: Bret's Bourbon Balls Recipe
GLOBAL CUISINE: Lebkuchen Recipe (Germany)
GLOBAL CUISINE: Leftover Turkey Calzone (Italy)
GLOBAL CUISINE: Pumpkin Spice Flan (Cuba)