Ben Jaffe on Preservation Hall Jazz Band & New Orleans
When most people think of New Orleans, the first three things that come to mind are Bourbon Street, booze and Mardi Gras beads. But anyone who scratches beneath the surface of the Crescent City will discover a rich tapestry of cultures, from the French and Spanish influences of Cajun and Creole to the African elements introduced during the Colonial era.
Nowhere in New Orleans is this rich mixture more evident than at Preservation Hall, the French Quarter hotspot where jazz musicians of all races have been cutting their teeth since Pennsylvanians Allan and Sandra Jaffe opened the place in 1961. Their son Ben Jaffe, born 10 years later, is now the Creative Director of the world renowned Preservation Hall Jazz Band, which recently celebrated its 50th anniversary with the release of a new album, That's It!
A longtime jazz fan, I was delighted to get a chance to talk to Ben about Preservation Hall's mission, the challenge of preserving New Orleans' cultural identity, and how Hurricane Katrina made him more passionate than ever before about doing so.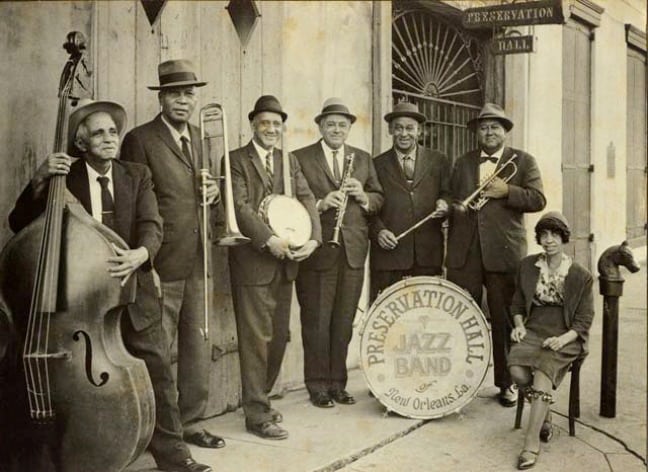 What was your parents' mission when they founded Preservation Hall?
They didn't come to New Orleans with an agenda, which I think is the key to Preservation Hall's success. But when they got to New Orleans in 1961, with everything that was going on politically, socially and culturally, it made perfect sense that they'd end up here. They were fans of the Pete Seeger-led folk movement, and closely tied into the New Orleans revival that was taking place. Once they got here, with a stack of Folkways and Library of Congress recordings, the bands they loved– the Eureka Brass Band, Tuxedo Brass Band, Billy & Dee Pierce, Sweet Emma Barrett– were still playing music. But it wasn't being celebrated.
Due to segregation and the social stigmas surrounding jazz, New Orleans didn't have jazz clubs then. The purpose of the venues on Bourbon Street was to sell drinks. If you were an African-American musician playing on Bourbon Street, you were on the same level as a street-sweeper. Preservation Hall changed that. My parents weren't rabble-rousers. It wasn't like, "We're going to New Orleans, and we're going to get involved in the Civil Rights Movement! We're going to create this amazing environment where poets, artists and actors of all races can come congregate and socialize!" But it ended up becoming that.
Why is it essential that this music be preserved in terms of New Orleans' cultural identity?
When New Orleans was settled in the 1600s, the banks of the Mississippi were lined with Native American communities. This is where the Spanish landed, and where the French ended up. The Spanish and French brought Africans, whose traditions had a huge impact on our cultural identity. Those unique West African traditions have been preserved in New Orleans all these years. Jelly Roll Morton always talked about the Spanish influence, and that syncopated Rumba rhythm. In his mind, it distinguished New Orleans jazz from everything else.
With no drinks and no A/C, Preservation Hall is as stripped-down as it can be. Why is that important?
When I travel, I want to go where the real thing is happening, whether it's food, music, dancing or socializing. I want to go to the places where locals go, and where locals perform. I don't want it to be an environment where they've created something [for tourists]. I want to go there for the true experience. Everybody has their own flavor, and their own thing. Preservation Hall is a tiny building sandwiched between Bourbon and Royal Street. We've protected this tiny space for over five decades now. It defies the laws of economics. It's amazing that anything like Preservation Hall can afford to exist anymore.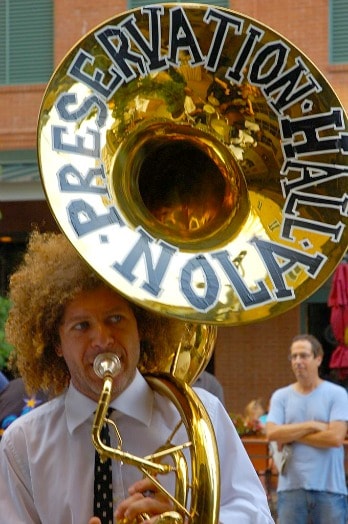 Having grown up with the Preservation Hall legacy, how did you feel when you got to join the band 20 years ago?
When you're a kid, you don't know what you're growing up with. This is just what your dad does, and your uncle, and your godfather. They're all musicians. He'll say, "Grab my horn– we've got a parade!" So you grab his horn and you meet him somewhere and you march with him. You learn music at school, and you play on Jackson Square for tips, and you play in parades at Mardi Gras. Music is such a deep part of our community, you don't have to go out and seek it: It's right there! It wasn't until I was in college that I truly recognized the significance of what I grew up with, and realized how blessed I was growing up with these traditions and with these people. Until then, I didn't realize it wasn't like this everywhere else.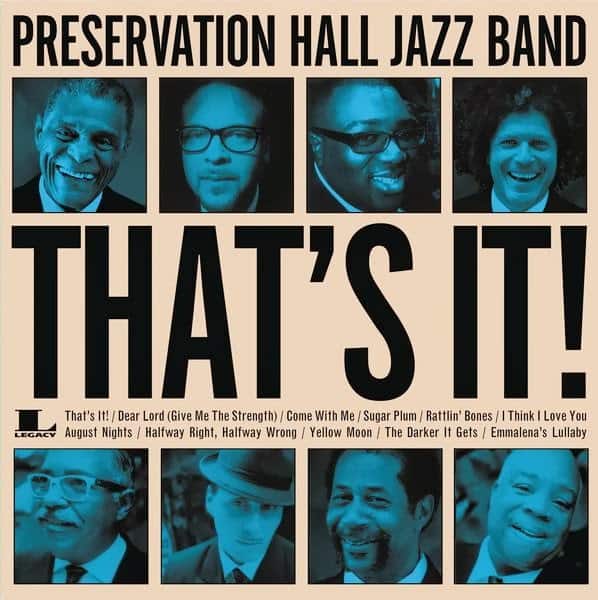 Talk to me about taking over as Creative Director of the Preservation Hall Jazz Band.
I can't emphasis enough how important the years following Katrina were for us in terms of re-defining our identity. Besides the birth of my child and marrying my wife, the five years after the hurricane were the most important in my life. After the hurricane, all of these things I had known my entire life were physically gone– buildings, people, neighborhoods, churches, schools, hospitals, restaurants… all gone. It shook our world in a way we couldn't even articulate. We were just fighting and struggling to survive. I realized, damn it, they could take my house and all of the physical things from me, but they can never take away these experiences I had growing up and these amazing relationships I've had over my lifetime. That became so precious to me after Katrina.
I became so appreciative of my parents for having the wisdom to know that it was the right thing to raise me in the way they did. I was almost 40 years old and looking back on my life, thinking, "God, I marched with those bands. I played with those bands. I sat on their laps, and I played at their funerals. They came to our house on Christmas morning, and I went to their house on Thanksgiving." At the end of the day, THAT is what we're actually preserving. To me, "preservation" is not about putting music in a jar and putting it on a shelf for another generation to discover. For me, preservation means protecting the culture that gave birth to this music. To this day, we have a direct bloodline to the very first jazz musicians in New Orleans. There are families in New Orleans that are 5th, 6th, and 7th generation New Orleans musicians.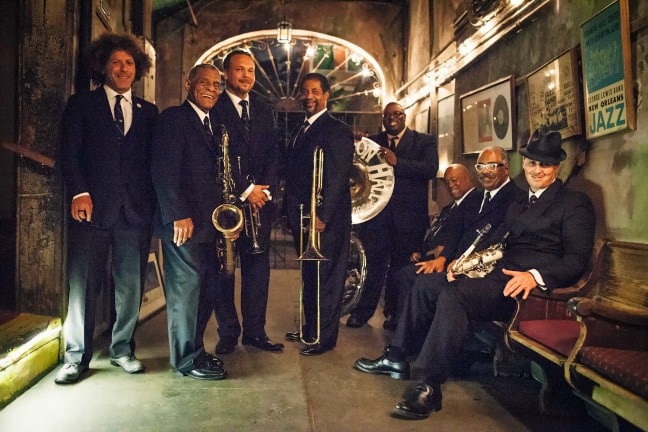 Was there any hesitation to mess with the formula in writing new songs for your latest album?
If the New Orleans musical tradition doesn't evolve and continue to be relevant to our community, it will die similarly to the way it almost did in the '50s and '60s. The only way for our music to survive is for it to be relevant to the generation of kids growing up today, who are going to be the next generation of New Orleans musicians. It's great to celebrate music from a hundred years ago– that's part of what we do, too.
But we also have a responsibility to create new music, in the same way Louis Armstrong, King Oliver, and Jelly Roll Morton did. These guys were all composers and musicians who broke down social and racial barriers. There are still a lot of racial barriers we're breaking down. Maybe we need a little bit more Preservation Hall all over the country. Because of Katrina, this incredibly tragic event, we were afforded an opportunity to have a voice. After the hurricane, the world was looking at us in a completely new way. They were sick and tired of the "Bourbon Street, Beer and Boobs" side of the city. You should come to New Orleans for MY Mardi Gras experience– the Zulu Parade at 6 AM, Mardi Gras Indians, the Preservation Hall Jazz Band marching, and finding Pete's Fountain on St. Charles Avenue.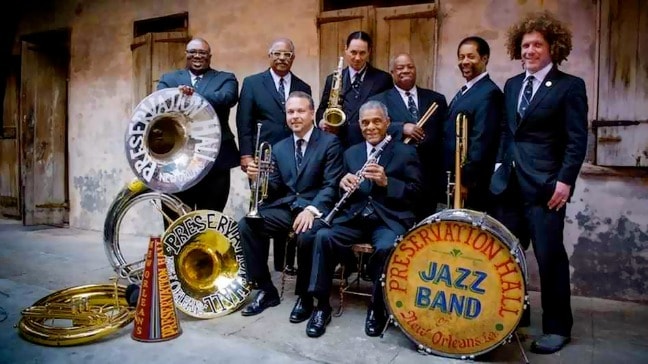 When you teach kids, what do you tell them about the importance of preserving New Orleans Jazz?
To me, it's about giving them the tools to discover, dig and appreciate music. I went to conservatory to learn classical music, but I was blessed that I grew up around musicians who taught me how to be part of a community through example. Every musician I grew up with felt like family. When you went to a show with the Olympia Brass Band, they were backstage hooting and hollering like they hadn't seen each other in 20 years. I wanted to be part of that community. When it comes to carrying on the tradition we have at Preservation Hall, what we can provide for a young musician is experience, and an opportunity to interact with real musicians. That's the idea behind our education program: It's not about teaching them how to play music, but steering them on the right path and allowing them the opportunity to be a part of an incredible community of musicians. –by Bret Love; all photos provided by Preservation Hall Jazz Band
If you liked reading about the Preservation Hall Jazz Band, you may also like:
LOUISIANA: Treme, New Orleans: Birthplace of American Culture
LOUISIANA: Charmed at New Orleans' Historic Voodoo Museum
LOUISIANA: Mardi Gras Indians Celebrate Super Sunday in New Orleans
LOUISIANA: The Best Oysters in New Orleans
LOUISIANA: An Insider's Guide to Mardi Gras in New Orleans
LOUISIANA: Cajun Food Tours in Lafayette