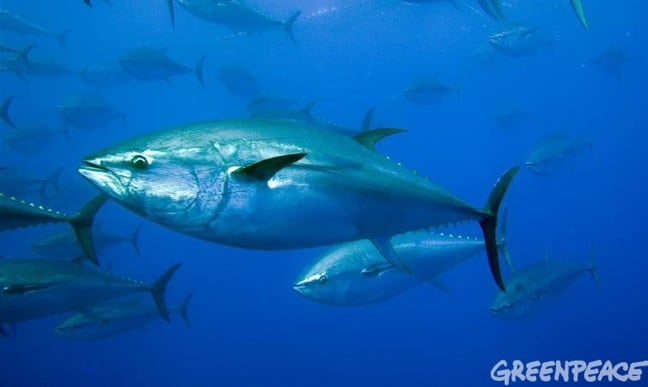 Endangered Species Spotlight:
Southern Bluefin Tuna Facts
(The following is a guest post by Sofie Couwenbergh, a Belgian language lover who balances a full-time job with a never-ending wanderlust, sharing her experiences on Wonderful Wanderings. You can also follow her on Facebook and Twitter. If you're interested in contributing a story to Green Global Travel, please email pitches to Bret Love at info@GreenGlobalTravel.com.)
SPECIES: Southern Bluefin Tuna (Thunnus maccoyii)
CURRENT RANGE: Found in the open southern hemisphere waters of the Atlantic, Indian and Pacific oceans.
CURRENT THREATS: Over-fishing
CONSERVATION STATUS: Critically endangered
WHERE CAN YOU SEE THEM: In southern waters from 30° to 60° south, except during spawning season, when the Southern Bluefin Tuna migrates to the tropical seas off the west coast of Australia.
What are they?
Everybody has seen tuna served as sushi, or in small cans ready to put on a salad or sandwich. But it's easy to forget that the bony, torpedo-shaped Southern Bluefin Tuna can actually grow to be 2.5 meters (over 8 feet) in length, weigh up to 260 kg (570 pounds) and live 40 years. Swimming at speeds up to 70 km per hour, the fish migrates over large distances and feeds on a wide variety of fish and other sea animals.
The Southern Bluefin Tuna fish has a blue-black back and silver-white on its flanks and belly, with yellow or blue dorsal fin and yellow-edged rear fins. It's often confused with the Atlantic Bluefin Tuna (which is also endangered, but not critically) and the Pacific Bluefin Tuna (the population of which seems to be increasing). There's also a difference between the Southern Bluefin Tuna and the Yellowfin Tuna, which can we found worldwide and isn't considered endangered.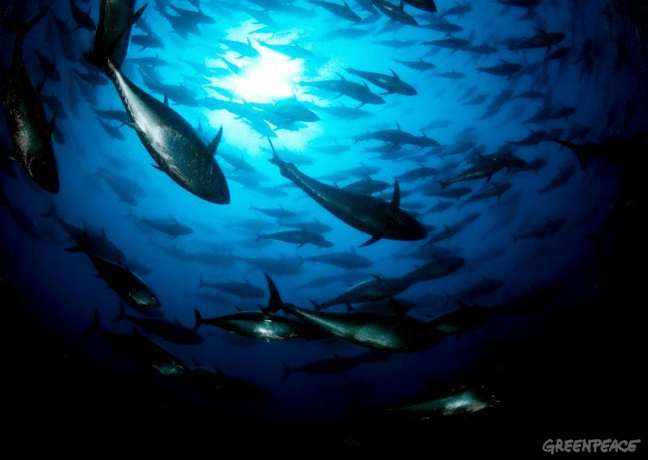 Why are they endangered?
The Southern Bluefin Tuna has been heavenly fished ever since the industrialization of fishing in the 1950s. If the catching of the species continues at its current rate, it is estimated that there will only be 500 mature Southern Bluefin Tuna left in 100 years. Additionally, most of the Southern Bluefin Tuna that are caught today haven't reached maturity yet, making it difficult for the population to increase in volume.
What's being done to save them?
After signing the Convention for the Conservation of Southern Bluefin Tuna in 1993, Australia, Japan and New Zealand formed the Commission for the Conservation of the Southern Bluefin Tuna. The goal of this commission is to manage the fishing of the Southern Bluefin Tuna and to help conserve the species.
The commission has introduced reduced fishing quota and control systems, such as the monitoring of fishing vessels and farming operations. It not only sets up general quotas, but also decides how much each member can catch annually. Unfortunately the price for Southern Bluefin has gone up considerably as a result, making the fish even more valuable. At auction in Tokyo, the fish typically bring in thousands of dollars per kilo.
Farming operations that feed juvenile fish for future sale may also have a positive influence on the Southern Bluefin Tuna population. By holding onto the tuna for a longer period, farmers could give them the opportunity to reproduce. These fish would eventually be sold to the food industry, making fishing in the wild less necessary, as these farms could supply the industry year round. –Sofie Couwenbergh
If you enjoyed these Southern Bluefin Tuna Facts, you might also like:
ECO NEWS: Killing For Conservation- Can Hunting Save the Black Rhino?
ENDANGERED SPECIES SPOTLIGHT: Tasmanian Devil Facts
ENDANGERED SPECIES SPOTLIGHT: Slow Loris
ENDANGERED SPECIES SPOTLIGHT: Snow Leopard
ENDANGERED SPECIES SPOTLIGHT: Dhole (Indian Wild Dog)
ENDANGERED SPECIES SPOTLIGHT: Sumatran Elephant
ENDANGERED SPECIES SPOTLIGHT: Iberian Lynx