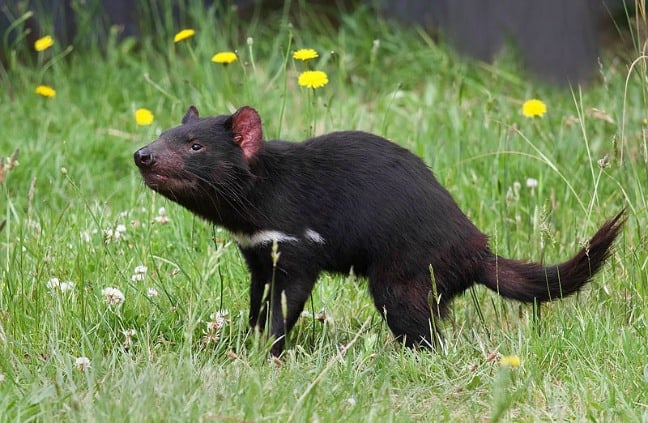 Endangered Species Spotlight:
Tasmanian Devils
SPECIES: Tasmanian Devils (Sarcophilus harrisii)
CURRENT RANGE: Only found in the wild in the Australian state of Tasmania
CURRENT THREATS: Devil face tumor disease, dingo attacks, the threat of iron ore mining in Tasmania
CONSERVATION STATUS: Endangered
WHERE YOU CAN SEE THEM: In all forms of habitat in Tasmania, but primarily wooded forest areas
What are they?
Most of us will be familiar with the Tasmanian Devil that whirled across our TV screens in the Looney Tune cartoons we watched as children, but Tasmanian Devils are far from fictional. In reality, it's the last surviving carnivorous marsupial, easily recognized by its short, stocky build, with black fur and white markings, and long, thick tails. Males have an average body length of just over 65cm and weigh on average 8kg, while the females measure just over 57cm and weigh on average 6kg. They are nocturnal animals that hunt at night with their incredibly powerful jaws and teeth, which are often compared to that of the hyena. Tasmanian Devils are very defensive when it comes to food, and will let out a blood-curdling scream when they feel that their food is being threatened by another Devil.
Why are they endangered?
The Tasmanian Devil used to be widespread across Australia. But, since the influx of dingoes, the species has been fighting a losing battle. Now, they're found in the wild only in Tasmania. Since 1996, their numbers have decreased greatly due to Devil Face Tumor Disease (DFTD)- cancerous tumours on their mouths and heads which get in the way of eating, and can eventually lead to death from starvation. In some areas, more than 90% of the Tasmanian Devil population has been wiped out by DFTD. Because of this disease, the animals were declared endangered in 2008.
Recently, there's been a threat to the Tasmanian Devil's habitat from iron ore mining. The Tarkine is a wild area in Tasmania where many Tasmanian Devils live, as well as being an area of incredible natural beauty and temperate rainforest. It's the last disease-free area for Devils to live in, and an interruption to this habitat will likely mean an acceleration towards extinction for the species. There are currently huge debates going on between environmental ministers and activist groups, trying to decide the fate of the area. Mark Butler, Australia's environment minister, has tried to enforce restrictions on trucks driving through the area at night, enacting a $48,000 fine for each Tasmanian Devil killed, and requiring mining corporations to donate $350,000 to the Save the Tasmanian Devil fund. But activists believe that these policies are skirting around the real issue, and that the Tarkine area shouldn't be mined at all.
What's being done to save them?
Save the Tarkine is a group working to stop iron ore mining in the Tarkine area. This group is rallying donations and visits to the area in order to increase the hype around it, to ensure that it is not forgotten and ultimately lost. Through their website you can donate to the cause, or sign the petition against iron ore mining. The Save the Tasmanian Devil organization is working to eradicate DFTD, and accepts donations to help them in that cause. The group is continuously carrying out research to discover the cause of the disease and provide a cure. -Emma Higgins
GGT Editor Emma Higgins has been writing/travelling on and off since 2009. Her blog, Gotta Keep Movin', is full of stories and advice from her trips, which include Europe, India, Morocco, South America, USA and Canada. Her focuses are budget travel and volunteering, and she's been involved in sustainable farming in Argentina, animal shelters in Peru, and making goat cheese in British Columbia. Follow her on Facebook, Twitter & Pinterest.
If you enjoyed reading about Tasmanian Devils, you might also like:
ENDANGERED SPECIES SPOTLIGHT: Slow Loris
ENDANGERED SPECIES SPOTLIGHT: Snow Leopard
ENDANGERED SPECIES SPOTLIGHT: Dhole (Indian Wild Dog)
ENDANGERED SPECIES SPOTLIGHT: Sumatran Elephant
ENDANGERED SPECIES SPOTLIGHT: Iberian Lynx