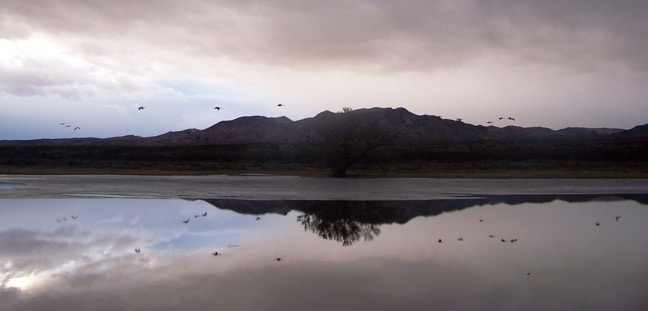 Top 5 Eco-Friendly Tourist Attractions in New Mexico
(The following is a guest post by writer Billie Frank and photographer Steve Collins. For more of their work, check out their website Santa Fe Travelers, and follow them on Facebook and Twitter. If you're a blogger interested in contributing a guest post, please contact Editor In Chief Bret Love at GreenGlobalTravel@gmail.com.)
There are quite a few eco-friendly tourist attractions in New Mexico. There are more than 30 million acres of public lands in the state, belonging to the National Park Service, the Forest Service and the Bureau of Land Management. There are numerous archeological treasures and unique geological formations to visit; there is wilderness and wildlife galore; sustainable agriculture thrives on small farms here; and hot springs bubble up from the bowels of the earth. Here are 5 of our favorite New Mexico attractions:

BOSQUE DEL APACHE NATIONAL WILDLIFE REFUGE
Spanish for "woods of the Apache," this nature reserve is home to birds and animals such as elk and coyotes all year-round. Their big claim to fame as a bird watcher's paradise is the tens of thousands of Sandhill cranes that winter here. Arriving in November, they head back north in February. At both dawn and dusk you can see these magnificent birds taking off and landing, along with a lot of Arctic geese and ducks that also winter here. When taking off, these cranes, with their wide wing span, are reminiscent of those seen in Japanese art. Each year in November, the Festival of the Cranes celebrates their return.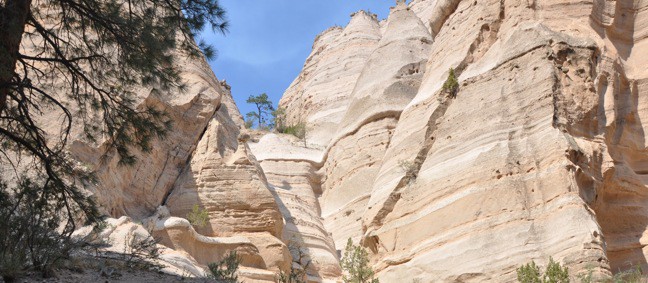 KASHA-KATUWE TENT ROCKS NATIONAL MONUMENT
One of our favorite places to hike is the otherworldly geological formation known as Kasha-Katuwe Tent Rocks National Monument. These conical volcanic formations, which resemble teepees, are estimated to be six to seven million years old. They are made from pumice, ash and tuff deposits that are over 1,000 feet thick, and some have round capstones atop their points. Hike the slot canyon (which can get icy in winter) for 360-degree views at the narrow mesa top. At some points, the canyon is so narrow you can touch both sides with your arms out-stretched.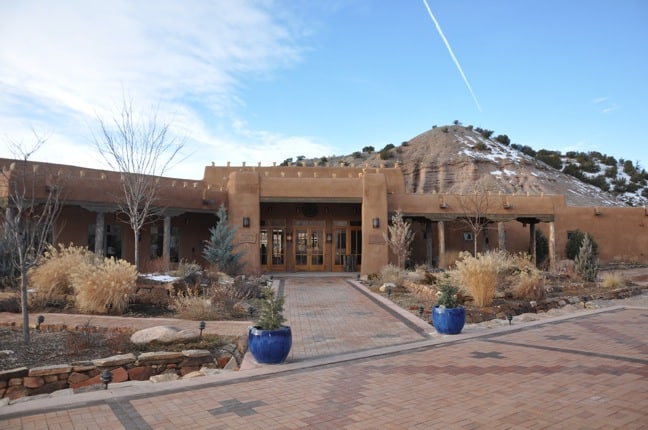 New Mexico was once a land of volcanoes, and plenty of geothermal water still bubbles to the surface. Eco-friendly Ojo Caliente Mineral Springs and Spa is a wonderful place to soak away whatever ails you, physically, emotionally and spiritually. The renovated hotel (the the oldest natural hot springs resort in the country) works to be green and the owners see themselves as stewards of the land. Above Ojo, an easy hike away is Posi Owinge, the ancestral Pueblo of Ohkay Owinge Pueblo. There are pottery shards and other artifacts of this historic settlement dating to around 1200AD. For those wanting a more rustic experience, there are natural springs north of the town of Jemez Springs, and in the Rio Grande Gorge near Taos.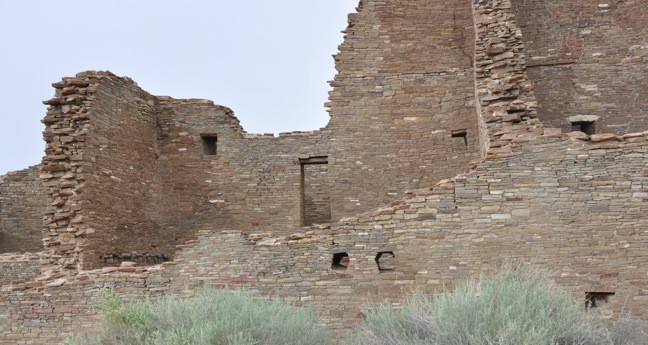 PUEBLO ARCHAEOLOGICAL SITES
There are three cliff dwelling sites and other ancestral Pueblos within an hour and a half of Santa Fe. One of our favorites is the Puye Cliffs on the Santa Clara Pueblo. A longer trip (over three hours), but well worth the drive, is Chaco Culture National Historic Park. Chaco was the hub of Pueblo civilization in the southwest from about 850AD to 1250AD. The buildings, which were constructed of stone in techniques never previously used in this area, have survived over 1,000 years. It's not known why people left this area, but many of New Mexico's 21st century Pueblos believe their ancestors came from here.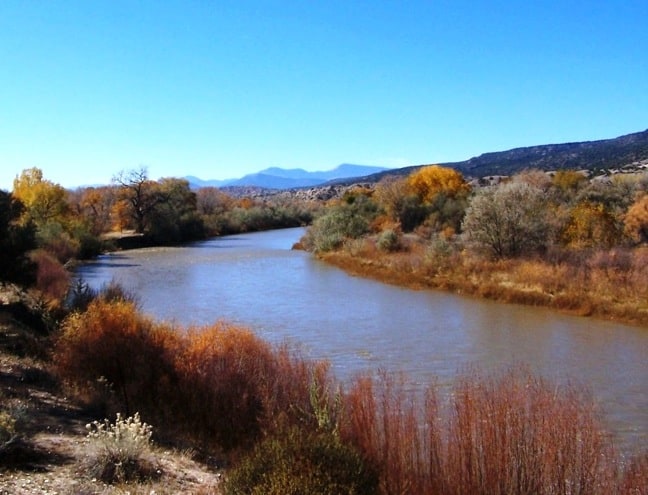 RAFTING THE RIO GRANDE
From spring until the water gets too low (usually around late summer), people frequently raft and kayak the Rio Grande near Taos, NM. This wild and scenic river offers experiences ranging from class 4 and 5 rapids in the Taos Box– a roiling stretch through the Rio Grande Gorge– to a tame float trip suitable for a 4-year-old. There are rafting companies based in both Taos and Santa Fe that can provide all the necessary equipment, including helmet and life-vest. During the more peaceful segments of the trip, your experienced guide will tell you a bit about the area's geological history and the flora and fauna. In the raging parts, you'll be too busy paddling and staying in the raft. Tip: Take a waterproof camera! –Billie Frank, photos by Steve Collins
If you enjoyed reading about the Top 5 Eco-Friendly Tourist Attractions in New Mexico, you might also like:
ALASKA: Denali National Park

FLORIDA: Sanibel Island Eco Activities
MONTANA: Glacier National Park
WEST VIRGINIA: Outdoor Adventures