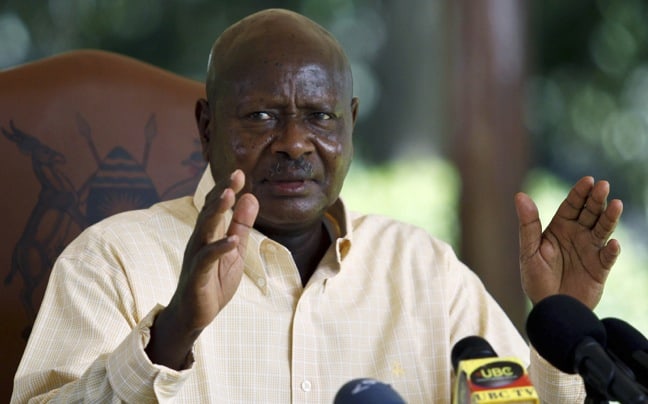 Uganda President Issues Statement on Stop Kony Campaign
Just hours ago, we received a press release from the Office of Uganda President Yoweri Museveni with the headline "Response to International Discourse of LRA Activity." The press release was clearly written as a reaction to the increased attention on the central African nation caused by the controversial "Stop Kony" video released by an organization called Invisible Children.
The viral video campaign, which seeks to draw attention to Central African militia leader Joseph Kony, has come under fire from critics both in the West (who question the integrity of Invisible Children's fundraising efforts) and in Uganda (who claim that the 30-minute video offers an inaccurate portrayal of Africa's longest-running conflict). In truth, Kony started his Lord's Resistance Army in the 1980s to rebel against Uganda's army, which has often been accused of  numerous human rights abuses.
In the statement released to the media today, the Ugandan government "welcomes all campaigns which seek to raise awareness and highlight the plight of people affected by the Lord's Resistance Army," but strongly urges that "any awareness campaign fully takes into consideration the current realities of the situation." In their eyes, the reality is that the LRA was successfully expelled from the country by the Ugandan Peoples Defence Forces in 2006, and are currently "a diminished and weakened group with numbers not exceeding 300."
The statement goes on to express concern that "misinterpretations of media content may lead some people to believe that the LRA is currently active in Uganda," suggesting that Kony and the LRA could be eliminated entirely with a little logistical support from the United States. More importantly, the government seems concerned that the attention on Kony may prevent westerners from visiting their country, which they point out was named a top must-see travel destination for 2012 by Lonely Planet. You can read the complete contents of the press release here.  –Bret Love
If you enjoyed reading about Uganda's President's Statement on Stop Kony, you might also like:
Battle In Tanzania Over Maasai Land Rights Intensifies
ENDANGERED SPECIES SPOTLIGHT: Black Rhino
Morocco Solar Project To Provide 15-20% of Europe's Electricity