Music For Vikings
Wardruna Revives Ancient Nordic Folk Traditions
There was a time back in the '80s and '90s when radio stations and MTV were great outlets for discovering new music. But these days, more often than not, I find my favorite artists through film and TV soundtracks. Such was the case with Wardruna, a Norwegian musical project created by Einar "Kvitrafn" Selvik.
Selvik, formerly the drummer for Black Metal band Gorgoroth, created the project in 2003 to pursue his passion for Nordic spiritualism. Profoundly influenced by the runes of the Elder Futhark, the world's oldest runic alphabet, he began working with former Gorgoroth frontman Gaahl (a.k.a. Kristian Espedal) and vocalist Lindy Fay Hella to craft an epic, ambient sound rooted in ancient folkloric traditions.
Their second album, Yggdrasil (named after the tree that connects the nine worlds of Norse mythology), was released in March of 2013. But it wasn't until Wardruna's music was featured prominently in the History Channel TV show Vikings that the band began building buzz. The show's producers eventually contacted Selvik directly, asking him to collaborate with composer Trevor Morris (The Borgias) on Vikings' season two soundtrack.
After tracking Selvik down via his website, we were delighted to get a chance to speak with him about his interest in Norse history, the challenges of making his own reproductions of ancient instruments, and how his success with Vikings will impact Wardruna's third album, which he hopes to release next year.
What was your original inspiration for wanting to do this project?
As a kid, I was really taken by ancient Norse stories and history. It was so different from the monotheistic way of seeing of the world in terms of black and white, good and evil. It's much more complex.
During my teens, my fascination with the esoteric and spiritual side of the old traditions became deeper. But there was no one interpreting these things musically. I wanted to give it a shot, and felt a need to do something that gave more meaning to me personally.
I did the first Wardruna recording in 2002-2003, and it took me seven years to finish that album due to the whole process of learning about the instruments and obtaining them.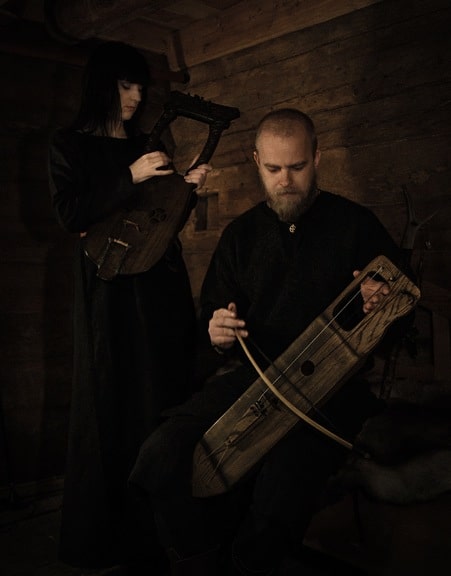 How did you find these instruments?
When I started digging into the source material, I came across instruments that I had to have. At that point, there were very few people who made or played them. I either had to find someone to build it or build it myself. It was a long and tedious process, but very rewarding.
Natural instruments are different from any other types of instruments I've worked with. They are alive in a sense, and have their own will. Making frame drums in the old way, I didn't shoot the animal, but I skinned it, tanned it and scraped the skin.
It's a very monotonous, time-consuming process, but it's actually quite beautiful because you're slowing bringing the animal back to life in a new form. I have a more personal, animistic way of viewing my instruments after that process.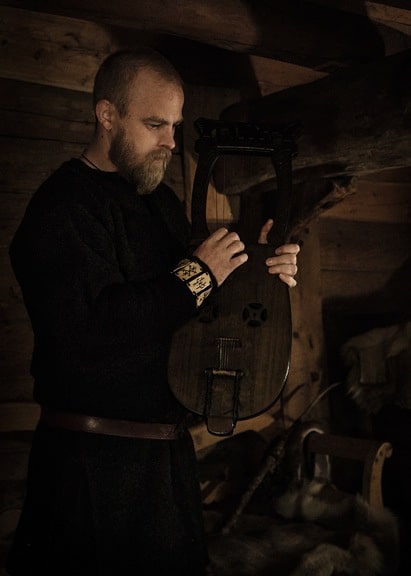 Wardruna's music is based on the runes of the Elder Futhark, the earliest known runic alphabet. How did they inspire you?
There are so many misconceptions because we have very little information on the Elder Futhark. Even the names of the runes are based upon reconstructions done by a runologist in the 1800s.
The word "Rune" carries different meanings: It can mean a phonetic system, like written letters, a secret, knowledge, skills, esoteric wisdom, or a magical song. In the Finnish tradition of folk medicine, the magical songs are always called runes. Knowing the runes' secrets was considered to be the highest knowledge one could have. So it's something I approach with great respect.
We have three different rune poems– Norwegian, Icelandic and Anglo-Saxon– and they're like proverbs or riddles that are designed to educate you. In making musical renditions of them, my creative concept was to interpret them on their own premises.
If I'm working with the B rune, which symbolizes birch trees, I go out in the forest and play on birch trees. If I'm working with water, I use the sound of water, standing in the middle of a river while doing all of the vocals. The idea is to capture the relevant places and implement them into the music.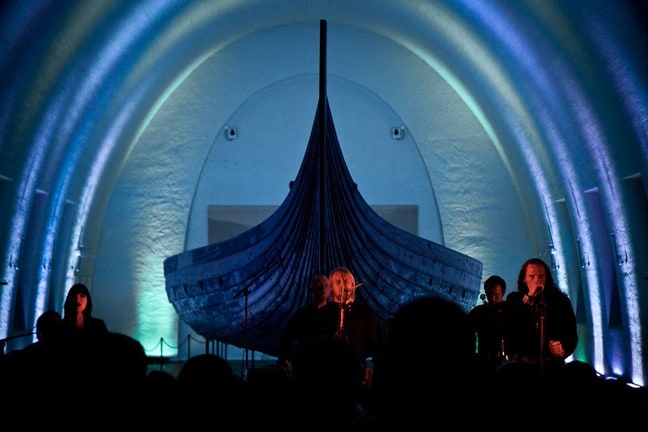 Have your fans from your metal career followed you into this new transition?
Though I have a metal background, bands like Gorgoroth were just a job. Apart from it being a very powerful artistic expression, it wasn't anything I was able to put my creative voice into.
When I started playing with Gorgoroth and got to know Kristian, we found common ground in that we're both pagans and very interested in our own roots and history. When I started Wardruna, it was a natural thing for me to include him. From the very beginning, he was the guy I bounced my ideas off of. We created the whole concept together.
I was kind of surprised to see that so many people in the metal world are into Wardruna. The response has been overwhelming.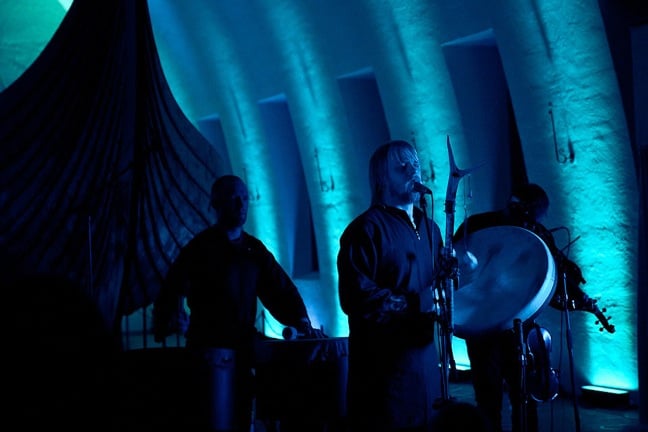 What do you think it is that they're responding to so strongly?
I've been doing this project out of my own personal drive. Everything else is a bonus. The second something becomes industrialized, whether in the food industry or the music industry, the nourishment disappears.
I think more and more people want nourishment in music. Earlier Black Metal was as much about the intention behind the music, and technique and sound quality were secondary. Today it is more technique-based, and how good your sound is.
But music has a totally unique ability to carry meaning if we don't exploit it. The power of sound, the power of words, and the power of your will and voice are key ingredients in the northern esoteric tradition.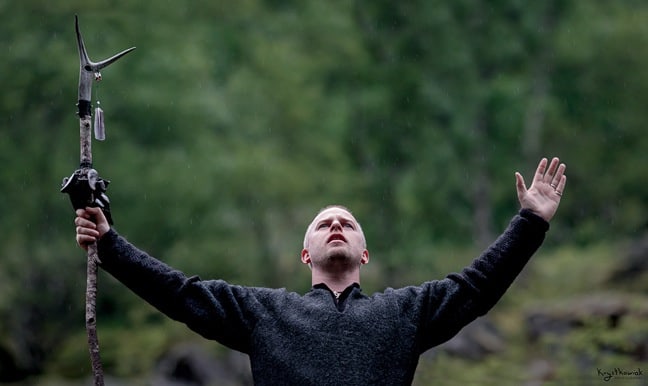 How did you get involved with doing music for the TV show, Vikings?
In the beginning they were supposed to film here in Norway. I tried to get in touch with them because I thought they needed some of my sounds, but I didn't get through to anyone. About 3 or 4 months before the first season aired we were contacted by the production of Vikings, and they wanted to license quite a bit of our music. They got a lot of positive response to the music. When they started working on the second season, they wanted to have more of my sound in the heart of the series. So they asked if I would be interested in working with Trevor Morris, the main composer of the series. We quickly found that we like working together, and the results of our collaboration. The whole thing has been very educational, and I'm really thankful for how well my music has been received.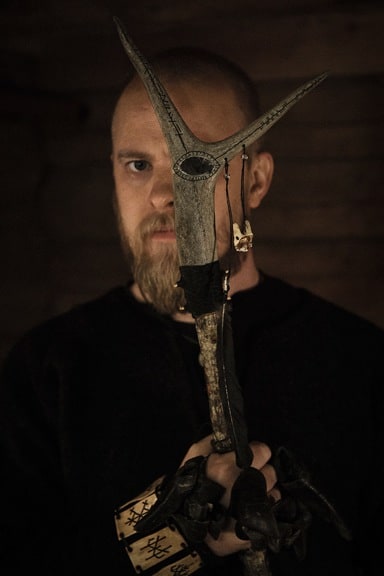 What's the plan for the third and final album in the trilogy?
The main plan is to make a good record, which I hope to have ready by the end of 2015. That is the only thing that matters, making something I'm proud of. I've been really strict about being true to my original vision, but it's very time-consuming.
Succeeding in the music industry is first about making good music and secondly about being heard. Being part of Vikings is a major opportunity for Wardruna to enchant new listeners. I see Wardruna being able to reach a much wider audience because, even though I work within a Norse wrapping, the themes I'm working with are universal.
It's all about man's relationship to nature, to each other and to something larger than yourself. That's something I think most people relate to. I feel like this is just the beginning. –Bret Love; photos provided by Wardruna
If you enjoyed our post on Wardruna, you might also like:
PHOTO GALLERY: A Road Trip Through Norway's Jotunheimen Mountains
NORWAY: A Rare Look Inside 900-Year-Old Urnes Stave Church
Top 5 Eco Attractions in Norway
INTERVIEW: Dead Can Dance