An Elephant changed my life. I realize this may sound like exaggerated hyperbole. But, until you've come face-to-face with an animal more than twice your height and 75 times your weight, it's hard to fathom how the experience can alter your perception of humanity's place in the Universe.
For me, it happened during the first game drive on the first day of my safari in Kruger National Park, South Africa.
He was a massive bull elephant, feeding on a tree 75 yards from our open-air safari vehicle in Londolozi Game Reserve. As he noticed us, he turned and ambled our way with a sense of purpose. When he got within 50 yards, I began looking at our guide nervously. By the time he'd reached the 30-yard mark, we asked if it was time to move the Jeep and give him some space. Solomon assured us that it was fine, as the elephant came closer and closer and closer.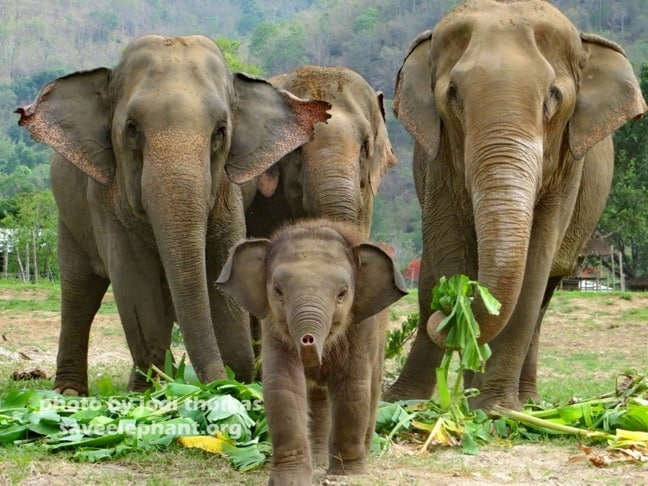 Finally he stopped, less than 10 yards from my side of the vehicle, his humongous face at my eye level. He lifted his trunk into the air and sniffed, his nostrils pointed right at me: I swear I could feel his breath when he exhaled.
There was not a single movement– not a single sound– from the 6 passengers. After what felt like an eternity, the elephant turned, walked over to the nearest tree and pushed it over as if to say, "You see what I could have done to you?" I wept at the overwhelming beauty of the moment.
It was incredible moments such as this (as well as in-depth conversations with the conservation-focused guides at Londolozi) that sparked my belief in the benefits of ecotourism, and set me off on the 15-year mission that ultimately led us to start Green Global Travel. And while elephants are not the only species we're passionate about conserving, they've had a special place in my heart ever since.

Elephants in Danger
Given my special connection with the species (you don't even wanna know how much elephant art we have in our house), it's been heartbreaking to follow the news about elephants in recent years. These animals are in serious trouble, and the biggest threat to their existence is the human race.
A study published in 2013 by the UN Environment Programme (UNEP), the Convention on International Trade in Endangered Species (CITES), the International Union for Conservation of Nature (IUCN), and the Wildlife Trade Monitoring Network (TRAFFIC) showed that elephant poaching has doubled, and the illegal ivory trade has tripled, within the last decade. An estimated 17,000 elephants were murdered for their tusks in 2011, and research shows those numbers continuing to climb.
As a result, the African Forest Elephant and the Asian Elephant are both currently listed as Endangered, while the African Bush Elephant is considered Vulnerable. But poaching is not the only danger that threatens these gentle giants.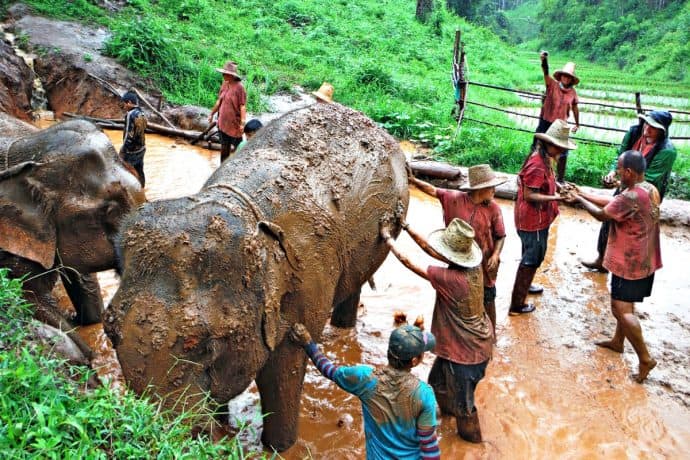 The Horror of Phajaan (a.k.a. The Crush)
Almost every elephant that performs in a circus, performs tricks on the streets of Asia, or takes tourists for "once-in-a-lifetime" rides in places like Angkor Wat has been tortured in a horrifically cruel training regiment known as phajaan. The process involves tying a wild elephant up for several days, beating them into submission, and leaving them to starve, with the goal of crushing their spirit.
Photojournalist Brent Lewin offered a gripping first-hand account of witnessing phajaan training in Myanmar in an interview with the NBC News Photoblog:
The young elephant's mother was tied up near the training device and became really uncomfortable when she saw what was about to happen. I've never heard an elephant scream like that before: It felt like the ground shook, and she actually broke off her chain and charged at mahouts and myself. The mahouts eventually scared the mother into submission and tied her up again, and then started training her baby. The baby elephant was terrified and started crying. The biggest difficulty I experienced was not being able to put a stop to it. There was a point when the elephant just resigned to what was happening and stood still, and the life in her eyes disappeared.
This is what every elephant must endure before being sold to mahouts in the tourism industry. This is the price that must be paid for every tourist's elephant ride photo-op.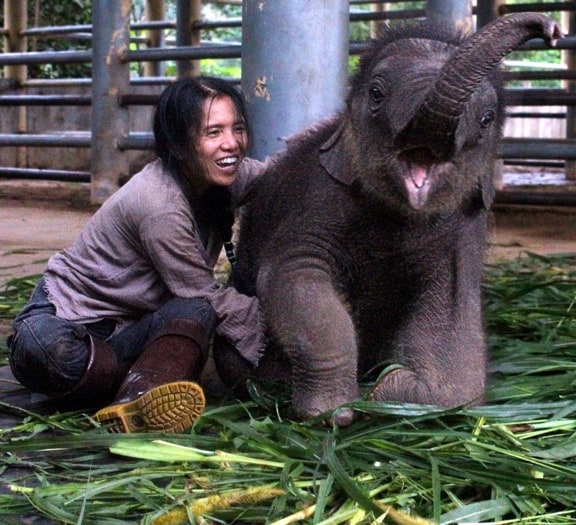 Elephant Nature Park to the Rescue
Located 37 miles from the city of Chiang Mai, Thailand, Elephant Nature Park is a 250-acre sanctuary devoted to rescuing Asian Elephants. Currently at 36 members (including 3 babies), the park's herd includes disabled, orphaned and blind elephants, many of which have been rescued from the abusive training involved in the logging, street begging, and tourism industries.
Now, with a loving home, plenty of room to roam, and much-needed medical care, the elephants are given a new lease on life. The park also offers unique volunteer opportunities that allow visitors to feed, interact with, and even bathe these magnificent creatures, making it one of the top places on our list of dream travel destinations.
Founded by Lek Chailert in 1996, Elephant Nature Park is just one of many initiatives undertaken by Chailert's non-profit Save Elephant Foundation. From restoration of crucial habitat in the Indo–Burma Forest and the Erawan Elephant Retirement Project to new elephant sanctuaries in Cambodia and Myanmar, SEF has established itself as one of the leading conservation organizations in Asia.
But as Chailert's list of charitable efforts grows, so does the need for funding.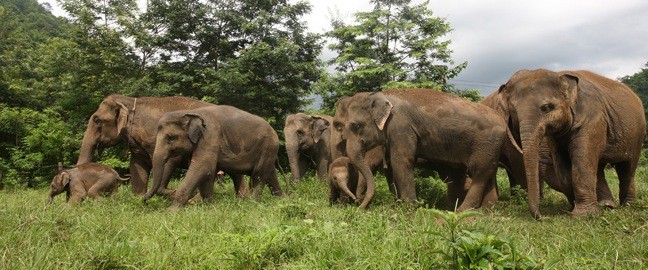 How You Can Help
For years now we have been donating money and helping raise funds to support Save Elephant Foundation in its mission to raise awareness about animal cruelty and provide a safe haven for thousands of animals (including dogs, cats, pigs, and more).
As of now, Elephant Nature Park has no more room for expansion, and your donations can help Lek purchase more land for future expansion. All you have to do is head to Save Elephant Foundation's secure Donations Page and give whatever you can. It's tax deductible, and every penny you donate goes directly to helping Lek save as many animals as possible.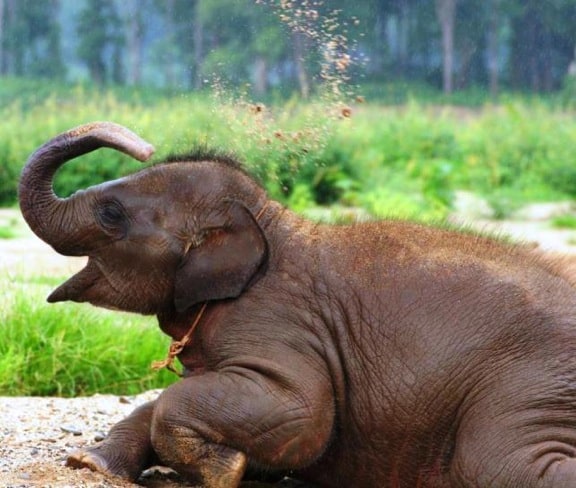 We in the responsible travel community may not be able to stop the brutal phajaan training that Brent Lewin witnessed overnight. We may not be able to convince every tourist in the world that riding elephants is essentially funding their torture.
But what we can do is support Lek Chailert's visionary work, helping to build a more sustainable ecotourism alternative that could be a model for Asia's future. And that, dear reader, is PRICELESS! –Bret Love; photos provided by Save Elephant Foundation unless otherwise noted
If you enjoyed our story on Elephant Nature Park, you might also like:
INTERVIEW: Lek Chailert, the Elephant Whisperer of Elephant Nature Park
INTERVIEW: Jill Robinson & Animals Asia Fight to Stop Bear Bile Farming
ENDANGERED SPECIES SPOTLIGHT: Sumatran Elephant
ENDANGERED SPECIES SPOTLIGHT: Dhole
ENDANGERED SPECIES SPOTLIGHT: Iberian Lynx
26 Weird Animals Around the World