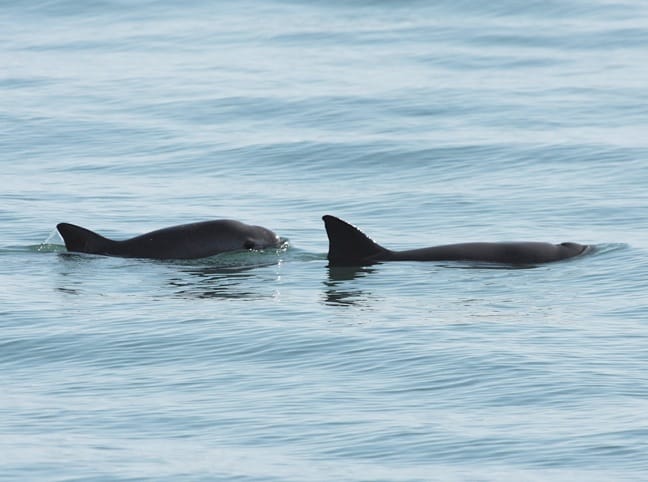 SPECIES– Vaquita (Phocoena sinus)
CURRENT RANGE– Gulf of California, Mexico
CURRENT THREAT– Commercial Fishing/Shrimping Industry
CONSERVATION STATUS– Critically Endangered
WHERE YOU CAN SEE THEM– Gulf of California (if you're lucky)
WHAT IS IT?
Porpoises are the smallest cetacean, the order of marine mammal life that includes whales and dolphins. Vaquita happen to be the tiniest species of porpoise. The small, shy swimmer grows only about 4-5 feet in length and weighs somewhere between 90-120 pounds as a full adult. (Contrastingly, the common dolphin can reach over 500 pounds.) The Vaquita, which also goes by the name desert porpoise, is only found in a cozy section of the Gulf of California in Mexico. Oddly though, the pint-sized porpoise has flippers that are proportionately larger than its cousins and a big appetite for small fish, squid and crab.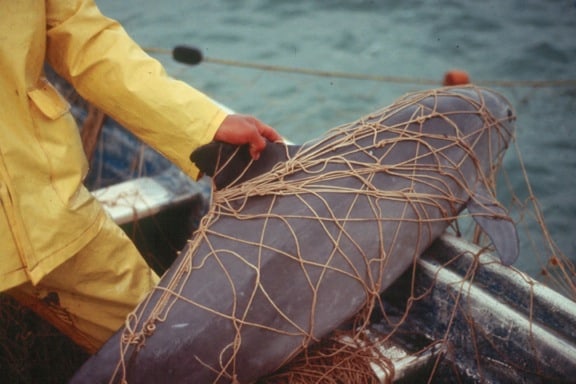 WHY ARE THEY ENDANGERED?
The main cause for the Vaquita's vanishing can be explained in just two words: gillnet fishing. As you know, gillnets are used to catch shrimp. Unfortunately, when desert porpoises encounter the hard-to-see nets, they instinctively roll around and get tangled. The mammals can hold their breath for long periods, but marine biologists believe they go into shock and die after being stuck for so long. Vaquita numbers were thought to be well over 500 as recently as 1997. But because of this tragic fishing practice, that total has fallen somewhere between 100-200 today.
WHAT'S BEING DONE TO SAVE THEM?
The Vaquita is on every major wildlife conservation organization's critical list, including the World Wildlife Fund and International Union for the Conversation of Nature (IUCN). Scientists have been working with the Mexican government on ways to rejuvenate the species for years. The Upper Gulf of California Biosphere Reserve, a nature reserve covering much of the Vaquita's territory, was established by the Mexican government as a protected area in 1992. Groups like the Committee for the Recovery of the Vaquita continue to hash out long-term solutions. –DeMarco Williams
If you enjoyed our story on the Vaquita, you might also like:
ENDANGERED SPECIES SPOTLIGHT: Dhole
ENDANGERED SPECIES SPOTLIGHT: Iberian Lynx