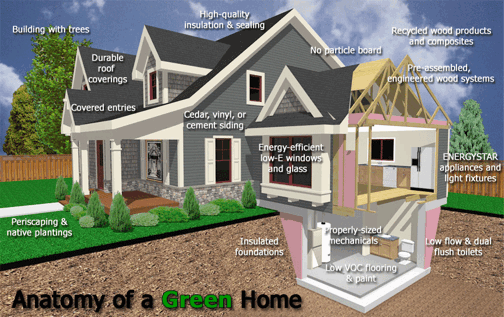 Getting your home organized is a popular New Year's resolution. News outlets, magazines and department stores offer plenty of suggestions and products to help you cut down on the clutter and turn a chaotic home into a calm, tranquil haven. Yet while creating order in your living space can bring a great sense of peace and comfort to you, we also recommend using the month of January to evaluate your home by taking a "green" inventory while you organize. This includes doing a sweep of your kitchen, living room, bedrooms and other main areas and making changes to create a more eco-friendly and energy-efficient home for 2011.
A great place to start is by taking a home energy audit to make sure your home's water and energy efficiency are running at their peak. Lowes offers consumers a quick energy audit quiz based on your home's specifications and your family's budget. Once you've taken the assessment, projects will be recommended that will help your home use water and energy more efficiently, while saving you money on monthly utility bills. Samples of these upgrades are included below:
• Replace traditional appliances with ENERGY STAR qualified appliances (refrigerators, microwaves, washing machines, dishwashers, etc.)
• Install WaterSense labeled showerheads, faucets and low-flow toilets
• Add insulation to your attic and seal windows and doors with caulk Swap out older windows with more energy efficient models
• Change air filters and upgrade your water heater
• Install a programmable thermostat
In addition to these energy-saving changes, there are a variety of other ways to create a greener, healthier home. Many of these are based on buying and using organic, biodegradable products for all your household needs. Below are a few quick suggestions to get you started in the right direction:
• Use eco-friendly cleaning products, or consider making your own
• Choose beauty products made from natural, biodegradable materials
• Buy locally-grown fruits, vegetables and meats whenever possible
• Consider starting your own vegetable garden this spring
• As you organize, donate unwanted items to a local charity
• Turn off the light whenever a room is not in use
• Buy sheets, towels and other linens made of organic materials
• Place plants throughout your home to create cleaner, healthier air
• Recycle, recycle, recycle!
For more information, visit the links below:
How To Make Your Own Cleaning Products
Find Locally-Grown Foods –Carisa Turner