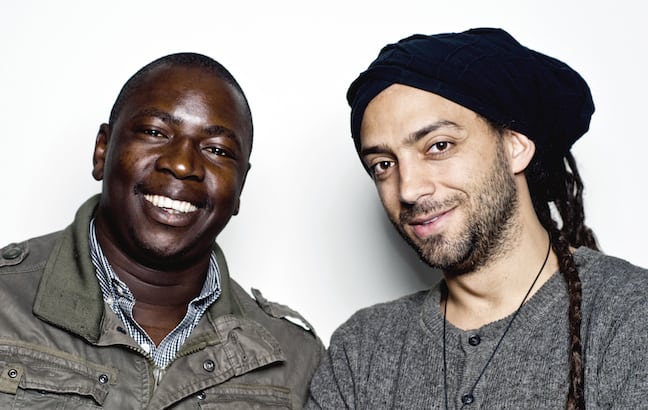 African Muslim + Israeli Jew= The Touré-Raichel Collective
An Israeli Jew and a West African Muslim walk into an airport… It may sound like the opening line to a joke, but it's actually the story behind the unique musical fusion known as the Touré-Raichel Collective.
After a chance encounter at a Berlin airport in 2008, Israeli singer-songwriter Idan Raichel and Mali's Vieux Farka Touré (the son of legendary singer-guitarist Ali Farka Touré) became friends, jammed together, and eventually formed a band. Their music blends West African rhythms and Israeli melodies, with Touré's bluesy guitar and voice creating a musical dialogue with Raichel's improvised piano.
We caught up with the duo just before the release of their second album, The Paris Session, to discuss their unlikely partnership, the sociopolitical relevance of their union, and the universal language of music. Click on the video below to listen to their infectious music as you read their inspiring story.
Let's start off with the story of how you two met and formed a friendship. What originally brought you together?
Idan Raichel: While touring with my band, the Idan Raichel Project, I felt that it was about time for me to do something a bit different, career-wise and musically.
I met Vieux by coincidence at a terminal in Germany while each of us was touring. I told him that I'm a fan of his work and I'm willing to play keyboards for him.He was pretty shocked that I'd be willing to leave my band to be a keyboardist for someone else, but he understood the need of refreshing the passion.
A week later I came to Spain to play with his band, and right after that I invited him to Tel Aviv. He played a concert at the opera house there, and after that we decided to do a 3-hour jam session recorded in a beautiful, magical studio location.
Many months later, we cut from these 3 hours the first Toure-Raichel Collective album, The Tel Aviv Session. But it started as two musicians wanting to go back to the roots of music, just meeting up and making music together.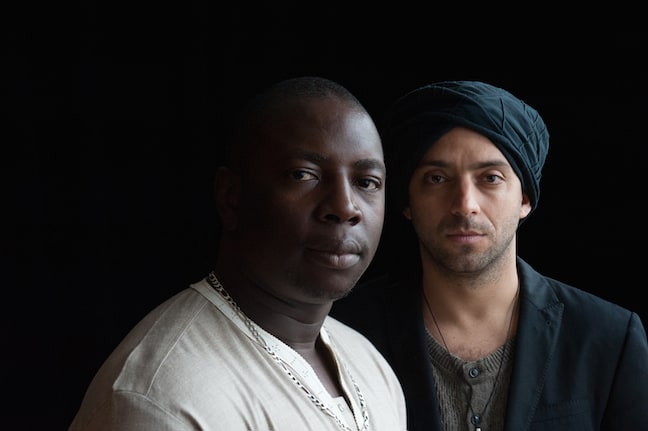 Most people would not think of West African rhythms and Israeli melodies as a natural fit. Where were you able to find common musical ground when you jammed together?
IR: We were coming from such different worlds– from the Muslim world to the Jewish world, from the Israeli world to the Malian world. Our countries don't even share diplomatic relations.
Vieux Farka Touré is used to playing music that's not very produced, but more about being versatile and playing in the moment. With The Idan Raichel Project, even if it's just an acoustic jam, later on it's still very well-produced. I think that these opposite worlds made us come together and want to do something different.
When we met at the studio, it was like putting two chefs from totally different backgrounds in the kitchen. What happens is that you find the common ingredients of the music– the sugar, the salt and the water.
I think that we went to the most basic of the Malian rhythms and the most basic of the Israeli melodies, the way that I compose them. I think that's what creates the magic.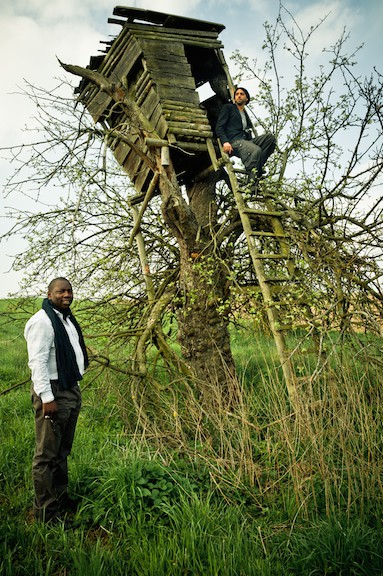 The sound reminded me of the Ali Farka Touré/Ry Cooder collaboration on Talking Timbuktu, one of my favorite albums of all time. Idan, I'm curious if that album was influential for you as well?
IR: Ry Cooder and Ali Farka Touré created one of the most legendary albums. It's an album that I used to listen to for over 10 years, every week, at least three or four times. Now, in every concert that the Idan Raichel Project performs, when the audience is going into the venue, they listen to this Ry Cooder and Ali Farka Touré album. It's an amazing, important influence to me, and I'm happy that you could've heard it with your own ears.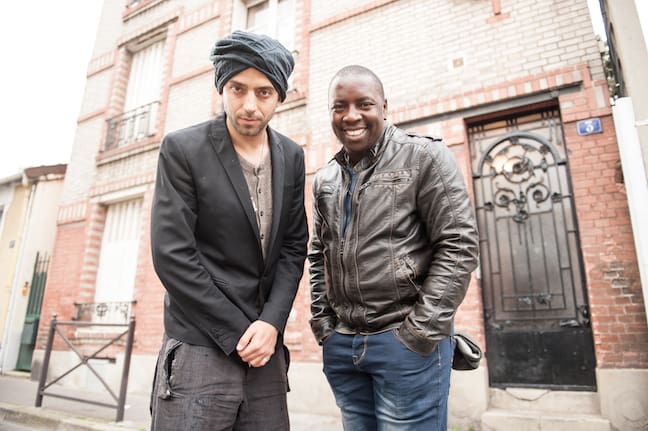 Vieux, do you think your father's success with cross-cultural collaborations made you more receptive to the idea of working with someone like Idan?
Vieux Farka Touré: Yes, of course this had an influence on me. Ali always had an open heart and open ears, and he taught me to be the same way.
Can you talk about the decision to record your father's classic song "Diaraby" for the new album? Was that an emotional experience for you?
VFT: Well, any time I play a song of my father's, it is emotional for me. "Diaraby" is one of my favorite Ali Farka Touré songs. I am really happy with how we recorded this song in an entirely new style. It sounds like an Israeli or Jewish song, but it still maintains its essence from the Sahara desert. I am very proud of being able to mix these styles in such a beautiful way.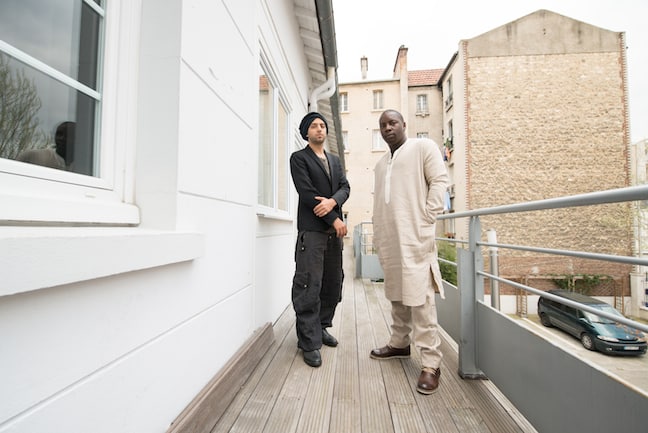 It's impossible to ignore the sociopolitical relevance of a Jew and a Muslim working together. Your intent may not be to send a political message, but there's no arguing the significance of what you're doing. Is this something you two have discussed?
IR: Vieux and I are coming from very different worlds. But I think that the magic is to let the music speak out and create bridges between cultures, religion and geographical boundaries. I feel that, with this album, we can educate a new generation to, if not love the music, at least get interested in the music originating across the borders.
I think that it's very important that one day, in Israel, they will learn in elementary schools about about Palestinian songs, about theater from Lebanon, about films from Syria. I want to know that, in elementary schools in Iran, they will teach kids about Israeli art; in Syria, youngsters will learn about music of the Idan Raichel project; and in Lebanon they will learn about the modern dance of the Batsheva dance company. I think that an album like this can help create this bridge between cultures.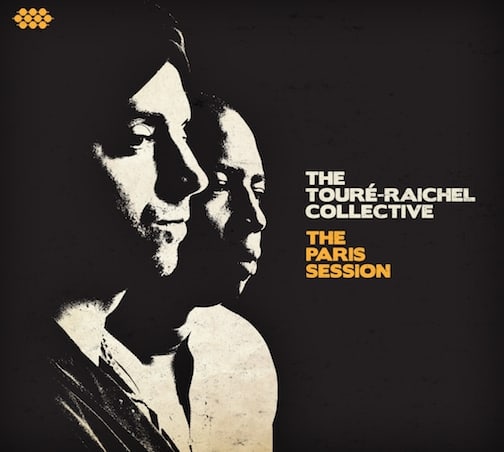 Both Israel and Mali have had more than their fair share of conflict in the last year. I understand the issues in Mali actually prevented your plans to record the new album there. Can you talk about why you had to record in Paris instead?
VFT: The situation in Mali was very tense during the period that we recorded this album. There were often demonstrations in the streets, and I could not guarantee that everything would go smoothly for Idan's trip. As a famous Jewish musician, he could be a target for the Islamists.
So we decided it would be better to record this new album in Paris and then, inshallah, we can do the next album together in Mali. Things are already much better in Mali now– it is safe in Bamako– but the security there is still very fragile.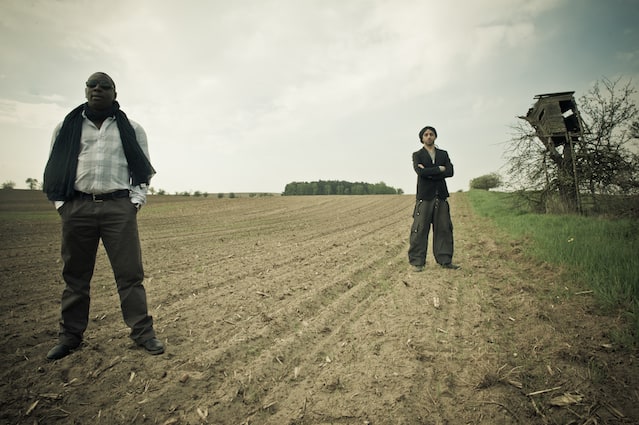 How do you feel the new album is different from The Tel Aviv Session, both in terms of the chemistry between you and the music itself? Was the songwriting process any different this time around?
IR: As I said before, The Tel Aviv Session started as a jam session. The Paris Session was meant to be an album from the beginning. We didn't try to remake The Tel Aviv Session.
We tried to keep the essence– the simplicity and the DNA of the music– but not to fake a jam session. The songs were not pre-written, so I think there are some similarities between the albums with the sound.
But The Paris Session takes it to another level. It gave us time to think about lyrics, and about beautiful song structures.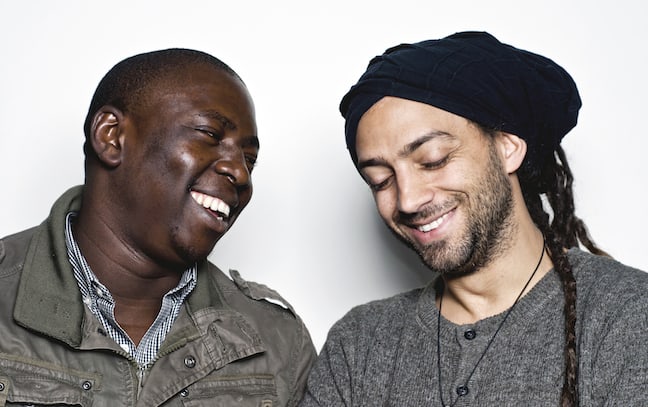 I've always believed that music is a universal language that can bring people closer together. Do you have any sort of hope that a project like this can, in some small way, help to bring people together?
VFT: Yes, of course this is our hope. We want to demonstrate to the world that it is not only possible for Jewish and Muslim people to appreciate each other, but that they are capable of cooperating, collaborating and making something beautiful together. We are just humble musicians, but I hope this can set an example for our politicians to follow. –Bret Love; all photos provided by Cumbancha Records
If you enjoyed our interview with the Touré-Raichel Collective, you might also like:
INTERVIEW: Tinariwen, Mali's Tuareg Blues Masters
INTERVIEW: Baba Salah on al-Qaeda's Invasion of Mali
INTERVIEW: Nigeria's Seun Kuti
INTERVIEW: Senegal's Baaba Maal
INTERVIEW: Sierra Leone Refugee All-Stars
GLOBAL CULTURE: The West African Griot