Every once in a while– maybe once per generation– an extraordinary musician comes along whose sheer originality, talent and vision allows them to reinvent their instrument, challenging listeners and other musicians alike to reconsider everything they previously thought they knew about its inherent possibilities.
Buddy Rich did it with the drums. Miles Davis did it with the trumpet. Jimi Hendrix did it with the guitar.
Soft-spoken banjo virtuoso Bela Fleck may not be as flashy as those guys, but his musical influence has been no less impactful.
Over the course of the 20th century, the history of the banjo went from being a beloved traditional folk instrument to something of a joke, more commonly associated with the backwoods denizens of Deliverance than with musical prowess.
But, through his work with New Grass Revival and his legendary group The Flecktones, Fleck's artistry gradually revealed the banjo as an instrument capable of adapting to myriad stylistic influences.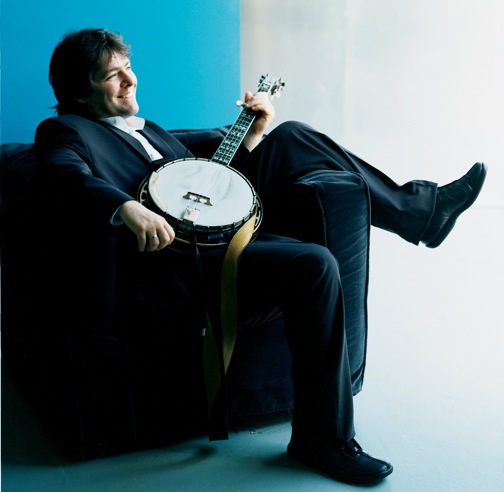 From country, folk and progressive bluegrass to jazz, classical and world music (including albums with musicians from Africa and India), Fleck has received Grammy nominations in more different categories than any other musician in history, winning a total of 12 to date.
Now, on the heels of back-to-back Best World Music Album wins for his African collaboration Throw Down Your Heart, the maestro has reunited with his original Flecktones lineup for the first time in 20 years and released a new album, Rocket Science.
The gracious, humble Fleck sat down for an exclusive interview that covered a range of topics, from his interest in diverse musical genres to how it felt getting the band back together.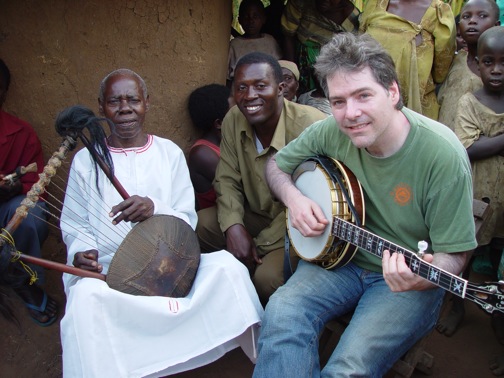 You've been performing professionally for over 30 years, and in the process revolutionized the way a lot of people think about the banjo as an instrument. Was that your intention from the start?
I just loved the banjo, and it was my window into music. I needed to learn these things on the banjo in order to understand them. And as I went along, I did see the inherent possibilities, and it began to seem like a quest.
I love your solo work and your work with the Flecktones, but the album that blew my mind was Tabula Rasa, your Grammy-nominated 1996 recording with Indian guitarist Vishwa Mohan Bhatt. How did that album come about?
The idea for the collaboration was suggested by Kavi Alexander, the man who runs Water Lily Acoustics records. He had previously done records with Ry Cooder, Bhatt, Edgar Meyer and Jerry Douglas. I loved the way he recorded them on one stereo mike, by finding a beautiful sounding acoustic space, and placing the musicians around that one mike. When he invited me to do a recording with Bhatt, I said yes, but can we make it even more interesting? We came up with the idea of having Indian and Chinese musicians together, and I was in! Ironically, some of the Indian musicians had a misunderstanding with Kavi and left in mid session. I recorded more with the musicians who stayed and it ended up making the album even more diverse and interesting. I love that album, those musicians, and the way it all turned out great, despite the logistical complexities. The whole thing was recorded in three days.
How did that experience influence your style of banjo playing?
It strengthened the idea that collaboration with musicians from around the world could be an important area for me.
You've always moved fairly nimbly from jazz/funk, to bluegrass and country, to world music fusion. Where does this interest in exploring different musical genres come from?
Short attention span? Jack of all trades, master of none? Simple curiosity? (Laughs) I'm not sure…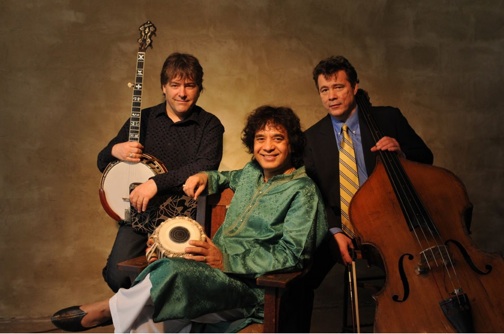 You returned to the world music arena a few years ago, when you and Edgar Meyer paired with tabla legend Zakir Hussain to compose The Melody of Rhythm. I interviewed Zakir a few months ago and he recalled that you and Edgar had approached him with the concept. What was it about his playing that inspired you to work with him?
Edgar and I had so much to learn from Zakir, and we are both very happy when we are challenged, and in a position to grow. Zakir is an effortless master, a great composer, and an all around highly musical individual. My musical world is so much richer due to his participation in it. We do have some new music we're composing together that has been started. The touring time has ended for now, but we are looking at doing a major trip to India and perhaps Australia, and the Pacific Rim. This might happen in 2012.
A few years ago you went to Africa to record the album Throw Down Your Heart, and filmed a wonderful documentary about your experience. What inspired that musical journey, and what are some of your favorite memories from the trip?
The banjo comes from Africa, so I had thought I had good reason to go and see what would happen there. I loved everyone I got to play with, and the experience was most profound.
When you collaborate with these masters of the ngoni and kora, how does that impact your approach to your own instrument?
They have a whole different musical language, so it showed me a new way to play a plucked instrument. They have found some very different solutions to the problems found in playing gourd instruments with very little sustain.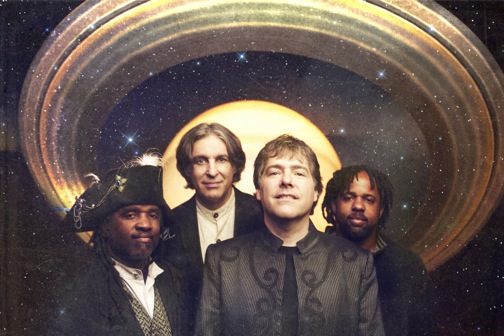 Where does your work with The Flecktones fit in with your current musical vision?
This is an unexpected gift. The chance to reunite with Victor, Future Man and Howard came up when Jeff Coffin took a full time position with the Dave Mathews Band. Now we have started the reunion tour, and it is incredibly exciting. This was the band I put together in 1988, and here it is back together 23 years later, and with enhanced powers due to everyone's musical growth over the last 18 years.
When you guys spend time apart to work on your various other projects, what's it like when you reunite for a project like your new album, Rocket Science?
Having Howard back is so different. It really made it feel like we were picking up right where we left off when he left in 1992, rather from where we were when we made the last recording with Jeff. Victor and Future Man and I have so much history now, we find it very easy to make music together.
How would you summarize what all of your various adventures have taught you about music, the world and the inter-connectedness of its people?
There is more that we have in common with each other than there is that is different. It's the communication that is critical. When we play music with people from different lands, joy fills the room. I wish the world's politicians could experience it.
Any other forthcoming projects our readers should know about?
The biggy is a banjo concerto I have composed that was commissioned by the Nashville Symphony. The premiere is in September, and I am petrified! The Flecktones will continue touring until April of 2012, and then I have several other musical ideas to pursue. But I can't talk about them just yet… –Bret Love
If you enjoyed reading our Bela Fleck interview, you might also like:
A Musical Passport: 40 World Music Artists From Green Global Travel's First Year
Sierra Leone Refugee All-Stars Interview