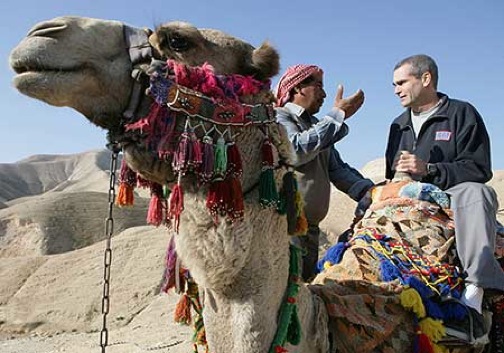 HENRY ROLLINS, ADVENTURER
The Aging Punk Icon Wants To Save The World, One Documentary At A Time
I've been following former Black Flag/Rollins Band frontman Henry Rollins since I was a rebellious teen. I met him for the first time when I worked for his record company in 1992, and as a music journalist have interviewed him many times over the years (sometimes disagreeing with each other so vehemently that the conversations became antagonistic).
We've both mellowed a lot over the years while veering onto similar career paths: Right around the same time I started my own ecotourism/conservation website, he began shooting travel documentaries for National Geographic and released his new book of photos from his travels, Occupants. Now, as he turns 50, the lifelong travel buff is preparing for a major tour and signing a multi-project deal for NatGeo, which formed the basis for our latest conversation.

When did you discover your love of travel?
My mom was an art nut, so she'd save her meager earnings from her government job and we'd go to museums all over the world. I'd been to Turkey, Greece, Spain, France, England and Jamaica before I was in the fourth grade. It gave me a taste for travel. By age 20, I joined Black Flag and we became an internationally touring act– Europe, Scandinavia, etc. Then, with the Rollins Band, I told those guys, "Let's use this band as a vehicle to get places!" We played in Russia, Poland, Hungry, South America, Japan, Australia, New Zealand and Singapore. I set a new rule for myself a decade ago that I'm going to go to Africa once a year, so I've been to Africa 10-11 times. I've been to every country in the Middle East besides Oman and Yemen.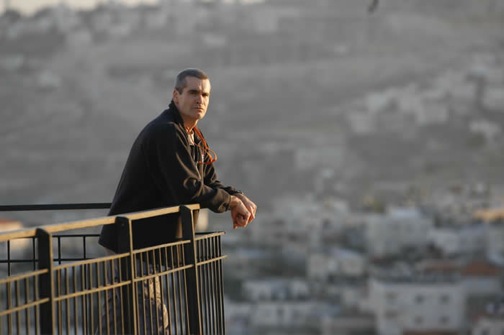 Have there been any trips that have had a profound impact or changed you in some way?
Oh yeah, the first trip to India was a real corner-turning experience for me. You see… not just poverty, but people who register as intolerably and unacceptably poor. They don't feel sorry for themselves, so you look odd to them because of the way you're looking at them. Since then, I've never thought about food, water, life or death the same. It was a very transformative experience. Then I started seeing that in Africa, where being poor is kind of just the way it is. To the locals, you are this weird import item walking through land that they've been holding down for centuries. They almost look at you with pity.
You took a recent trip to Southeast Asia. What were some of the highlights for you?
Yeah, I was in North Korea, China, Tibet, Nepal, Bhutan and North Vietnam. I wanted to see what was left of the bombings that Nixon and Kissinger unleashed upon the Vietnamese people. I wanted to go to the Northern Vietnamese war museums in Hanoi, so I hired a guide to drive me around. He was an older guy who was in the Christmas bombings and he had amazing stories about taking his bicycle and having to walk over corpses in the street. He showed me a photo, and it looked like some futuristic apocalyptic scene– nothing but craters– from a B-52 strike.
I asked if he could show me people afflicted with Agent Orange damage, so we went to a place called the Vietnamese Rainbow Village, which was started by an American Vietnam vet who saw what tetrachlorodibenzodioxin does to people. He started this organization, funded by everything from Christian groups to European NGOs, to deal with ex-soldiers and their kids, who get this horrible mangling of their flesh from dioxin poisoning all these generations later. They allowed me to interview the director through a translator, and I interviewed a bunch of Vietnamese soldiers who were there for treatment, and they told me their stories. Half their kids are dead from Agent Orange. It was a very educational thing, and I'm hoping to get back there this year to do some documentary work.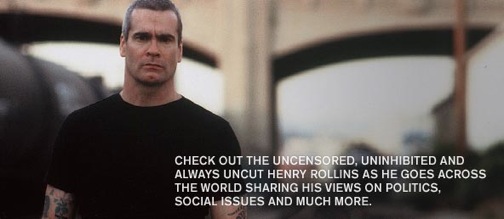 Is it difficult to separate yourself from the sociopolitical issues? Are you ever able to relax and have a good time?
Just being in these places is good for me. One of the reasons I travel is this sociopolitical bent that I'm on: I want to see what globalization looks like on the other end. I want to see what global warming and climate change looks like all over the world. I want to see what a war looks like after America has stopped talking about it, which is why I visited Southern Sudan. They had a war with the north for over two decades, so there are tank parts on the ground, bits of land mines everywhere and a huge mountain in the middle of a cornfield- where they buried a bunch of Northern soldiers. It was really intense to be walking over the bones and blood of this war that raged for 20 years. But try to find out anything about it in American newspapers…. there's barely anything.
Tell me about your work with National Geographic.
I signed a multi-project deal with them. Now, we've filmed the first two documentaries and I'll be meeting with them in a couple of weeks in DC to discuss our future plans for this year. They like the work we've done so far. What I'm hoping for is for them to love me madly and to be ridiculously busy with work for them.
What can you tell me about your forthcoming Nat Geo Wild special, Snake Underworld?
We flew all over America and interviewed people who have different relationships with snakes. We went to two of the biggest herpetological vendors in America. We went to Fire– the Florida International Reptile Expo– and interviewed people who are geeked on snakes. It culminates with Tim Freedy, an old buddy of mine who regularly injects himself with venom from a Black Mamba, a rattlesnake, and a water cobra to see if he can build up enough antibodies to withstand the effects of venom. We pull this thrashing 10 ft mamba out of its cage, and he gets it behind the head and milks it before carefully uploading 5 cc of wet venom. We have an ambulance standing by. We have those pads on him. We're taking his pulse rate. His left arm swells up and he sweats for a while, then his heart rate goes back to normal and 20 minutes later you forget that he just took enough Mamba venom to kill three people. It's really cool.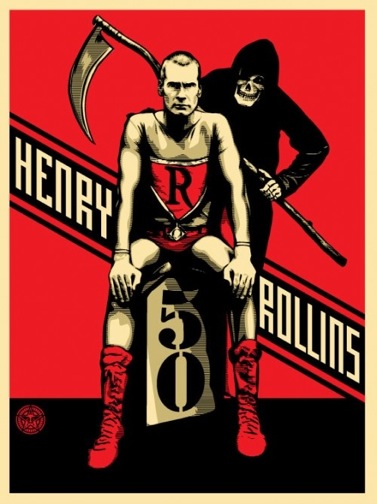 As somebody who grew up following your music career, then your move into movies/talk shows, this seems like the next phase in your evolution. If I interview you 10 years from now, where do you hope you'll be?
I'd be very happy to be doing documentaries with my own production company as well as with National Geographic. I hold National Geographic in such high esteem. I think they're amazing. I grew up near the building in DC, and I would love to be one of those older men in a pith helmet and a magnifying glass looking for some moth in a South American Rainforest for National Geographic. I think that would suit me very well. So I'm hoping that 10 years from now I'll be working on documentaries, writing travel books, taking photographs all over the world, and doing things to upgrade the way humans interact with each other, the way they're cared for, and the way the environment is cared for. –Bret Love
If you enjoyed ready our Henry Rollins Interview, you might also like:
INTERVIEW: TV Host Jeff Corwin
INTERVIEW: Artist/Marine Conservationist Guy Harvey
INTERVIEW: WWF Polar Bear Biologist Geoff York