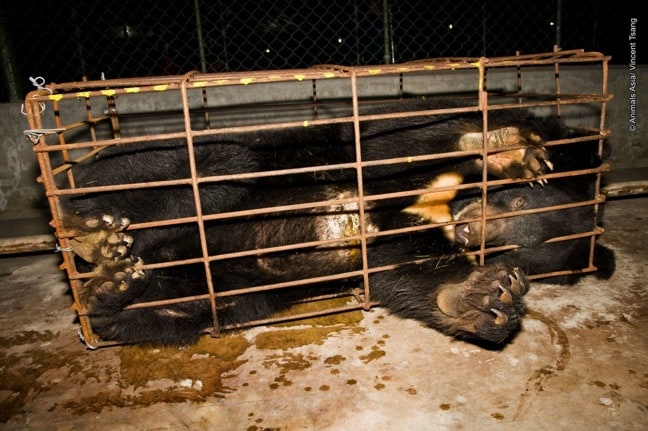 If you've followed wildlife conservation with even a cursory interest over the past decade, you know that Asia is the major hotbed for illegal activity in the wildlife trade.
Rhinos are being slaughtered at a horrific rate to meet the "need" for their horn. Elephants are murdered for their ivory. Tigers are hunted for the alleged aphrodisiacal powers of their penis. Millions of sharks are mutilated– their fins hacked off while they're still alive– to make shark fin soup. And thousands of Asiatic black bears (a.k.a. moon bears) are kept in cramped cages, with machines sucking out their bile for use in Traditional Chinese Medicine.
It was the latter practice that inspired British-born Jill Robinson to create the Animals Asia Foundation, a Hong Kong-based charity whose mission is to end cruelty to animals in Asia. Awarded an MBE by Queen Elizabeth in 1998, and the Global Federation of Animal Sanctuaries award for world's best sanctuary in 2011, Robinson has worked tirelessly to end the barbaric practice of bear bile farming, improve animal welfare in Asia, and educate China's government and general public on the importance of wildlife consrvation.
It was an honor to speak with Robinson about the Animals Asia Foundation mission, the challenges facing wildlife conservation in Asia, and what she sees as signs of hope for the future.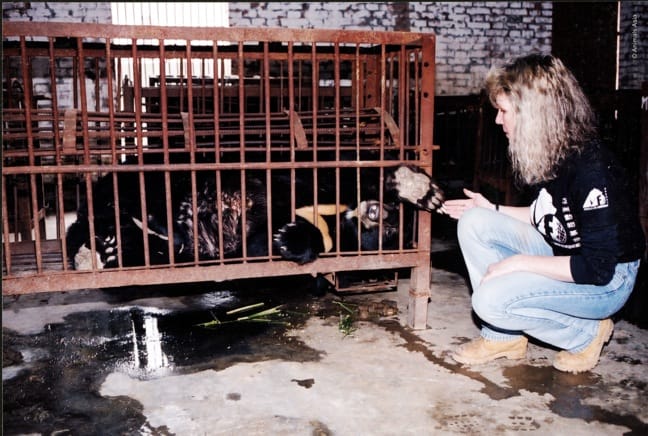 What was it like the first time you visited a bear bile farm in China?
It's as vivid now as it was in 1993. The sights, sounds and smells of that hideous place were unforgettable. A lightning bolt of shock surged through my heart as I stepped into the bile extraction basement, utterly unprepared for what I saw. There were 32 Asiatic black bears (or moon bears) staring out from rusting cages. I heard strange popping vocalizations. The closer I moved to the cages, the louder they became. To this day, the sound haunts me. We hear it on farms we visit, and when we first rescue bears.
As I walked around in shock, looking at scared bears with skeletal bodies, smashed teeth, and abdomens with metal catheters protruding from them, I brushed too closely to a cage, and felt something gently touch my shoulder. Turning around, I came face to face with a female bear, who had her paw through the bars. It seemed like the most natural response to hold her paw, and I can still feel her claws gently squeezing my fingers. I looked into her beautiful brown eyes, knowing that there was nothing I could do to help her, but also knowing that this one bear had begun something that would change my personal and professional path. And so began the journey of the Moon Bear Rescue.

Why did you feel the need to launch the Animals Asia Foundation?
The Animals Asia Foundation was simply a result of the suffering the bears endured. I felt that their plight could best be addressed from a local perspective, with a group of people who had lived or worked in Asia for a number of years, who could work sensitively and productively with local communities. One Chinese government official advised me many years ago to "start the debate in China." I've always tried to build a core base of people who would share similar principles. Today, that core base has expanded beyond all comprehension: The issue of bear farming was amongst the Top 10 issues of China in 2012.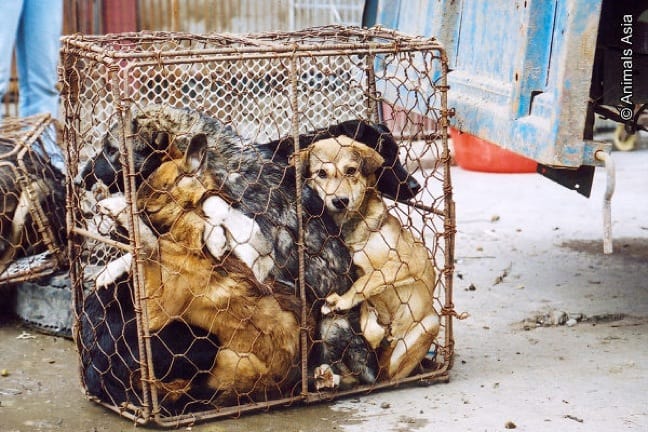 Can you briefly explain the foundation's flagship programs?
The first is End Bear Bile Farming. The Animals Asia Foundation runs sanctuaries in China and Vietnam, where 700 victims of the bile farm industry have been rescued. These sanctuaries are the basis for scientific research on the effects of bear bile farming. We also engage with members of the Traditional Chinese Medicine community, to reduce demand for bear bile and replace it with alternatives. Over 140 TCM shops in China have pledged never to sell it, and to work with us in spreading the word. We run extensive public awareness programs, work with government departments in China and Vietnam, and lobby political, business, legal and cultural leaders to gather support for the bears' cause.
Our second flagship campaign is Cat & Dog Welfare, which works with 100+ groups across China to give a voice to companion animals and provide a convincing argument as to why they are friends, not food. We carry out investigations of the dog and cat markets, slaughterhouses and restaurants of China, and run public awareness campaigns promoting messages of animal welfare and respect. We encourage stronger enforcement of current regulations, and campaign for the introduction of animal protection legislation.
Our third flagship campaign is Zoos & Safari Parks. We conduct investigations of these facilities across China and submit findings of cruelty and abuse to management offices and government departments. We work closely with the China Association of Zoological Gardens and provide educational workshops to promote change in the way captive animals are cared for. Public awareness is important, so we give presentations to schools in order to enhance their empathy for animal welfare. In 2010, following our investigation into animal performances, the government ministry responsible for the management of Chinese zoos banned the use of wild animals in such performances.

What are the unique challenges facing wildlife conservation in Asia?
Wildlife is disappearing faster than it can be saved. Habitat loss, poaching and conflict are seeing so many species losing the battle for survival. Forests are being decimated, and this loss is affecting whole ecosystems as plants and animals die out. In 2012, 668 rhinos lost their lives due to demand for their horns, and this year is set for similar carnage unless anti-poaching operations are stepped up. Elephants are being butchered in Africa and Asia at an unprecedented rate for their ivory. We're witnessing the systematic slaughter of the world's largest land mammals. Chinese authorities are helping with awareness campaigns, but it seems that the "lords of poaching" are too powerful to stop unless more powerful enforcement is introduced. And so it goes, with pangolins, sharks, tigers, bears and many other species desired for their medicinal value or meat.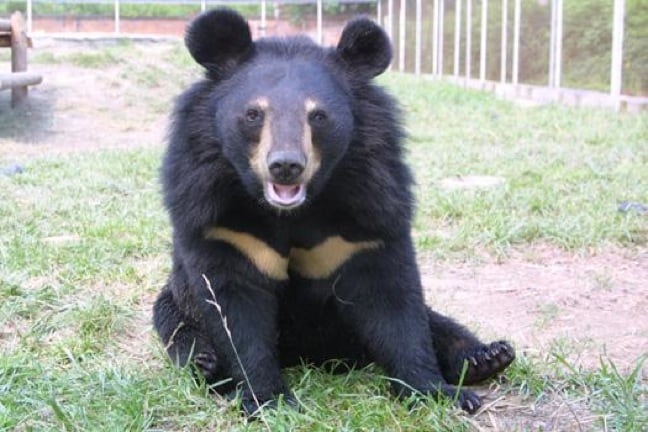 What do you see as the positive signs for hope that things will change?
There's a massive amount of work being done by NGOs in countries where these animals are being exploited, and a major shift in attitude is taking place. Whether this will be enough to stem the tide is another matter, but many groups are urging CITES (Convention on International Trade in Endangered Species) to call for a complete ban on the ivory and rhino horn trade.
To me, the hope is also in the people of China rising up to challenge the cruel traditions of the past. Ethical restaurants in China are removing shark fin from their menus, and many young people refuse to serve shark fin soup at their weddings. There are groups lobbying against the import of Canadian seal products, rallying when the organizers of American rodeo tried to import this ghastly form of entertainment, preventing a foie gras factory from being built, and rescuing thousands of cats and dogs from cages on their way to the hideous live animal markets of China. In the case of bears, we're seeing examples such as this all the time and it seems that the tide is, at last, turning.
Not surprisingly, the farmers are fighting back, since this is a threat to their livelihood. Over the last few months we've seen threats, relentless hacking of our website, smear campaigns on our character, and more. But there's no going back: We continue to fight with help from Chinese celebrity friends such as NBA legend Yao Ming, who recently toured our sanctuary and pledged to help with PSAs, actress Sun Li, and Karen Mok (a.k.a. the Madonna of Asia), who has been our ambassador for many years. With their help, we're keeping the issue in the spotlight and inspiring the younger generation to protect bears for their own sake, rather than for how they can benefit humankind.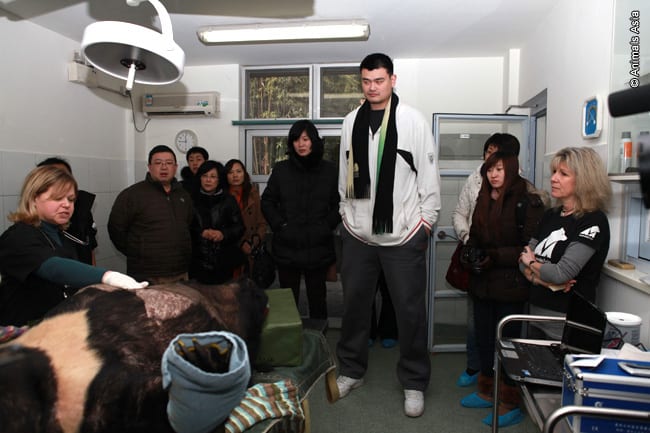 What are your major goals for the future of the Animals Asia Foundation?
As far as bear farming, Animals Asia has a strategic plan that involves requesting Chinese authorities to work with us to end bear farming within the next five years. With over 10,000 bears affected on some 100 farms, this is a challenging task. But with bear bile farming fast becoming such a distasteful industry across China, and with pressure to end it from within the country, we have an opportunity for ending it in a way that will both help the bears and see the authorities applauded for closing down what is unquestionably a barbaric industry.
In Vietnam, we're developing our sanctuary and will have room to hold 200 bears. The number of farmed bears in the country has been reduced from around 4,000 bears to approximately 2,400 today, and we are optimistic that we'll see bear farming finally ended there too. Our ongoing public education programs will continue, as will our projects and initiatives with the authorities in both countries.
Our other flagship campaigns are also set to grow, particularly in conjunction with the rising number of local groups in China and Vietnam, which are doing so much today for enhancing the welfare and respect of these animals.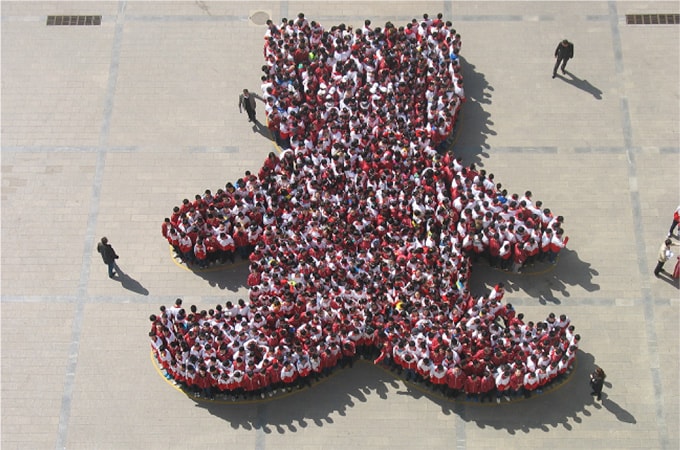 What role do you think education will play in changing the way Asian people view wildlife?
Arguably the most important part of our work involves the participation of current or future consumers of bear bile. So we open our doors for thousands of school children and college students to learn about this barbaric industry, and see them leaving pledging never to consume bear bile. More importantly, they take this message back into their own communities and raise awareness with their families and friends. The core message to the young states: "Wo Ai Yue Xiong" (we love moon bears).
We're educating government officials, target groups (bile users, funders, partners, TCM practitioners and celebrities), and the broader public about the cruel treatment of bears, the negative conservation impacts of farming them, and potential health risks of using bear bile. In addition, we're working to influence China's government to pass and enforce laws to end bear farming through lobbying and continued development of relationships at the central and provincial level.
Our work with eminent professors of pathology is showing the harmful effects on human health that bear bile 
may have. Professor Liu Zheng Cai, a Traditional Chinese Medicine Doctor who has also been consulting with Animals Asia for the past ten years, states: "The bears have cancer themselves, so how can they possibly cure it?" Again, I believe that the voice must come from within Asia, and the government and citizens of these countries must be willing, and driven, to change. –by Bret Love; all photos courtesy Animals Asia Foundation
If you enjoyed our story on the Animals Asia Foundation, you might also like:
INTERVIEW: Lek Chailert of Elephant Nature Park & Save Elephant Foundation
INTERVIEW: Defenders of Wildlife Wolf Conservation Expert Suzanne Stone
INTERVIEW: Legendary Primatologist Jane Goodall
INTERVIEW: Dian Fossey Gorilla Fund CEO Tara Stoinski
INTERVIEW: Wildlife Expert/TV Host Jeff Corwin
26 Weird Animals Around the World