Held every year on the day before Ash Wednesday, Mardi Gras (a.k.a. Fat Tuesday) in New Orleans is a cultural spectacle to behold, rivaled only by Carnival in Brazil and the Holi Festival of India.
But, as impressive as the Crescent City's celebration of the historically French Catholic holiday is, America's first Mardi Gras festivities were held in what is now known as Mobile, Alabama.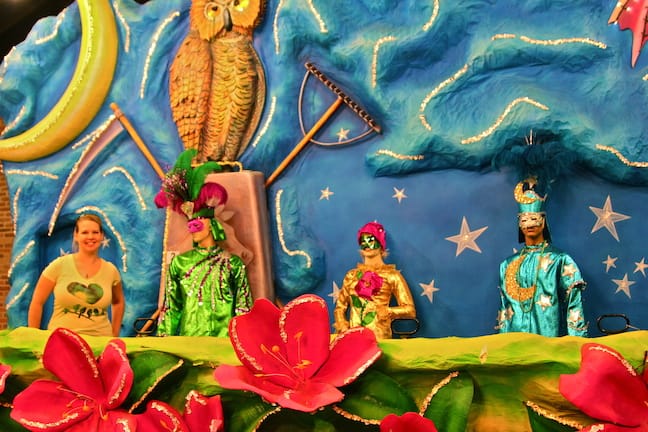 AMERICA'S FIRST MARDI GRAS
The American tradition can be traced back to the early 1700s. French King Louis XIV sent brothers Pierre Le Moyne d'Iberville and Jean-Baptiste Le Moyne de Bienville to what was then known as the Louisiane territory in 1699 to defend the crown's interests there. The expedition entered the mouth of the Mississippi River and gradually made its way upstream.
By 1702, Bienville had founded the settlement of Mobile as the first capital of French Louisiana. A year later, French settlers established the first organized Mardi Gras celebration in what would later be known as the United States.
By 1711 Mobile residents had formed the first mystic society (the secretive social organizations that present Mardi Gras parades and masked balls, known locally as a krewe), the Boeuf Gras Society. In 1830, seven years before New Orleans held its first parade, the Cowbellion Raking Society grabbed cowbells and hoes and marched ceremoniously through downtown Mobile.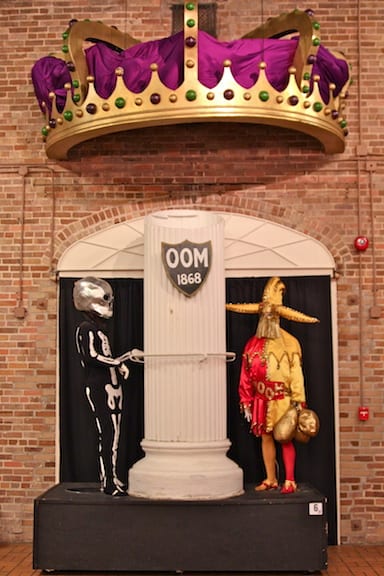 VISITING MOBILE CARNIVAL MUSEUM
You'll learn much of this fascinating bit of history during a film presentation immediately upon entering the Mobile Carnival Museum, which proudly touts the Alabama town as "the Birthplace of Mardi Gras."
Museum volunteers (some of whom are former Kings and Queens of the Mardi Gras balls) will pooh-pooh any suggestion that New Orleans' celebration can hold a candle to theirs.
Mobile's annual celebration includes social events in November, private balls on Thanksgiving and New Year's Eve, parades and more balls in January and February, and continues until midnight on Fat Tuesday.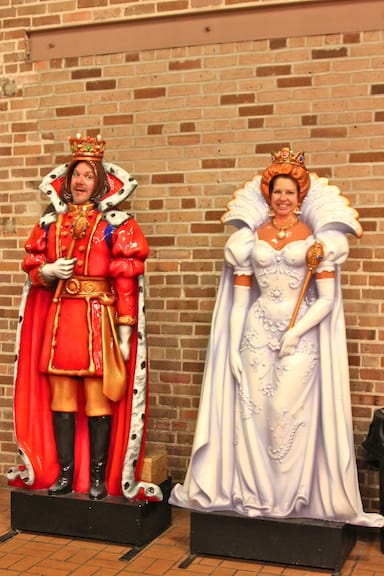 The Museum offers an immersive look at the evolution of Mobile's Mardi Gras, starting with "The Den," a warehouse-style space (often rented for private events) featuring several floats used in previous parades.
The largest float pays tribute to the past with a rake and scythe, surrounding them with vivid blues, greens and reds, mannequins dressed in masks and brightly-colored costumes, and enough glitter and lights to make Lady Gaga jealous.
The Den (a nickname for the places where secret societies meet) features interactive elements where kids can play dress-up and adults can pose for pictures as Mardi Gras Kings and Queens.
It also honors the city's history with a tableaux dedicated to the Order Of Myth krewe (established 1868), in which a costumed jester (a.k.a. Folly) and a skeleton figure (a.k.a. Death) chase each other around a pillar that represents Life.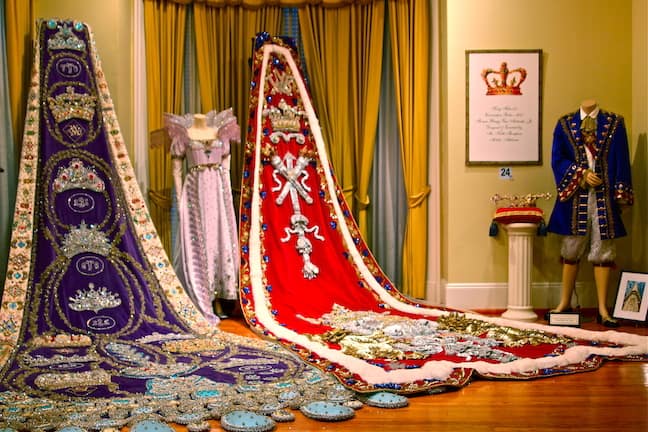 MOBILE'S MARDI GRAS HISTORY
While these exhibits capture the colorful pageantry of the public parades, it's the halls that lie beyond the Den that give you a true taste of Mobile's deep, rich Mardi Gras traditions.
Divided racially into the Mobile Carnival Association (whites) and Mobile Area Mardi Gras Association (black), the major social organizations involved are largely comprised of the city's elite business and civic leaders.
Children are indoctrinated into the world of masked balls at an early age, bedecked in fabulous costumes practically as soon as they're old enough to walk. Once they reach 8th grade they qualify to become Juvenile members of the royal court, while most Mardi Gras Kings and Queens are in college.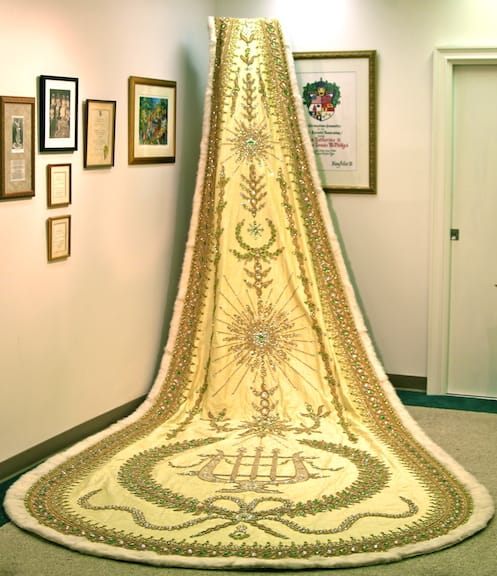 Most of the coronation ceremonies are free and open to the public as long as they have a ticket. But the "royalty" are the sons and daughters of prominent secret society members: It's an honor passed down from generation to generation like a beloved family heirloom.
There's an intriguing economic element to these traditions. In the old days, aristocrats wore masks so that they could anonymously mingle with the peasants.
Nowadays, the royal court can't help but stand out in the crowd, wearing elaborate capes, crowns and ball gowns that can cost as much as a new car.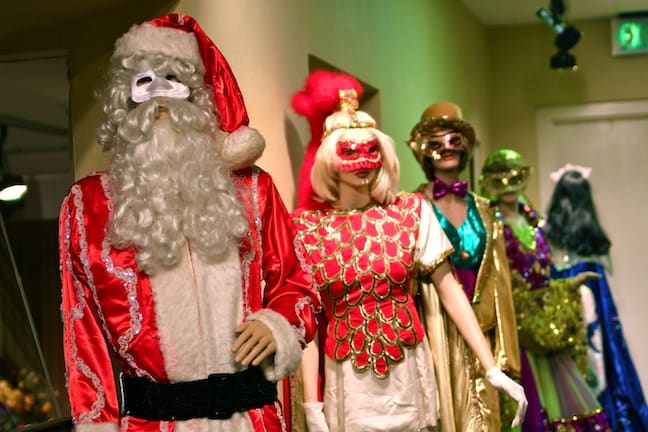 The Museum is filled with myriad ornate regalia and memorabilia dating back to the early 20th century, including professional portraits of Kings and Queens from days gone by as well as colorful costumes worn by more common parade participants.
Lively jazz music provides the perfect soundtrack, while videos of past celebrations give you a taste of the action.
If you've never been to Mardi Gras, a visit to the Mobile Carnival Museum will definitely make you want to go. It will also open your eyes to a rich 300-year cultural history that goes a lot deeper than colorful beads, costumes and debauched chicanery.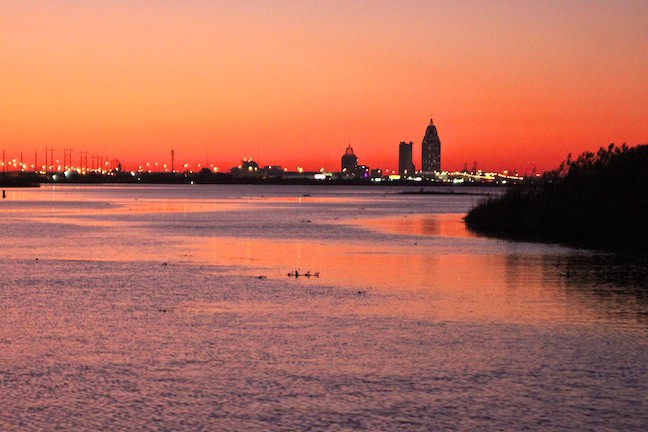 OTHER THINGS TO DO IN MOBILE
Visit 5 Rivers Delta Safaris & Resource Center- Located where five rivers flow into Mobile Bay. Features an educational nature center, canoeing and kayaking tours of the wetlands, and a sunset cruise with wine, hors d'oeuvres and spectacular skyline views.
Exploring Historic Mobile- Founded as the first capital of colonial French Louisiana in 1702, Mobile has nine major historic districts rivaling those of Charleston or Savannah. The Midtown District, which features numerous 19th-century buildings and is on the National Register of Historic Places, is especially worth touring.
Go Fishing in Mobile Bay- Home to the annual Alabama Deep Sea Fishing Rodeo. The Mobile-Tensaw River Delta, the second largest delta in the United States, feeds into the Bay, creating nutrient-rich waters that attract 300 species of birds, 46 mammals, myriad reptiles and amphibians, and more than 125 species of fish. –by Bret Love; photos by Bret Love & Mary Gabbett
If you enjoyed our story on the Mobile Carnival Museum, you might also like:
ALABAMA: Fishing Mobile Bay & the Mobile-Tensaw Delta
LOUISIANA: An Insider's Guide to Mardi Gras in New Orleans
LOUISIANA: Charmed at New Orleans' Historic Voodoo Museum
LOUISIANA: Mardi Gras Indians Celebrate Super Sunday in New Orleans
LOUISIANA: Cajun Food Tours in Lafayette
INTERVIEW: Ben Jaffe on Preservation Hall Jazz Band & New Orleans