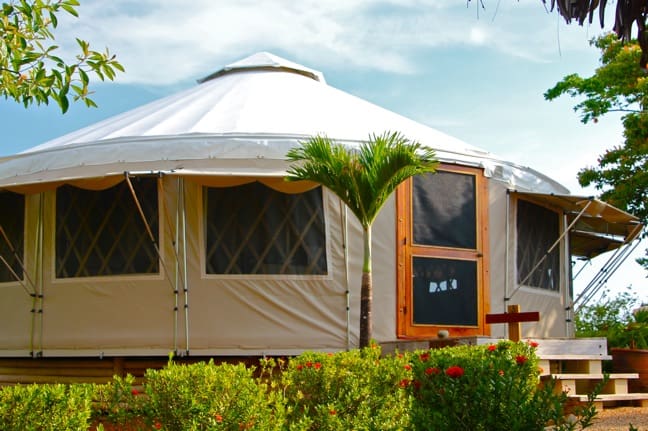 Panama Photos
Spending A Day On Our Own Private Island
Our of our favorite things about spending a week as guests of Islas Secas Resort, which is located about 30 minutes by boat off the southern coast of Panama, was how exclusive and private it felt. With only seven casitas (the Spanish word for the Yurt) spread out across the main island, and with the majority of their guests being die-hard fishermen who were out on the water from dusk 'til dawn, it was possible to go an entire day without seeing another traveler. Because our Casita Grande was nestled amongst the trees at the top of a huge hill overlooking the bay, it really felt as if we had our own little slice of paradise all to ourselves. And, with a 1:1 employee/guest ratio, the staff was always eager to help out with anything we needed.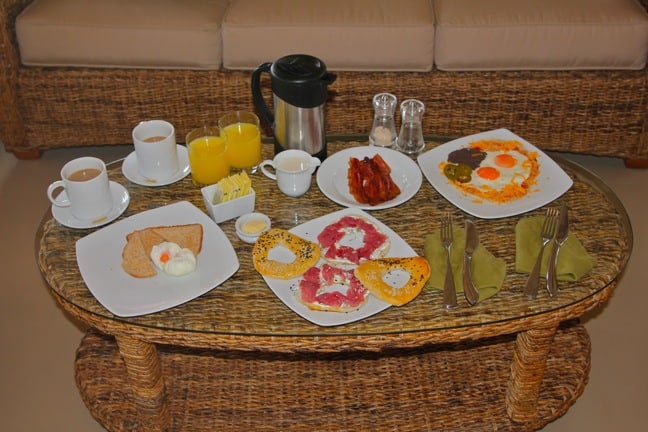 On the morning after our big game fishing adventure, what we really wanted was to move as little as humanly possible. You'd be surprised the toll reeling in 150 pounds of tuna can take on a 40-something body! So, with the rare luxury of NOT having our daily itinerary planned out to the nth degree, we decided to take breakfast in our room, including some incredible homemade bagels with the tuna we'd caught the night before. Between that, the rich Panamanian coffee and the fact that we had no set plans, it was a decadently relaxing morning.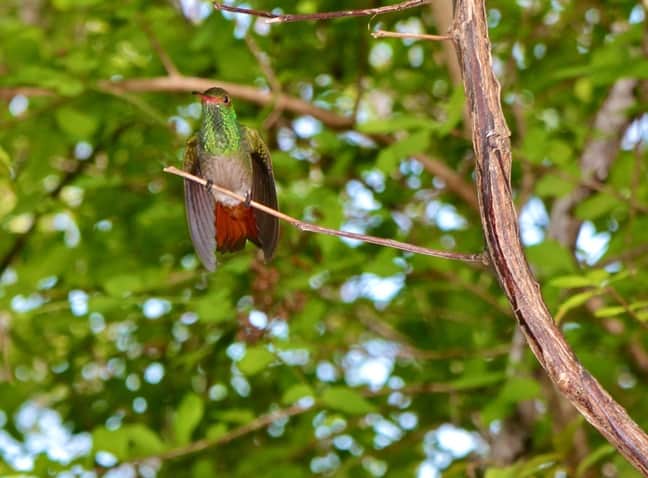 Sitting outside in the shade of our palapa, we had a chance to get to know some of our friendly neighborhood wildlife. Islas Secas keeps hummingbird feeders everywhere, including a big one hung from our palapa. It produced loads of buzzing traffic, but this beauty seemed to hang around fairly regularly. I believe this was the first hummingbird shot I've ever taken in which the subject sat perfectly still.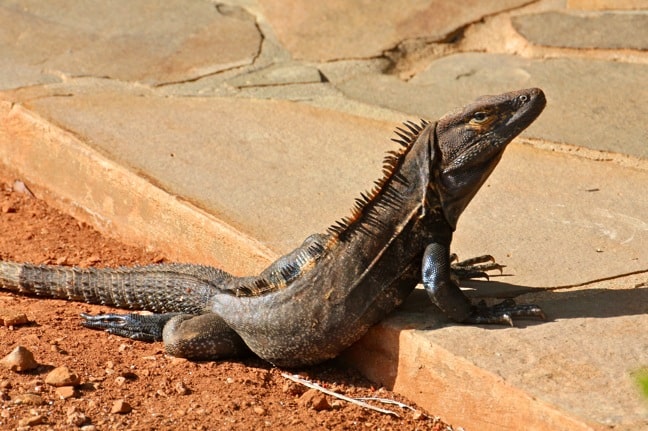 There were also iguanas all over the place. But, where most of them would scurry off into the underbrush every time we came around, this little fella tended to hang out around our palapa all the time. I took to calling him Renaldo, and Mary and I (perhaps missing our dog, Huckleberry) would call to him every time we came back to our casita. We later learned that fishing guide Carter Andrews and his family had live in Casita Grande while their Islas Secas home was being built, and his daughters had become fond of feeding Renaldo fresh mangos. Did I mention that iguanas apparently LOVE mangos? There were tons growing on the property.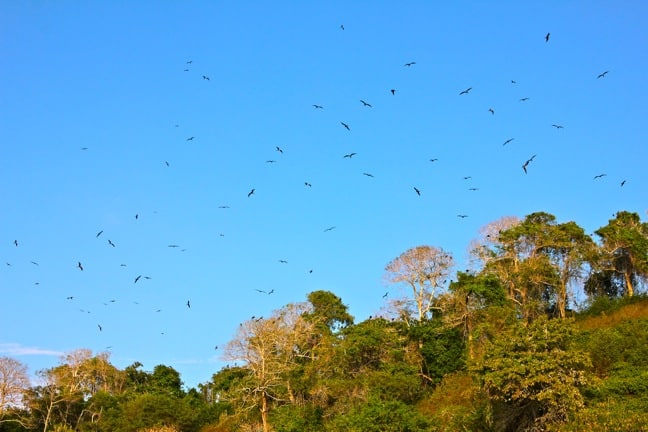 After a leisurely morning, we decided to head out for one of the most unique excursions we've ever been on. Our first stop was a small island (one of 16 in the Islas Secas archipelago) that was literally swarming with birds, most of them frigatebirds. We're fairly avid birdwatchers, but never in our travels had we seen so many in one area, covering nearly every tree on the hillside and dotting the sky in every direction. It was like something out of a Hitchcock flick, but with much better scenery.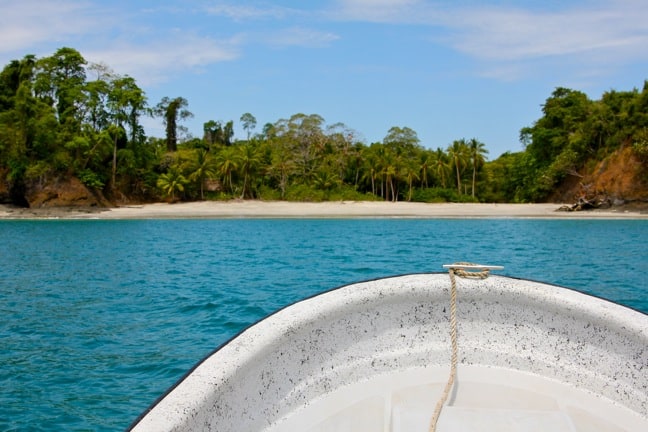 I'm not sure what emotions the words "your own private island" elicit in you, but for us it was definitely a dream come true. I've fantasized about being alone with my lady on some remote tropical isle every since my childhood, when I daydreamed about Ginger and Mary Ann and saw Brooke Shields in The Blue Lagoon. But the reality was even better, and my heart was pounding with excitement as the Islas Secas crew dropped us off on this completely deserted island 15 minutes from the resort.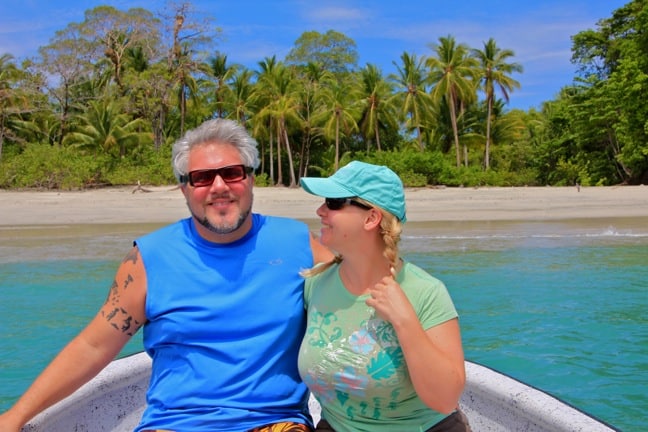 Don't we look happy?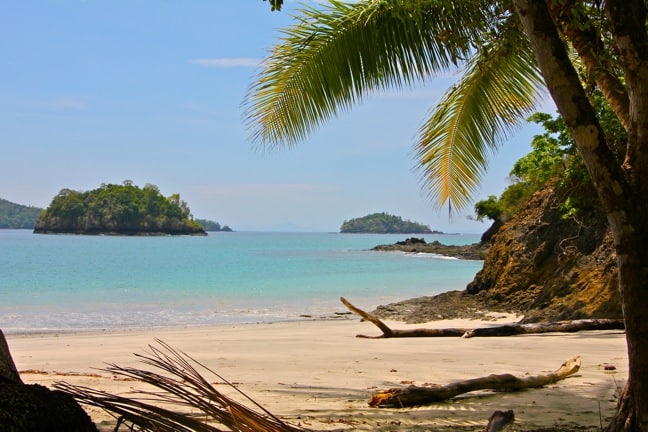 The setting could not have been more spectacular. Crystal clear blue waters. Beautiful blue skies. Palm trees swaying in the breeze, providing welcome shade from the afternoon sun. Huge beach umbrella and two chairs. A cooler stocked to the gills with ice cold drinks, fresh tropical fruits, and a delicious lunch prepared by Islas Secas' world-class chef, Alex Rojas. There was not a single soul as far as the eye can see– no boats, no fishermen, no tourists. Just me, Mary, and a few birds and iguanas.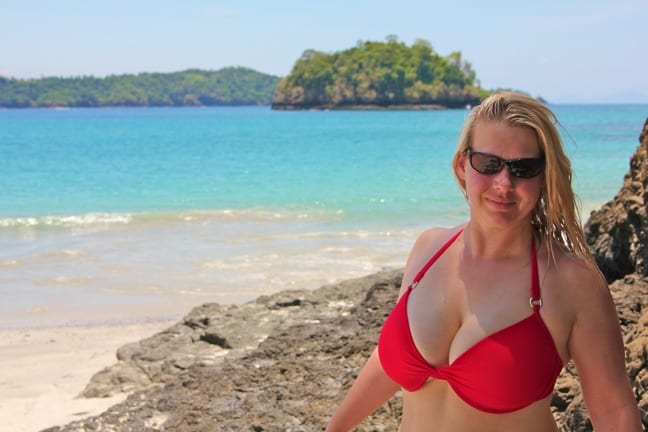 It was so incredibly refreshing, for once in our hectic traveling lives, not to have anywhere to go, nothing to do, and no social obligations other than to each other. We did some snorkeling around the island, looked for shells and explored a little bit, but ruled out a hike to the lagoon on the other side of the island in favor of sitting in the shade and relaxing. I was a lot less fidgety than usual, and I've never seen Mary looking more content to just BE. It was an incredible place to recharge, reflect and reconnect with each other on a romantic level.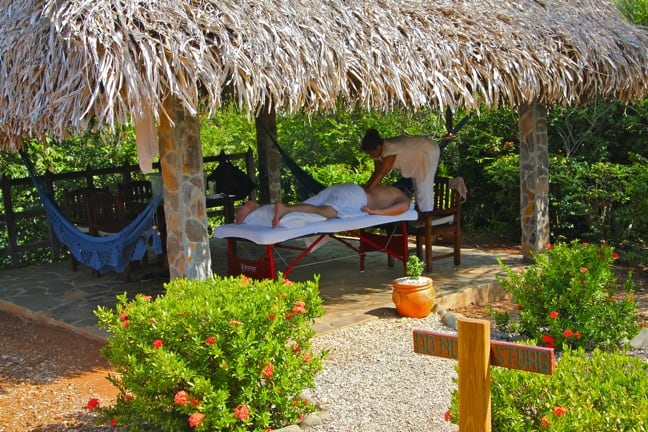 Continuing with our "Relaxation Day" theme, we eventually returned to the resort late in the afternoon, a bit frazzled from the intense sun and still sore from fishing the day before. Fortunately, we'd had the foresight to schedule massages for both of us, and were delighted to see the resort's masseuse already set up under our palapa. Though we've had more than a dozen massages together over the years, this one felt special because of the picturesque setting, with hummingbirds and iguanas all around us and the sounds of waves just below.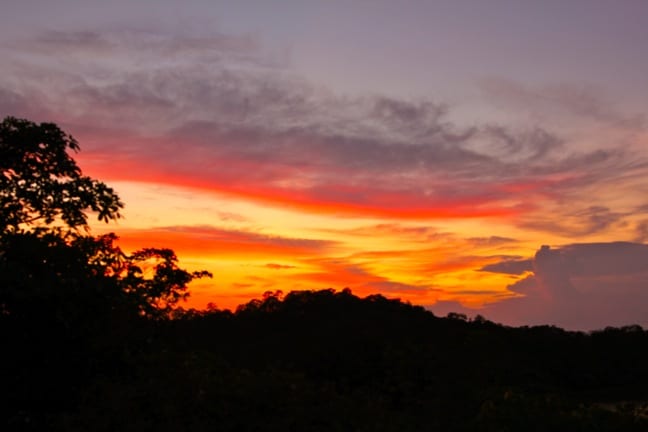 Mary and I consider ourselves EXTREMELY fortunate to be able to travel the world and see/do amazing things we never dreamed we'd get to experience in our lifetimes. But when people hear that you're a professional travel writer, they immediately assume you spend all your time setting on gorgeous tropical beaches, drinking Pina Coladas and soaking in the view. Unfortunately, as regular GGT readers know, that's not usually the case. Adventure-centered ecotourism is often exhausting business, whether it's getting heat stroke in the Peruvian Amazon or walking 25 km through the desert and climbing 500+ stairs in two days in Jordan. But, on this day, on these secluded islands off the coast of Panama, we finally got to experience the travel writer's dream, and it was truly magical. But even as we embraced each other and savored the spectacular sunset, we knew the next day would bring us a whole different level of adventures… –by Bret Love; photos by Bret Love & Mary Gabbett
If you enjoyed our Panama Photos, you might also like:
Panama's Top 5 Eco Attractions
PANAMA Photos: Big Game Fishing & Dolphins
Guatemala's Top 5 Eco Attractions
NICARAGUA: The Corn Islands
COSTA RICA: Tortuguero National Park